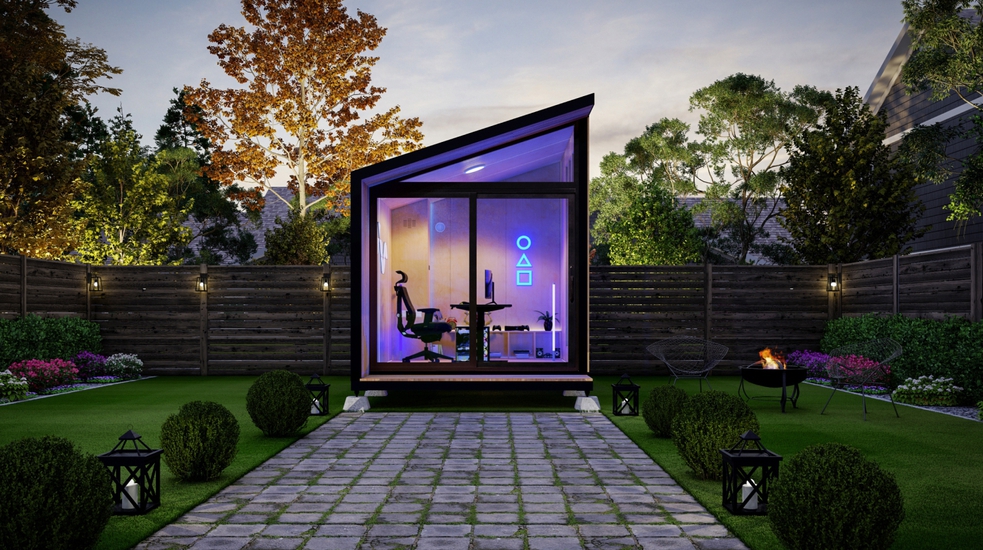 Working from home?
Get special pricing
Upgrade your gaming experience with all the gear you need bundled in: gaming chair, a customized gaming desk, and much more. GamePod is your ultimate battle station.
Ships by Jan 25
|
Free shipping
Charge it to your company
We can forward this order to an office contact and request payment on your behalf.
Save up to 10%.
GamePod at a glance.
• Includes SmartDesk Pro, ErgoChair Pro, PXC327 Gaming Monitor, Gaming PC by Autonomous x Artesian Builds
• Enough space for all your extra gaming gear
• Separate from your home
• Perfect for solo gaming or competitive sessions
• 7-year warranty
Deep dive into specs
FAQs
Don't see the answer to your question?
What does the warranty cover?
The warranty covers all manufacturing defects.
Can the chair be locked in the reclining position?
Do these chairs come assembled?
Our chairs come un-assembled. You would need to assemble it however there are just simple steps and we include all the tools you would need into the package as well.
Is the 70.5 inch x 30 inch SmartDesk Pro XL less stable than the classic size?
No. The only difference between the XL and the 53-inch standing desk top is that the XL offers more space and is heavier.
I see that there is a "black box" to be installed on the underside (aside from the control panel), with power and data connection. Is this like a power strip and data plug-in?
Yes, this is the control box. It must be attached under the standing desk to use the Smart Keypad. It is connected with the Smart Keypad to control the height of the desk, and with the power source to tell the electric motor(s) when to move up and down.
Does this gaming standing desk use a regular 120 volt outlet?
Yes. The standing desk is compatible with standard 110 volt - 240 volt outlets. Both currents are automatically converted by the desk. US orders are installed with the standard two-prong plug. For international orders, we convert the plug to the type used by the destination country.
Where do I download new video drivers for my Graphics Card?
I have no display signal, what do I do?
Remember to plug your monitor into the graphics card (it will have multiple display ports and HDMI connectors ONLY) and not the motherboard.
My warranty has expired, do I still get support?
Service, repair, replacement, and upgrades will adopt normal costs.
How many monitors does my system support?
1-4 monitors may be used with the majority of our systems, although some entry level PCs may support only 3.
Does my system ship with Windows installed?
Yes. Windows 10 will be shipped fully installed and active with all systems unless otherwise noted. You can upgrade to Windows 11 from Windows 10 at any time for free.
How do I control the lights in my system?
Pre-installed software can be used to easily control the lights in your system.
What kind of warranty will my PC have?
We offer a best in class 5 year parts 3 year labor warranty which ensures your PCs will operate well for years to come. Some parts in each system will have warranties up to 10 years.
Is Artesian PC shipped internationally?
Gaming PCs purchased through the Autonomous website do not ship internationally.
Does my PC require maintenance/service?
Almost none! Simply dust off the fans and radiator unit every few months and your PC should operate for years to come with no issues.
Can this screen be hung by a monitor arm?
Yes. All of our current Gaming screens have VESA compatibility at 100x100mm. Our
Monitor Arm
Monitor Arm can be a good choice.
Chairs look low to the ground. For us tall folks, how high does this chair go?
The seat of the chair is 18-20" from the ground.
Does the price cover taxes?
No, the listed price is not inclusive of tax.
What are the dimensions of the chair?
The ErgoChair Pro dimensions are 29"L x 29" W x 46-50"H
What is the dimension and weight of the box?
The box is 29"L x 27"W x 19"H and weighs 67 Ibs.
What is the chair made out of?
The chair is made with top quality breathable polyester fabric imported from Korea, with molded foam interior and durable nylon plastic frame.
Can the armrests be removable?
Yes, the armrests do not come assembled out of the box, so you have the option to install it or not.
What are the seat dimensions?
The seat length and width is roughly 20 inches.
What is the weight capacity of the chair?
The ErgoChair Pro could stand up to 350 Ibs.
What's the weight of the chair?
The chair weighs 48.5 Ibs.
Is there a warranty period for Autonomous Pod?
The Autonomous Pod itself comes with 3-year warranty for manufacturer defects. If something doesn't perform as expected, we'll replace it. For the fully equipped option, the warranty is guaranteed for add-on furniture products. You can find all reference through this link
https://www.autonomous.ai/help-center/policy/warranty-policy
How much space does Autonomous Pod require?
The foundation is 11'8 by 8'4. For a comfortable fit, we recommend an area around double of that – 23'5 by 16'9.
What kind of surface is suitable to build on?
Suitable common surfaces include brick, concrete, gravel, grass, etc. The foundation is uniquely engineered to bear the weight of the Autonomous Pod and an additional 1 metric ton without the need for ground fixtures.
Can I set up Autonomous Pod on a slope?
While flat ground is always best for ease of assembly, one of the beauties of the Autonomous Pod foundation is its stability even if the ground is not completely level. We do recommend that any slope does not exceed 5°, or approximately 4.5 inches.
Can I move it to another location once it's set up?
Autonomous Pod can be easily disassembled and put up again at its new location.
How do I power up Autonomous Pod?
It has a simple port for power connection, so all you need to do is connect the outdoor wire to an existing power source from your home.
Can I install a heating and cooling unit?
Yes – but you don't have to, because Autonomous Pod also comes with a portable air conditioner that can be tucked neatly away into its own streamlined cupboard.
What makes Autonomous Pod sound-insulating?
Autonomous Pod is sturdily constructed from a number of durable materials. The insulating foam layer doesn't just work to block out sound, but is also heat and fire-resistant. All glass is tempered, and 8mm thick, which also goes a long way towards preserving the peace and quiet of your oasis.
What is the minimum wattage?
100W for all electric devices.
What's the airflow situation?
In addition to its air conditioning unit, Autonomous Pod also has an exhaust fan and an air duct to keep air fresh and circulating.
Do you offer assembly services?
While there is currently no on-site assembly service for Autonomous Pod, our team is on hand to offer remote assistance via video or phone.
Is Autonomous Pod strong enough to support additional fixtures?
Its walls will easily support basic fixtures like frames and shelves, but please be aware that power lines are contained within the walls.
I'm not a builder. Will I be able to assemble Autonomous Pod?
Autonomous Pod was specifically engineered to be DIY friendly. Very minimal expertise is required, but if you're a complete novice or feeling somewhat unsure, it can be helpful to have a spare pair of hands to help. Feel free to give us a call anytime, too.
Is there a free trial for Autonomous Pod?
As user assembly and setup may differ widely across different environments and scenarios, we cannot offer a trial period for the Pod itself. However, a 30-day trial does apply to other Autonomous products in the fully equipped WorkPod, such as SmartDesk Pro, ErgoChair Pro+, etc. If you don't love it, we'll take it off your hands and issue a refund accordingly.
Autonomous Pod is designed to a specific height and square footage (98 sq. ft.), so that permits are not usually required for the majority of states and localities. However, as regulations do change, we always recommend checking with your local authorities or homeowners association.
Do you supply building plans?
We are happy to provide building plans and other details if you need them for your own paperwork. Please help to find in here, If you have any questions feel free contact us at human@autonomous.ai for more information.