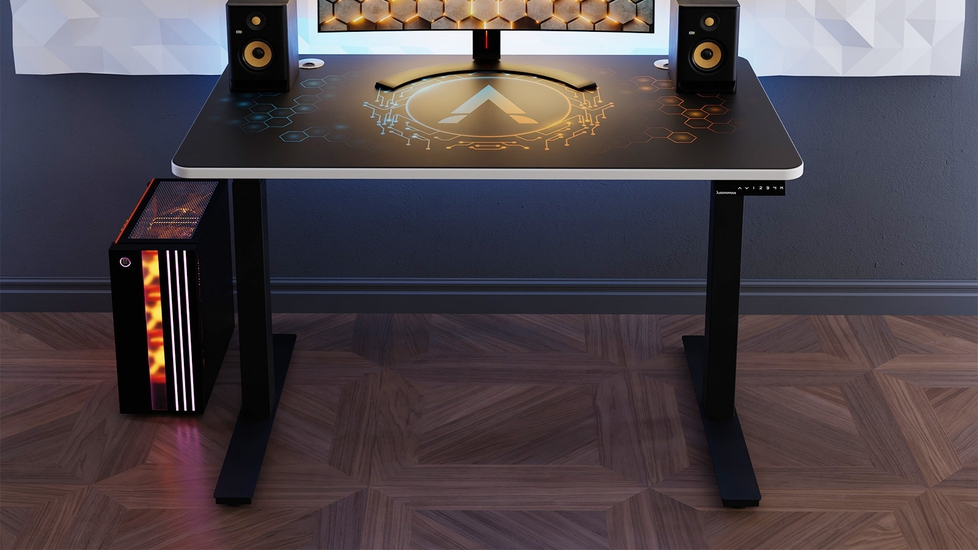 In stock now
Free shipping
Ships within 48h
Level up your gaming setup with a custom UV printed SmartDesk and play like an absolute boss with one of these slick gaming desk designs.
In-stock
|
Ships within 2 business days
SmartDesk Play at a glance.
• Height-adjustable (Core: 29.4" to 48" & Pro: 26.2" to 52")
• 4 programmable settings
• Lifting capacity (Core: 265lbs & Pro: 310 lbs)
• Solid steel frame & electric dual motor
• Scratch-resistant top
• Ultraviolet (UV) printing technique
• 5-year warranty
Deep dive into specs
FAQs
Don't see the answer to your question?
Can I use PayPal to pay for this gaming standing desk?
Due to transaction limits, we only accept PayPal payments from the 1st to the 15th of every month. PayPal's account policy permits us to accept a limited volume of payments per month, & with current sales volume, we normally reach our limit by the 15th.
What are the differences between the SmartDesk Core and SmartDesk Pro?
Pro frame (without top): Height range of 25" - 51" / 7-year warranty.
Core frame (without top): Height range of 28.5" - 47" / 5-year warranty.
All tabletops are covered by a 1-year warranty.
Does this gaming standing desk use a regular 120 volt outlet?
Yes. The standing desk is compatible with standard 110 volt - 240 volt outlets. Both currents are automatically converted by the desk. US orders are installed with the standard two-prong plug. For international orders, we convert the plug to the type used by the destination country.
This gaming standing desk is available only in the US. We are looking into making this product available worldwide, so stay tuned for updates.
How long does shipping take?
You will receive your special Smart Desk no later than 2 business days after Autonomous team confirms your order. Thank you for your patience.
How easy is it to assemble the Autonomous SmartDesk Core? Which tools do I need?
Assembly is not difficult. We include all the assembly tools needed in every package! Most customers finish setting up their new desks in just 15 to 30 minutes.
Can you give me more information about your UV printing technique?
UV printing is a special form of printing that dries ink instantly as it is printed, which allows the final product to look sharp & defined with less blemishes & blurring. Not only durable & color-accurate, but friendly for the planet too, thanks to its eco-friendly materials. Scratch & fade resistant, UV printing lasts for years without becoming washed out.
If we put a cup of hot tea/coffee/water on the tabletop, will it affect the color of the print?
Rest assured, your hot beverage won't harm your new desk. UV printing is durable & can withstand ordinary wear & tear, including hot beverages. Still, we recommend minimizing use of sharp objects on the desk.
Are you using eco-friendly ink?
Our desks are printed using an eco-friendly UV printing process which, in addition to being vibrant, color-accurate, & durable, also uses non-toxic ink.