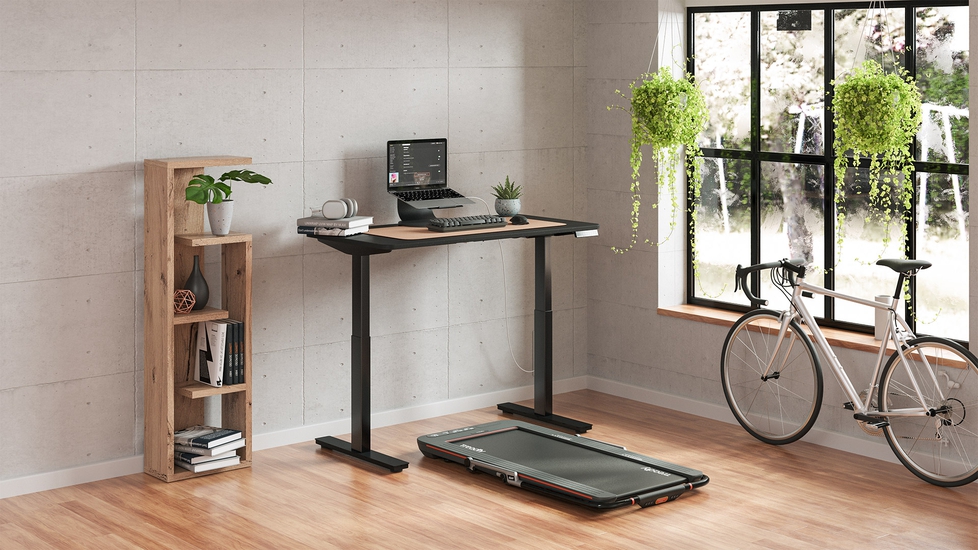 Working from home?
Get special pricing
SmartDesk Tread by Autonomous x Treadly
$1,239
A compact, portable treadmill, and a black standing desk make a professional treadmill workstation for any home office.
Ships within 2 business days
|
Free shipping
& 30-day returns
Charge it to your company
We can forward this order to an office contact and request payment on your behalf.
Save up to 10%.
Treadmill
• Carries up to 265 lbs
• Conveniently compact, easily fits small spaces
SmartDesk Pro
• Height-adjustable from 26.2" to 52"
• Improved load capacity of 310 lbs
• 7-year warranty
SmartDesk Core
• Height-adjustable between 29.4" to 48"
• Lifts 265lbs with ease
• 5-year warranty
• Pay over time with Affirm: $115/mo
Deep dive into specs
FAQs
Don't see the answer to your question?
Can Treadmill be used on a rug or a carpet?
Yes! It is elevated while maintaining its unique thin design. There is enough space under the belt to use it on thin rugs and carpets with short fibers. More info can be found
here
.
How is Treadmill packaged and shipped?
Once your Treadmill order is placed, after all quality checks are completed, your Treadmill is packaged securely with proper inner and outer packaging. Your Treadmill will arrive fully assembled, with protective film over the display, and boxed and lined with styrofoam to ensure it comes to you without damage.
How should Treadmill be unboxed and set up?
Can the Treadmill be used without the handrail?
It can be used with the handrail raised, or with the handrail lowered for use under a desk. More info can be found
here
.
How do I clean my Treadmill?
Use a cloth to clean the surface of the Treadmill. Wipe the belt, frame, and vents with a water-dampened cloth. Regularly remove dust from the Treadmill and around where the Treadmill is used and stored.
When do I need to lubricate the belt on my Treadmill?
Treadmill is programmed to display "OIL" as a reminder to lubricate every 100k steps, but it varies based on the frequency and usage. More info can be found
here.
How to Upgrade process for Treadmill machines?
a. Customer contacts Autonomous CS for upgrade request.
b. Autonomous issues RMA for customer and confirms the extra charge for upgrade (including $100 difference + shipping rate if any) to customer.
c. Autonomous will collect the extra charge accordingly. After confirming payment, Autonomous will upgrade the order from a Basic unit to a Pro unit.
Please note that: We will charge an $80 repackaging fee for returns that do NOT have all original packaging.
What are the differences between the SmartDesk Core and SmartDesk Pro?
Pro frame (without top) has a height range of 25" - 51" and has a 7-year warranty.
Core frame (without top) has a height range of 28.5" - 47" and has a 5-year warranty.
All tops are covered by a 1-year warranty.
Do these desks use a regular 120 volt outlet?
Yes. Our standing desk is compatible with standard 110 volts - 240 volts outlets. Both currents are automatically converted by the desk. US orders are installed with the standard two-prong plug. For international orders, we convert the plug to the type used by the destination country.
How easy is it to assemble the Autonomous SmartDesk Core and SmartDesk Pro? Which tools do I need?
Assembly is not difficult. We include all the assembly tools needed in every package! Most customers finish setting up their new desks in just 15 to 30 minutes.
How loud are the motors on the SmartDesk Core and Pro as they raise and lower?
Our motors are the most silent on the market. Featuring advanced noise cancellation engineering, our SmartDesks are whisper-quiet at only 45dB during movement.