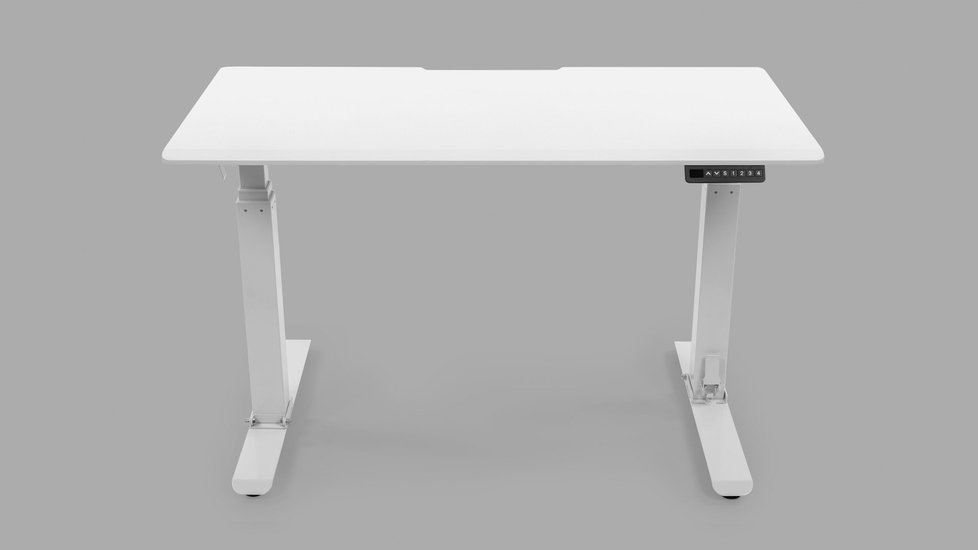 Working from home?
Get special pricing
Compact Desk by Happen: 2 Minute Assembly
$499
$599
It's the perfect combination of function, durability, and convenience. This standing desk can be easily assembled with a 2 minute no-tools process, featuring a premium teak wood laminate finish and ergonomic functions.
Ships within 2 business days
|
Free & flexible shipping
|
30-day returns.
Charge it to your company
We can forward this order to an office contact and request payment on your behalf.
Save up to 10%.
Compact Desk by Happen: 2 Minute Assembly at a glance.
• Tabletop size 48"L x 24"W x 0.7"H
• No-tools-required assembly process
• 2 Minute Assembly
• Dual motor
• LED display memory keypad
• Three-stage columns
• Patented design
• 5-year warranty
Deep dive into specs
If you are looking to have more energy, improve your posture, or just want to be better at your job then you should invest in a Pillar no tools standing desk! It is also known to be more ergonomic and better for your health than sitting down all day long. No Tools Standing Desk: That means no tools required, no hassle assembly, easy enough for one person to assemble, space saving design, all with durable materials and a steel frame. All tools and instructions are included to assemble, no damage during shipping and all parts are safely encased in foam. Made from strong high quality wood- Solid construction for maximum durability. The Pillar adjustable standing desk converts easily to sitting or standing, no tools required to adjust the height of the work surface. The steel frame is sturdy enough to support up all your most used office peripherals. Easy assembly, no hardware required. Standing desks provide many benefits such as increased energy, better posture & it's good for your health. They're also more ergonomic and can improve anyone's job! You should invest in one if you want that edge over other people.
No tools standing desks are more ergonomic and better for your health
Standing desks are more ergonomic and better for your health because they make it easier to vary the way you position your body, which is good for reducing muscle fatigue. Standing is also a great workout in its own right because it forces you to use more muscles. Some people find standing desks uncomfortable at first, but most adjust quickly and say that they feel invigorated and refreshed after a session. There are several options for standing desks; some people find that a simple platform at the right height is all they need, while others prefer to buy an adjustable stand-up desk. There's also no need to worry about having enough room for your keyboard and mouse if you don't want to use a traditional computer setup - you can use a laptop or tablet instead! If you're interested in getting yourself a standing desk, but don't know how much it'll cost then there's no need to worry: we've got everything covered. You can get one at an affordable price, and if you're looking for something even more affordable then we've got some really great deals for those who want their new desks as soon as possible! If you're looking to have more energy, fix your posture, or just want to be better at your job then you should invest in a standing desk! These desks are also known to be more ergonomic and better for your health than sitting down all day long.
There are no tools required to set up this standing desk
The Happen Pillar no tools standing desk comes in one single delivery box, so no need to wait for multiple parts to arrive. Once you've received the package, you'll find the assembly process is a breeze. No need for complicated manuals or an extended multi-step process that takes hours. You'll be up and running in 2 minutes or less! The no-assembly standing desk is a key feature for the Pillar standing desk, setting it apart as a small standing desk that is much easier to assemble than other options on the market. Best of all, it's affordable so you don't have to worry about breaking the bank.
Standing desks give you the edge in life!
Pillar Desk by Happen is a great investment for those who work from home. Sitting at a desk from 9 to 5 every day can make you feel tired and cranky, not to mention the health issues that come with prolonged sitting. Standing desks are a great solution because they offer the benefits of working from an office chair while also helping you stay active all day long. You don't have to invest in expensive, bulky equipment to use a standing desk. There are plenty of options out there that will suit your needs without breaking the bank or taking up too much room, like no tools standing desks and no tools computer desks. A no tools standing desk is a great option for any home office or business. It takes up minimal floor space and can easily be stored away when it's not in use. This type of desk works by clamping onto your existing work surface, so you don't have to worry about drilling into the workspace. No tools desks are fun and easy to assemble, giving you the best of both worlds when it comes to your office furniture! You can put them together all on your own without enlisting help from others. The only tool that will be necessary is a screwdriver - but even this isn't totally necessary because some no tools desks come pre-assembled with just clamps to tighten them down.
Get your no tools standing desk for home office
Now's the time to get your home office setup upgraded and ready for the future. Why not invest in a Pillar Desk by Happen, easy to assemble and easy to fit in any space. You'll find the pleasing minimalist aesthetic setup fits nicely with your home or corporate office, and once you receive it in the mail, you'll be up-and-running in no time.
FAQs
Don't see the answer to your question?
What is the shipping process?
We offer free shipping in the US. The Compact desk: 2 minute assembly ships in one box straight to your door.
Do you ship internationally?
At the moment, we only ship in the contiguous U.S.
How can I assemble the desk?
Can I dismantle the desk?
Yes, this desk can be dismantled just as easy as it is assembled. When dismantled, please make sure the legs are secured as they can swing when being moved. We recommend that when the desk is disassembled, you move it with the desktop facing towards the ground and do not angle the desk.
Why are the legs of the desk not aligned?
This is part of our patented design to allow for ease of assembly and strengthened stability of the desk.
What can I do when the desk does not rise?
How can I change my controller from cm to inches or vice versa?
Follow the below instructions to change the measurement setting on your Compact Desk - 2 minute assembly:
1) Hold down the "S" button for 7 seconds till the display says "SET"
2) Press the "1" button, the display will show:
• "—C" for CM
• "—IN" for Inches
3) Using the Up and Down button, adjust to choose your preferred unit of measure
4) Press "S" button to save
How can I reinstall my keypad if it's broken or needs replacing?
1. With the desk assembled, unplug power cable from outlet.
2. Unplug the keypad from the control box located in the cable management tray underneath the desk.
3. Unscrew the two screws to remove the existing keypad.
4. Remove the new keypad from the box and attach it to the underneath of the table using the two screws provided and pre-drilled holes.
5. Then, plug the keypad into the box located in the cable management tray and connect the power cable to an outlet.
My control box has been replaced. How can I attach it again to my desk?
1. With the desk assembled, unplug the power cable from the outlet.
2. Underneath the desk in the cable management tray, you will find a control box.
3. Unplug the control box from the keypad and remove the control box from the cable management tray.
4. Once removed, place a new control box in the tray and connect the wall outlet cable and the keypad cable to the control box.
5. Once all cables are connected, connect the power cable to an outlet.