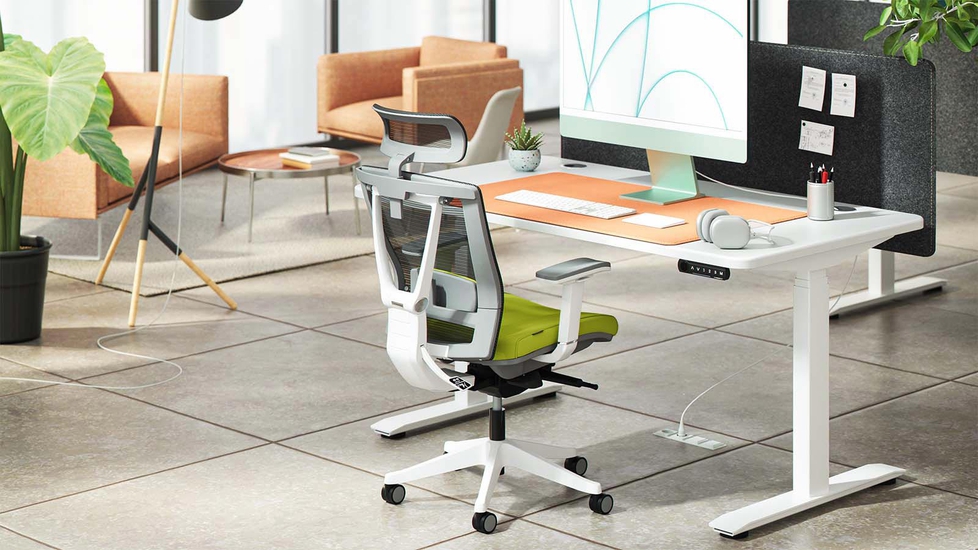 Autonomous ErgoChair Pro
- Ergonomic Office Chair
Bought by 2,700+ Google employees
Kostenloser Versand Mar 27 - Mar 29. Kostenlose Rückgabe am 15 Tag.
Verkauft und versandt von Autonomous.
Autonomous ErgoChair Pro auf einen Blick.
Vollständig einstellbar, absolut förderlich und super atmungsaktiv. Dieses Modell bietet alles.
• Höhe, Armlehne und Sitzneigung sind einstellbar
• Sanftes Zurücklehnen mit 5 einstellbaren Positionen
• Flexible Lendenwirbelstütze für jede Sitzposition
• Voll unterstützend bis zu 136 kg
• Gewebter Netzrücken für optimale Luftzirkulation
• 100 % umweltfreundliche Materialien
• 2-year warranty
Tief in die Spezifikationen eintauchen
ErgoChair Pro – The Best Green Ergonomic Office Chair for Your Office
If you are looking for a green office chair for sale, then look no further. The Autonomous ErgoChair Pro is a fantastic option if you are looking for a new ergonomic chair. The various features combine to give you a comfortable, customizable, beneficial, and stylish chair. This seat is completely adjustable and has many valuable properties, such as a breathable mesh back. Assembling this chair is also simple. You cannot go wrong with purchasing the ErgoChair Pro.
High-quality Material
The ErgoChair Pro is made from breathable materials that cater for comfort. The back of the chair is made from Korean mesh. This material is responsive to your body. The material that the seat cushion is made from is available in five different colors. The options are evergreen, all black, cool gray, red apple, and baby blue. The evergreen office chair is a perfect fit for people who want an eco-friendly vibe office! It is made to be durable and long-lasting.
Headrest - Back and Lumbar Support - Tilting Function
A headrest is not something that most ergonomic chairs come with. The headrest on the ErgoChair Pro is adjustable and can be moved up to a 45-degree angle to ensure maximum comfort and support. You can move it both up and down to cater to your height. Adequate support is provided for your back through the various adjustment features. A back recline and seat height, depth, and width features are all available. This helps to align your spine, which reduces the amount of strain placed on your back. The tilt mechanism has a 360-degree rotation capacity. This means that the function is extremely flexible. This feature gives your body complete support.
Why Choose the Green Ergonomic Office Chair Color
Ergonomic office chairs are known for their ability to improve both your mental and physical health. They make office hours more bearable. The type of chair you use is not the only thing that impacts your work performance. Color also plays a major role; it affects your mood. Evidentially, you should pay close attention to all the finer details when it comes to choosing an ergonomic office chair. The color you pick should depend on what you are trying to achieve. A green ergonomic office chair would be a great option for various reasons. Other than the beautiful aesthetic, there are many reasons why you should choose a green home office chair. Green is perfect for a bright office interior and helps to create a cozier atmosphere. There are also physical and psychological benefits to a green seat. Evergreen office chair Creates an Environment of Tranquility and Calmness. Green is associated with being calm due to the association with nature. Nature is considered to be relaxing; therefore, green ergonomic chair color helps you to feel more at peace. Green ergonomic office chair with Good Color for People Who Work Long Hours. The calming and relaxing properties of the color green mean that you can operate for longer periods. The calmer you feel, the more productive you are. If you are at ease, your brain can function at a higher capacity. Green ergonomic office chair Signifies Renewal, Growth, and Life. Plants are a symbol of renewal, growth, and life; hence, one would associate green with plants. It would also be a great option to add some plants to your workplace. This way, your new green ergonomic chair is going to compliment the plants as well. Green home office chair Does Not Cause Eye Fatigue. Green is often an easier color to see; it is the easiest color for the human eye to see. It is not harsh; therefore, it does not put a strain on your eyes. This means that you can focus on your work for longer periods as your eyes do not get agitated.
It is Time to Go Green!
It is evident that a green ergonomic office chair has various benefits. It is a great addition to any office as it contributes positively to your health and wellness. The Autonomous ErgoChair Pro is a perfect combination of all the desirable characteristics that an office chair should possess. This could also encourage you to go green in other aspects.
Häufig gestellte Fragen
Sie sehen die Antwort auf Ihre Frage nicht?
Kommen diese Stühle zusammengebaut?
Unsere Stühle werden unmontiert geliefert. Sie müssten es zusammenbauen, es sind jedoch nur einfache Schritte erforderlich, und wir fügen dem Paket auch das gesamte benötigte Tool hinzu.
Wie viel wiegt der Stuhl?
Der Ergochair kann bis zu 350 Pfund tragen.
Was sind die Sitzabmessungen?
Die Sitzlänge und Sitzbreite beträgt ca. 20 Zoll.
Können die Armlehnen abnehmbar sein?
Ja, die Armlehnen werden nicht vormontiert geliefert, sodass Sie die Möglichkeit haben, sie zu installieren oder nicht.
Woraus besteht der Stuhl?
Der Stuhl ist aus hochwertigem, atmungsaktivem, aus Korea importiertem Polyestergewebe gefertigt, mit einem geformten Schaumstoff-Innenraum und einem haltbaren Nylon-Kunststoffrahmen.
Was sind die Abmessungen und das Gewicht der Box?
Die Box ist 29 "L x 27" B x 19 "H und wiegt 67 Pfund.
Der Stuhl wiegt 48,5 Pfund.
Was sind die Abmessungen des Stuhls?
Die ErgoChair 2-Abmessungen betragen 29 "L x 29" B x 46-50 "H.
Deckt der Preis Steuern ab?
Nein, der angegebene Preis enthält keine Steuern.
Kann der Stuhl in der Liegeposition arretiert werden?
Was deckt die Garantie ab?
Die Garantie deckt alle Herstellungsfehler ab.
Die Stühle stehen tief am Boden.Wie hoch ist dieser Stuhl für uns große Leute?
Der Sitz des Stuhls befindet sich 18-20 Zoll über dem Boden.
Muss ich bei Rücksendung den Versand für Ihre kostenlose 30-Tage-Testversion bezahlen?Wie funktioniert der Rückversand?
Wir übernehmen gerne die Versandkosten, wenn Sie vor Ablauf Ihrer 30-tägigen Testphase eine Rücksendung beantragen.