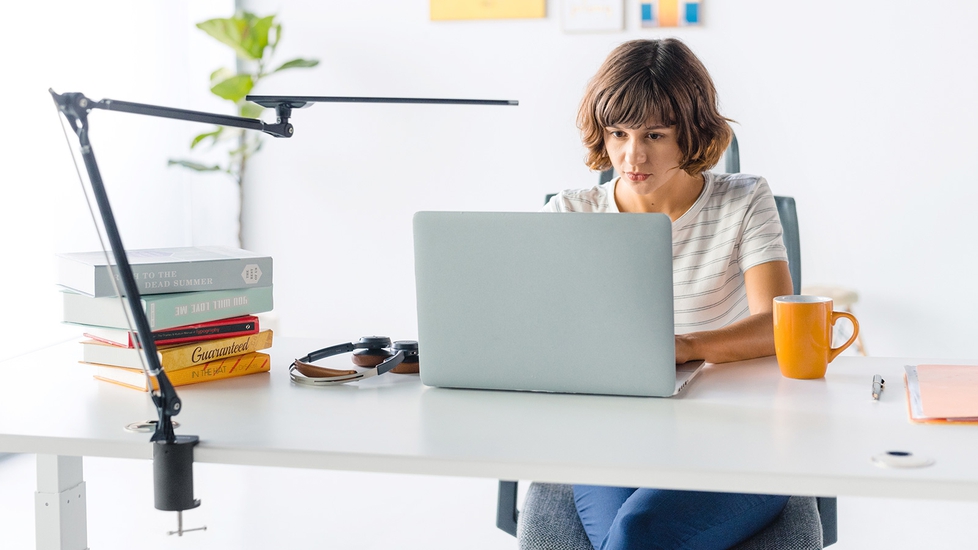 Travailler à domicile?
Sonderpreise erhalten
The Led Desk Lamp gives you multiple color modes and brightness levels to select from. Designed for flexibility, simply adjust this elegant desk lamp to the angle that works best for your project.
Versand innerhalb von 2 Werktagen
|
Kostenloser & flexibler Versand
|
30-Tag kehrt zurück.
Laden Sie es Ihrem Unternehmen in Rechnung
Wir können diese Bestellung an einen Bürokontakt weiterleiten und die Zahlung in Ihrem Namen anfordern.
Sparen Sie bis zu 10%.
LED Desk Lamp auf einen Blick.
• Minimalist design
• 4 color modes
• 5 brightness levels
• 50,000 hours of light
• 1-year warranty
Tief in die Spezifikationen eintauchen
Keeping your workspace lit is vital to keep you attentive and productive throughout the day. It is seen that a light source helps in boosting your productivity. Things become even better when you use an LED desk lamp. LED desk lights are better due to multiple reasons.
Reasons Why You Need LED Desk Lamp: Energy Saving, Durable & Dimmable
LED lamps are energy efficient as they are designed to minimize energy dissipation. These lamps neither emit UV rays nor any heat, so most of their energy is conserved in light form. Thus, you get a brighter light at the same wattage. Since these lamps have fewer energy dissipation, they tend to last longer and perform better than any common fluorescent light. Thus, they are a durable choice to light up your workspace. Since several dimmable LED desk lamps are available in the market, you can opt for them pretty conveniently. These adjustable LED desk lamps help you adjust the light as per the time of the day and keep your workspace lit as per your requirement. Considering all that, it becomes vital to get a hands-on an LED desk lamp for the office.
Avoiding Clutter with Autonomous LED Desk Lamp
To serve you best, Autonomous has come up with the idea to design a flexible and adjustable LED Desk Lamp. This is a sleek desk lamp that has a cutting-edge design that helps you keep up with the minimalist desk setup. Taking up minimal space on your desk, the Autonomous LED desk lamp helps avoid clutter from your tabletop. The lamp's arm is such that it allows you to adjust the height of the lamp to minimize glare and maximize visibility.
Multiple Light Adjustments & Simple Assembly
Having four different light color options and five brightness levels, the Autonomous dimmable LED desk lamp helps you adjust the light's brightness round the clock. This feature helps you have a more customized work experience. Thus, adjusting the brightness becomes easier. In addition, the presence of the apt memory function ensures that you do not have to readjust the intensity or mode the next time you use it. The Autonomous LED desk lamp comes with an assembled clamp. So, once you have received your lamp, all you need to do is to clamp it to your desk, and you are all set to role.
Incredibly Energy Efficient & Broader Illumination
Our LED desk lamp is extremely energy efficient that consumes only 9W. In most cases, the Autonomous adjustable LED desk lamp stays functional for 50,000 hours that make up around five and a half years. The sturdy aluminum frame has a rectangular lamp face that is 21-inch long and 7.5-inch wide. This much light area provides ample exposure to your workspace to ensure you have a well-lit experience overall.
Häufig gestellte Fragen
Sie sehen die Antwort auf Ihre Frage nicht?
Wie viel Energie verbraucht die Lampe?
Es ist nur 9W. Es ist eine energiesparende und leistungsstarke Lampe.
Wofür eignet sich die LED-Schreibtischlampe?
Die Lampe ist perfekt für Werkbank, Büro, Studium, Lesen, Zeichnen.
Ist die LED-Schreibtischlampe einstellbar?
Absolut. Durch den um 180 ° drehbaren Lampenkopf ist diese Lampe voll einstellbar. Jetzt können Sie die Richtung des Lichts nach Belieben ändern.
Welche Lichtfarben bietet die Lampe?
Mit der LED-Schreibtischlampe haben Sie die Wahl zwischen 4 Lichtfarben für verschiedene Aktivitäten. Mit dem stufenlosen Dimmen können Sie die Beleuchtung ganz einfach nach Ihren Wünschen anpassen.
Hat die Lampe Speicherfunktionen?
Auf jeden Fall. Sie müssen den Modus oder die Helligkeitsstufe beim nächsten Einschalten nicht zurücksetzen. Die LED Des Lamp erledigt das für Sie.
Woraus besteht die LED-Schreibtischlampe?
Es besteht aus Aluminium, ist robust, langlebig und kommt nie aus der Mode.
Muss ich die Lampe zusammenbauen?
Sie müssen die Lampe nur mit der bereits montierten Klemme an Ihrem Schreibtisch befestigen. Die Einrichtung Ihrer LED-Schreibtischlampe dauert weniger als 5 Minuten.
Wir versenden derzeit überall in den USA. Bezüglich internationalem Versand  halten wir  Sie gerne auf dem Laufenden!
Muss ich bei Rücksendung den Versand für Ihre kostenlose 30-Tage-Testversion bezahlen?Wie funktioniert der Rückversand?
Wir übernehmen gerne die Versandkosten, wenn Sie vor Ablauf Ihrer 30-tägigen Testphase eine Rücksendung beantragen.