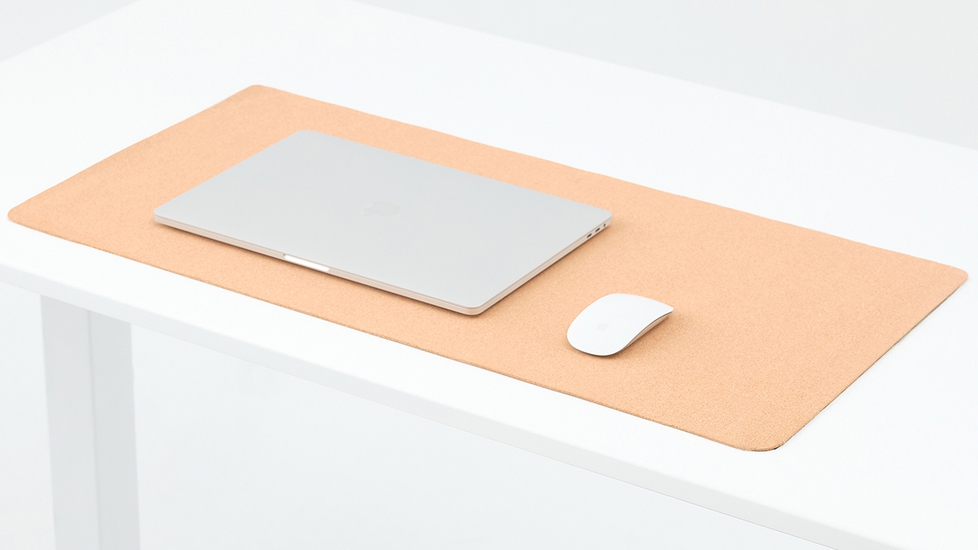 Sustainable Cork Desk Pad
$59
Made from responsibly-harvested oak cork tree shavings. Harvesting cork does not harm the tree at all; in fact, the harvest can actually extend the tree's life.
Ships within 2 business days
|
Free shipping
& 30-day returns
If you don't love it, just return it for a full refund.
• 100% recycled materials
• Protects desk surface
• Improves mouse performance
• 6-month warranty
Deep dive into specs
FAQs
Don't see the answer to your question?
Does the desk pad ship flat or rolled?
The desk pad is rolled and packaged in paper tubing for shipping purposes. To prepare your desk pad for use, simply roll the pad in the opposite direction and lay flat on your desk face down to relax back into its flat form.
The Autonomous logo should face up. However, the desk pad is dual sided, so you can use whichever side you prefer. Easily switch between the two sides to suit what you're doing at any given time.
Is the surface of the desk pad suitable for use with a mouse?
Yes! The surface of the desk pad is very smooth. The 2-in-1 product can be used as a mouse pad and effectively supports optimal mouse performance.
If I place a beverage directly onto my desk pad without a coaster, will it stain?
Yes, always use a coaster. Avoid letting any liquids come into contact with your desk pad as there is a chance it will stain.
Is the surface suitable for writing?
Yes, the Cork Desk Pad makes for a suitable backing surface to write on. However, if you're a particularly strong writer who applies a fair amount of pressure when you write, you may leave indentation marks on your desk pad.
Is the Cork Desk Pad easy to clean?
Yes. Simply wipe your desk pad clean with a damp cloth. To prevent damage, keep your desk pad away from bare flames and avoid liquid spills.
Why might two cork pads have some differences?
Each pad is unique and special for you and only you. Due to the organic nature of cork used to craft each desk pad, there may be slight variations in color, texture, and natural markings between products.
How long does shipping take?
Once your order has been processed (this usually takes less than 1 business day), shipping of your Product will take an additional 3 - 5 business days for deliveries within the Continental U.S. and 12 - 15 days for international orders.
Yes we do! We ship to over 60 countries and our global reach continues to grow. When shopping with Autonomous please select your country for localized checkout with appropriate prices, duties, and taxes applied.
Do you offer express or next-day shipping?
At this present time, we do not offer express or upgraded shipping.
Can you give me more information about your 30-Day Trial policy?
If you don't like the desk pad, we'll take it back. It's that simple and easy. You have 30 days after the date of delivery to trial your desk pad. If you change your mind, you may request to return the desk pad for a full refund, no questions asked. We'll even cover shipping! This policy applies only to desk pads delivered within the continental U.S. and returned in their complete and original packaging. Please be reminded that the returned Product needs to be in its complete original packaging. If not, we reserve the right to refuse your request. International orders do not qualify for the 30-Day Trial policy.
What is the warranty on the Cork Desk Pad?
All of our Cork Desk Pads are made with care and covered for six months against manufacturing defects. This warranty does not apply to damages caused by accidents, misuse, or modification of the Product.
• Normal wear and tear from regular Product use is not covered.
• Due to the natural characteristics inherent to leather, you may expect slight variations between Products such as organic blemishes, grain and color.
• Products that have been altered or modified are not covered, including those changes made due to improper or unauthorized repair.
Do you offer local pickup?
Local pickup is available only in Southern California (our warehouse is located in Riverside, CA). Please contact us in advance via email at human@autonomous.ai to schedule a local pickup.