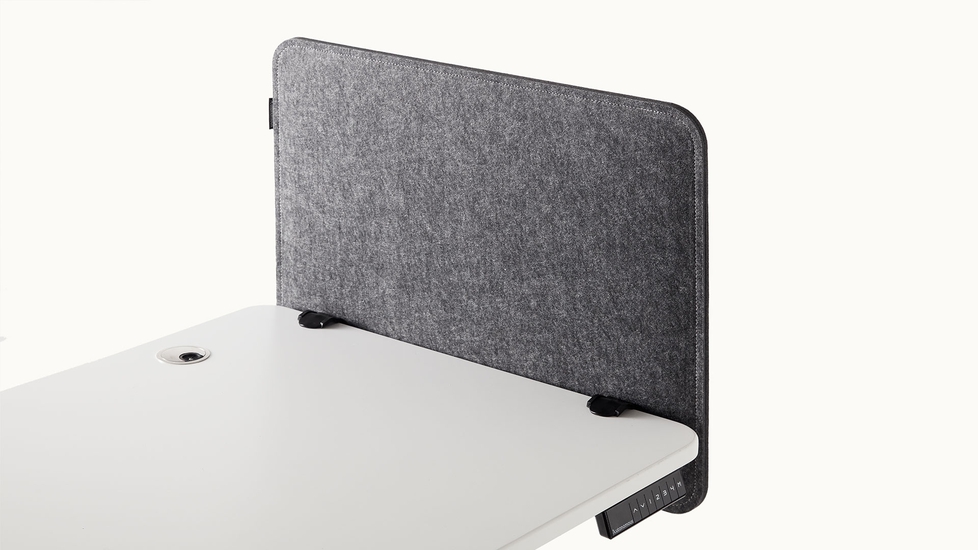 Travailler à domicile?
Sonderpreise erhalten
This easy-to-install Privacy Panel gives you a seperate, silent working space in a snap. It can also be used as a memory board for notes or personal decor.
Versand innerhalb von 2 Werktagen
|
Kostenloser Versand
& 30-Tag kehrt zurück.
Laden Sie es Ihrem Unternehmen in Rechnung
Wir können diese Bestellung an einen Bürokontakt weiterleiten und die Zahlung in Ihrem Namen anfordern.
Sparen Sie bis zu 10%.
Privacy Panel auf einen Blick.
• 100% recycled PET
• Sound-absorben
• Flame retardant
• Easy to clamp onto a surface
• 1-year warranty
Tief in die Spezifikationen eintauchen
While working on a standing desk station, all you desire is the element of privacy in your workstation. You want to focus more on your tasks and keep yourself at a distance from other colleagues to concentrate more on your tasks. A privacy panel is the standing desk accessory that you desire for actually. Office desk privacy panels separate you from other colleagues and help you work more vigilantly. As an office worker, you often get distracted by the person who is working next to you and think of the right desk setup ideas to avoid this distraction. Desk privacy panels keep you more focused, thus boost your productivity. A more attentive, productive, and the focused worker is loved by every employer.
Autonomous Privacy Panel
The Autonomous Privacy Panel is designed while keeping all that in mind. Boost your productivity and attention span with Autonomous Privacy Panels. Designed using 100% recycled materials, the Autonomous Privacy Panel is a sound-absorbent panel that can be clamped vertically onto your desk's edge to separate you from the person sitting next to you.
Dimensions
This mini wall consists of a 21-inch high front panel 47-inch wide and a smaller 27.5-inch side panel that together helps you make a personalized corner where you can work in peace. Since these 1.37-inch and 0.47-inch thick panels are 8lbs and 5lbs, respectively, it won't be much difficult to carry and clamp them to your desk. In addition, the assembly is quite simple; even the newbies can do it.
Material and Pricing
Stitched by three fiberboards of recycled PET material, the grey monotone privacy panel absorbs 85% of background noise, providing you a peaceful corner to work in. What is to be noted here is that the Autonomous privacy panels do not isolate you from your environment completely. Instead, provide you a relatively quiet workplace that is much better for your productivity. The fiberboards are sturdy enough to hold your important pinned memos and notes without experiencing any damage.
Shopping Autonomous Privacy Panel for Your Workspace
When buying the Autonomous privacy panel, you have two options; either pay full at once or pay in installments. In either case, your money is completely refundable within the 30-day free trial period, where you can return the privacy panels if you find them unsuitable for your desk. Overall, the Autonomous privacy panel's shipping and design are pretty simple. Once you receive your shipped order, all you need to do is tighten the clamp to your desk's edge, it's that simple!
Häufig gestellte Fragen
Sie sehen die Antwort auf Ihre Frage nicht?
Welche Möglichkeiten des Sichtschutzpanels bieten Sie an?
Wir bieten 2 Optionen an: Seiten- und Frontplatte, die Sie an Ihren Schreibtisch klemmen und sofort verwenden können.
Welche Farben des Privacy Panels kann ich auswählen?
Wir bieten nur eine Farbe für Seiten- und Frontplatten an: Dunkelgrau. Es ist eine monotone Premium-Farbe, die zu jedem Bürostil von Ihnen passt.
Was sind die Abmessungen der Seiten- und Frontplatten?
Das vordere ist: 47 "L x 21" H x 0,47 "T.
Das seitliche ist: 27,5" L x 21 "H x 0,47" T.
Woraus besteht der Panel zur Schallabsorption?
Alle unsere Panels sind mit 3 Faserplatten aus recyceltem Polyester gestickt (nicht geklebt), was das Produkt extrem robust macht.
Was ist NRC? Was bedeutet NRC Ihres Sichtschutzpanels?
Der NRC ist der Rauschunterdrückungskoeffizient. Ein NRC von 0 bedeutet, dass das Produkt keinen Schall absorbiert. Ein NRC von 1 bedeutet, dass das Produkt alle Geräusche absorbiert. Unser Privacy Panel hat eine NRC von 0,85, was bedeutet, dass Sie immer noch Ihren privaten, ruhigen Ort genießen können, ohne sich von der Umwelt zu isolieren.
Kommen die Panels zusammengebaut?
Sie müssen das Panel nur mit bereits auf der Faserplatte montierten Klemmen an Ihrem Schreibtisch befestigen. Die Einrichtung Ihres Sichtschutzpanels dauert weniger als 5 Minuten.
Kann ich meine Memos im Sichtschutzpanel anbringen oder anheften? Wird es die Qualität des Produkts verringern?
Mit Sicherheit können Sie Memos, Bilder, Notizen usw. auf das Bedienfeld kleben und anheften, ohne die Qualität des Produkts selbst zu beeinträchtigen. Unser Sichtschutzpanel ist für diese Nutzung ausgelegt.
Wir versenden derzeit überall in den USA. Bezüglich internationalem Versand  halten wir  Sie gerne auf dem Laufenden!
Muss ich bei Rücksendung den Versand für Ihre kostenlose 30-Tage-Testversion bezahlen?Wie funktioniert der Rückversand?
Wir übernehmen gerne die Versandkosten, wenn Sie vor Ablauf Ihrer 30-tägigen Testphase eine Rücksendung beantragen.