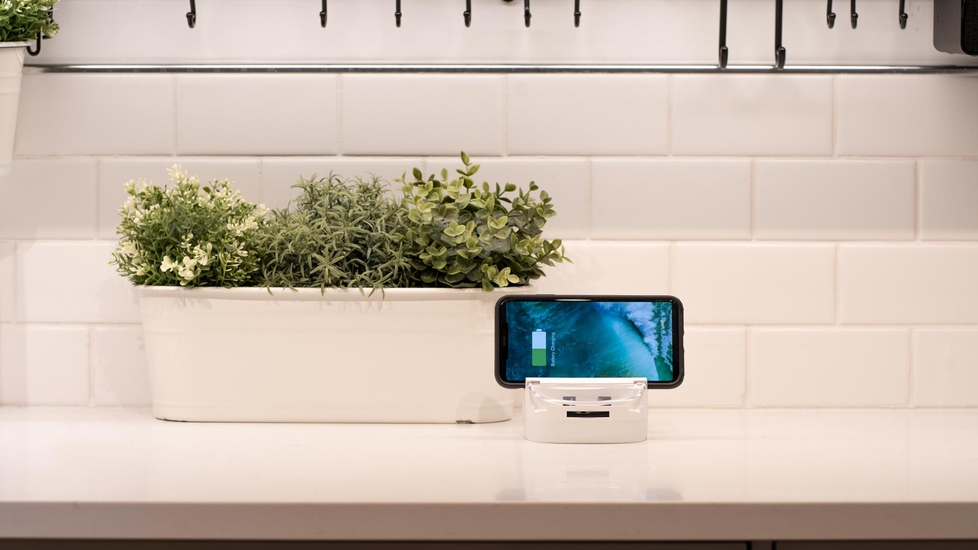 Lumicharge Universal Charging Dock
$39
$63
(-38%)
Kostenloser & flexibler Versand
Kaufe jetzt
In den Warenkorb legen
Kostenloser Versand Jun 06 - Jun 08. Kostenlose Rückgabe am 30 Tag.
Bought by 1 kolena employee
Verkauft und versandt von Lumicharge.
Lumicharge Universal Charging Dock auf einen Blick.
They say good things come in small packages. QI Certified, the 10W wireless fast charger packs a mighty punch and guarantees adherence to safe, industry standard application of wireless charging for all phones and tablets.
• Universal dock charger
• 1 USB Port
• CE certified and Qi-certified
• Multi-use, space saving design
• 6-month warranty
Tief in die Spezifikationen eintauchen


The only dock you'll ever need.
TINY BUT MIGHTY
Small, speedy, powerful.
Elegant space saving design and 10W of wireless fast charge. Automatically applies the correct wattage for your type of phone or QI-enabled device.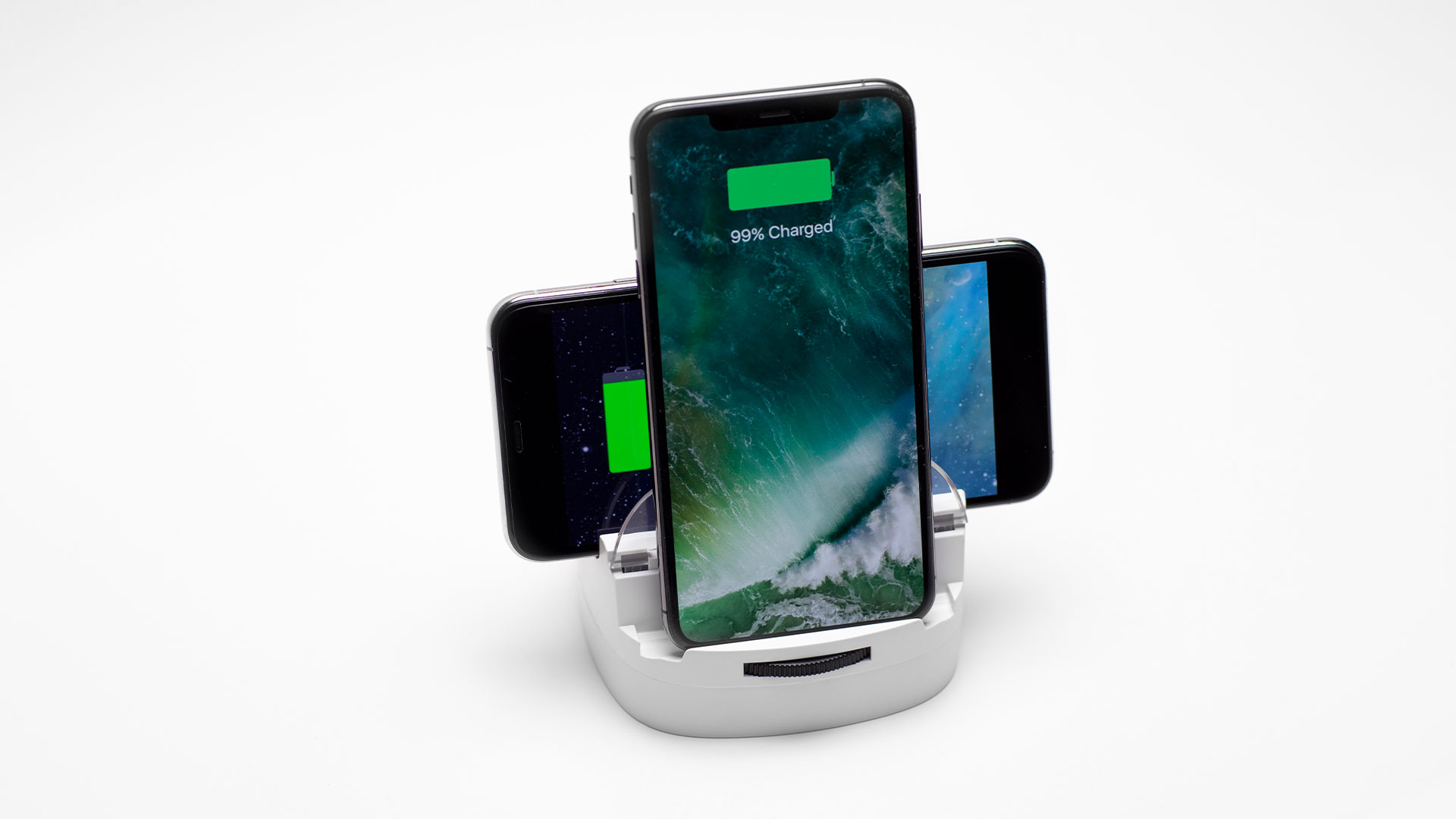 TOUGHER BUILD
Infused with silver.
Using only the highest quality thermoplastic polymer ABS material infused with precious silver to ensure maximum durability. The dock is super lightweight and delivers supreme performance.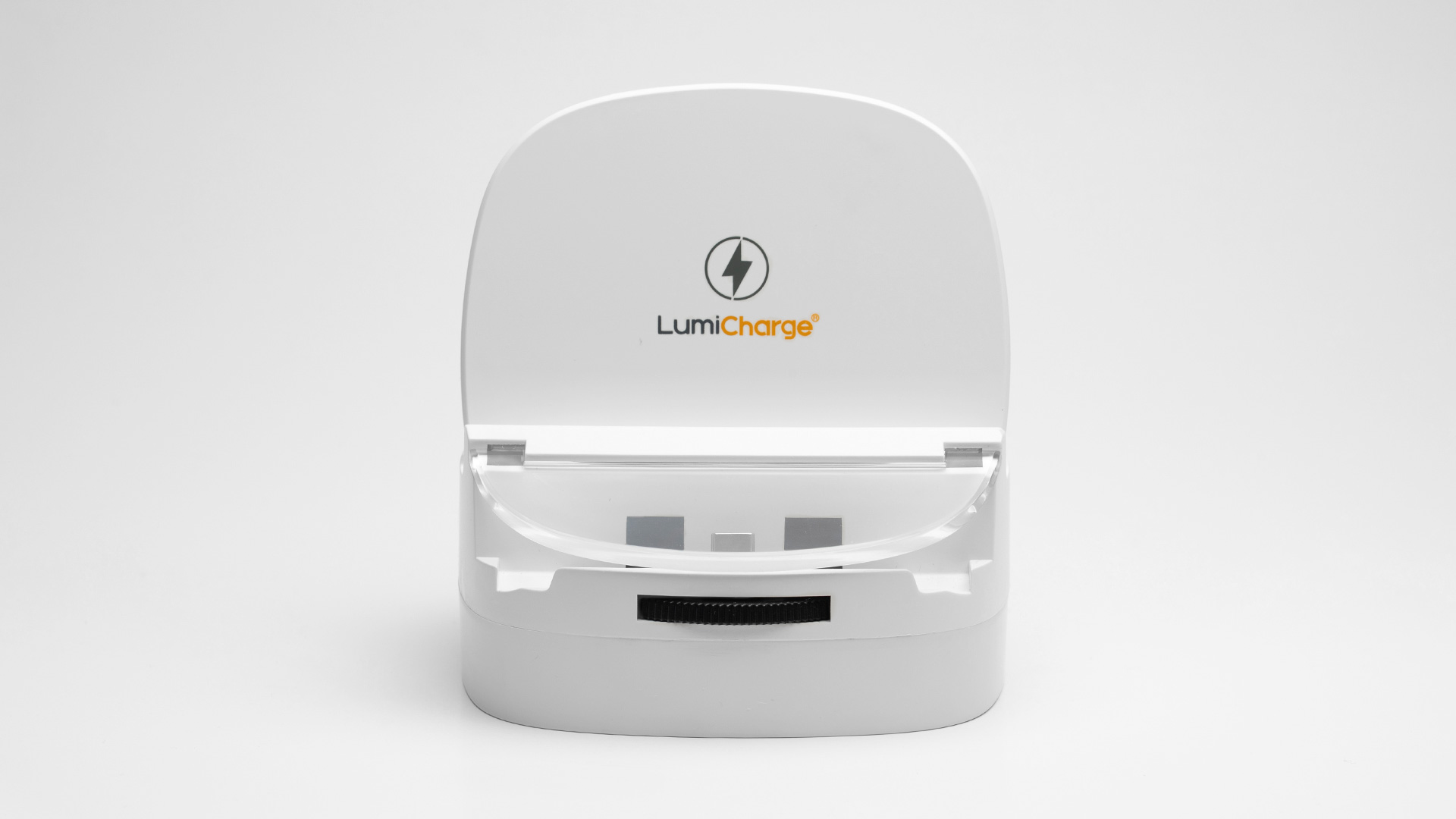 TRULY UNIVERSAL
All your devices.
Charge 3 phones at the same time. Compatible with all iPhone, Android, Samsung, Moto, and LG models. Turn the dial to match your phone type and dock to charge.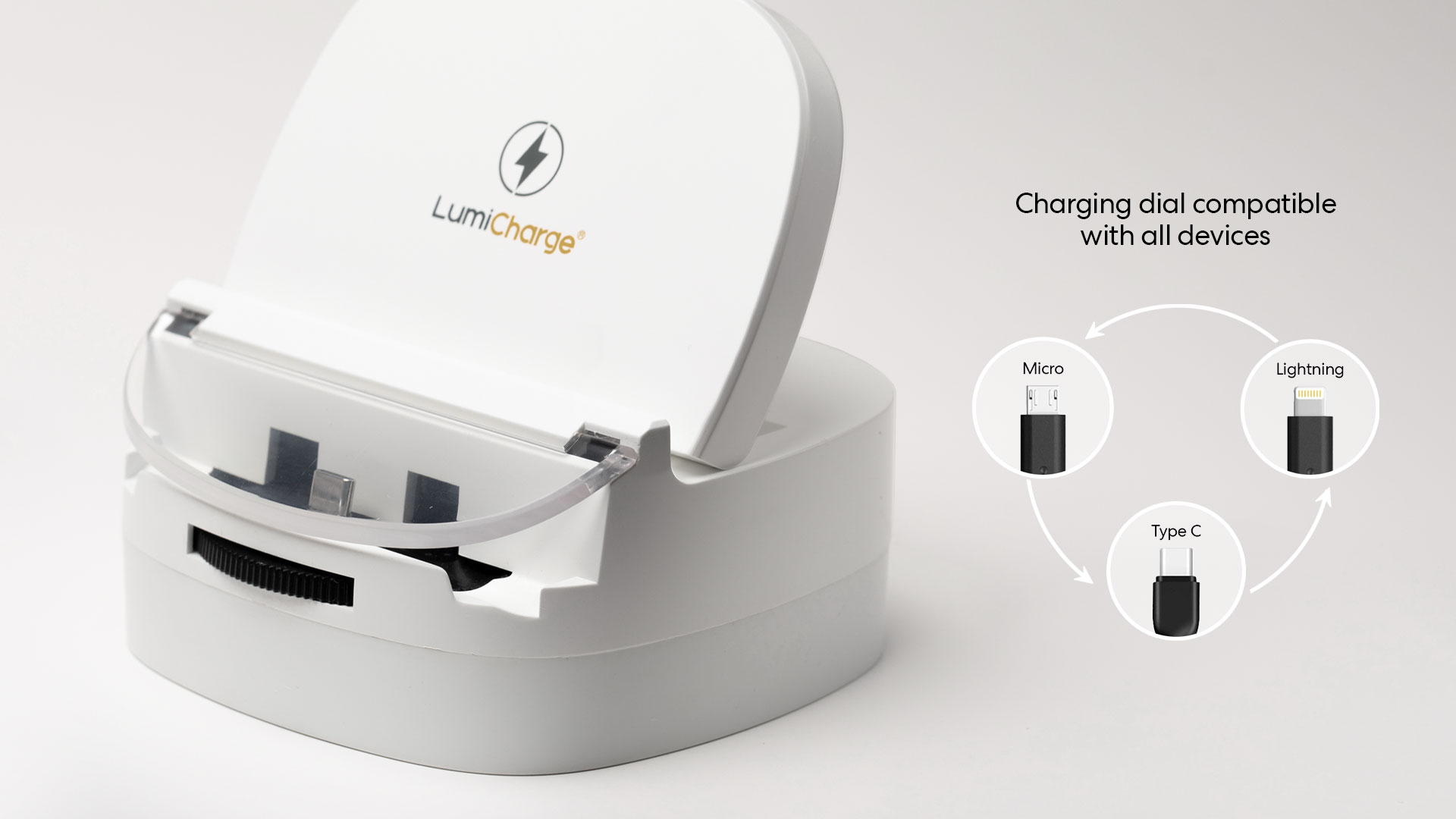 USER FRIENDLY WIRELESS PAD
Just drop and go.
Wider than other wireless charging pads of its size. Long gone are the days of trying to find that sweet spot, or waking up to a drained battery.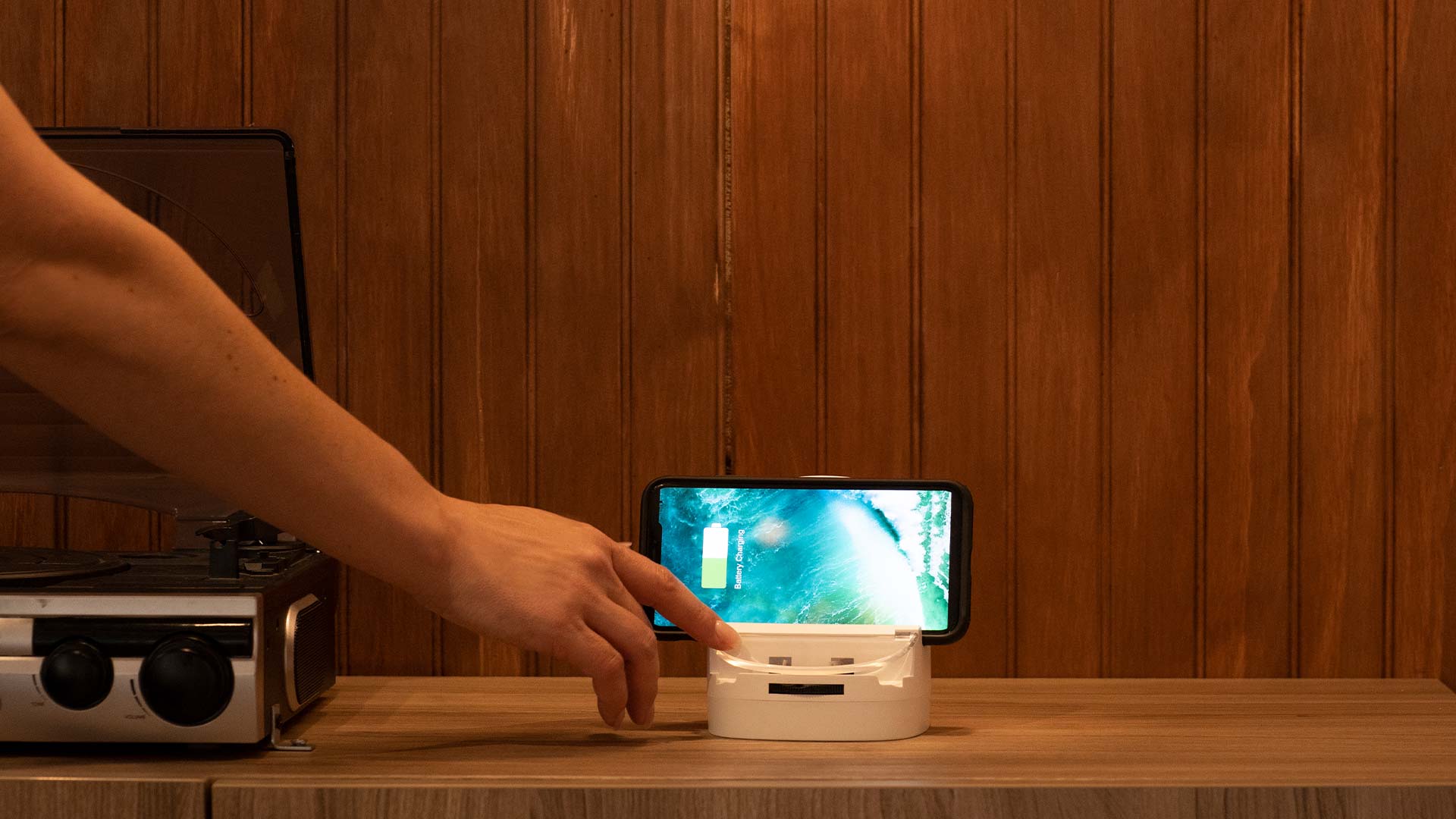 LOWER PRICE, MORE POWER
Twice as nice.
Share the love and purchase our 2 pack offer. Split it with a friend or have an extra charger on hand when you're on-the-go.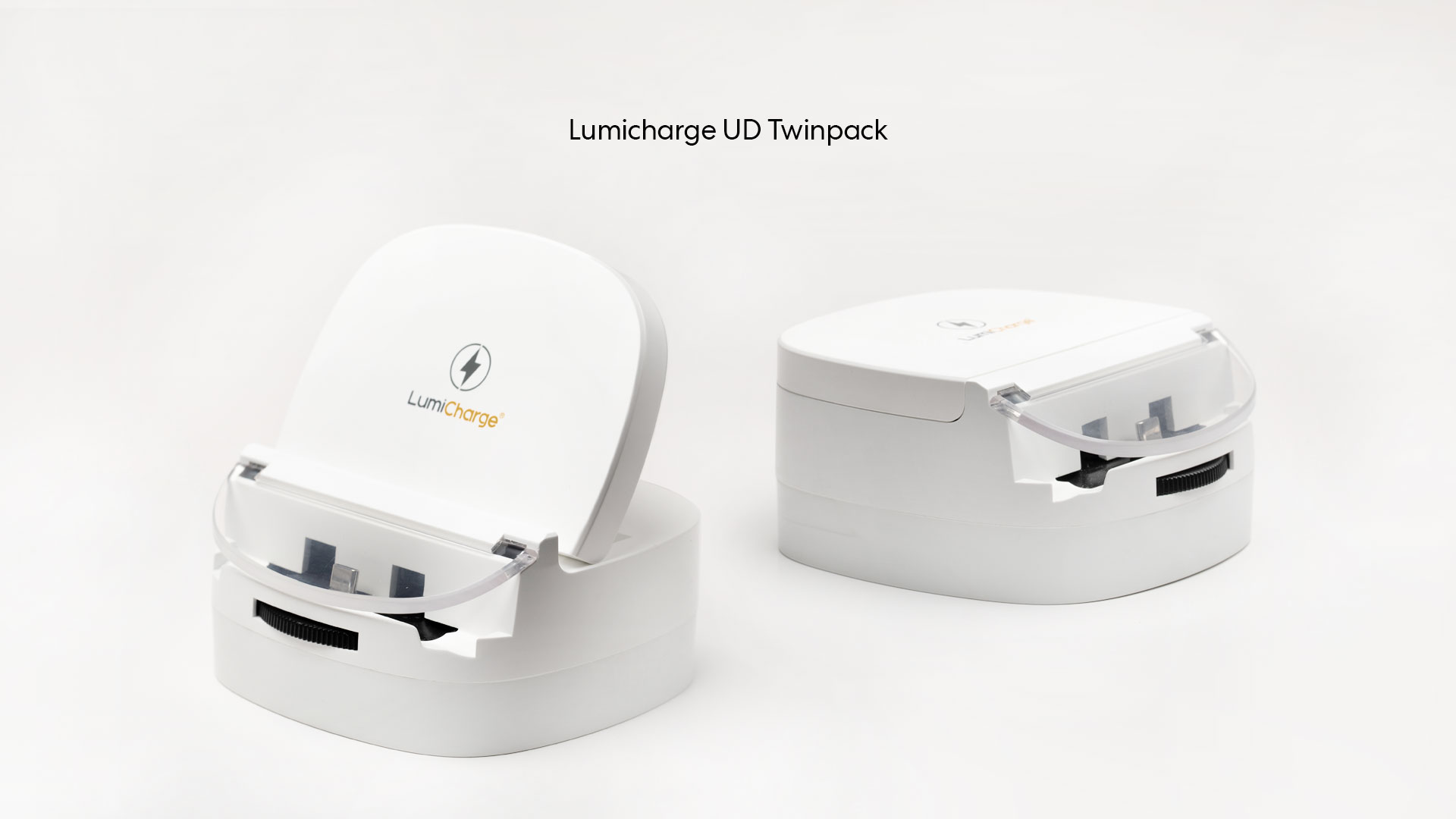 Lumicharge-UD Fast Wireless Charger – Charge your phone swiftly and safely
The Lumicharge-UD Fast Wireless charger is the best option you can choose as an alternative to your main charger for multiple reasons. Not only is it affordable, but it's also quite versatile and allows you to charge multiple phones simultaneously. Don't be fooled by its small size – this universal wireless charger is more powerful than you think. It would be better if you equipped the best home office setup with high-quality tools, such as this universal wireless phone charger. As one of the home office essentials, it can be highly convenient to avoid the wire clutter in your desk and contribute to the organization of your workstation.
Benefits of universal wireless charger
There are tons of benefits associated with this universal charger dock. The Lumicharge-UD Fast Wireless charger is equipped with multiple features that make it quite suitable for any office space, regardless of how big or small it is. Here we list some of the benefits you'll enjoy if you acquire it and why it is a good addition to your office accessories. It's a universal dock charger. Therefore, it is 100% compatible with any phone brand out there. Besides the Qi-certified fast wireless charging, it includes a USB port. This extra port can be useful if you have a device that's not compatible with a Qi wireless charging pad. This small device allows you to charge up to three phones simultaneously. Now that we mention the word "small," it is also worth noting that this device doesn't take any space at all, despite having so many functions integrated. You can safely place it in your pocket! It is compatible with fast charge. Therefore, your phone will get fully charged within a few minutes. Besides all the benefits mentioned above, the Lumicharge-UD Fast Wireless Charger is quite affordable. For a small price, you will be able to charge all your mobile devices quickly.
What is a Qi wireless charging pad?
"Qi" is the current wireless charging standard. The Wireless Power Consortium (WPC) establishes this standard. It is meant to make wireless charging universal across all the different devices and brands available at the moment. Therefore, regardless of what phone you have, you will be able to use a universal charging dock. Wireless charging needs to be standardized because it would be quite complicated to charge your devices this way otherwise. The problem with different USB types is slowly changing, as Europe recently announced that USB-C would be required to be present on all devices. Therefore, as a universal wireless phone charger, you can be sure that the Lumicharge-UD Fast Wireless charger will charge your phone as fast as lighting within a few minutes, no matter what brand it is.
How does a universal wireless phone charger work?
A Qi wireless charging pad transfers energy from the charger to the smartphones' receiver into the back. All of this happens thanks to electromagnetic induction. Then, the charger utilizes an induction coil to produce an alternating electromagnetic field, while the phone's receiver coil converts into electricity to feed the battery. However, this process is only possible when you position the phone on top of the universal wireless phone charger – there's no need to search for a specific position for the mechanism to work correctly. Tons of phones have been including this technology in their phones, which is why wireless chargers have become more popular in recent years. This way, your phone compatible with Qi technology charges pretty quickly without even using chords. Therefore, the Lumicharge-UD fast wireless charger can work at times where you can't reach a power outlet, or you want to reduce the wire clutter in your workstation.
About Lumicharge
Lumicharge is a company composed of a multi-disciplinary team that includes expert product designers and manufacturing engineers. The company has been providing different electronic devices and appliances to the public for more than three decades. This company is based in the USA, which can ensure the high quality of all the electronic components that make your favorite devices work as smoothly as they do. As of now, they have hundreds of electronic devices within their categories, but one of their most successful products has been the Lumicharge-UD fast wireless charger.
Häufig gestellte Fragen
Sie sehen die Antwort auf Ihre Frage nicht?
Is the wireless charger Fast Charging?
Yes, Lumicharge has a built-in 10W Qi certified Fast Wireless charger. How fast it will charge depends on the phone make and model.
Plug in the Power Adaptor and you are ready to Charge 3 devices at once.
Can I charge any type of phone with the Lumicharge-UD?
Yes, the Lumicharge-UD can support any smartphone or smart device that is compatible with wireless charging. The universal dock can also support any brand of phone via its connector port, just turn the wheel on the dock to charge your Type C or Micro USB device. A Type-C to Apple adaptor is included with every LumiCharge-UD.
We currently ship anywhere in the USA. International delivery is on the way, we'll be sure to keep you updated!
Do I have to pay shipping when returning it per your free 30 day trial? How does return shipping work?
We are happy to cover the cost of shipping if you request a return before the end of your 30 day trial period.