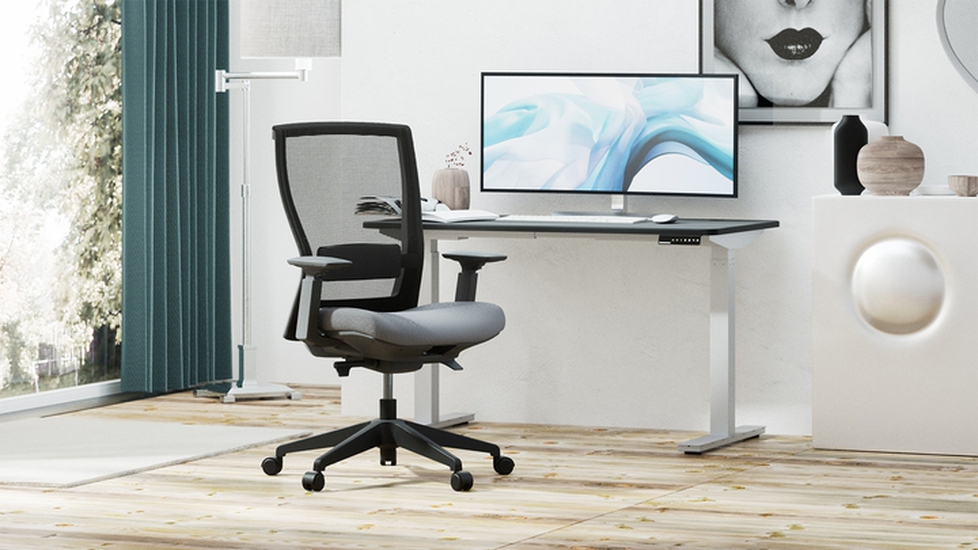 Einkaufen für die Arbeit?
Sonderpreise erhalten
Ein ergonomischer Stuhl, der bequemer ist als Ihre Couch und zudem auch noch viel gesünder für Ihren Rücken als Ihr Computer Stuhl.
Ships within 2 business days
|
Kostenloser Versand
& 30-Tag kehrt zurück
Laden Sie es Ihrem Unternehmen in Rechnung
Wir können diese Bestellung an einen Bürokontakt weiterleiten und die Zahlung in Ihrem Namen anfordern.
Sparen Sie bis zu 10%.
• Höhenverstellbar, Armlehnen, Lendenwirbelstütze und Neigung
• Einstellbare Kopfstütze und Beinauflage
• Verstellbarer Netzrücken mit Lendenwirbelstütze
• Bequemer, stützender Schaumstoffsitz
• Trägt bis zu 113 kg
• 1-year warranty
• Zahlen Sie im Laufe der Zeit mit Affirm: $33/mo
Tief in die Spezifikationen eintauchen
There are many reasons why you might want an office ergonomic chair for your business. Most employees find that they are more comfortable and support spine health. However, a computer ergonomic chair comes in many forms. With so many companies offering them, how do you know the reasons to choose the ErgoChair Core from Autonomous? Here are a few points to consider about this popular office chair with a headrest.
Why Should You Invest in a Reclining Ergonomic Office Chair?
Many people are now starting to realize that reclined sitting is the best posture. If you're thinking of getting an ergonomic chair for the computer, it's important to choose the right one. However, sometimes, it's hard to think of reasons to invest in a reclining office chair. Here are some of the most important factors to ponder from your computer chair with leg rest:
Adjustable Armrests and Headrest
The ErgoChair Core from Autonomous does offer a headrest, but it is an add-on. While essential, the company does understand that some people don't want an office chair with headrest. With that, though, you have the choice to get it, and some people claim it's essential. Your reclining desk chair can come with an adjustable headrest. This means it's great for relaxation and spine health. In fact, it's made with the same mesh as the backrest (chair back). Many chairs come with armrests, but the ErgoChair Core is different. You still get a wonderful computer ergonomic chair, but there's cushioning for the armrests. They're fully adjustable, too. This means you can lower and raise them to meet your needs. With that, this ergonomic chair for the computer has armrests that slide forward and back. You can easily adjust them to sit comfortably in your reclining ergonomic chair!
Back Tilt Angle and Seat Height
The back tilt angle of your office chair with headrest lets you recline back in the chair. It's at a set limit (18 degrees), and there are three positions. Typically, people rock in them, which can be dangerous. However, the ErgoChair Core offers locking mechanisms. That way, you can stay at the right angle in your reclining desk chair. Your computer ergonomic chair must also have an adjustable seat height. Every office worker is different. If you all rotate workstations or have a hybrid work environment, it means everyone can work at any available station. This also means that the chairs must be fully adjustable. The ergonomic chair for computer use from Autonomous has a seat height of 18 to 21 inches. That measurement is from the floor to the top of the seat, giving everyone plenty of room to be comfortable.
Footrest
Though some people call it a leg rest (which is more accurate), the footrest is a great add-on for the ErgoChair Core. This computer chair with leg rest is extendable and comes out from the base of the seat. That way, you can prop your legs up while reading or relaxing. When you truly want to stretch out, pull them out and kick them back in when you're not using them. Plus, they work great when you're reclined, and purchase the office chair with headrest. You can pretty much lie back, think, relax, or even take a power nap (if allowed).
What Are the Benefits of Using a Reclining Ergonomic Chair for Computer User?
If you're thinking about getting a heavy-duty reclining office chair, now is definitely the time to do it! Here are just some of the many benefits of using a reclining ergonomic chair: Back Relief – Though you can stand (if you have a standing desk) and continue working, there's something about sitting that humans enjoy so much. After sitting for long hours, your back might become strained. A reclining office chair can help with that. Improve Posture – With a reclining desk chair, you don't have to slouch, and the chair moves with you. Reduced Hip Pressure – Traditional chairs have hard surfaces and can put more pressure on the hips. Though the ErgoChair Core is cushioned, reclining can prevent pressure points in the hips and buttocks.
Why Should You Choose Autonomous ErgoChair Core?
Now that you know how beneficial a computer chair with leg rest and headrest can be, it's time to learn why you want to go with the ErgoChair Core from Autonomous. This computer ergonomic chair has everything you could want, including comfort, style, and reclining capabilities. Let's learn more:
Quality/Certificate
When you buy a reclining desk chair from Autonomous, you know you're getting a high-quality piece of furniture. The ErgoChair Core is BIFMA complaint. This is an industry-wide registry for furniture products that meet the durability and safety standards of BIFMA. It means they have been tested thoroughly and are shown to be authentic and real. With that, the reclining ergonomic chair is also UL 2818 compliant. This means that it is eco-friendly to its core. It's made of materials that don't contain toxins and chemicals, which is safer for your office. With both of these certificates, you can rest easy knowing that your office chair with headrest is safe for you and the environment!
Modern Appearance: Style Options and Materials
Many offices are going for that modern appearance and style, with slim lines, a small profile, and a streamlined look. The ErgoChair Core has all of that, and more! You also have plenty of style options available for this computer ergonomic chair. Many people prefer the headrest and leg rest, but you can opt-out of it. Without them, the chair looks smaller but still meshes with the overall décor of the office. Plus, you can choose cool gray or all black for the color. Every computer chair with leg rest needs to use durable materials. The ErgoChair Core uses polyester fabric with a molded foam interior for optimal comfort. From there, the frame is made of nylon plastic, which is strong and sturdy without adding chemicals. You can have an extremely comfortable computer ergonomic chair with all the trimmings to be comfortable and stylish while working.
Assembly
There is some assembly required with this reclining desk chair. First, you must put the wheels on the base, attach the connector to the base. You should now attach the leg rest by inserting it into the right hole in the base and tighten the screws. Then, attach the armrests. Tighten the metal bar to the seat bottom, next. From there, you connect the metal bar under the seat to the base of the backrest. Install the headrest, and pick up the chair part, and put it on the base.
Trial & Warranty
With this ergonomic chair for computer use, you get a 30-day trial period. This means you can use it in your office for a full month to decide if it's right for you. On top of that, the components of the chair have a 1-year limited warranty. If any parts are faulty, they can be replaced free of charge. With so many reasons to get a computer ergonomic chair, you are probably itching to buy one. Consider the Autonomous ErgoChair Core with the headrest and leg rest add-ons for full comfort.
Häufig gestellte Fragen
Sie sehen die Antwort auf Ihre Frage nicht?
How easy is the ErgoChair Core to recline?
It takes you only a few seconds to get the ErgoChair Core reclined. Change the angle of the headrest and activate the footrest by pushing or pulling with a gentle force. You then can get relaxed.
I see there is lumbar support in the ErgoChair Core? Is this lumbar support adjustable or fixed?
We build ErgoChair Core to an ergonomic chair for computer work, therefore, the lumbar support is extremely important. ErgoChair Core lumbar support is easily adjustable. You move the lumbar support up and down to embrace your back the best.
Is the ErgoChair Core's headrest adjustable?
Sure! The ErgoChair Core's headrest is totally adjustable. You can change the height and angle of the headrest easily to fit your head position or make it become a reclining desk chair while opening the footrest.
What body height range does the ErgoChair Core support?
Our computer ergonomic chair - ErgoChair Core, supports the body height range from 4'9 to up to 6'4 thanks to the height adjustable feature.
If I buy the ErgoChair Core without headrest and footrest, can I then buy headrest and footrest separately to attach to the chair?
The ErgoChair Core without headrest and footrest version is not designed to support the headrest and footrest attachment. Therefore, you cannot buy the headrest and footrest separately and join them to the version without them. If you need a reclining ergonomic chair, you should buy ErgoChair Core with headrest and footrest version.