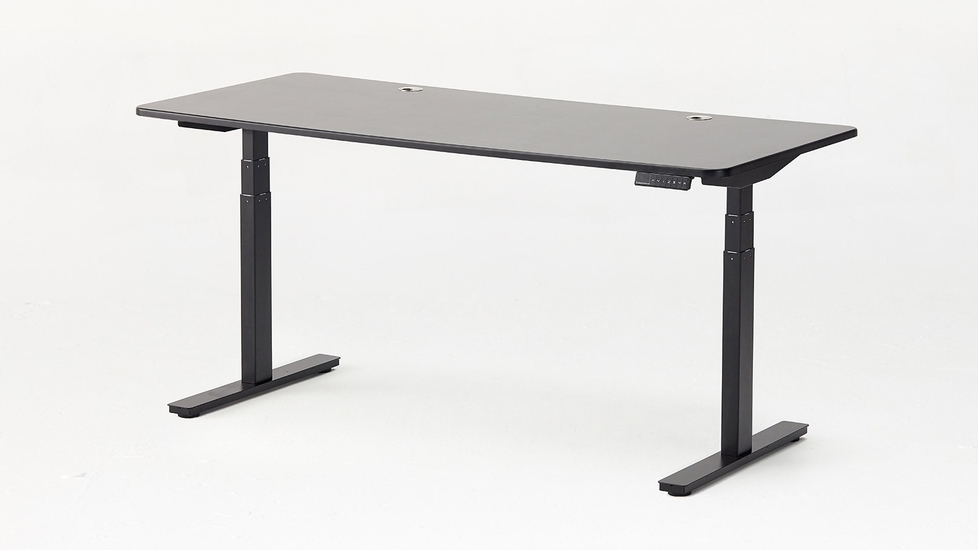 Autonomous SmartDesk Pro
- Office Standing Desk
Kaufe jetzt
In den Warenkorb legen
Versand nach Jun 14. Kostenlose Rückgabe am 30 Tag.
Bought by 1,600+ Genentech employees
Verkauft und versandt von Autonomous.
Autonomous SmartDesk Pro auf einen Blick.
More range and more power. For those who do more.
• Height-adjustable from 26.2" to 52"
• 4 programmable settings
• Upgraded electric dual motor
• Quieter at just 40 dB
• Improved load capacity of 310 lbs
• 3 desktop options with pre-drilled holes : 43"L x 23" W; 53"L x 29"W or 70.5"L x 30" W
• Natural wood tops and classic finishes
• Solid steel frame
• 7-year warranty
Tief in die Spezifikationen eintauchen

SMARTDESK PRO
The best one yet.
You're looking at the result of years of R&D and steady upgrades.

• Stronger
Lifts a cool 310lbs with ease.

• Quieter
How does 40 dB sound? It doesn't.

• Taller
26.2" to 52". That's some range.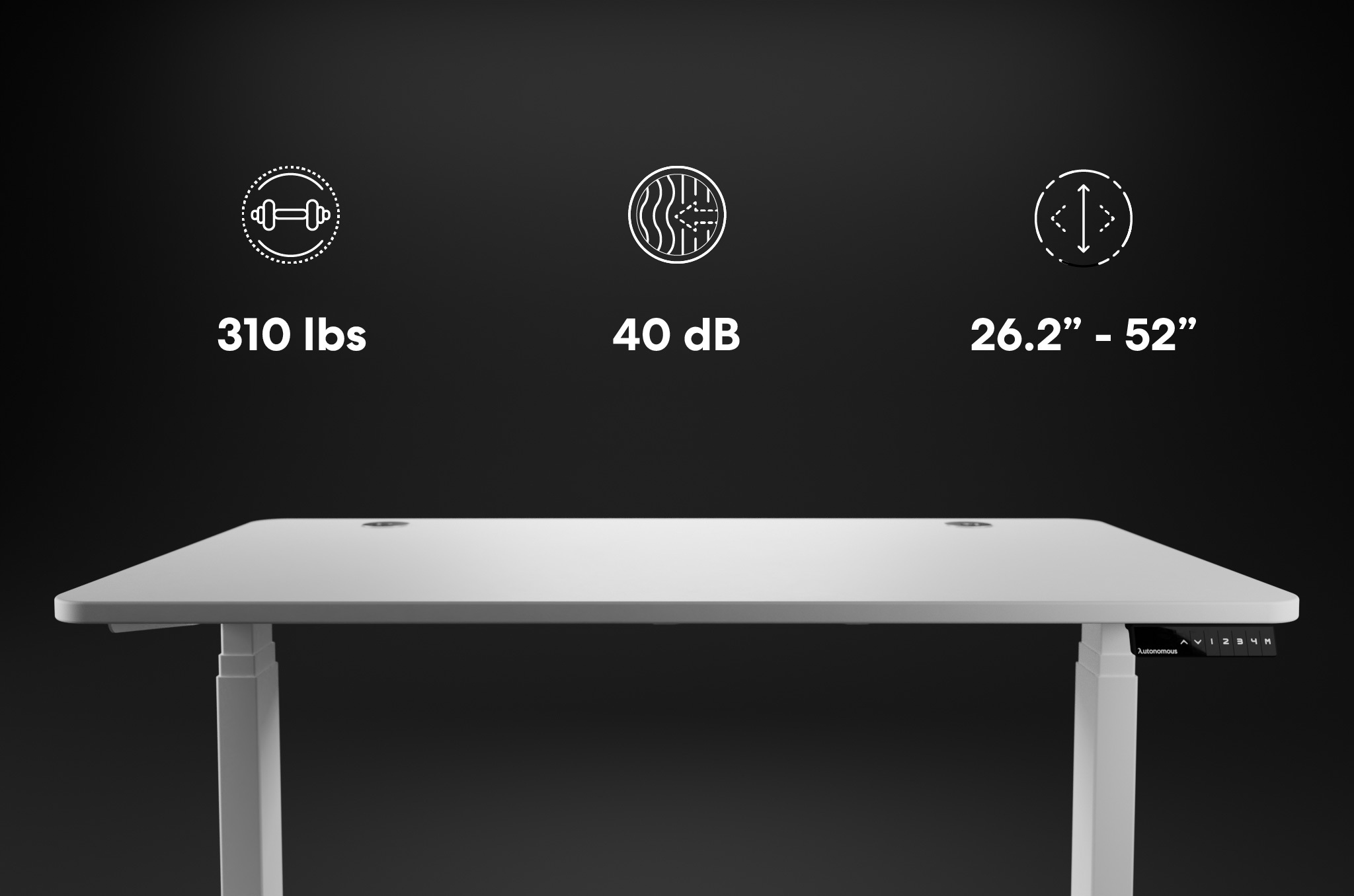 A WHOLE 6 FT
More space to think.
The Regular size desktop is roomy enough for 2 monitors. But for those with beast-mode setups, the XL (available only in the US + CA) is for you. SmartDesk Pro's improved lifting column is powerful enough to support all of your work tech & more.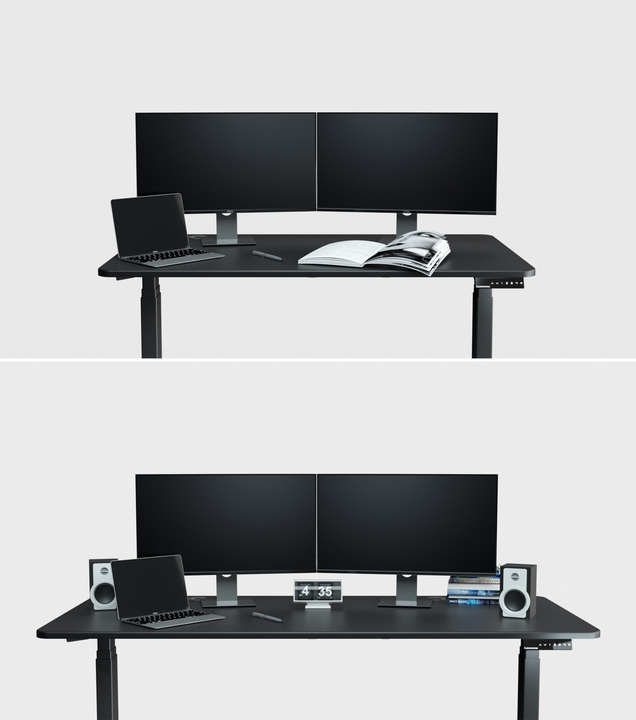 MORE POWER
Peak performance for 50,000 cycles.
What does peak performance look like? 310 lbs at 1.3" a second, for a decade of solid productivity. Moving at a whisper-quiet 40 dB, with sub 0.5° of wobble even when jostled at its max height of 52".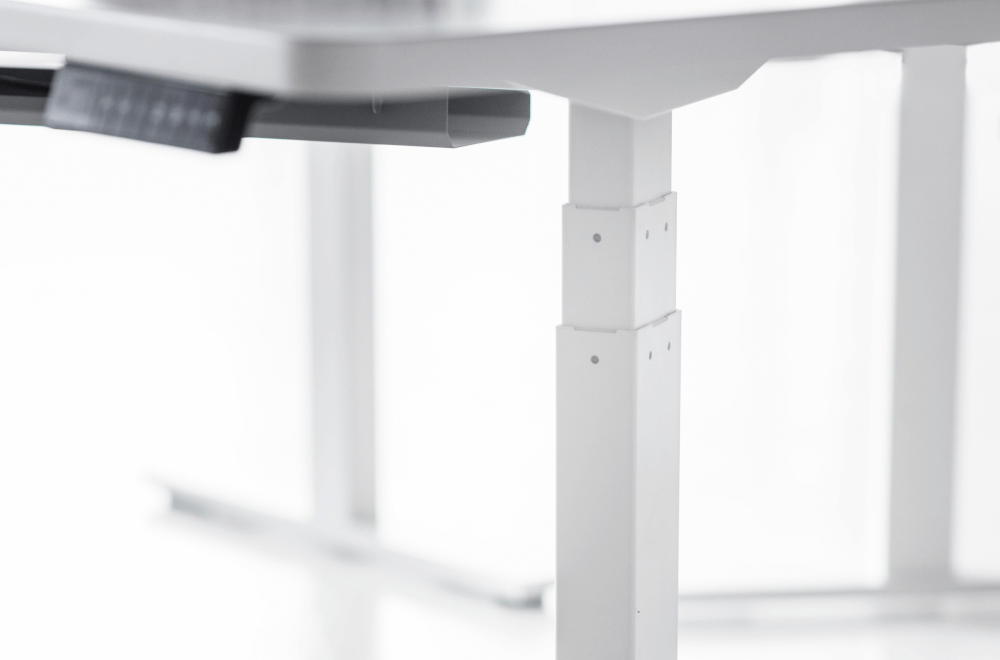 4 CUSTOM PRESETS
Uninterrupted flow.
Simply save your ideal positions and go from your perfect sit to stand with a single touch.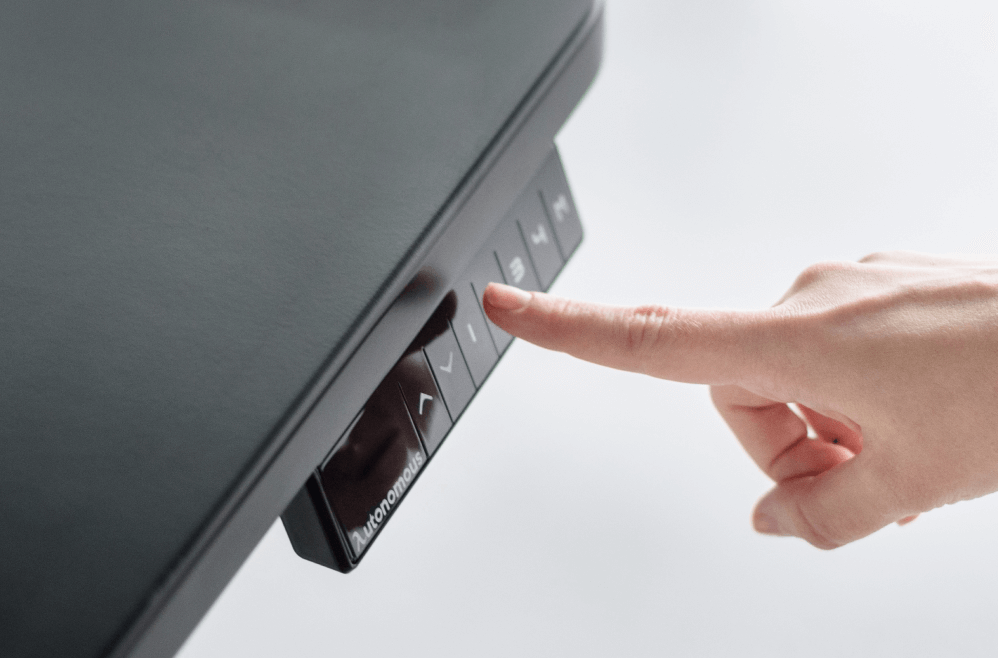 3x CERTIFIED DURABLE
Every component built to last.
Powered by our latest dual-motor steel frame, the Pro will support your very best work for years to come. Globally vetted for strength and safety by BIFMA, and EMC.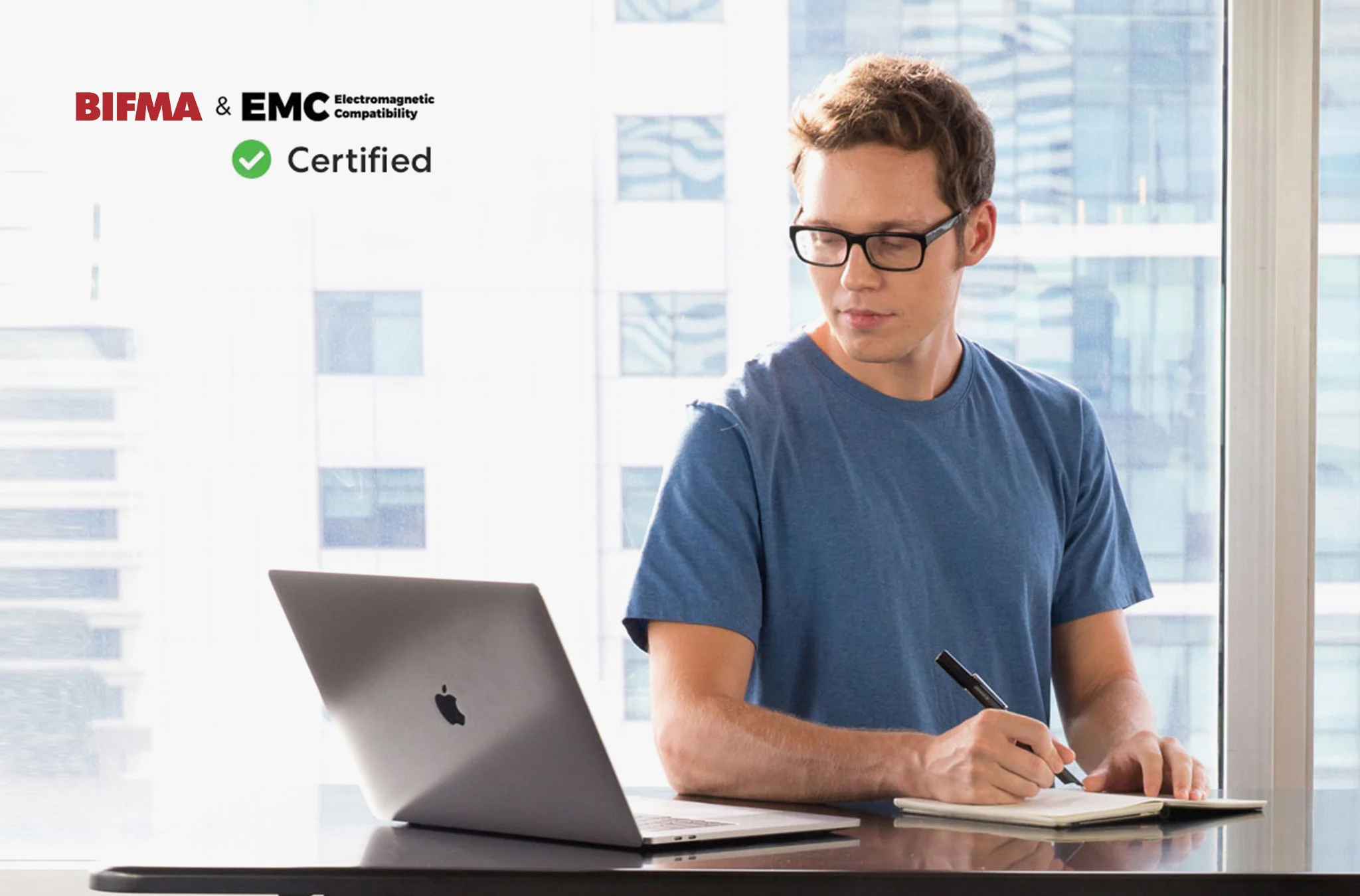 A top-class standing desk for your office or home
More than 300,000 people from all over the world have chosen a SmartDesk to improve their productivity and well-being. Become part of the standing revolution.
SmartDesk Pro
Taking SmartDesk to New Heights & Minimal design
Our most versatile SmartDesk allows you to raise or lower your desk to the optimal height thanks to its impressive range from 26" all the way up to 52"! SmartDesk Pro features the same beautiful, minimal design as our SmartDesk Core, with increased height range for added flexibility. With calm color choices and minimal design, the SmartDesk Pro version goes perfectly with your home surroundings. Now it's easy to create a modern home office that tells your unique style and story with our SmartDesk.
The new office standard with a smooth and sturdy foundation
As more people switch to standing while working, the SmartDesk Pro is becoming a recognizable standard of office desks. It's the perfect choice for 8-hour workdays. Not only is it an affordable home office solution, the Autonomous bulk order option makes it a bargain for many large companies worldwide. The SmartDesk comes with a dual-motor steel frame that can effortlessly lift up to 300 lbs to its maximum height in just 20 seconds. This solidly-built system produces less than 45 decibels of sound, so when it's gliding smoothly between heights, it's as quiet as a library.
A fresh finish & Central manufacturing
Autonomous applies automobile-standard painting techniques to ensure a premium finish on your top and frame. We have a range of sleek and solid colors available and even a natural, elegant bamboo desktop option. Pick the look that speaks to you. Our steel frames and electric components are all designed, built and tested in the same factory to ensure consistency and quality across all our SmartDesks.
Quality control & BIFMA and EMC certified
Our manufacturer has more than 20 years' experience in the manufacturing industry. We test 100% of our SmartDesks to make sure every single one meets our quality standards before we ship them. The SmartDesk has been tested and certified to meet the high standards set out by BIFMA and EMC. The Business and Institutional Furniture Manufacturers Association (BIFMA) promotes global safety and performance standards for furniture products, while Electromagnetic Compatibility (EMC) testing makes sure electronic products function well without causing any electromagnetic disturbances.
Häufig gestellte Fragen
Sie sehen die Antwort auf Ihre Frage nicht?
May I use PayPal to pay for this desk?
Due to transaction limits, we can only accept PayPal payments from the 1st to the 15th of every month. PayPal's account policy permits us to accept a limited volume of payments per month, and with current sales volume, we normally reach our limit by the 15th.
What are the differences between the SmartDesk Core and SmartDesk Pro?
Pro frame (without top) has a height range of 26" - 52" and holds 300 pounds of weight and has a 7-year warranty.
Core frame (without top) has a height range of 29.5" - 48" and holds 300 pounds of weight and has a 5-year warranty.
All tops are covered by a 1-year warranty.
Does this desk use a regular 120 volt outlet?
Yes. Our standing desk is compatible with standard 110 volts - 240 volts outlets. Both currents are automatically converted by the desk. US orders are installed with the standard two-prong plug. For international orders, we convert the plug to the type used by the destination country.
I see that there is a "black box" to be installed on the underside (aside from the control panel), with power and data connection. Is this like a power strip and data plug-in?
Yes, this is the control box. It must be attached under the standing desk to use the Smart Keypad. It is connected with the Smart Keypad to control the height of the desk, and with the power source to tell the electric motor(s) when to move up and down.
We do! We have shipped to more than 60 countries so far, and we're still counting! Please select your country for localized checkout and appropriate pricing, duties, and taxation processing.
How much weight can your SmartDesk support? I have two wide monitors, 27" each. Will they be safe?
Premium frame can lift up to 300 lbs.
Home Office frame can lift up to 300 lbs.
How long does shipping take?
Once your order is processed (less than 1 business day), shipping takes 3-5 business days for continental US addresses and 7-10 days for international orders.
Can you give me more information about your 30-Day Trial policy?
If you don't like your desk, we'll take it back. It's that simple and easy. You have until 30 days after delivery to build and use your desk. If you change your mind, you can then request to return the desk for a full refund (we even cover shipping!), no questions asked. This policy applies to all desks delivered inside continental U.S. and returned in their original packaging only. International orders do not qualify for this program. Please note that the returned standing desk needs to be in its original packaging. If not, we reserve the right to refuse your request.
Is there a way to reset my SmartDesk Core?
The Re-set function for Premium and Home Office is the following:
1. Press the up and down buttons at the same time until the desk goes to re-setting position and beep sounds up.
2. Release both buttons.
This should reset the desk. If not, please feel free to contact us at [email protected], so we can help you reset your standing desk.
How easy is it to assemble the Autonomous SmartDesk Core? Which tools do I need?
Assembly is not difficult. We include all the assembly tools needed in every package! Most customers finish setting up their new desks in just 15 to 30 minutes.
Does the outlet for the standing desk needs to be grounded? Is a separate circuit necessary for each desk?
No, it doesn't. The Autonomous SmartDesk is very energy efficient and draws only 0.06 watts while on standby.
How long is the cord /plug wire? In another words, how far can this desk be from an outlet?
How high does the desk go?
Premium frame extends up to 52 inches.
Home Office frame extends up to 48 inches.
How is Autonomous SmartDesk Core shipped?
Autonomous SmartDesks are shipped in two packages: one for the frame and one for the desk table top.
What are the dimensions of the shipping packaging?
Package specifications are as follows: 
Table top box: 56"L x 33"W x 3"H x 47 lbs. 
Frame box (Premium): 43"L x 13"W x 10"H x 70 lbs. 
Frame box (Home Office): 43"L x 13"W x 10"H x 67lbs.
What is the lowest height the SmartDesk Core drops down to?
The lowest height for the SmartDesk Core (with top) is 26 inches (for Premium) and 29.5 inches (for Home Office).
What is the thickness of the table top of the SmartDesk Core?
The thickness of the table top is 1 inch.
What is the warranty on the SmartDesk Core?
The Premium frames have a 7-year warranty. The Home Office frames have a 5-year warranty. All tops are covered by a 1-year warranty. In the unlikely case of any problems, we will quickly fix the desk, free of charge, or send a brand new standing desk to your location of choice.
Do you have non-wood table tops for the SmartDesk Core ?
Our only non-wood option is the bamboo table top standing desk, made of 100% real bamboo and just as durable as our wood standing desk table tops.
Is the 70.5 inch x 30 inch SmartDesk Core XL less stable than the classic size?
No. The only difference between the XL and the 53-inch standing desk top is that the XL offers more space and is heavier.
Do you offer local pickup?
Local pickup is available in Southern California only (our warehouse is in Riverside, CA). Please contact us in advance at
[email protected]
to schedule a local pickup.
Is the walnut table top a solid hardwood table top?
No, our white, black, walnut, and white oak wood table tops are high-quality MDF with hardwood veneer. Our bamboo table top is 100% real bamboo.
What is the width of the space between the desk's legs on both Home Office and Premium?
Premium frame's width between the legs is 40-73 inches.
Home Office frame's width between the legs is 40-73 inches.
Do you offer express or next-day shipping on the SmartDesk?
At this time, we do not offer express or upgraded shipping.
Does the SmartDesk Core come standard with pre-drilled cable holes in the top of the desk?
Yes, we offer the grommet holes on our tops.
How far apart do the legs have to be? Is there only one distance that works or can I put them closer together?
For Premium frame, the leg placement can be safely extended within range of 40-73 inches.
For Home Office frame, the leg placement can be safely extended within range of 40-73 inches.
How do I configure the presets on my SmartDesk2?
First set the desk to your desired height, then press the M button until the LED screen on the keypad flashes. Next, select the number you want to associate with that height. Now you are ready to work smarter!
How loud is the motor on the SmartDesk Core as it raises and lowers?
Our motors are the most silent on the market. Featuring advanced noise cancellation engineering, our SmartDesks are whisper-quiet at only 45dB during movement.