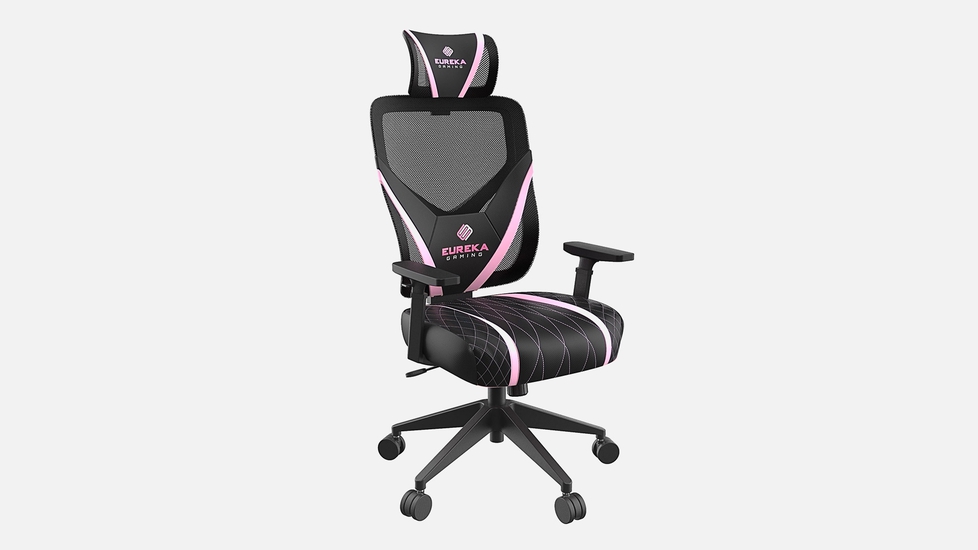 EUREKA ERGONOMIC GE300 Breathable Ergonomic Gaming Chair
Buy now
Add to cart
FREE shipping Dec 03 - Dec 05. FREE 30-day returns.
Sold and shipped by EUREKA ERGONOMIC
• Ergonomic design provides ample support • Armor-like padding design adds comfort and fashion style look • Breathable mesh material keeps you cool • High-tensile mesh fabric provides flexibility and durability • Fully adjustable design allows for maximum customization
• 5-year warranty
GE300 Breathable Ergonomic Gaming Chair with Breathable Mesh Fabric
Deep dive into specs
A gamer's back will tell you that fatigue may set in quickly. If you want to devote a lot of time to your hobby, you need to be able to play in comfort. Picking the correct ergonomic chair, like a EUREKA ergonomic gaming chair for gaming may alleviate discomfort, protect your spine, and improve your posture. Does your back hurt when you're playing games? Then you obviously have the incorrect chair. It's easy to find manufacturers of ergonomic gaming seats that prioritize player wellness. Many hours of sitting on a chair are required for gamers. This necessitates more plush seat office chairs. And if you tend to adopt unusual sitting positions, a poorly designed chair might have a deleterious effect on your health. We recommend the EUREKA ergonomic gaming chair. This position is supported by any ergonomic chair designed for use in an office. Two careless movements while seated on such seats might strain our backs. As a result, special chairs have been designed to alleviate the strain on the lower back, allowing for more time spent sitting. If used correctly, a gaming chair may improve not just health and fitness, but also productivity.
Benefits Of an Ergonomic Gaming Chair
Adjustability & Active Seating
An ergonomic gaming chair, like a EUREKA chair, has to have a range of motion. The typical height and back tilt adjustments on an office chair aren't sufficient for gaming. Choose a chair that allows you to adjust the seat depth, back height, armrest, and neck support to your specific needs. If you want to maintain good posture and prevent back discomfort, you shouldn't sit for more than an hour at a time. One cannot just pause a game while it is in progress. In order to keep on playing for long periods of time without compromising your spinal health, an ergonomic and comfy desk chair, like a EUREKA chair is a need.
Enhanced Capacity for Focus & More Energy to Play
Distractions abound when individuals are suffering from fatigue or discomfort. This indicates that their efforts will become less fruitful over time. Many studies have shown the correlation between how you stand and how you feel, as well as how your brain operates. The stress hormone is released when you slump over, whereas maintaining your back straight raises your testosterone levels, so get the EUREKA gaming chair now. A chair relieves strain on your muscles by cradling your whole frame. Avoiding injury to your back will give you greater stamina and less fatigue. The EUREKA gaming chair is the answer.
Features of EUREKA Ergonomic Gaming Chair
Adjustable Lumbar, Headrest & Armrest
This comfortable office chair helps in maintaining the spine's natural curve when seated with the help of a lumbar support is crucial for proper sitting posture and may help ward off chronic lower back discomfort. The adjustable headrest of this comfortable gaming office chair helps you in taking little rest breaks, these breaks might help you refocus and go back to work with renewed vigor. Shoulder pain may be reduced or eliminated altogether with the use of ergonomic features like the movable arms of a chair. The armrests assist keep you from hunching over since they prop up your elbows and forearms.
Adjustable Premium Foam, Armrest & Class IV Hydraulics
This breathable gaming chair has a mesh back for ventilation and a high-density foam seat cushion covered in soft PU leather. PU leather upholstery, a sturdy metal frame, a gas lift with an SGS 4 rating, and nylon casters for easy movement; Holds up to a hefty 330 kg! This breathable gaming chair fits well for long hours of work or play. The chair's backrest is ergonomic because it helps to keep the user's neck and spine in a healthy, straight position when seated. Players may modify the vertical height to their liking, thanks to the hydraulics built into the seats.