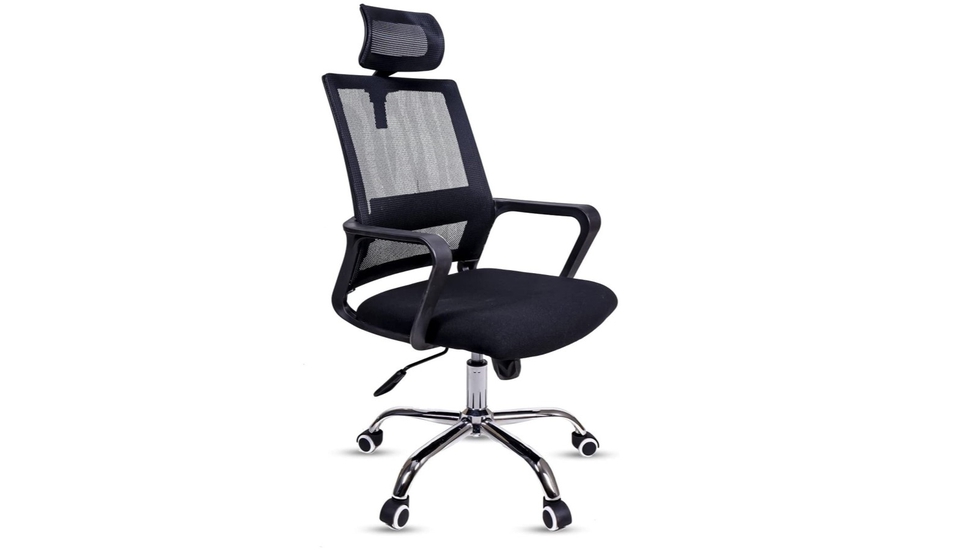 US OFFICE ELEMENTS USOFFICE ELEMENTS Ergonomic Office Chair: Head Rest
- Executive High Back Mesh Office Chair With Head Rest, Arms and Wheels
4 reviews
Visit our store
Color: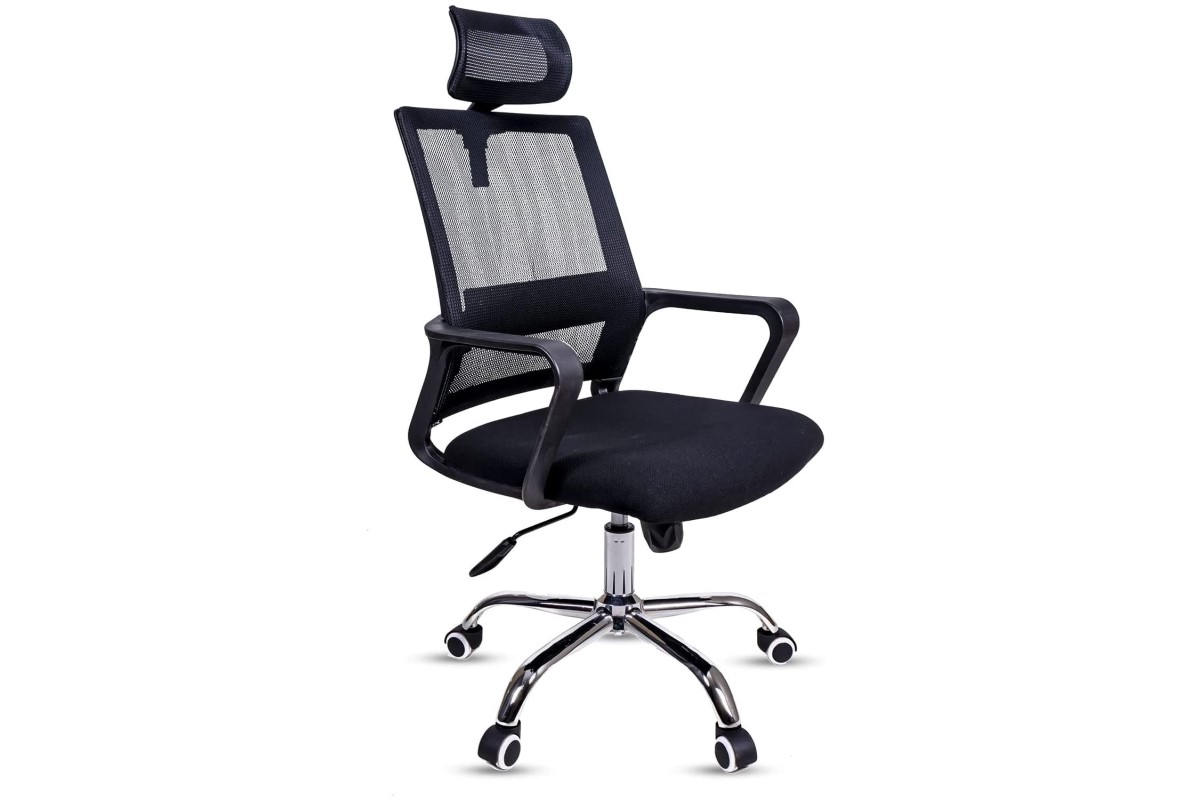 Not available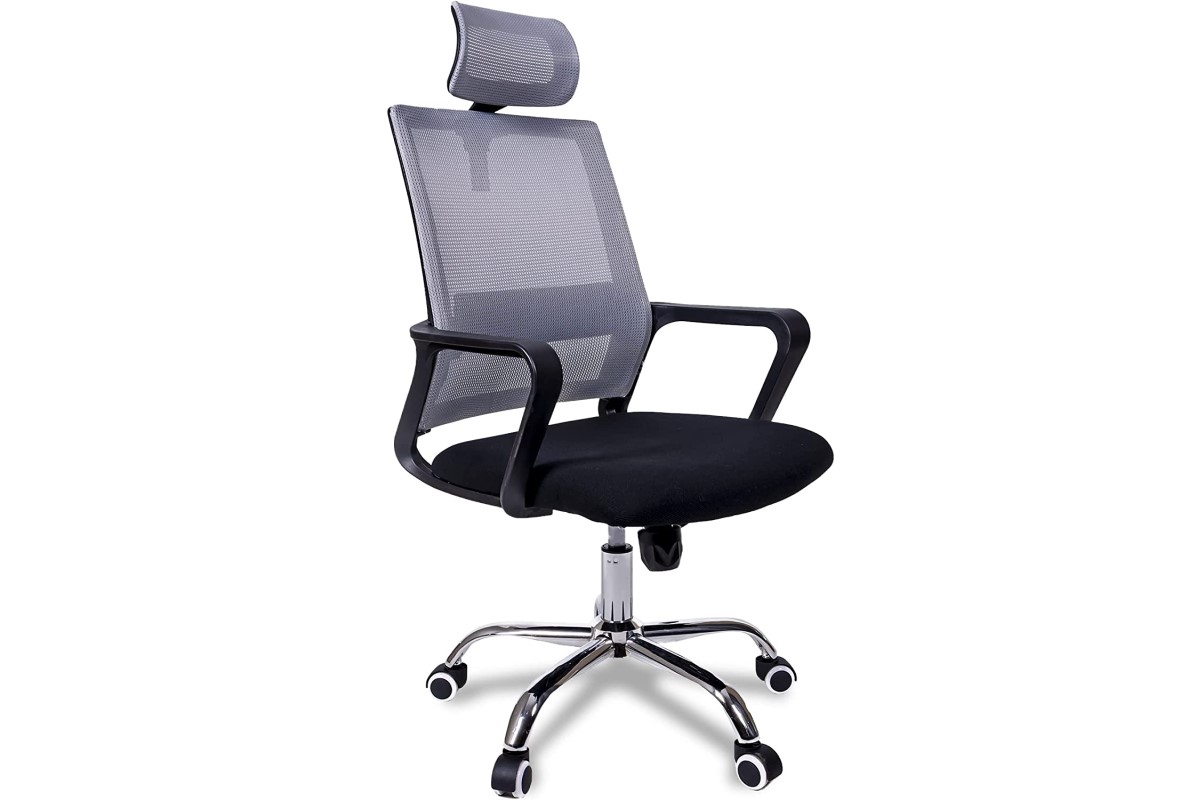 Not available
Buy now
Add to cart
FREE shipping Dec 03 - Dec 05. FREE 30-day returns.
Sold and shipped by US OFFICE ELEMENTS
• High back • Adjustable head rest • Good lumbar support • Breathable mesh • Height adjustable • PLEASE NOTE THAT THE GRAY CHAIR HAS BOTH A GRAY SEAT AND A GRAY BACK (not as shown in the images)
• 1-year warranty
Ergonomic office chair with high back and adjustable head rest. Good lumbar support, breathable mesh to keep you cool, height adjustable - all features fit for an executive. PLEASE NOTE THAT THE GRAY CHAIR HAS BOTH A GRAY SEAT AND A GRAY BACK (not as shown in the images)
Deep dive into specs
Features
FAQs
Specs
reviews
4.0
The typical office worker spends roughly 10 hours every day sitting down. This is detrimental to your overall fitness, but it may also affect your work ethic, particularly if you lack the necessary support. Investing in office chairs with head support might help lower the health risks associated with a sedentary lifestyle. A headrest adds an additional level of comfort to an ergonomic office chair with a headrest. It offers considerably additional support, enabling you to maintain good posture and experience comfort all day long. Ergonomics is sometimes referred to as biotechnology or human design. Science exists in ergonomics. The core of the field's research is on how to arrange and build things in a manner that promotes and safeguards the human touch. An ergonomic office chair with a headrest is your best choice if you're seeking nice office chairs for your alignment, relaxation, support, and health. High-back ergonomic office chair options include a number of features that are meant to improve your posture and offer sufficient support, but they only do half the job. Before spending money on an ergonomic chair, it's crucial to know how to sit properly. The majority of ergonomic seats do not come with a headrest. Any decent comfortable office chair has an adjustable headrest that can be tilted up to a 45-degree angle for the utmost comfort and support. To adjust it to your height, you may move it up and down. An ergonomic office chair with headrest will provide you with greater control and customization options. Adjustability is even more important when buying chairs that a range of persons will use. To ensure a better "fit," take into account the person's body proportions while buying a chair just for them. For instance, folks who are taller than average will have different needs than those who are shorter.
Benefits Of Ergonomic Office Chair With Headrest
Adjustability Designed For Everyone
A crucial component of a high-back ergonomic office chair is adjustability. It is challenging to adopt a "one size fits all" mentality in business since individuals in any industry come in a variety of shapes, sizes, weights, and work styles. Everyone may work efficiently and pleasantly in comfy desk chairs, such as a Logicfox ergonomic office chair, which can be customized to their specific requirements. The variety of office chairs available on the market today for different body shapes and sizes may be confusing. The mesh ergonomic office chair solutions from Logicfox are highly adjustable, making them appropriate for a variety of workplaces and body types.
Durability
Working long hours at the workplace may cause you to have worn-out, unsupportive seats that are difficult and expensive to fix. So instead of spending more money on a short-term office chair, why not get a Logicfox mesh ergonomic office chair? The Ergonomic office chair with lumbar support is made to endure wear and tear since they are intended to be used for extended periods of time.
The Logicfox Ergonomic Chair With Headrest's Main Features
Principal products' features: strong back, great flexible headrest, mesh that breathes, best bent armrest, very variable height, adaptive design, soft and welcoming, with a metallic base, swivel to 360°, angular tension. Great support for lumbar: Ergonomic office chair with lumbar support, height adjustment, and breathable mesh While the breathable mesh of this executive mesh office chair keeps you cool and comfortable all day, it also provides excellent back and neck support. Armrests, an adjustable height, a chrome base, and rolling wheels are further features. Uses: boardroom, study, and office, multi-venue capabilities, strong, long-lasting chrome base, simple and quick to construct, a plush, comfy chair, wheels made of polyurethane that won't scratch surfaces.