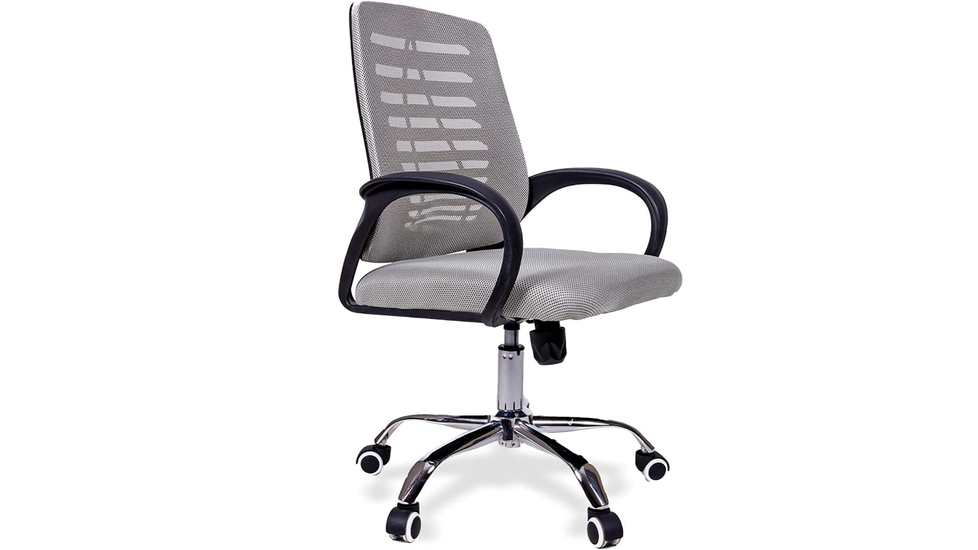 US OFFICE ELEMENTS USOFFICE ELEMENTS Stylish Ergonomic Computer Desk Chair: Chrome Base
- Stylish desk chair, stylish computer chair
Color: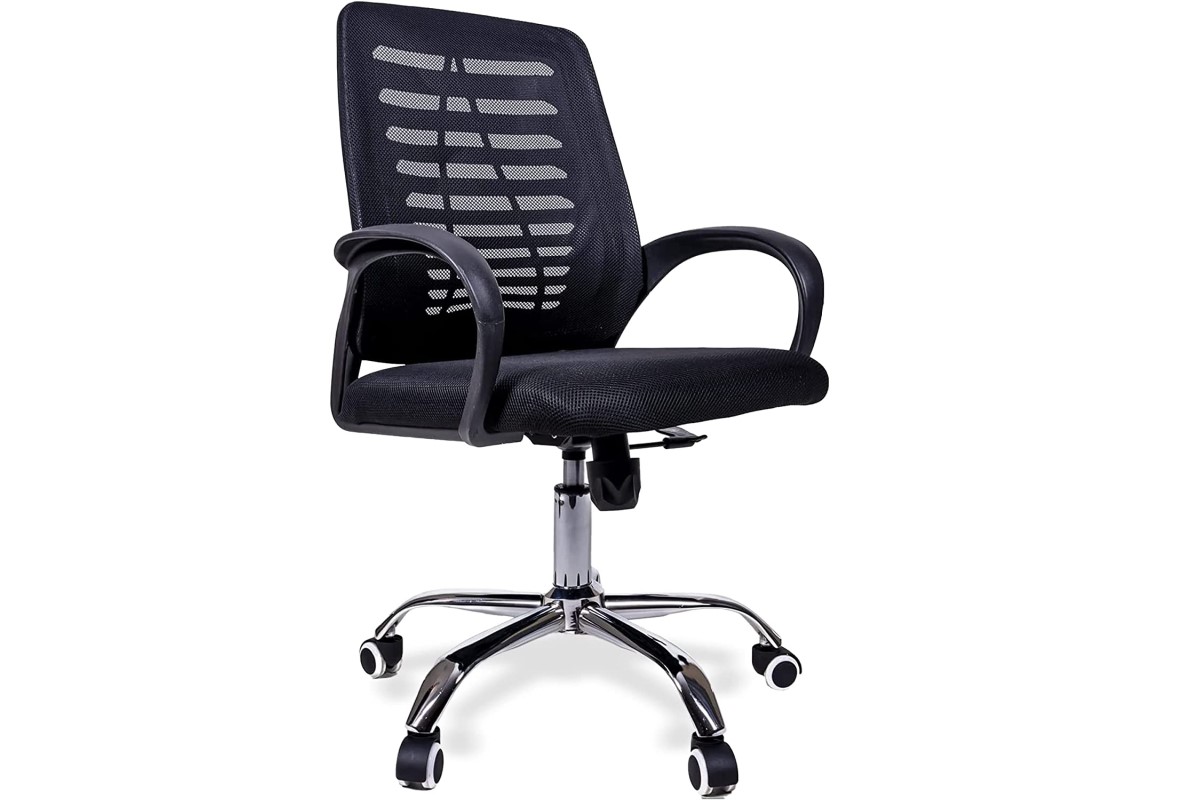 Not available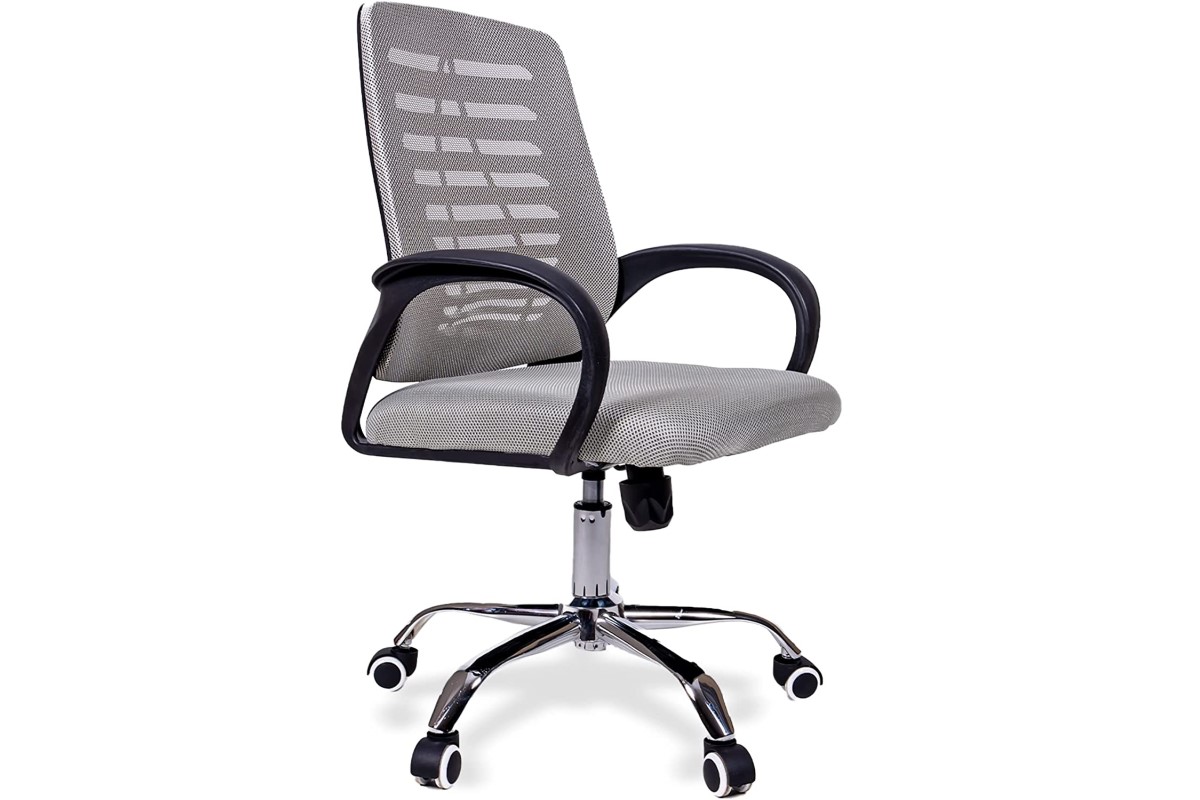 Not available
Buy now
Add to cart
FREE shipping Dec 09 - Dec 11. FREE 30-day returns.
Sold and shipped by US OFFICE ELEMENTS
• Ergonomic Design with Ribbed Back Support – This comfortable office chair gives enhanced lumbar support by following the natural curve of your spine. Its ribbed design supports good posture while helping to deter back pain, muscle tenderness and body aches. • Adjustable Chair for Desks – Adjust the height of your ergonomic chair based on your preference. Changing its height aligns the hips and gives adequate back support. While sitting on it, you can work for long periods of time without discomfort or pain. • Space-Saving Posture Office Chair – This home-office chair fits easily inside any room, even small ones. This portable office chair also complements your workstation, allowing you to do tasks efficiently. Just lean back and sit comfortably. • Easy to Assemble – This mesh chair comes with an easy-to-follow guide. You can put it together and install it in less than 20 minutes! • Stylish and Durable Lumbar Chair - With its breathable mesh material, high quality foam cushion, curved arm rest and gas lift cylinder, this very sturdy work/study chair is not only long-lasting, but it helps to improve your productivity, too.
• 1-year warranty
Ergonomic Office Chair with Lumbar Support | Computer Desk Chair with Arms | Adjustable 360 Swivel Chair with Arms
Deep dive into specs
About US OFFICE ELEMENTS Stylish Ergonomic Computer Desk Chair: Chrome Base
The need for a stylish and functional workspace applies equally to those who do their business from home. The solution to this predicament might be as simple as upgrading to a more fashionable and comfortable chair for use at your workplace. A well-designed stylish desk chair for the workplace or home office may serve a practical purpose while adding a touch of class and sophistication to the space. Finding a good ergonomic office chair for your work that is both functional and stylish is essential. Think about the chair's general style and design while shopping for a new stylish desk chair. Try to find chairs with simple, clean lines and a contemporary finish, such as chrome or stainless steel. Materials like leather or mesh utilized in construction can add to the chair's feeling of sophistication and class. To maximize your comfort and efficiency at work, a stylish swivel ergonomic desk chair with lumbar support is an absolute must-have piece of furniture. Its armrests, height adjustment, and 360-degree swivel all work together to encourage healthy posture and correct spinal alignment, ease pressure on the lower back and boost comfort.
About The US Office Elements
When it comes to premium office furnishings and supplies, you need to go no further than US Office Elements. Products for corporations + governments, and universities are all available. They have a lot of information about their products, including specifications, measurements, and prices, which can be found on their user-friendly website. US Office Elements provides a wide variety of office furniture, including stylish office chairs. All the way from ergonomic work chairs to executive seats, they have everything covered. Their chairs are available in a wide range of designs + hues, and materials to complement any working environment. They come with some convenient features, including movable lumbar support, tilt tension, and pneumatic adjustments for seat height.
Ergonomic Office Chair With Lumbar Support (360 Swivel Chair)
Those who spend long periods sitting at a desk will benefit greatly from this ergonomic, stylish office chair's lumbar support. The ribbed back support and overall ergonomic shape of the chair are particularly designed to support your lower back in a healthy position while also encouraging you to maintain an upright position while working. This allows you to work comfortably for extended periods and reduces the risk of developing back discomfort, muscular soreness, and other aches and pains. The height of this stylish ergonomic desk chair may be changed to suit the user's needs. It provides sufficient back support and helps keep the hips in proper alignment when seated. The chair's armrests and 360-degree swivel make it a flexible and comfortable addition to any workstation.
Benefits Of Using A Lumbar Support Office Chair With 360-Degree Swivel
Improved Posture And Spinal Alignment, Lower Back Strain Is Reduced
A swivel ergonomic, stylish desk chair's lumbar support aids spinal health and correct posture. The ribbed back support of the chair conforms to the shape of your spine to alleviate pressure on your lower back and encourage correct spinal alignment. These heavy duty office chairs not only allow you to work comfortably for extended periods, but it also reduces the risk of developing back discomfort, muscular soreness, and other aches and pains. With the ergonomic stylish desk chair's lumbar support, you won't have to worry about experiencing any aches or pains in your lower back. Those who spend long hours at a desk will like this addition greatly. These are the best office chairs for back pain.
Adjustable Height & Armrests
Hip alignment and proper back support may be achieved with the chair's height adjustment mechanism. Because of this function, the chair may be adjusted to the ideal height for the user, allowing for utmost ease and comfort. Because of the extra support provided by the armrests, you may sit in this chair for long periods without experiencing any aches or pains.
Versatile, Durable And Long-Lasting - Excellent For Any Office Setting
These good-quality fabric office chairs are perfect for lengthy periods of sitting, and their many uses make them a great investment. The chair may be used in various environments, including traditional workplaces and home offices. This chair is versatile enough to suit your needs in a conventional workplace or a home office. The chair is built to last, giving you a supportive and pleasant place to sit for many years.