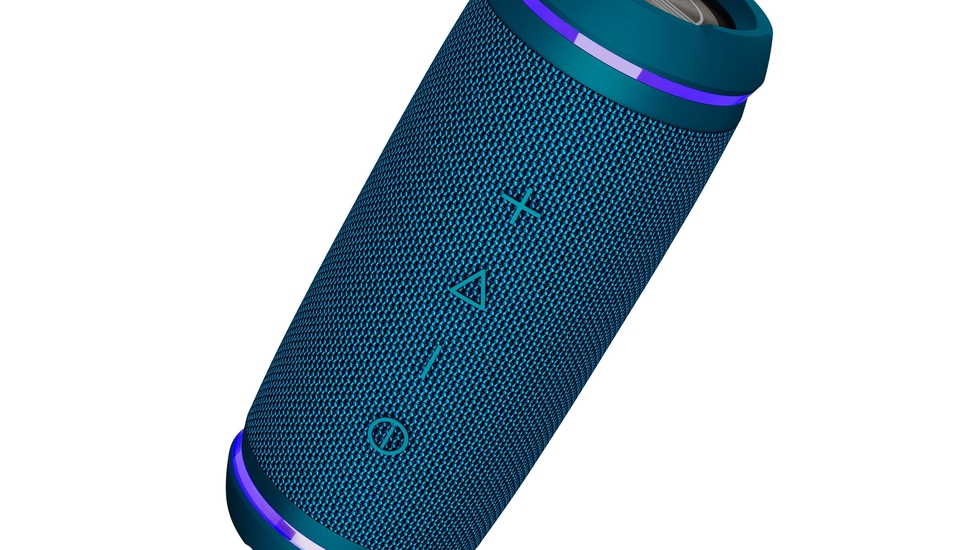 TREBLAB HD77 Wireless Outdoor Bluetooth Speaker: Dual Bass & Water Resistance
HD77
21 reviews
Visit our store
Color: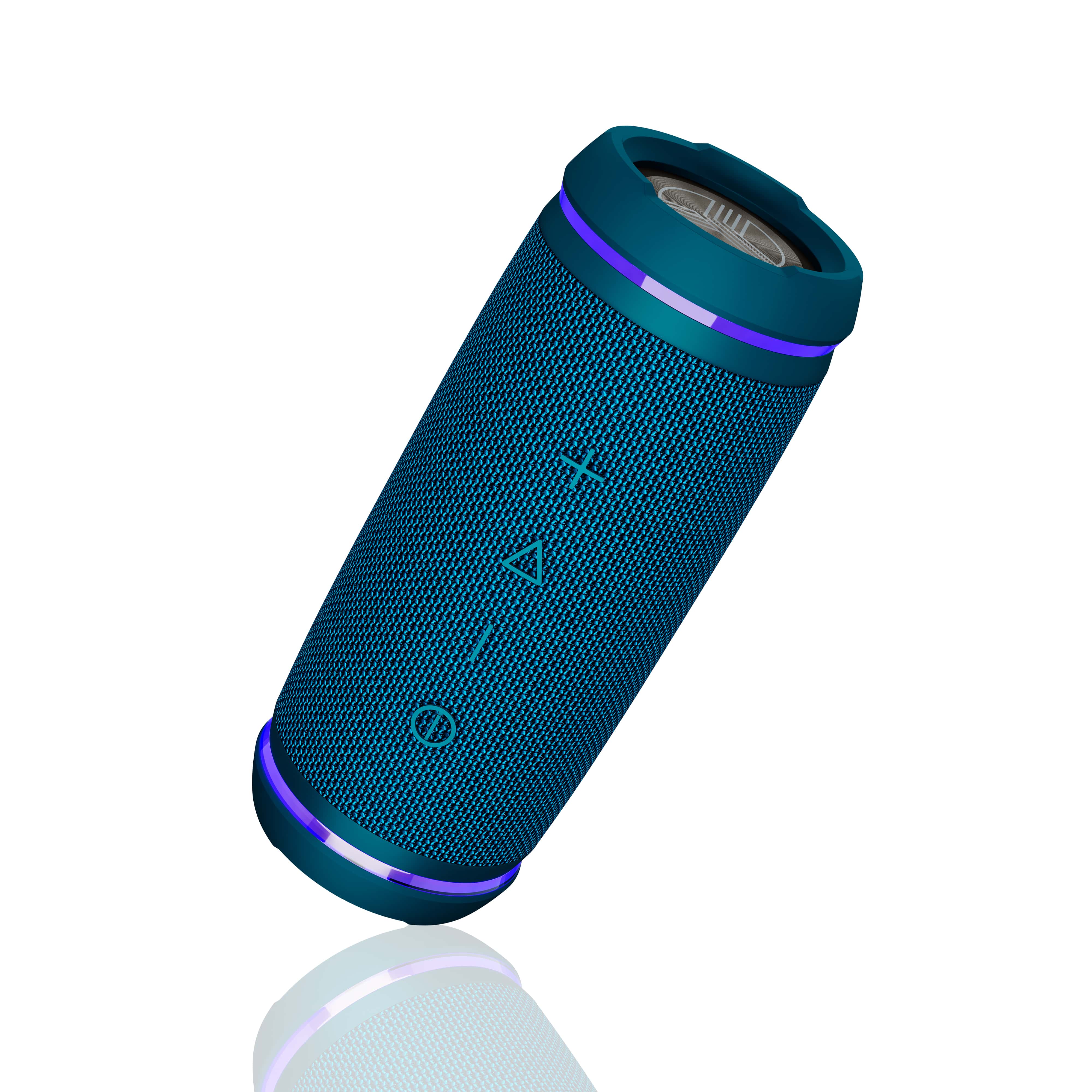 Not available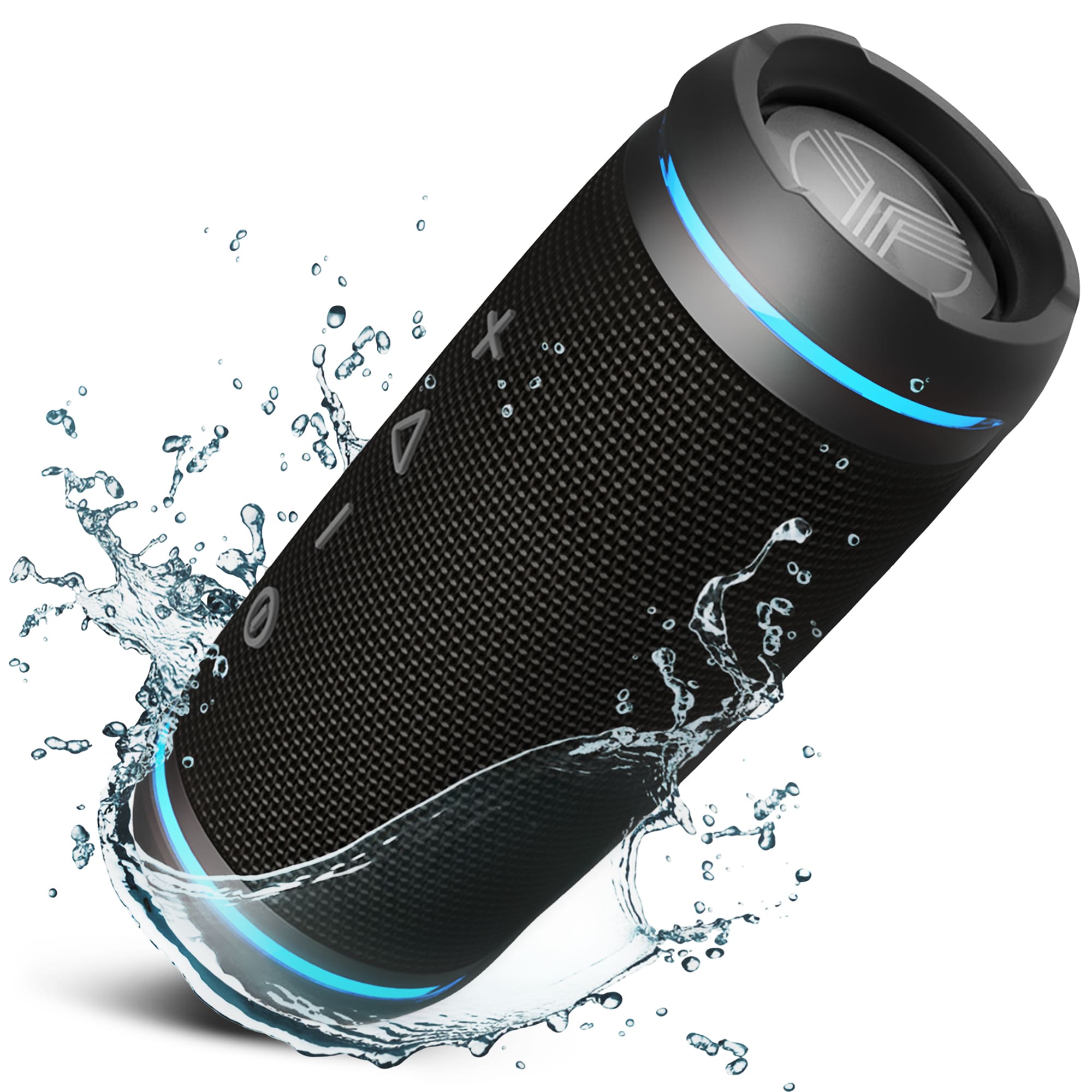 Not available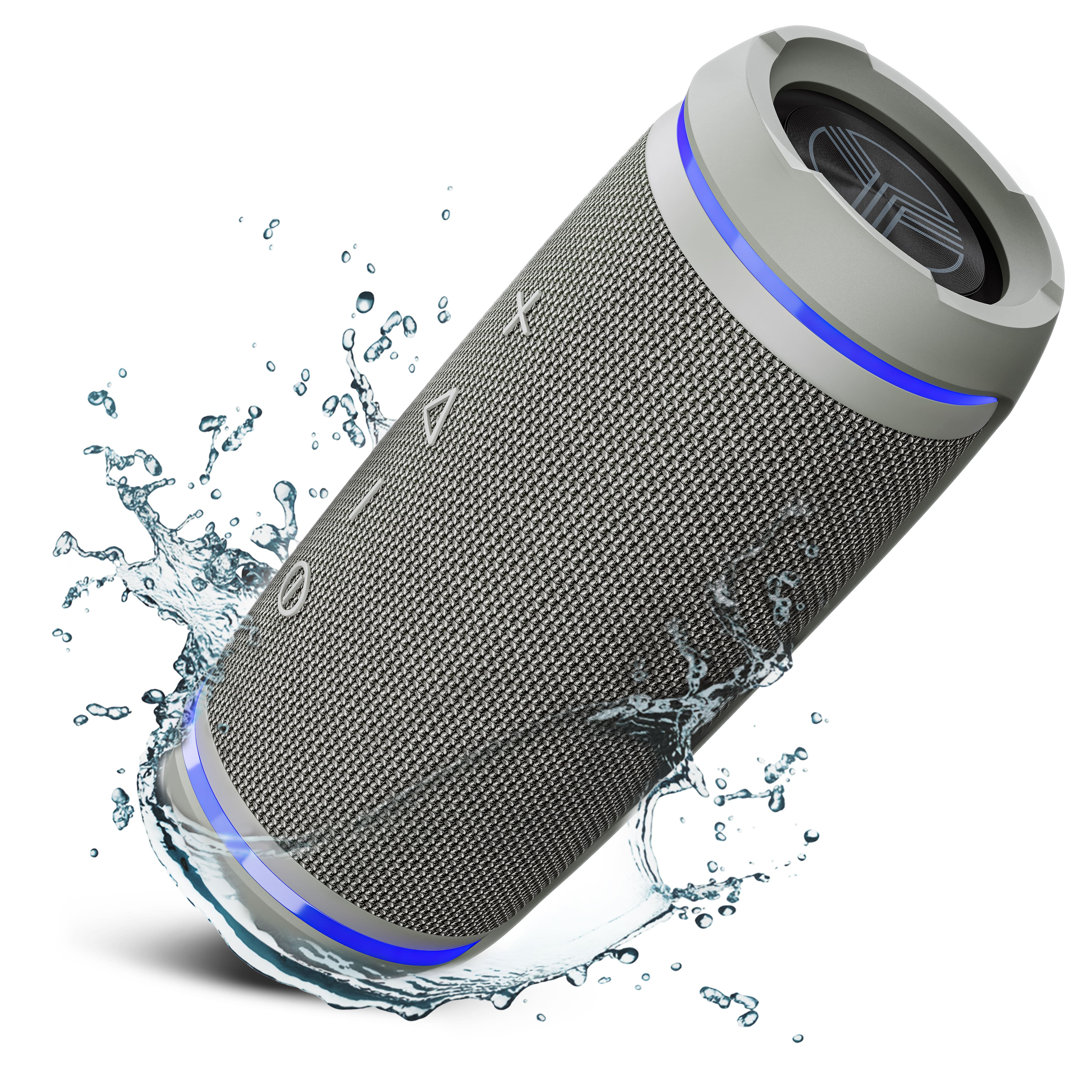 Not available
Buy now
Add to cart
FREE shipping Dec 09 - Dec 11. FREE 30-day returns.
Sold and shipped by TREBLAB
- OUTDOOR SPORTS SPEAKER - The TREBLAB HD77 is an outdoor speaker that allows you to take your music with you anywhere you go. Use freestanding or attach to a backpack with the strap and carabiner.. - SHOCKPROOF AND WEATHER-RESISTANT - Water-resistant with IPX6 technology to protect from light rain and accidental splashes. Shockproof with rubber feet to protect from falls, knocks and drops. - POWERFUL SOUND - Comes with 25W stereo sound and DualBass™ technology for strong, pure sound. TWS means you can connect two speakers to play together. Noise-cancelling technology means you can hear the music clearly over wind and background noise. - LONG-LASTING BATTERY - High-capacity 5200 mAh battery with PlayXTend™ technology for 20 hours of playback time. Can also be recharged on the move using a powerbank.
• 1-year warranty
- Extraordinary 360° HD Sound + Option To Connect Two Speakers - Each of our TWS portable speakers Bluetooth comes with 25W of crisp 360° HD Sound and DualBass double subwoofers, for an unmatched listening experience. If that's not enough, you can Connect Two wireless speakers together for true high-definition surround sound that will blow you away. - Made For Outdoor Sports And Adventures - Don't be fooled by the gorgeous looks and cool ambient LED's of this waterproof Bluetooth speaker. It was made super rugged for all your outdoor sports, hiking, camping, and getting active. Now grab your HD77 waterproof speakers, put on your favorite tunes, and have fun outdoors with your family and friends! - Rain Or Snow, It's A Go - HD77 is a brave loud wireless speaker. It's not afraid of moisture or tough love. It's shockproof and wireless waterproof speaker IPX6 rated so it loves singing in the rain and doesn't mind being dropped, kicked or bounced. All Day Power On A Single Charge - Feel free! Leave the charger at home and go play! As HD77 doesn't play games with PlayXTend energy-saving tech and high-capacity 5200mAh battery for you up to 20 Hours of medium volume play per charge. - Futuristic Features - 1. Built-in Microphone for calls. 2. Deep cool ambient LED's set the mood. 3. Easy setup in seconds via Bluetooth with your iOS, Android or Windows device. 4. Intuitive indicator lights help you connect easily. 5. 33-feet signal range so you're free to roam with your phone still in your pocket. 6. Hand strap and carabiner to hang Bluetooth wireless speaker on your backpack.
Deep dive into specs
Features
FAQs
Specs
reviews
4.8
Experience Superior Sound Quality with the TREBLAB HD77 Bluetooth Speaker
Are you in search of the ultimate outdoor wireless waterproof speaker that can turn your parties into unforgettable experiences? Look no further than the TREBLAB HD77 Bluetooth Speaker. As avid adventurers ourselves, we understand the need for a speaker that can withstand the elements while delivering exceptional sound quality. Let's dive into our personal experience with the HD77, highlighting its remarkable features, advantages, and even a few considerations. Join us as we explore how to make the most of this speaker, where you can get your hands on one and hear what others have to say. By the end, you'll have all the insights you need to decide if the TREBLAB HD77, one of the best smart speakers for outdoor use, is the perfect audio companion for your outdoor escapades(and we think it is).
Who is TREBLAB?
Since its establishment in 2015, TREBLAB has been reshaping the way we enjoy music. This American company is on a mission to reinvent the listening experience by offering high-quality and affordable audio products. TREBLAB covers a wide range of audio needs, from Bluetooth speakers and headphones to earbuds. TREBLAB prides itself on delivering superior sound quality, durability, and affordability across its product lineup. Their best outdoor party speakers are designed to create unforgettable moments, bringing life to your gatherings and celebrations. With powerful and immersive sound, TREBLAB's speakers elevate the atmosphere and keep the party going. As a customer-centric company, TREBLAB goes above and beyond to provide excellent service. They offer a 1-year warranty on all products and a 30-day money-back guarantee which ensures customer satisfaction. Their dedicated customer service representatives are readily available to assist with any inquiries or concerns. For those seeking cool gadgets for men or anyone who appreciates high-quality audio, TREBLAB is the brand to explore. With its focus on innovation, reliability, and affordability, TREBLAB is redefining the audio experience for music enthusiasts everywhere. Elevate your listening pleasure and immerse yourself in the world of TREBLAB.
What is the TREBLAB HD77 Bluetooth Speaker?
Experience the immersive power of TREBLAB HD77, the ultimate portable wireless speaker designed to elevate your audio encounters. With its cutting-edge features and rugged design, this Bluetooth speaker is a game-changer for outdoor enthusiasts. TREBLAB HD77 delivers 360° HD surround sound, enveloping you in a rich auditory experience. Equipped with dual bass double subwoofers, it produces deep, resonant bass that adds depth to your favorite tracks. Whether you're relaxing by the poolside or hiking through rugged terrain, the HD77 ensures every beat is felt. But what truly sets the TREBLAB HD77 apart is its unparalleled durability. Built to withstand the elements, this speaker is a true outdoor wireless waterproof speaker. With an IPX6 rating, it remains impervious to rain, snow, and splashes, making it the ideal companion for all your adventures. Not only is the HD77 tough, but it also boasts a long-lasting battery life of up to 20 hours. Say goodbye to interruptions and enjoy extended playback without worrying about running out of power. And for those who crave a truly immersive audio experience, the HD77 supports wireless dual pairing, allowing you to connect two speakers for a stereo sound sensation that fills any space. With its integrated microphone, the TREBLAB HD77 enables hands-free calling with crystal-clear sound quality. Stay connected while on the go without compromising on audio performance. The top panel features five multi-functional buttons, providing convenient control over power, volume adjustments, playback, and call management.
The TREBLAB HD77: The Ultimate Speaker for People on the Go
The TREBLAB HD77 is not just any ordinary speaker - it's the perfect companion for people who are always on the move. Here's why this speaker is an absolute must-have for your active lifestyle. Take your music anywhere with ease. The compact design allows you to carry it effortlessly, whether you're heading to the park, beach, or a friend's house. Don't let the elements hold you back. The HD77 is built to withstand the toughest conditions, making it ideal for outdoor adventures. Its weatherproof construction ensures it can handle splashes and dirt, giving you the freedom to enjoy your music without worry. Immerse yourself in a breathtaking audio experience. With the HD77, you can fill any room with your favorite tunes. Take it up a notch by connecting two speakers together for an incredible surround sound effect that will elevate your listening pleasure. Stay connected on the go. The HD77 features a built-in microphone, allowing you to take hands-free calls effortlessly—no need to fumble while enjoying your music or exploring the world. Keep the music playing all day long. The HD77 has a high-capacity battery and offers up to 20 hours of continuous playtime on a single charge. Say goodbye to battery anxiety and enjoy uninterrupted music wherever you are. If you're seeking a speaker that ticks all the boxes - small, portable, durable, powerful, and loaded with millennial-friendly features - the TREBLAB HD77 is your ultimate choice. Elevate your music experience and embrace the freedom to enjoy top-notch sound wherever your adventures take you.
TREBLAB HD77 Bluetooth Speaker: The Perfect Companion for Outdoors
The TREBLAB HD77 Bluetooth Speaker is a versatile and durable audio companion that caters to the needs of millennials and outdoor enthusiasts. Its portable design, powerful sound, and robust features like waterproofing, shock proofing, and long battery life ensure an immersive listening experience wherever you go. Moreover, its compatibility with smart home gadgets adds convenience and integration into your connected lifestyle. Whether planning an outdoor adventure or enhancing your office space, the TREBLAB HD77 is a reliable choice. So, if you want to make an informed decision, remember to consult our comprehensive speaker buying guide to find the perfect audio solution for your needs.