Autonomous ErgoChair Pro
- Ergonomic Office Chair
€579.59
Livraison gratuite et flexible
Acheter maintenant
Ajouter au panier
Livraison gratuite Jun 02 - Jun 05
Bought by 2,700+ Google employees
Vendu et expédié par Autonomous.
Autonomous ErgoChair Pro en un coup d'œil.
Entièrement réglable, d'un soutien total, et super respirant. Ce modèle a tout pour plaire.
• Hauteur, accoudoir, appui-tête, dossier et inclinaison du siège réglables
• Inclinaison douce avec 5 positions verrouillables
• Soutien lombaire flexible pour toutes les positions assises
• Soutien total jusqu'à 136kg
• Dossier en maille tissée pour une circulation d'air optimale
• Matériaux 100% écologiques
• 2-year warranty
Plongez-vous dans les spécifications

ERGOCHAIR PRO
Pour chaque partie de votre corps.
Chaque élément que vous voyez et ressentez est conçu pour accroître la mobilité et éliminer la douleur. Parce que tout commence par le bien-être.
DOSSIER STABILISATEUR
Corrige votre posture.
Elle est dotée d'une tension réglable et d'une inclinaison de 22°. Verrouillable sur 5 positions clés, chacune conçue pour maintenir votre colonne vertébrale stable et soutenir la zone lombaire. Et elle est enveloppée d'une maille tissée ultra-respirante, pour une résistance douce qui améliore la posture.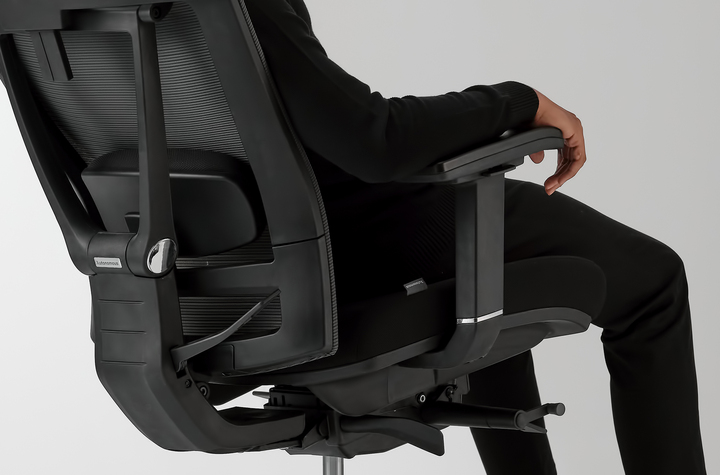 SYNCHRO-TILT
Combat la fatigue.
Le dossier et le siège se déplacent en tandem selon un rapport ergonomique de 2:1, ce qui vous permet de vous incliner et de vous étirer sans exercer de pression sur vos jambes, vos cuisses et le bas de votre dos. Terminez votre journée avec autant d'énergie qu'au début. Chaise inclinable, même les pieds au sol.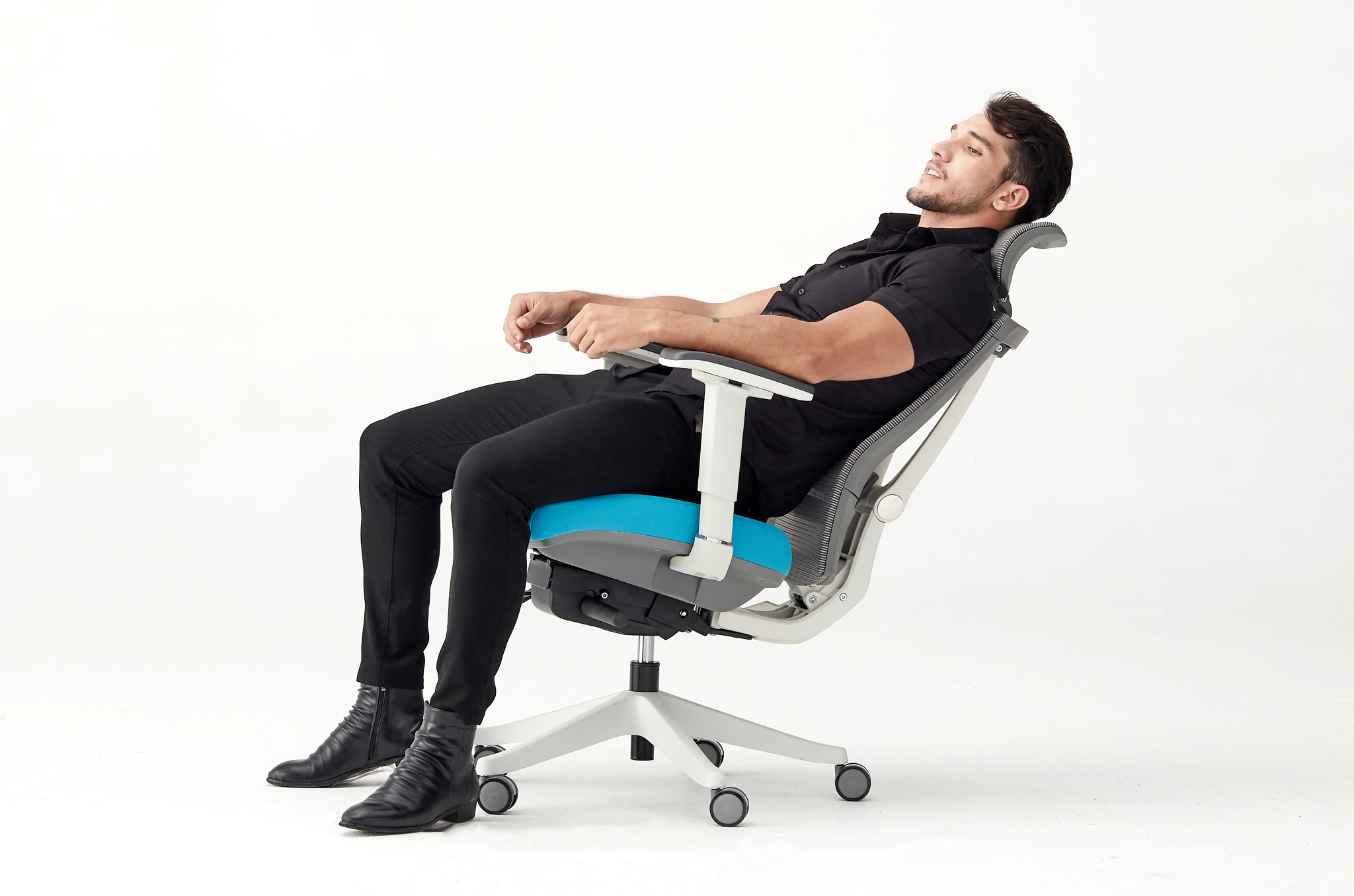 SOUTIEN LOMBAIRE RÉACTIF
Soulage le mal de dos.
Le coussin lombaire flexible protège la courbure naturelle de votre colonne vertébrale et soulage les douleurs et les raideurs. Au lieu de dicter la courbe vers l'intérieur, il répond à la forme unique de votre corps pour fournir un soutien sur mesure.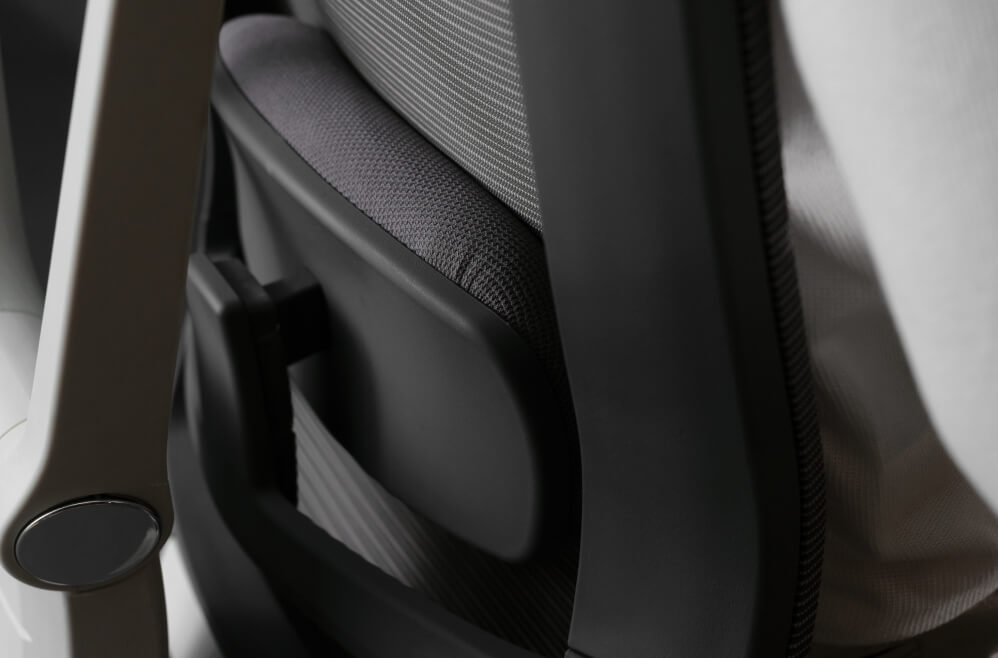 APPUI-TÊTE RÉGLABLE
Vous empêche de vous courber.
La hauteur et l'angle sont tous deux réglables, ce qui vous permet de ne plus vous fatiguer le cou. Explorez 45° de flexibilité pour trouver le soutien idéal, que vous écriviez sur votre bureau, regardiez un écran ou vous penchiez en arrière pour vous détendre.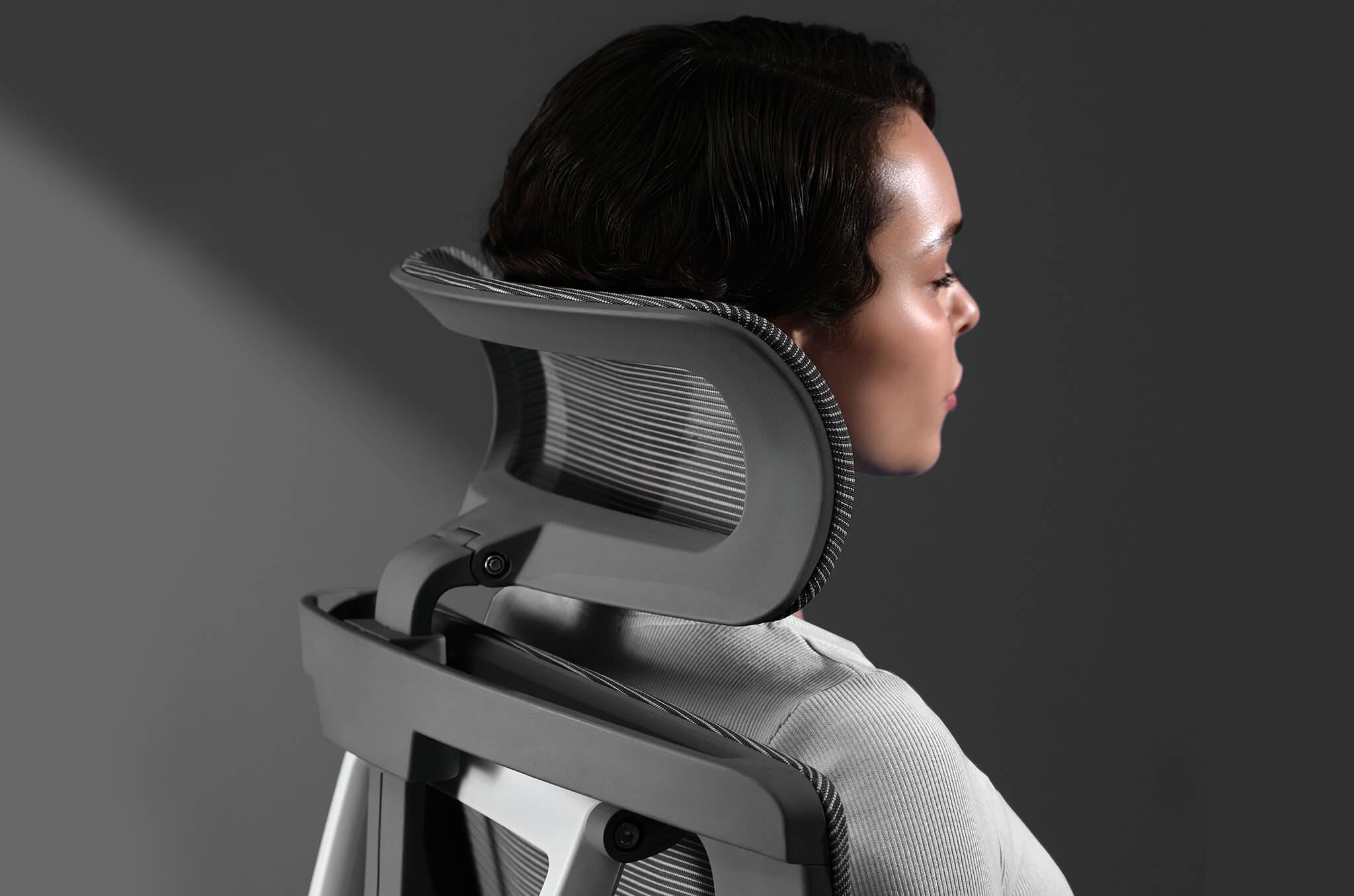 PLATEAU DE SIÈGE SEMI-ARRONDI
Améliore la circulation.
Confortablement profilé avec des bords arrondis pour une distribution dynamique de la pression allant jusqu'à 136kg. Essentiel pour libérer les vaisseaux sanguins restreints et réduire le stress sur la région lombaire.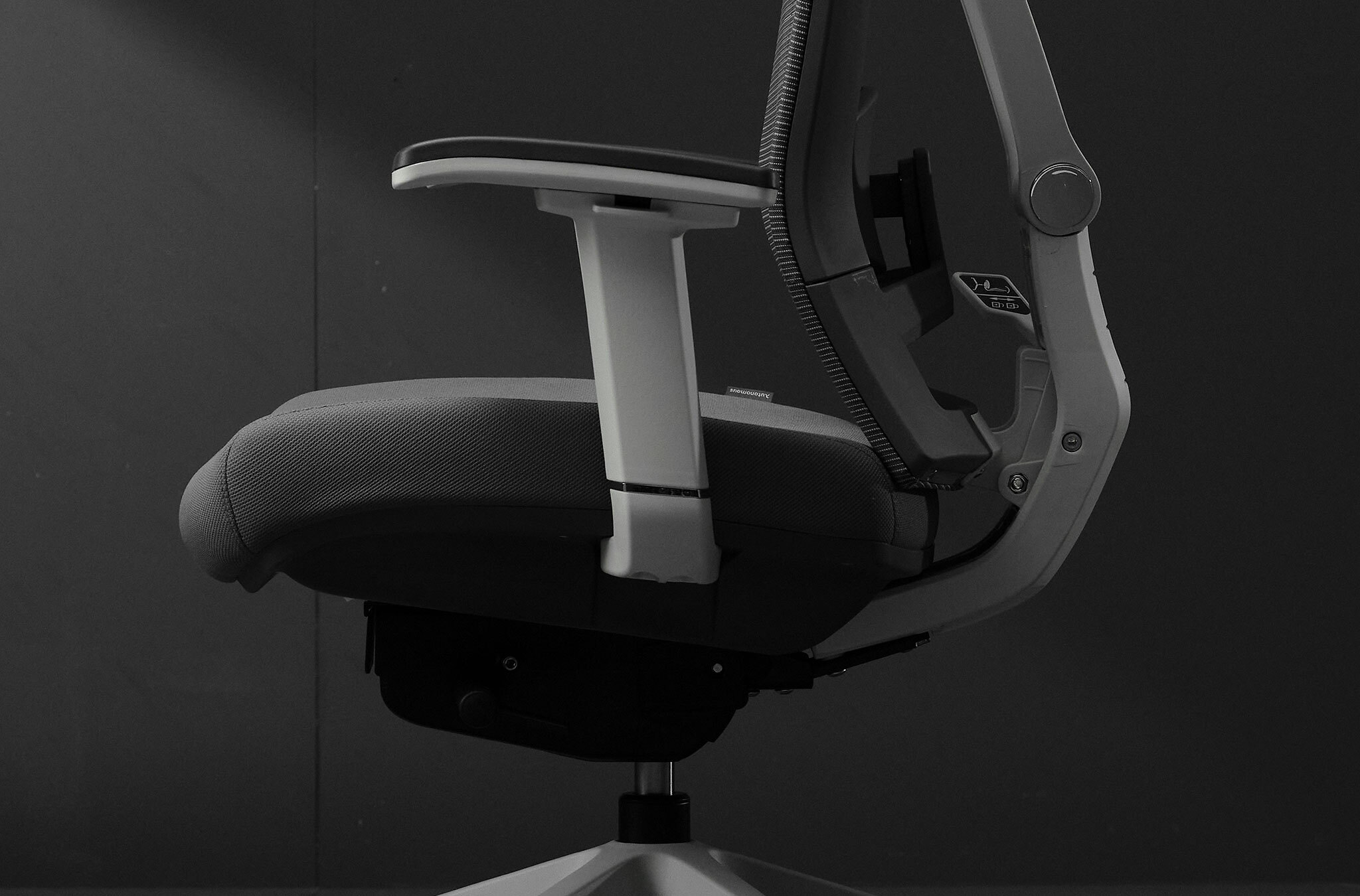 INCLINAISON RÉGLABLE DU SIÈGE
Renforce votre centre.
L'inclinaison réglable de 10° vous permet d'aligner correctement votre sacrum et d'assurer un développement musculaire uniforme du dos, des côtés et du tronc. De plus, cette chaise maintient votre bassin dans une position neutre pour prévenir les problèmes posturaux futurs.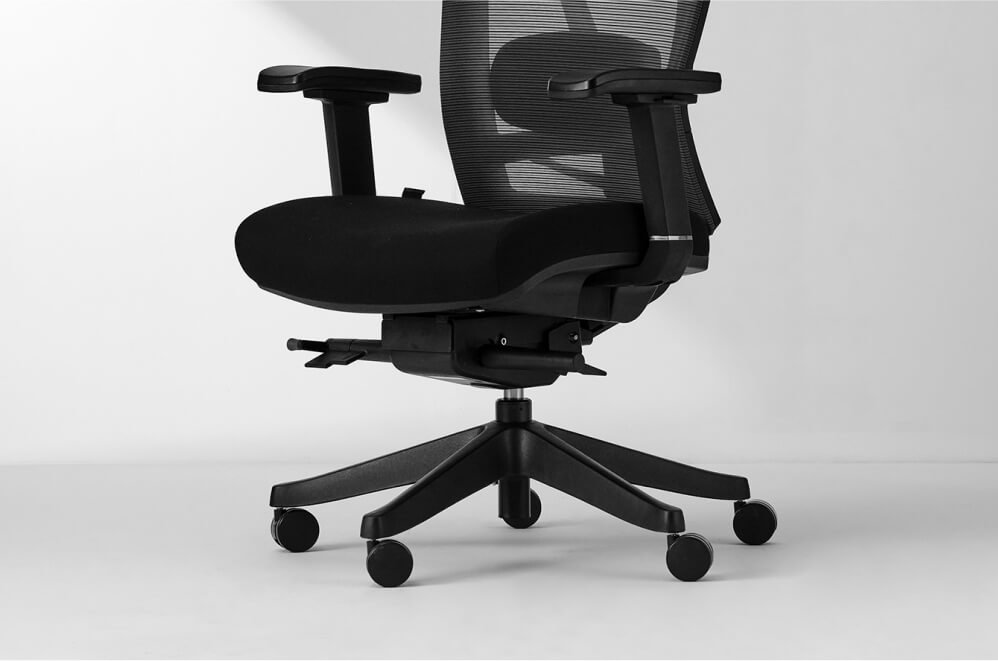 INTÉGRITÉ STRUCTURELLE
Pour votre tranquillité d'esprit.
Testé rigoureusement pour un large éventail de poids et de tailles. Certifié BIFMA pour sa durabilité et sa sécurité, cette chaise vous accompagnera pendant longtemps.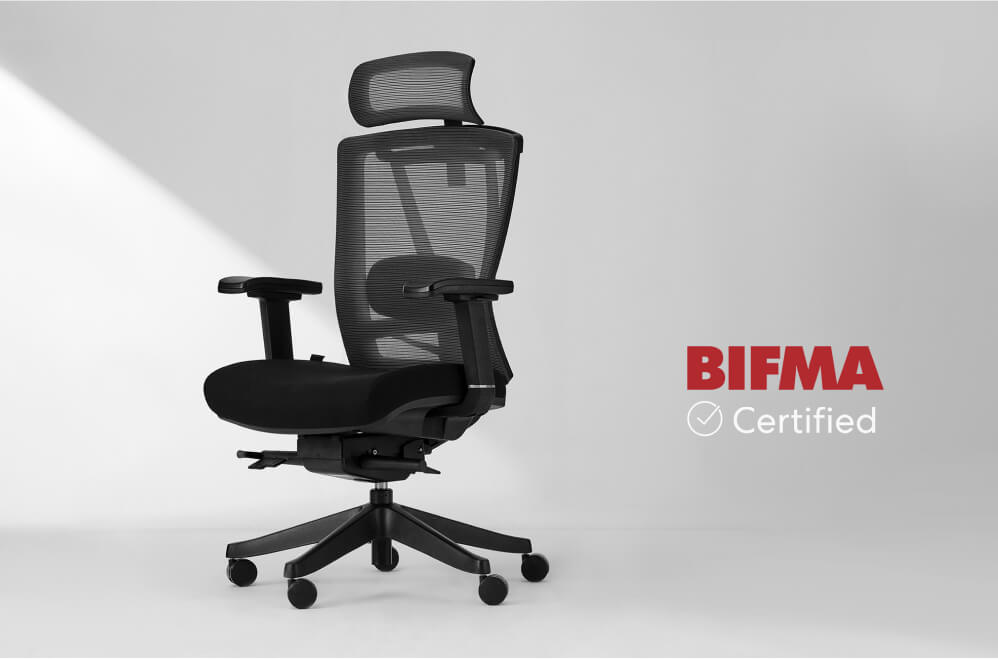 ErgoChair Pro – The Best Green Ergonomic Office Chair for Your Office
If you are looking for a green office chair for sale, then look no further. The Autonomous ErgoChair Pro is a fantastic option if you are looking for a new ergonomic chair. The various features combine to give you a comfortable, customizable, beneficial, and stylish chair. This seat is completely adjustable and has many valuable properties, such as a breathable mesh back. Assembling this chair is also simple. You cannot go wrong with purchasing the ErgoChair Pro.
High-quality Material
The ErgoChair Pro is made from breathable materials that cater for comfort. The back of the chair is made from Korean mesh. This material is responsive to your body. The material that the seat cushion is made from is available in five different colors. The options are evergreen, all black, cool gray, red apple, and baby blue. The evergreen office chair is a perfect fit for people who want an eco-friendly vibe office! It is made to be durable and long-lasting.
Headrest - Back and Lumbar Support - Tilting Function
A headrest is not something that most ergonomic chairs come with. The headrest on the ErgoChair Pro is adjustable and can be moved up to a 45-degree angle to ensure maximum comfort and support. You can move it both up and down to cater to your height. Adequate support is provided for your back through the various adjustment features. A back recline and seat height, depth, and width features are all available. This helps to align your spine, which reduces the amount of strain placed on your back. The tilt mechanism has a 360-degree rotation capacity. This means that the function is extremely flexible. This feature gives your body complete support.
Why Choose the Green Ergonomic Office Chair Color
Ergonomic office chairs are known for their ability to improve both your mental and physical health. They make office hours more bearable. The type of chair you use is not the only thing that impacts your work performance. Color also plays a major role; it affects your mood. Evidentially, you should pay close attention to all the finer details when it comes to choosing an ergonomic office chair. The color you pick should depend on what you are trying to achieve. A green ergonomic office chair would be a great option for various reasons. Other than the beautiful aesthetic, there are many reasons why you should choose a green home office chair. Green is perfect for a bright office interior and helps to create a cozier atmosphere. There are also physical and psychological benefits to a green seat. Evergreen office chair Creates an Environment of Tranquility and Calmness. Green is associated with being calm due to the association with nature. Nature is considered to be relaxing; therefore, green ergonomic chair color helps you to feel more at peace. Green ergonomic office chair with Good Color for People Who Work Long Hours. The calming and relaxing properties of the color green mean that you can operate for longer periods. The calmer you feel, the more productive you are. If you are at ease, your brain can function at a higher capacity. Green ergonomic office chair Signifies Renewal, Growth, and Life. Plants are a symbol of renewal, growth, and life; hence, one would associate green with plants. It would also be a great option to add some plants to your workplace. This way, your new green ergonomic chair is going to compliment the plants as well. Green home office chair Does Not Cause Eye Fatigue. Green is often an easier color to see; it is the easiest color for the human eye to see. It is not harsh; therefore, it does not put a strain on your eyes. This means that you can focus on your work for longer periods as your eyes do not get agitated.
It is Time to Go Green!
It is evident that a green ergonomic office chair has various benefits. It is a great addition to any office as it contributes positively to your health and wellness. The Autonomous ErgoChair Pro is a perfect combination of all the desirable characteristics that an office chair should possess. This could also encourage you to go green in other aspects.
FAQ
Vous ne voyez pas la réponse à votre question ?
Ces chaises sont-elles assemblées quand elles sont delivrées?
Nos chaises sont livrées non assemblées. Vous aurez besoin de les assembler, et ce en juste quelques étapes simples et nous incluons également tous les outils dont vous auriez besoin dans le colis.
Quelle est la capacité maximale de poids que peut supporter la chaise?
La chaise Kinn peut supporter jusqu'à 350 lb. (159kg)
Quelles sont les dimensions du siège?
La longueur et la largeur du siège sont d'environ 20 pouces. (51cm)
Les accoudoirs peuvent-ils être amovibles?
Oui, les accoudoirs ne sont pas assemblés, vous avez donc la possibilité de l'installer ou non. 
De quoi est faite la chaise?
La chaise est fabriquée avec un tissu en polyester respirant de première qualité importé de Corée, avec un intérieur en mousse moulé et un cadre en plastique nylon durable. 
Quels sont les dimensions et le poids de la boîte d'envoi?
La boîte mesure  (74cm) de long, (69cm) de large et (48cm) de hauteur et pèse 30kg.
Quel est le poids de la chaise?
Quelles sont les dimensions de la chaise?
Les dimensions de la Chaise Ergo 2 sont  (74cm) de Longueur x  (74cm) de Largeur x (117-127cm) de Hauteur.
Le prix couvre-t-il les taxes?
Non, le prix indiqué ne comprend aucune taxe. 
La chaise peut-elle être verrouillée en position inclinée?
La garantie couvre tous les défauts de fabrication.
Les chaises ont l'air au ras du sol. Pour nous, les grands, à quelle hauteur va cette chaise?
Le siège de la chaise est à une distance de 46 à 51cm du sol.
Dois-je payer les frais de port pour le renvoyer, pour l'essai gratuit de 30 jours? Comment fonctionne le renvoi?
Nous sommes heureux de couvrir les frais d'expédition si vous demandez un retour avant la fin de votre période d'essai de 30 jours.