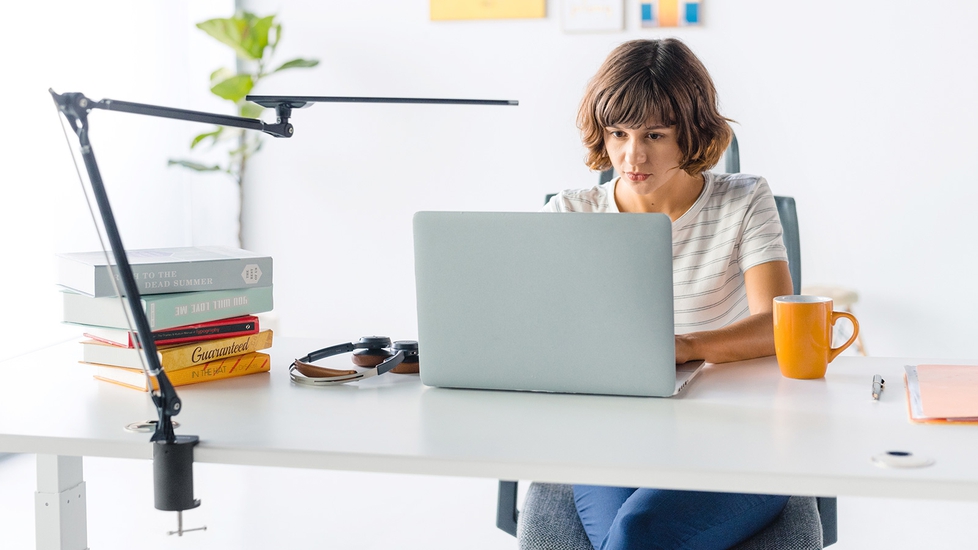 Working from home?
Obtenir des prix spéciaux
The Led Desk Lamp gives you multiple color modes and brightness levels to select from. Designed for flexibility, simply adjust this elegant desk lamp to the angle that works best for your project.
Expédié sous 2 jours ouvrés
|
Livraison gratuite et flexible
|
30-le jour revient.
Faites-le payer à votre entreprise
Nous pouvons transmettre cette commande à un contact de bureau et demander le paiement en votre nom.
Économisez jusqu'à 10 %.
Achetez plus, économisez plus
Quantité
Prix unitaire ($)
| Quantité | Prix unitaire ($) |
| --- | --- |
LED Desk Lamp en un coup d'œil.
• Minimalist design
• 4 color modes
• 5 brightness levels
• 50,000 hours of light
• 1-year warranty
Plongez-vous dans les spécifications
Keeping your workspace lit is vital to keep you attentive and productive throughout the day. It is seen that a light source helps in boosting your productivity. Things become even better when you use an LED desk lamp. LED desk lights are better due to multiple reasons.
Reasons Why You Need LED Desk Lamp: Energy Saving, Durable & Dimmable
LED lamps are energy efficient as they are designed to minimize energy dissipation. These lamps neither emit UV rays nor any heat, so most of their energy is conserved in light form. Thus, you get a brighter light at the same wattage. Since these lamps have fewer energy dissipation, they tend to last longer and perform better than any common fluorescent light. Thus, they are a durable choice to light up your workspace. Since several dimmable LED desk lamps are available in the market, you can opt for them pretty conveniently. These adjustable LED desk lamps help you adjust the light as per the time of the day and keep your workspace lit as per your requirement. Considering all that, it becomes vital to get a hands-on an LED desk lamp for the office.
Avoiding Clutter with Autonomous LED Desk Lamp
To serve you best, Autonomous has come up with the idea to design a flexible and adjustable LED Desk Lamp. This is a sleek desk lamp that has a cutting-edge design that helps you keep up with the minimalist desk setup. Taking up minimal space on your desk, the Autonomous LED desk lamp helps avoid clutter from your tabletop. The lamp's arm is such that it allows you to adjust the height of the lamp to minimize glare and maximize visibility.
Multiple Light Adjustments & Simple Assembly
Having four different light color options and five brightness levels, the Autonomous dimmable LED desk lamp helps you adjust the light's brightness round the clock. This feature helps you have a more customized work experience. Thus, adjusting the brightness becomes easier. In addition, the presence of the apt memory function ensures that you do not have to readjust the intensity or mode the next time you use it. The Autonomous LED desk lamp comes with an assembled clamp. So, once you have received your lamp, all you need to do is to clamp it to your desk, and you are all set to role.
Incredibly Energy Efficient & Broader Illumination
Our LED desk lamp is extremely energy efficient that consumes only 9W. In most cases, the Autonomous adjustable LED desk lamp stays functional for 50,000 hours that make up around five and a half years. The sturdy aluminum frame has a rectangular lamp face that is 21-inch long and 7.5-inch wide. This much light area provides ample exposure to your workspace to ensure you have a well-lit experience overall.
FAQ
Vous ne voyez pas la réponse à votre question ?
Combien d'énergie consomme la lampe?
C'est seulement 9W. C'est une lampe à économie d'énergie et de haute performance. 
A quoi convient la lampe de bureau à LED?
La lampe est parfaite pour un établi, un bureau, étudier, une lecture ou dessiner. 
La lampe de bureau à LED est-elle réglable?
Absolument. La tête de lampe pivotante à 180 ° rend cette lampe entièrement réglable. Maintenant, vous pouvez changer la direction de la lumière comme vous le souhaitez.
Quelles couleurs de lumière offre la lampe?
La lampe de bureau à LED vous offre 4 options de couleurs de lumière pour différentes activités. Avec la gradation progressive, il est facile de personnaliser l'éclairage en fonction de vos préférences.
La lampe a-t-elle des fonctions de mémoire?
Bien sûr que oui. Il n'est pas nécessaire de réinitialiser le mode ou le niveau de luminosité la prochaine fois que vous l'allumez. La lampe de bureau à LED le fait pour vous.
De quoi est faite la lampe de bureau à LED?
Elle est en aluminium, donc solide, durable et jamais démodée.
Dois-je assembler la lampe?
Il vous suffit de clipser la lampe sur votre bureau. Il vous faudra moins de 5 minutes pour installer votre lampe de bureau à LED.
Livrez-vous dans le monde entier?
Nous expédions actuellement partout aux États-Unis. La livraison internationale est en cours, nous vous tiendrons au courant quand nous le pouvons! 
Dois-je payer les frais de port lors du retour par essai gratuit de 30 jours? Comment fonctionne le retour?
Nous sommes heureux de couvrir les frais d'expédition si vous demandez un retour avant la fin de votre période d'essai de 30 jours.