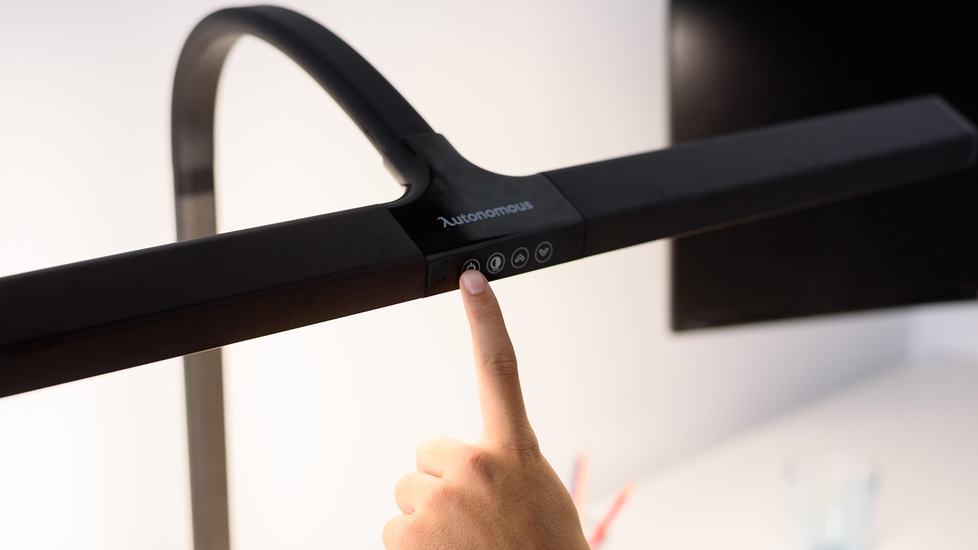 Working from home?
Obtenir des prix spéciaux
With its 31.5 inch LED strip perched on a flexible 35 inch stem, the Ultra Wide Led Desk Lamp will light up your desk thoroughly. Alternate between four light temperatures to suit any time of day.
Expédié sous 2 jours ouvrés
|
Livraison gratuite et flexible
|
30-le jour revient.
Faites-le payer à votre entreprise
Nous pouvons transmettre cette commande à un contact de bureau et demander le paiement en votre nom.
Économisez jusqu'à 10 %.
Achetez plus, économisez plus
Quantité
Prix unitaire ($)
| Quantité | Prix unitaire ($) |
| --- | --- |
Light Bar en un coup d'œil.
• Extra-wide 31.5" LED light bar
• 4 light temperatures
• 5 brightness level
• Remembers your exact lighting
• 1-year warranty
Plongez-vous dans les spécifications
Ultra Wide LED Desk Lamp: Autonomous Light Bar for Desk
If you are exploring for an ultra bright led desk lamp, your search stops right here. You can not miss Autonomous's simplistic, elegant, and functionally robust design for the Ultra Wide LED Desk Lamp. The best part is that this desk bar light uses a C-type clamp to clip onto any work desk. It doesn't have to be screwed or fixed onto a wall or work desk. This means you can easily move it into any room as per your use. Do read-up on our reviews of a minimalist desk setup. Available in a nice executive black color, the desk bar light is made primarily from a die-cast of Aluminum and other metals. This gives it ample strength for higher durability for this adjustable led desk lamp. You can use this easily as an office led desk lamp. It works on alternating current (AC). Further, it uses only 9 watts of energy per hour to give you up to 600 lumens of illumination. So bright, isn't it? One hundred two pieces of LED bulbs give you this strong illumination. The lamp bulb time is for more than fifty thousand hours of usage. This tall desk lamp is available in four different colors for you to choose from. What's more? It comes with a one year warranty for any manufacturing defects. Do keep a check on how you can work on reducing eye strain.
What to look for when choosing an ultra wide led desk lamp
1. How is adjustable led desk lamp different?
When buying an LED bulb or LED fluorescent light, you need to watch out for an efficient, longer-lasting branded LED light. Here are some more details. Remember that LEDs give out light and heat in a single direction, unlike an incandescent bulb that emits light and heat in all directions. With this focused light bar for desk LED light, you get better illumination. But to make this happen, it needs a special type of microchip that helps perform this function. The LEDs are the best desk lamps for eyes.
2. Watts or Lumens
Over a while, we have learned to look at how much is the wattage of a bulb. However, when shopping for LEDs, it may be worth looking at the lumens it produces. What is the difference? They are two different units of measurement. The higher the lumens, the higher the illumination the LED produces. Wattage is the measure of electricity consumption that an incandescent bulb will consume to be lit for an hour. Lumen, on the other hand, is the amount of brightness produced by the ultra wide led desk lamp. Usually, a rule of thumb is to say 1 watt will produce about 100 lumens. Various sources will show you that the amount of lumens for a 25 watts of incandescent bulb light produces lower illumination than a 2500 lumens light.
3. LED and or an Incandescent Bulb
The debate on whether to use an LED or an incandescent bulb remains throughout as you go ahead and make changes to your office/home. So how do you choose where to use an incandescent bulb or a LED? Need: In high traffic areas, the most often used lights are a good way to lower your electricity consumption and bills. The higher durability provided by LED bulbs is one of the reasons for this. Illumination: Use LED bulbs or tube lights where you need a higher illumination. Like on your work desk, or in the porch or stairway, and more. Why? Since they illuminate better than incandescent light, they give you brighter ambient lighting, making the area safe for you to see. Open areas: Remember that the LED ultra bright desk lamp also dissipates heat that is generated upon illumination. So they too need open areas to ensure that heat is transferred into the air to take away the heat. So do not use LEDs in a tight space that is lit most of the time.
If you haven't done it earlier, the time to progress to an ultra wide led desk lamp is here. Save yourself on your electric bills while taking advantage of higher illumination and choice of colors. Your best bet is the LED Desk lamp by Autonomous.
FAQ
Vous ne voyez pas la réponse à votre question ?
Combien d'énergie consomme la lampe?
C'est seulement 15W. C'est une lampe économe en énergie et performante. 
Quelle taille de table convient à cette lampe de bureau à LED ultra large?
Notre lampe convient à la plupart des types de bureaux. Avec sa barre lumineuse LED super large de 80cm, il s'agit en particulier d'une des meilleures solutions d'éclairage pour les bureaux dotés de plusieurs moniteurs.
La lampe de bureau à LED ultra-large est-elle réglable?
Absolument. Le col propose un réglage en hauteur flexible afin que vous puissiez changer la direction de la lumière comme vous le souhaitez.
Quelles couleurs de lumière offre la lampe?
Choisissez parmi 4 températures de couleur avec le variateur à 5 leviers de la lampe de bureau à LED Ultra large afin de répondre à vos besoins en éclairage. De tâches détaillées aux tâches multiples, vous êtes toujours dans un bon environnement d'éclairage.
La lampe a-t-elle des fonctions de mémoire?
Bien sûr que oui. Il n'est pas nécessaire de réinitialiser le mode ou le niveau de luminosité la prochaine fois que vous l'allumez. La lampe de bureau à LED ultra large se souvient de votre dernière préférence en matière d'éclairage.
De quoi est faite la lampe de bureau à LED Ultra Wide?
Elle est en aluminium, donc solide, durable et jamais démodée.
Dois-je assembler la lampe?
Il vous suffit de clipser la lampe sur votre bureau. Il vous faudra moins de 5 minutes pour installer votre lampe de bureau à LED ultra large.
Livrez-vous dans le monde entier?
Nous expédions actuellement partout aux États-Unis. La livraison internationale est en cours, nous vous tiendrons au courant quand nous le pouvons! 
Dois-je payer les frais de port lors du retour par essai gratuit de 30 jours? Comment fonctionne le retour?
Nous sommes heureux de couvrir les frais d'expédition si vous demandez un retour avant la fin de votre période d'essai de 30 jours.