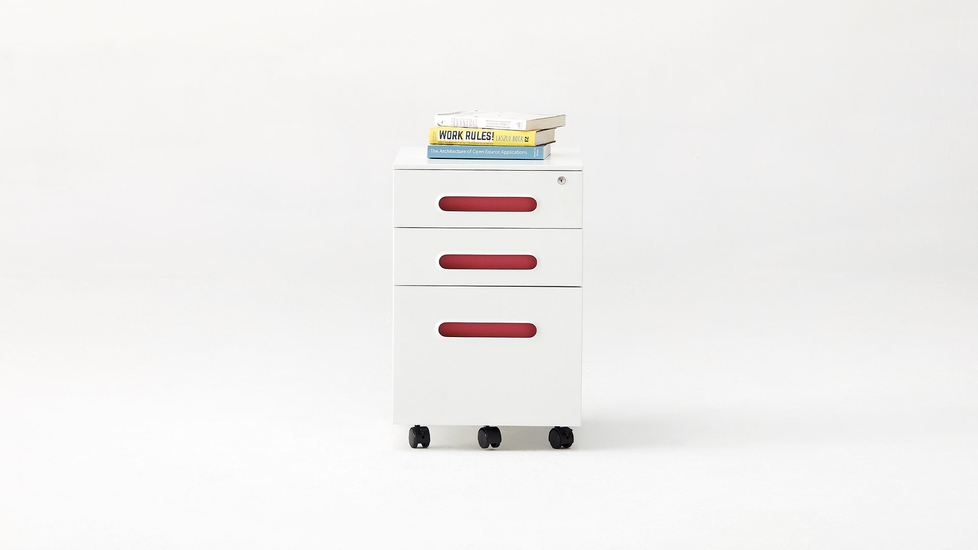 Autonomous Filing Cabinet
$229
Livraison gratuite et flexible
Acheter maintenant
Ajouter au panier
FREE shipping Jun 08 - Jun 12. FREE 30-day returns.
Bought by 200+ PwC employees
Vendu et expédié par Autonomous.
Autonomous Filing Cabinet en un coup d'œil.
Fits perfectly under your SmartDesk and into your workflow. Roomy drawers for all your gadgets, files and paperwork, with a lock to keep everything safe.
• 3 drawers
• Customizable dividers
• Made from solid steel
• Anti-rust finish
• Lockable drawers and wheels
• Weight capacity of 275 lbs
• 1-year warranty
Plongez-vous dans les spécifications
Store it how you want it.
3 roomy drawers, each with their own movable dividers. Fits perfectly under your SmartDesk.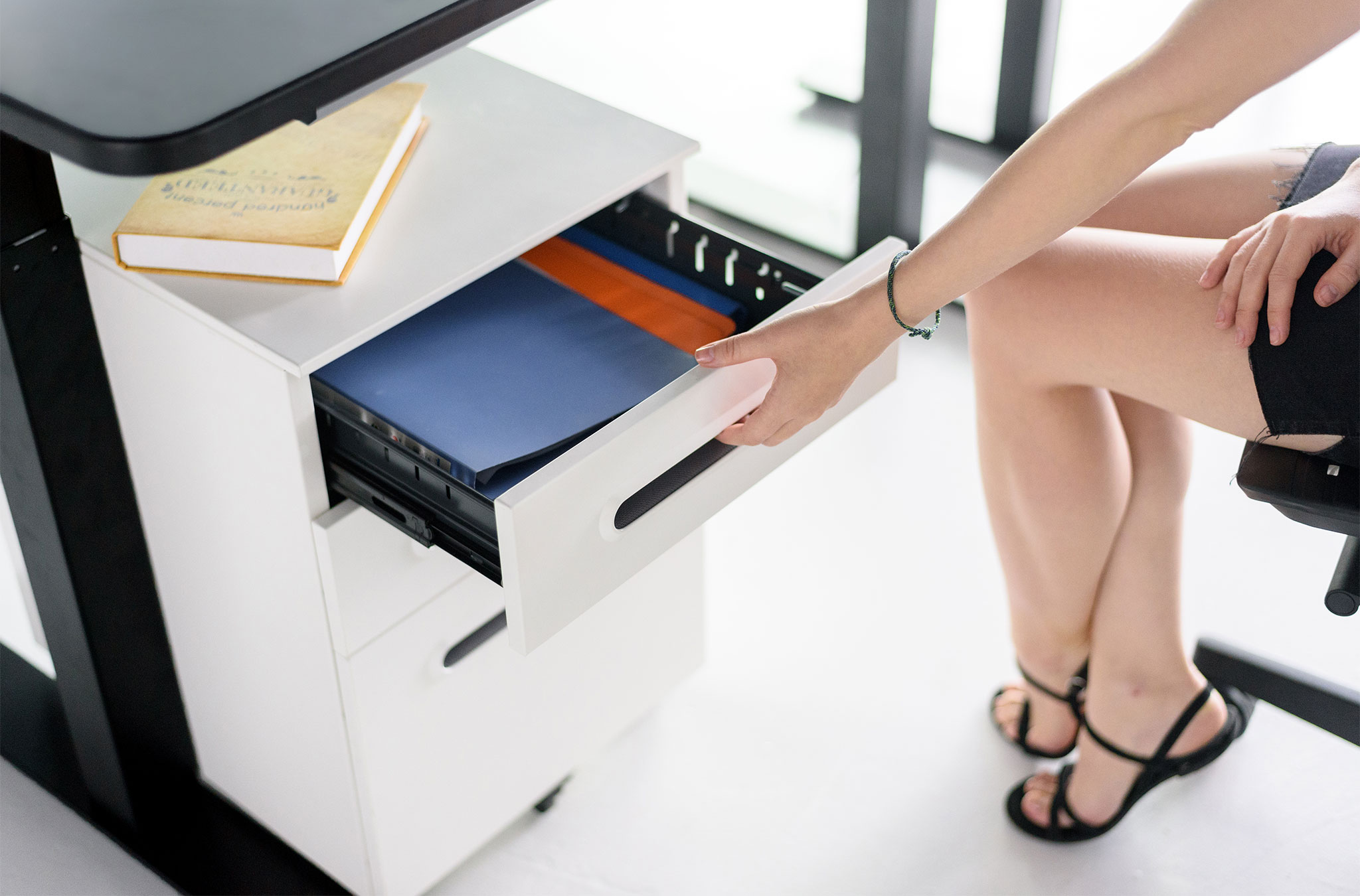 Solid and durable.
Constructed from superfine cold-rolled steel plates, and treated with an anti-rust finish.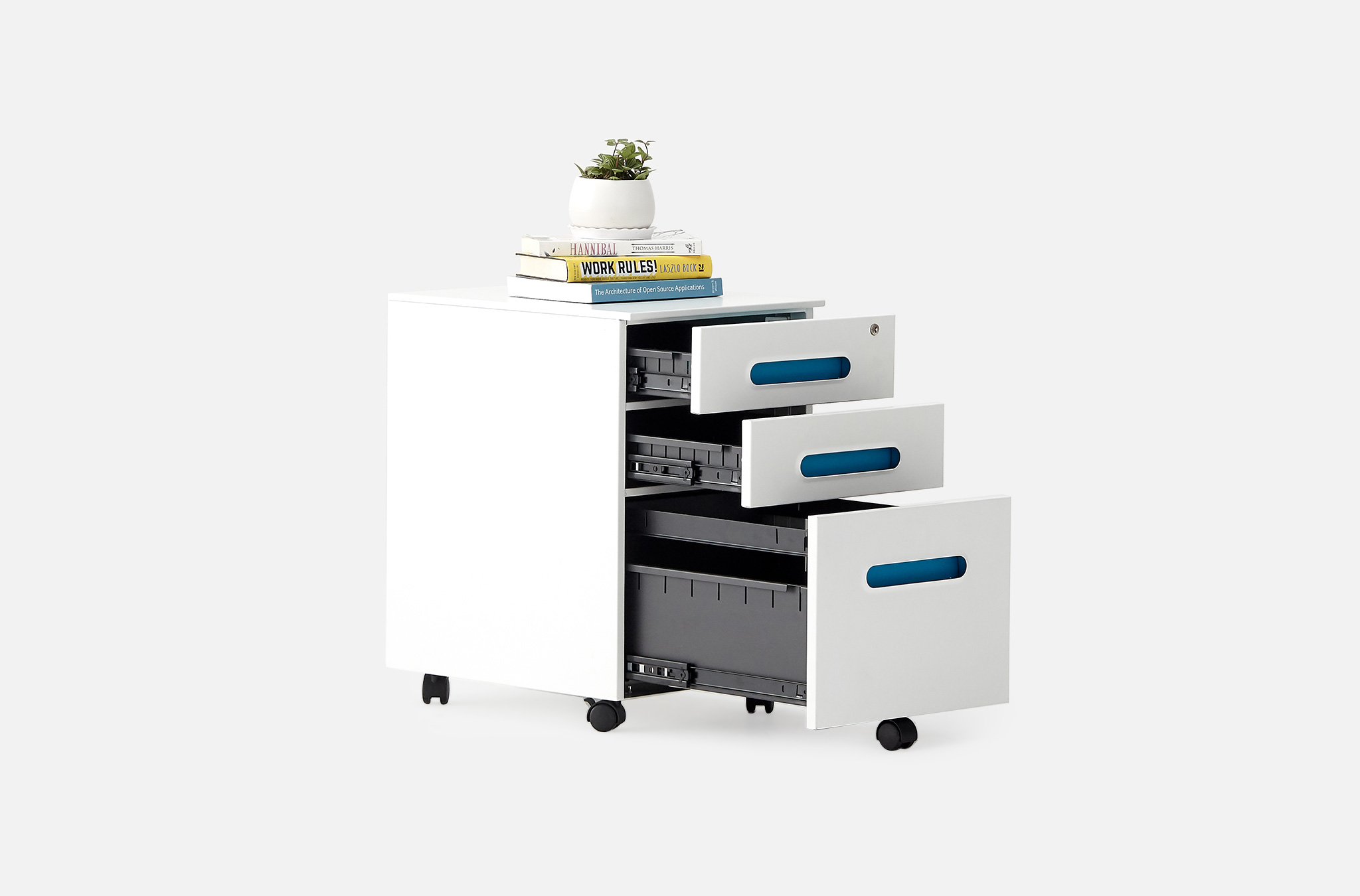 Move it any time you need to.
Sits on super sturdy lockable wheels so you can easily move it out from under your desk. No tipping.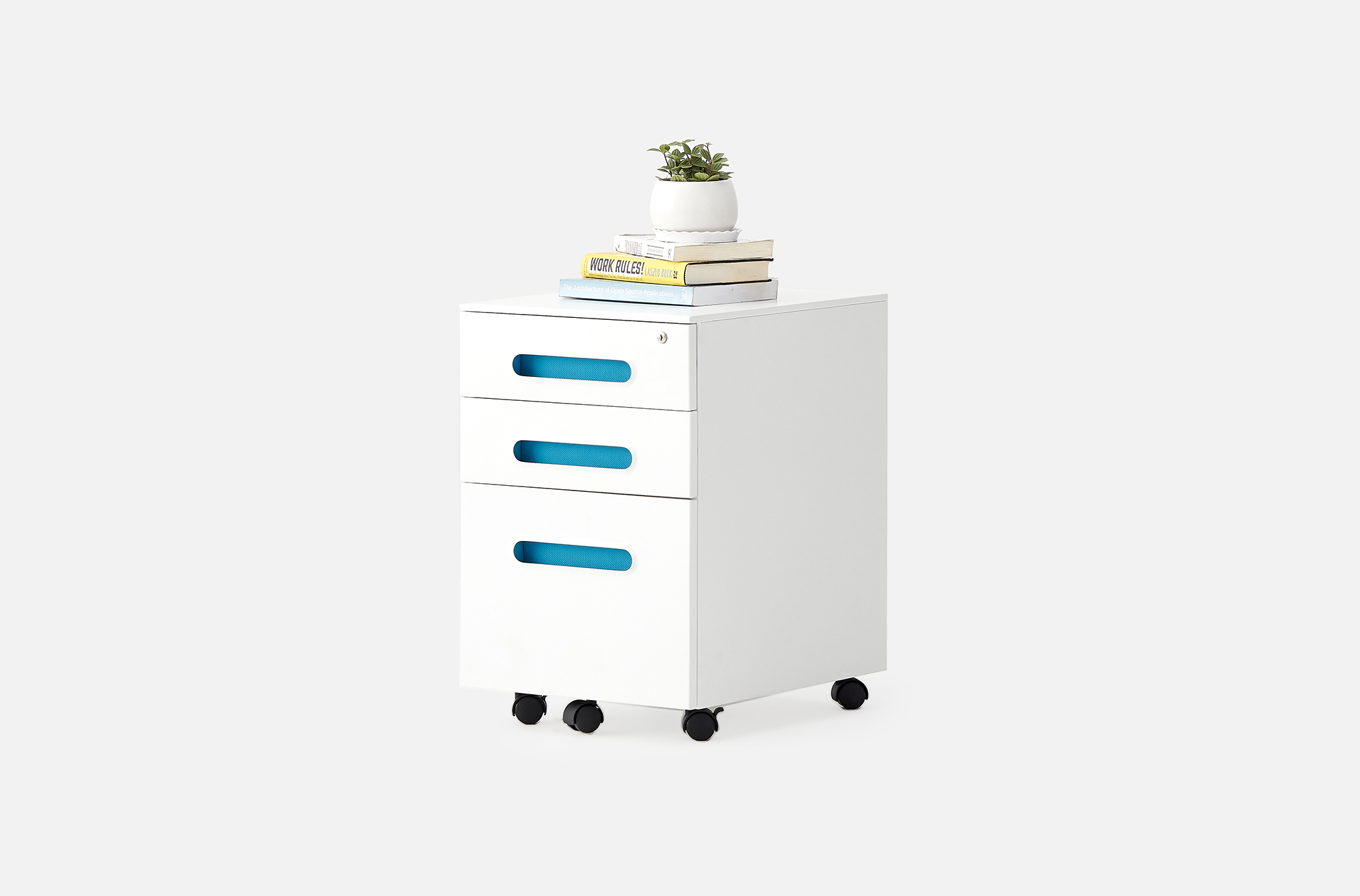 Keep your stuff safe.
Comes with a simple lock and key to ensure your confidential documents stay that way.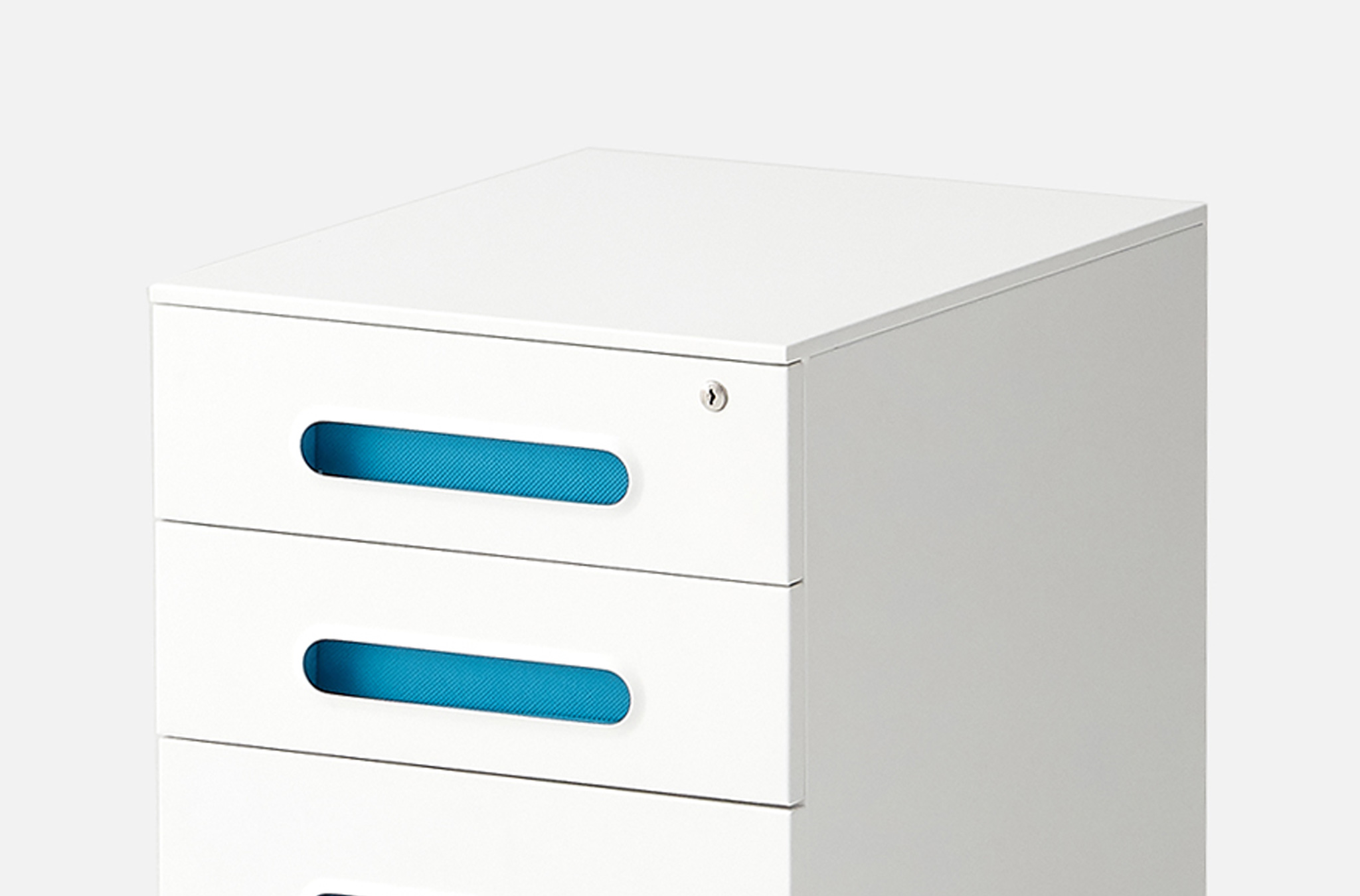 What is a filing cabinet and what does it use?
If you work in a corporate office, you will know that these offices deal with a huge volume of paperwork daily. Most of these documents feature confidential data and important personal details of the clients and the employees. So, the office employers should focus on keeping these documents and paper works safely. A filing cabinet can solve this storage and safety issue that will keep your important official documents safe from theft, loss, and other damages. It acts as a storage unit for your office. Autonomous suggests you choose a red filing cabinet as it symbolizes boldness, warmth, encouragement, and passion. It refers to a storage unit for keeping all the important file folders and papers. There are two types of filing cabinets-lateral and vertical filing cabinets. They are generally made of wood, steel, and other metals. The red filing cabinet 3 drawer features deep drawers for storing important documents. For example, for a vertical red metal filing cabinet, the drawers will be of different sizes. Nowadays, people are purchasing filing cabinets for home use as well. They keep financial documents like tax documents, investment files, mortgage papers, etc. or birth certificates, passports, medical papers as well.
Red in Office Furniture/ Accessories Decoration
According to symbolism, red is the color of passion and "life force." It is a powerful color in many cultures and represents excitement, strength, courage, and so on. The fiery red color symbolizes warmth and boldness as well. It allows you to use your full potential while working on something. All these qualities are required from a person in an office space. The office employers are using red colors in office walls and for office furniture as the working space demands physical exertion from the employees. Believe it or not, the red office furniture items are aesthetically beautiful. These days, modern offices are counting on such bold colors. The corporate interior decorators often use the red filing cabinet in the working space to boost the performance and dedication of the employees towards work.
Autonomous red filing cabinet
The Autonomous red filing cabinet is pretty famous in the online world for its lightweight and beautiful design. It generally features a white body with long red shapes on top of each drawer. You can fit it under the Autonomous smart desks or table tops pretty easily. The drawers are pretty spacious, and you can fill them with any type of office gadget, office supplies, and file folder. To keep all these documents safe and secure, we add a lock system to each of the three drawers. These red filing cabinets come with both a stand and wheels. This means you can transfer them from one office room to another pretty easily.
Characteristics of the Autonomous red filing cabinet
1. The drawers are of three different sizes. The topmost one features the lowest height of 4.7 inches. But, the bottom-most drawer is the most spacious one, and it features a height up to 11.4 inches. The middle one is 5.3 inches in height. The red filing cabinet 3 drawer includes customizable dividers as well. Depending on the categories of the file, you can add some external divider to the red filing cabinet as well.
2. It is made of high-quality solid steel featuring an anti-rust finish. In addition, this filing cabinet has a protective coating, and the cabinet is completely water-proof in nature and scratch-resistant as well.
3. The wheels are around 2 inches tall and do not scratch the office floors while moving from one place to another.
4. The Autonomous red metal filing cabinets are pretty strong and durable in nature. If you use them delicately, they will last for two decades easily. You can place heavy files on top of the filing cabinet. It can carry a weight of up to 275 lbs but it weighs only 46 pounds.
5. We provide some warranty to the customers, which is up to 1 year and a return facility as well. In this case, the filing cabinet should be returned to us 30 days after purchase. The customers do not need to assemble, it arrives at their doorstep in one piece.
You can place the red filing cabinet under or on the side of a table. It should be accessible from your office chair. People keep various office accessories or heavy decorative items on the top surface as well. This tool will improve the organizational skill of the employees. It can categorize the important files and papers with the help of the dividers to protect your important documents from fire as well, there will be no chance of losing important papers. Generally, the office filing cabinets are used as storage units but won't cover much space from the ground. For your home office space, you should get these red metal filing cabinets. Other than office employees, homemakers and kids can also possess them to store their important documents. You can keep the office filing cabinets in your study room or kid's room. They are pretty affordable and considered a one-time investment in the market.
FAQ
Vous ne voyez pas la réponse à votre question ?