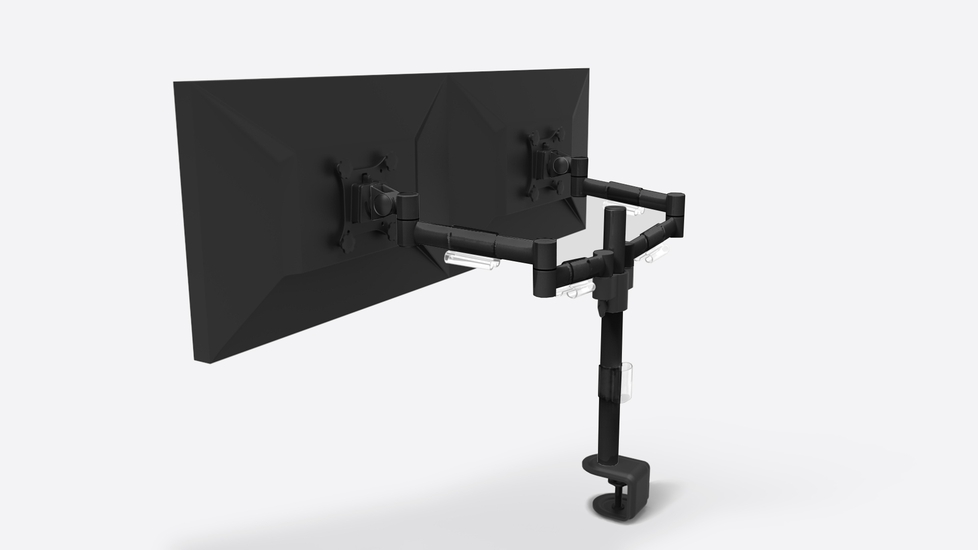 Vendu et expédié par Autonomous
Expédié par Feb 17
.
Retours gratuits de 30 jours
Bénéficiez des tarifs professionnels avec la messagerie professionnelle
En stock
Secure payment
Faites-le payer à votre entreprise
$138.57
Quantité
Prix unitaire ($)
| Quantité | Prix unitaire ($) |
| --- | --- |
Vous avez un projet plus compliqué ?
Remplir
ce formulaire
ou appelez-nous au
(+1) 888 384 7374
Black Dual Monitor Arm en un coup d'œil.
Made from a premium aluminum alloy, this 360° monitor arm securely holds and supports your monitor at any angle you prefer for a flexible work setup.
• 360° rotation
• 20" vertical range
• Single and duo options
• Weight capacity of 26 lbs per arm
• LCD size range of 18''- 28''
• Tidy cable management
• Easy assembly
• 2-year warranty
Plongez-vous dans les spécifications
Dual Monitor Stand: Everything You Need To Know About the Tool
Correctly setting up a workstation improves work efficiency and helps you perform better. So, finding an appropriate arrangement for your desk is very crucial. Using a dual monitor stand will make your work convenient and help you acquire more productivity. The major reason for frustration is a poorly set up desk. Unsatisfaction can cause difficulty as well as major health issues over time. Thus, using a dual monitor desktop stand is essential while working. This guide will brief you about the product and give you all the necessary information you might be looking for before purchase. Monitor mounts assist you in customizing and making arrangements as per your ease. Read on and discover the exceptional benefits this product offers to its users.
Dual monitor mount for desk: customizing and making arrangements as per your ease
1. Better Productivity with multiple displays - Perfect for professionals
Surely, installing a monitor mount will assist you in working efficiently and improve productivity. Sitting and working in the right posture can benefit you beyond health. In addition, monitor mounts make you concentrate better and help create a comfortable space around you to work. Installing a dual monitor arm mount will assist you in making changes with ease. In addition, with dual monitors, you can access multiple screens and work with complete ease without switching any tabs. Lastly, use these ways to organize office desk and ensure the best productivity at work. Working on an uncomfortable desktop can be very annoying. Thus, using a perfect setup is important. A dual monitor mount is necessary for each professional. It improves work and helps experts operate at their best. Further, you can also build your ideal trading desk set up using these five simple steps.
2. Better Neck and Eye Health - Better Focus
Sitting in an incorrect posture for hours will certainly ruin your neck and eye health. In addition, it can cause chronic pain and discomfort. However, you can eliminate this discomfort by using a dual monitor mount for desk. Also, uneasy setups can strain your eyes and lead to dry eyes. Gazing at a screen for a lot of time can create these issues. However, a dual monitor mount ensures proper placement and reduces the strain on the eyes effectively. Focus is important to work better. Without focus, one will not feel engaged or interested in work. Thus, installing a dual monitor arm mount is essential. The device helps in easily spreading your work across multiple screens and gives ease. You will easily be able to check all the data and limit random distractions.
3. More Organized Work Station with dual monitor stand
Installing a dual monitor stand will help you work in a more organized manner. In addition, it is a safer option than two single screens as it permits better adjustments and working. Also, it helps your workstation look reliable and classy, which further motivates you to work every day. Finally, using dual screens is always better than using two single screens. Check these dual monitor corner desk setup ideas to make your workstation more accessible. One of the primary highlights of using a dual monitor mount is that it limits space. Multiple employees can work using these devices in a limited area. The setup does not occupy a lot of space and gives a user complete ease to work. So, if you are worried that the setup may take up much area at your workplace, worry not. It will not just reduce working space but also give an area for multiple employees to work with ease. Further, you can also add some office accessories to make your workstation more convenient.
How to pick an ideal dual monitor stand?
Picking an ideal dual monitor mount is not very tough. However, you must check a few aspects before making a purchase. These points are essential for you to make a valuable purchase. Also, they will assist you in picking the right product and help you get the best dual monitor mount for your workstation. Before buying any stand, ensure you check if the material is durable and sustains well. The entire setup of your workstation is going to be held by this product. So, ensure you buy a tough dual monitor stand with premium quality aluminum alloy for fine outcomes. Another crucial factor to consider is weight. Your stand should be able to take the necessary weight. So, check on the weight capacity of the stand, and only if it meets your needs make a purchase. Checking the design of your dual monitor desktop stand is also important. The design will help you analyze how easy your work is going to be. An inconvenient design will disappoint you and give you discomfort while working. So, get a flexible design with maximum adjustments for the best outcomes.
Boost the potential of your workplace by Autonomous Dual Monitor Arm Desk Mount Today
Adding a dual monitor stand is beneficial for offices. They help employees work efficiently and reduce strains. Autonomous dual monitor arm is the best dual monitor mount for your workstation. It assists in improving productivity and offers ease while working. Surely, this product is the best dual monitor mount you will find. It has exclusive features and perks that make it a reliable pick for many individuals. Certain key features that make this product stand apart from the rest are:
360-degree rotation & Excellent vertical range: The topmost perk of using this product is its 360-degree rotation facility. It helps a user adjust their desk according to their ease in any direction. This dual monitor mount has a 20-inch vertical range to offer complete ease and precision while working.
Easy Installation : Fixing this device does not require expert tools but minimal knowledge.
High-quality Material : The dual monitor stand uses an exclusive quality of aluminum alloy in its build. This material is tough and withstands weight without trouble.
FAQ
Vous ne voyez pas la réponse à votre question ?
What types of monitors does you monitor arm support?
Our monitor arm(s) supports all monitors' sizes from 18 - 28 in with VESA monitor mount for 75mm and 100mm standard, for example, LG IPS series, 24-inch iMac, 27-inch iMac (late 2009, 2010, 2011)
. In case your LCD does not compatible with the mount, you can absolutely install a VESA mount adapter (easily found on Amazon) to your screen before attaching it to our monitor arm.