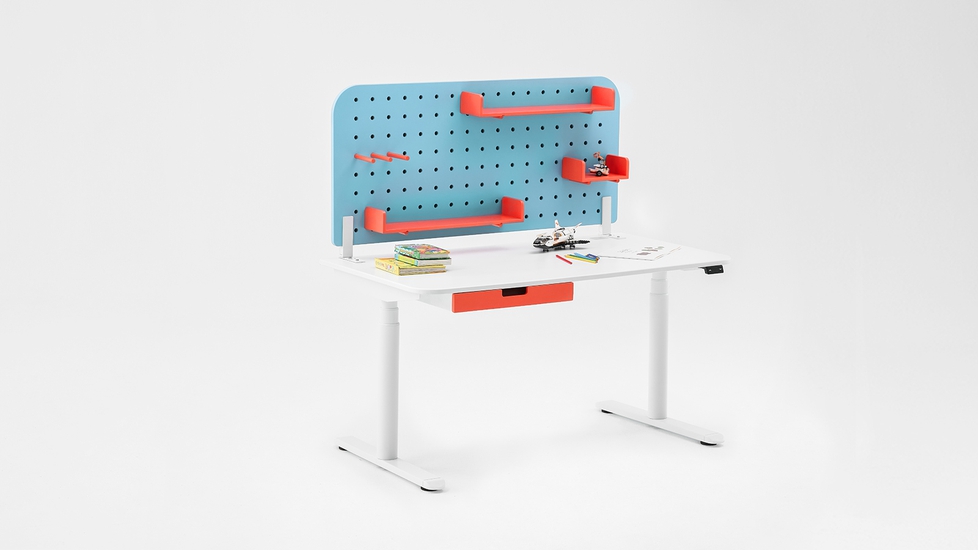 Help your child discover their focus by embracing their natural instinct to be active. Start young and nurture healthy habits for years to come.
Ships by Sep 30
|
Free shipping
& 30-day returns
If you don't love it, just return it for a full refund.
Sign in

 with your work email to unlock special pricing.
• Height-adjustable from 22" to 45"
• Weight capacity of 270 lbs
• Anti-collision safety mechanism
• Pegboard with movable dowels
• 2 hooks
• 1 cable tray
• 1 spacious drawer
• 2-year warranty
• Pay over time with Affirm: $65/mo
Deep dive into specs
Un bureau qui ne risque pas de devenir trop grand pour eux.
Toujours à la bonne hauteur pour les corps en pleine croissance, et suffisamment spacieux pour supporter toute activité. SmartDesk Junior donne à votre enfant l'espace nécessaire pour grandir, qu'il apprenne à écrire, suive des cours en ligne ou fasse appel au Picasso qui sommeille en lui.
Il favorise l'indépendance.
La simplicité des commandes permet aux enfants de tous âges d'adapter leur espace d'apprentissage à la mission qui leur est confiée. Comme les enfants sont agités et abandonnent des tâches lorsqu'ils se sentent confinés, laissez-les passer naturellement de la position assise à la position debout pour trouver leur propre rythme et se concentrer.
Pour que vous puissiez faire une pause.
Pouvant supporter une charge de 122,5 kg, le bureau est également doté d'un mécanisme de sécurité intégré qui l'empêche de bouger s'il entre en contact avec un autre objet. Bien entendu, tous les matériaux et finitions sont certifiés BIFMA pour la sécurité. Juste au cas où votre enfant aime bien gouter des choses.
C'est un espace qui encourage la croissance.
SmartDesk Junior tient compte du fait que les intérêts de votre enfant évolueront et lui offre une toile vierge pour découvrir son identité. Ainsi, il aimera vraiment passer du temps à son bureau, pour créer, étudier ou planifier la conquête du monde.
Il célèbre l'expression.
Le tableau perforé est un moyen pratique pour les enfants de s'approprier un espace. Les étagères et les chevilles mobiles leur permettent de façonner le monde en fonction de leur personnalité, d'ajouter des outils qu'ils trouvent utiles et d'afficher des rappels de ce qui les inspire.
Et les aide à organiser ces idées.
Comme la folie doit avoir une raison d'être, SmartDesk Junior est livré avec un chemin de câbles en dessous, un tiroir spacieux pour le matériel pédagogique et des crochets pour les sacs à dos et les casques. Aidez vos enfants à apprendre à organiser leurs affaires.
Donnez à votre enfant un bon départ dans la vie.
Une enfance active combat un avenir sédentaire. Aidez votre enfant à prendre de bonnes habitudes et à se concentrer - pour avoir plus de temps pour jouer et rester jeune jusqu'à l'âge adulte.
FAQs
Don't see the answer to your question?
Are the pegboard and shelves included in SmartDesk Jr.?
Yes, the pegboard, shelves and peg dowels are part of SmartDesk Jr., so you can build a truly personal space for your kids to learn, play and grow.
Which age and height range do you recommend the SmartDesk Jr. for?
With a height range of 22" - 45", this desk is perfect for anyone between 3"9 to 5"9 tall.
Is SmartDesk Jr. certified safe for kids?
Yes, our frame is UL certified. All wooden parts are CARB certified and the paint is TUV certified to ensure zero toxic chemicals.
Can I lock the desk's height?
Not currently. Would this be useful to you? Let the Jr. team know.
We do! We have shipped to more than 60 countries so far, and we're still counting! Please select your country for localized checkout and appropriate pricing, duties, and taxation processing.
Does it have anti-collision?
Yes. SmartDesk Jr. will stop if it comes into contact with another object while height is being adjusted. Extra safety for your peace of mind!
Do you sell the pegboard and accessories separately?
Not currently, but if you would like that, please let us know so we can make it an option on the site. 
How easy is it to assemble the Autonomous SmartDesk Jr.? Which tools do I need?
Assembly is not difficult, and all the tools you need are included in every package. Most customers finish setting up their new desks in just 15 to 30 minutes.
How loud is the lifting motor?
Our motors are the most silent on the market. Featuring advanced noise cancellation engineering, our SmartDesks are whisper-quiet at only 45dB in movement.
How is SmartDesk Jr. shipped?
It will be shipped in 3 packages. The packaging dimensions are as follows:
Pack 1: 42.3" x 12.4 x 9.8"
Pack 2: 6.3" x 54" x 30.7"
Pack 3: 2.8" x 49.8" x 24.2"
Does the desk have a tilt function?
Safety is of the utmost, so this feature is still in R&D. If you and your kids would find this useful, let us know your thoughts.