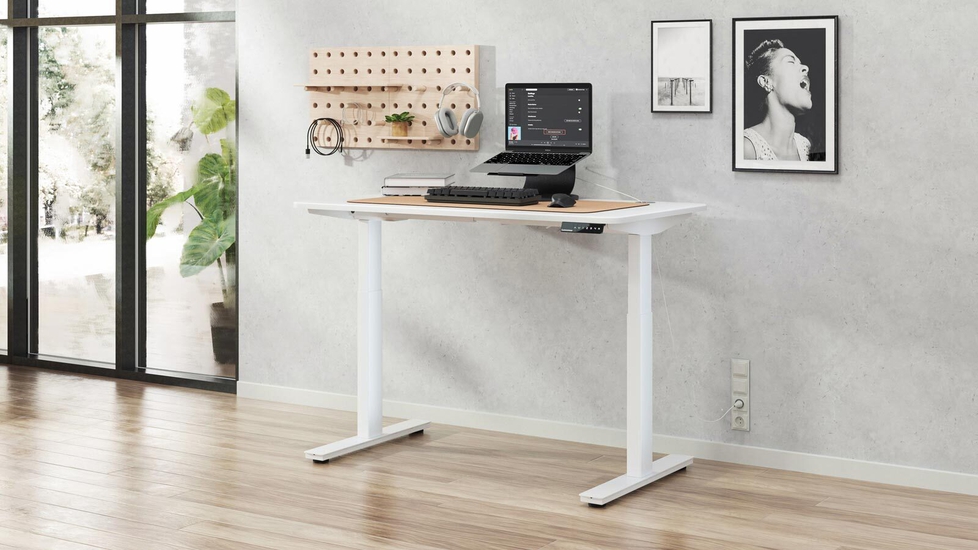 Autonomous SmartDesk Core
- Home Office Standing desk
$449
$499
(-10%)
Livraison gratuite et flexible
Acheter maintenant
Ajouter au panier
Livraison gratuite Jun 10 - Jun 12
Bought by 2,100+ Microsoft employees
Vendu et expédié par Autonomous.
Autonomous SmartDesk Core en un coup d'œil.
Le bureau debout essentiel. Pour une productivité tout au long de la journée et un bien-être accru.
• Hauteur réglable entre 29.4" et 48"
• 4 réglages programmables
• Soulève facilement 120kg
• Options de bureau régulier ou XL
• Cadre solide en acier
• Double moteur électrique
• 5-year warranty
Plongez-vous dans les spécifications

AU-DELÀ DE LA NORME INDUSTRIELLE
Une gamme de hauteurs généreuse.
Idéal pour un large éventail de corps, le SmartDesk Core est réglable de 29.4" à 48". Explorez votre position assise-debout idéale.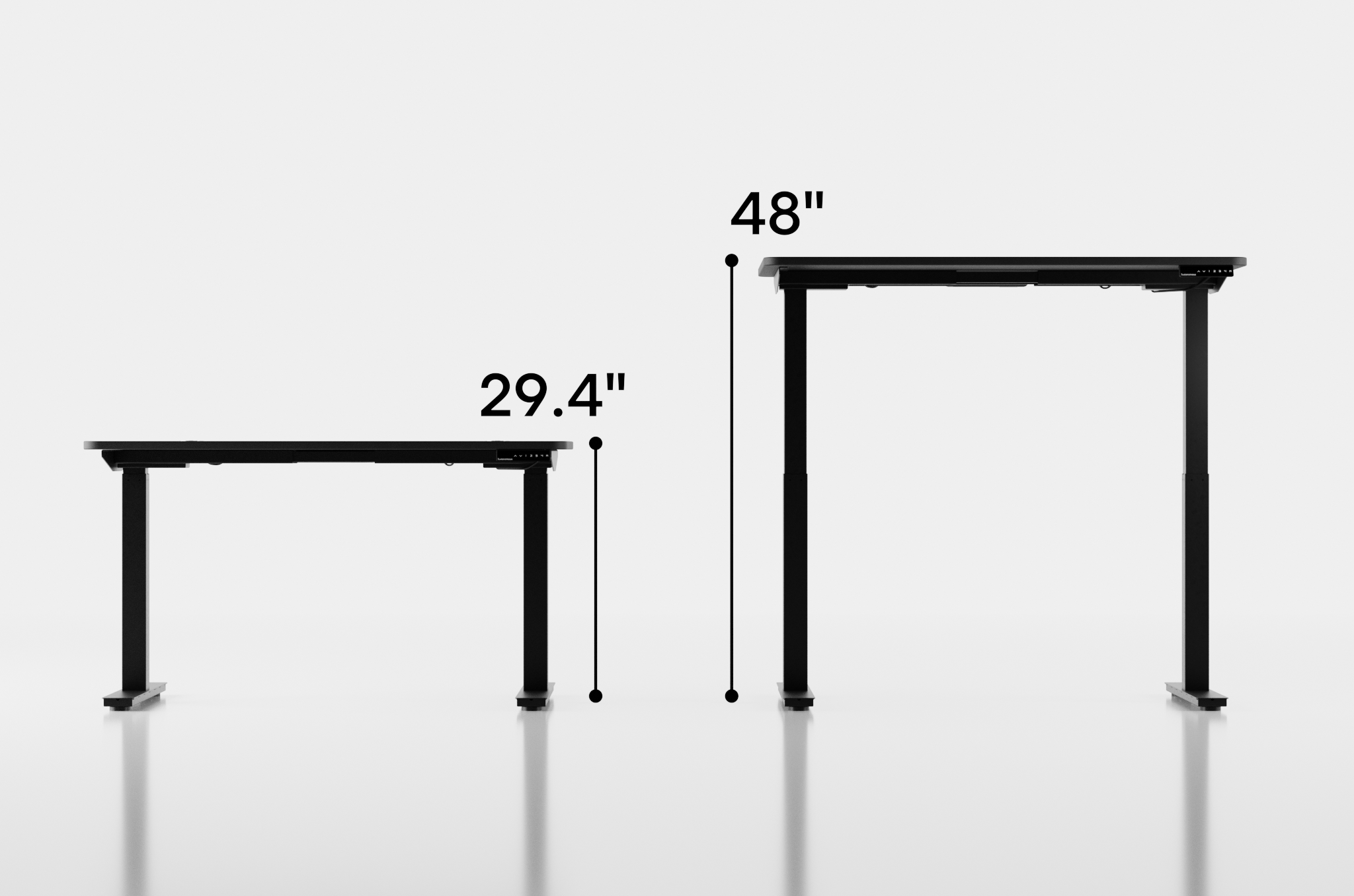 CLAVIER PROGRAMMABLE
Des commandes simples pour plus de commodité.
Enregistrez jusqu'à 4 hauteurs personnalisées pour passer de l'une à l'autre sans effort. Préparez d'abord votre succès.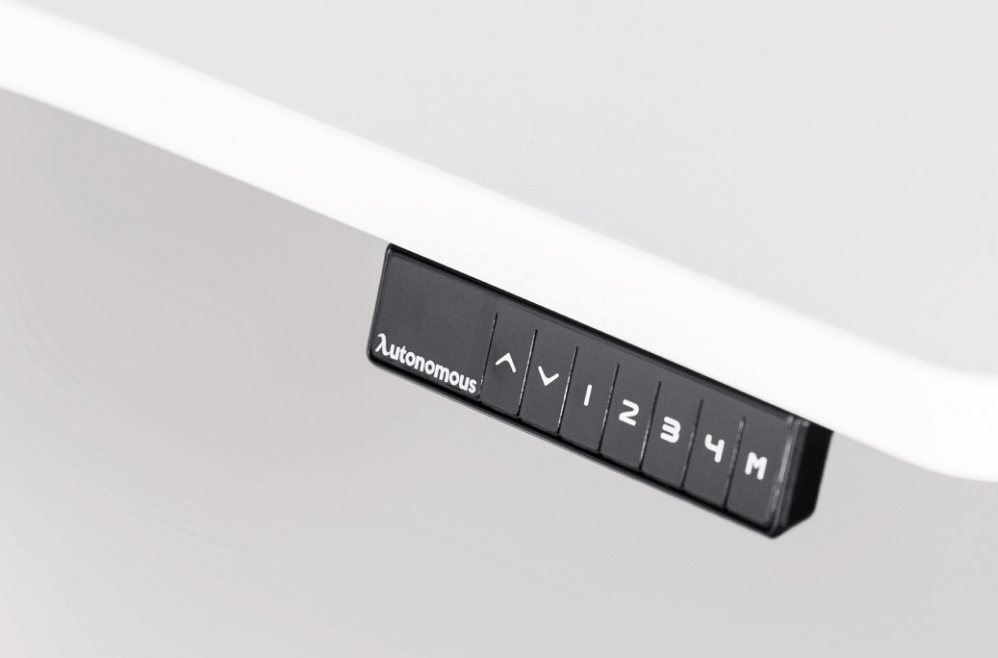 COLONNES DE LEVAGE À 2 ÉTAGES
Tout tourne autour de la force du corps.
Soulève 120kg à seulement 50 dB. Elle se déplace de 1.1 pouce par seconde tout en portant sa charge maximale et reste solide comme le roc pendant tout ce temps.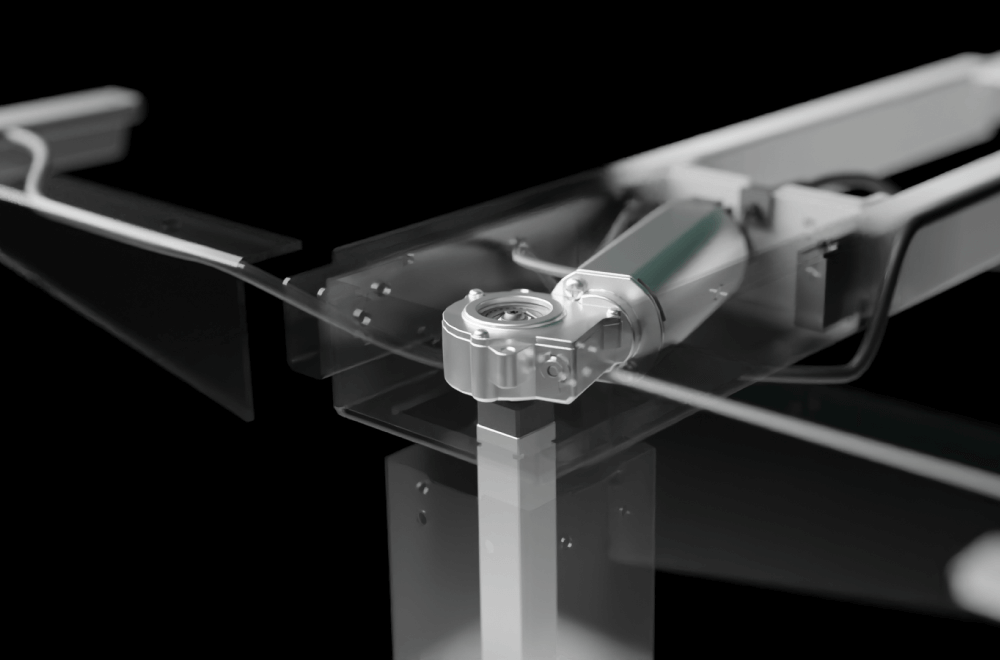 CONSTRUCTION ROBUSTE
Certifiée super durable.
Il repose sur un cadre en acier solide, alimenté par un double moteur économe en énergie. Sa solidité et sa sécurité ont été vérifiées dans le monde entier par BIFMA et EMC.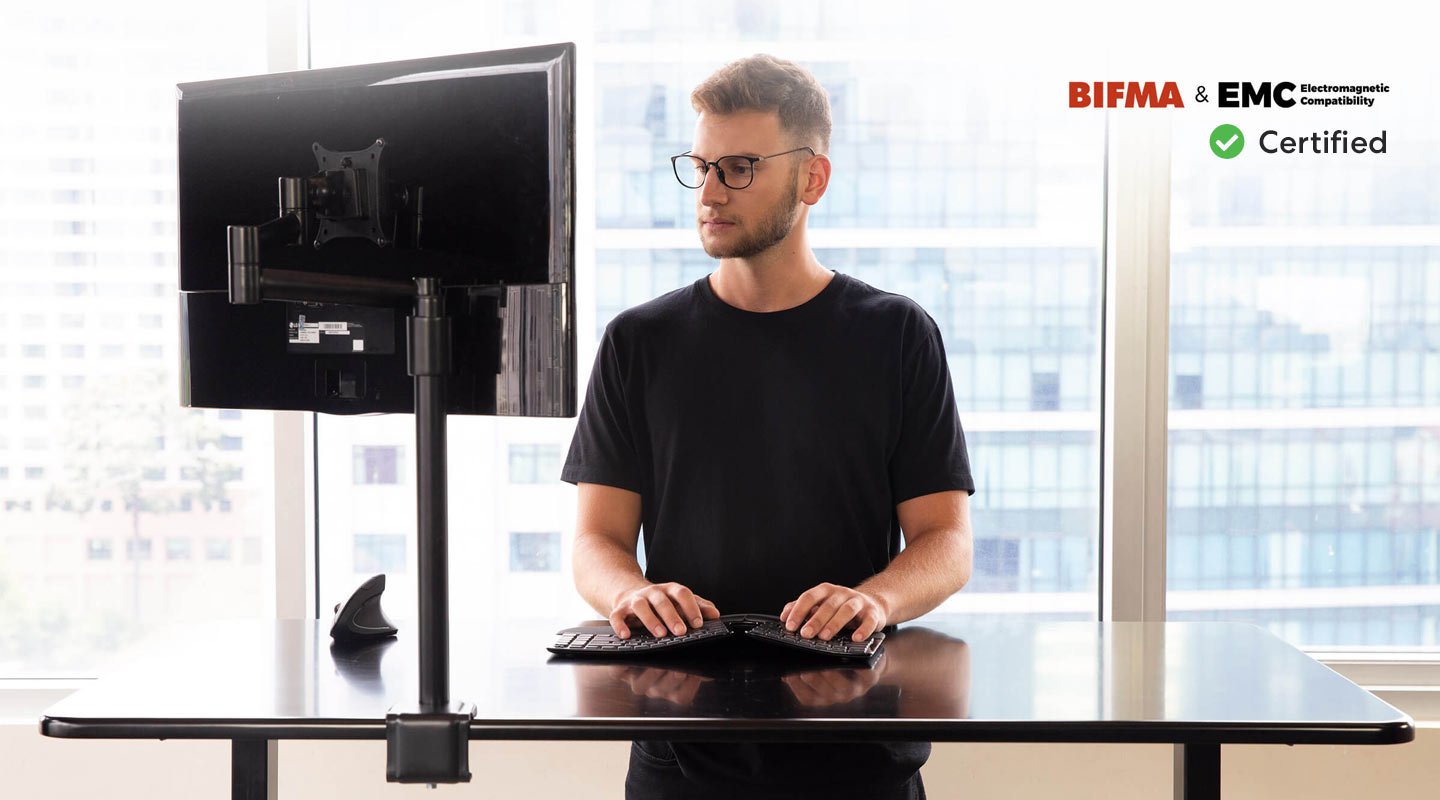 Find the right work-life balance
Take a stand against a sedentary lifestyle - there are no dull days with an increased sense of focus and creativity. Home standing desks supercharge your workspace. Choosing the healthy option for your home office standing desk boosts your mood and keeps your productivity levels sky-high.
Best Home Office Standing Desk
A Rock-solid motorized desk frame - Great performance, almost silent
Made with a heavy duty industrial steel frame and combined with an advanced dual-motor system, all of our home standing desks are steadfast and can easily lift up to 265 lbs. - more than enough for most home office gear. The SmartDesk Core comes with a keypad that enables you to program 4 custom height presets. As the dual-motors produce only 45 db of sound, you can glide almost silently between your favorite sitting and standing positions with your home standing desk at just the touch of a button.
Keep your excitement alive - Unleash your potential - Fit your home office decor
Working is such a big part of our lives - it's important that we enjoy what we're doing, wherever we're working. Home standing desks have been proven to increase your energy levels, making for a more positive and productive working day. See how a home office standing desk can give you the enthusiasm and energy you need to get through that midday slump. The greatest aspect of building a home office is creating a totally personalized space where you can do your best work. The addition of a home standing desk increases physical activity, helping you to unleash your creativity, increase your productivity and fast-track your working progress. Strong, sturdy and stylish. Our home standing desk tops come in a range of options, from high-quality MDF wood (in black, white, walnut and white oak) to a beautifully finished natural bamboo. You can customize the color and material of your SmartDesk Core to perfectly fit your home office decor.
Peerless Manufacturing - Vetted for Safety, Strength and Compatibility
Our SmartDesk Core workstations are fabricated by experienced industrial manufacturers who are market leaders in crafting long-lasting and lovingly-made products. All our home office standing desks carry certification from the global safety body UL, one of the U.S.'s oldest independent inspection agencies. Our products strength and environmental safety claims have also been certified by the Business and Institutional Furniture Manufacturers Association (BIFMA). Finally, this home standing desk has been certified for Electromagnetic Compatibility (EMC), meaning it's the best standing desk for home office that is safe for all of your electronic devices.
Is the SmartDesk Core right for you?
The SmartDesk Core is a home standing desk and an office standing desk perfect for working professionals who want to take their workflow to the next level. Are you looking to buy a home standing desk? Explore why the SmartDesk Core is the best standing desk for home office.
A perfect fit in any space
The SmartDesk Core is a home standing desk designed with minimalist aesthetics, optimized for a perfect fit in nearly any home or corporate office setting. Anyone looking to buy a home standing desk can choose from a variety of different colors and finishes: the frame is available in white, black, and grey, and the table tops are available with bamboo, classic walnut, smooth white, and sleek black finishes. For gamers, a stealthy all-black desk can provide the perfect backdrop to all of your colorful gaming gear LEDs. Alternatively, an all white desk can be a great minimalist choice for those who want a smart, clean look to their desk setups. Wood finishes (bamboo for a lighter aesthetic and walnut for a darker mood) are a classic favorite for desk setups that add a touch of class and sophistication. The technological innovations are part of what make the SmartDesk Core truly special. Its powerful dual electric motor is whisper-quiet, making it appropriate for the home or the workplace without being loud enough to bother your coworkers or roommates. No matter what your style or aesthetic, the SmartDesk Core blends in and incorporates, rather than dominating the aesthetic of your office space. It's your space, your work, your SmartDesk, and it's the best standing desk for home office designed to compliment you.
Who is it for?
The SmartDesk Core is specifically designed for working professionals who want to buy a home standing desk to upgrade their home offices with a more ergonomic standing option. Developers, creative professionals, IT, accountants, executives, the list goes on. No matter what professional tools you use, the SmartDesk's spacious surface is enough to handle all of it—up to 265 lbs! Not only is it great for work, it's great for play too. Gamers can benefit from this amazing home office standing desk, with the option to sit or stand to keep their energy levels up and their eyes on the prize.
Health benefits
The SmartDesk Core is for anyone who values their health and wants to get the most out of what they do every day. Science tells us that a sedentary lifestyle can have negative long-term health impacts, causing back pain, circulation problems, and even carcinogenic effects that can lead to cancer. Having the option to stand even for just a few minutes every day can help you combat the ill effects of a sedentary lifestyle. Using methods like the Pomodoro method can help you time your workday and schedule work periods and break periods. You can also use it to time your sit-stand sessions! The SmartDesk Core features 4 programmable memory settings that you can use to present specific heights you need throughout the workday. That means you can take the guesswork out of hitting the right height; just the press of a button gets you to the right height every time.
FAQ
Vous ne voyez pas la réponse à votre question ?
Puis-je utiliser PayPal pour payer ce bureau?
Nous acceptons le paiement PayPal. Il vous suffit de suivre les étapes lors de la validation de votre commande et vous pourrez alors passer commande auprès de Autonomous.
Quelles sont les différences entre les éditions Pro et Core pour le SmartDesk?
Le cadre de l'édition Pro (sans plateau) a une hauteur variant de 63-129cm, peut soutenir jusqu'à environ 135kg et une garantie de 7 ans.
Le cadre de l'édition Core (sans plateau) a une plage de hauteur de 72-119cm, peut soutenir jusqu'à environ 135kg et une garantie de 5 ans.
Tous les hauts ont une garantie d'an.
Ce bureau utilise-t-il une prise de courant ordinaire de 120 volts?
Oui. Notre bureau debout est compatible avec les prises standard 110 volts - 240 volts. Les deux courants sont automatiquement convertis par le pupitre. Pour les commandes vers les USA, les prises sont installées avec la fiche standard à deux broches. Pour les commandes internationales, nous convertissons le plug en fonction du type utilisé par le pays de destination.
Je vois qu'il y a une "boîte noire" à installer sur la face inférieure (à du panneau de commande), avec une alimentation et une connexion de données. Est-ce que cela ressemble à une barrette d'alimentation et à un plug-in de données?
Oui, c'est la boîte de contrôle. Elle doit être attachée sous le bureau pour pouvoir utiliser le clavier intelligent. Il est connecté au Smart Keypad pour contrôler la hauteur du bureau et à la source d'alimentation pour indiquer au (x) moteur (s) électrique (s) quand monter ou descendre.
Livrez-vous dans le monde entier?
Nous faisons! Nous avons déjà expédié dans plus de 60 pays et nous comptons toujours! Veuillez sélectionner votre pays pour le paiement localisé et le traitement approprié des prix, des droits et des taxes.
"Combien de poids votre SmartDesk peut-il supporter?
J'ai deux grands écrans de 68cm. Seront-ils en sécurité?
Le cadre de l'édition Business peut soulever jusqu'à 135kg.
Le cadre de l'édition Home peut soulever jusqu'à 135kg.
Combien de temps prend la livraison?
Une fois votre commande traitée (moins d'un jour ouvrable), l'expédition prend de 3 à 5 jours ouvrés pour les adresses aux États-Unis continentaux et de 7 à 10 jours pour les commandes internationales.
Pouvez-vous me donner plus d'informations sur votre politique d'essai gratuit de 30 jours?
Si vous n'aimez pas votre bureau, nous le reprenons. C'est aussi simple et facile. Vous avez jusqu'à 30 jours après la livraison pour monter et utiliser votre bureau. Si vous changez d'avis, vous pouvez alors demander à retourner le bureau pour un remboursement complet (nous couvrons même les frais d'expédition!), Sans poser de question. Cette politique s'applique à tous les bureaux livrés aux États-Unis continentaux et renvoyés dans leur emballage d'origine uniquement. Les commandes internationales ne sont pas admissibles à ce programme. Veuillez noter que le bureau debout retourné doit être dans son emballage d'origine. Sinon, nous nous réservons le droit de refuser votre demande.
Y a-t-il un moyen de réinitialiser mon SmartDesk 2?
La fonction Re-set pour l'édition Business et l'édition Home est la suivante:
 1. Appuyez simultanément sur les boutons haut et bas jusqu'à ce que le pupitre se positionne à nouveau et que le bip retentisse.
 2. Relâchez les deux boutons.
 Cela devrait réinitialiser le bureau. Sinon, n'hésitez pas à nous contacter à [email protected] afin que nous puissions vous aider à réinitialiser votre bureau debout.
Est-il facile d'assembler le SmartDesk 2 de chez Autonomous? De quels outils ai-je besoin?
L'assemblage n'est pas difficile. Nous incluons tous les outils d'assemblage nécessaires dans chaque colis! La plupart des clients finissent d'installer leur nouveau bureau en 15 à 30 minutes seulement. 
La prise de sortie du bureau debout doit-elle être mise à la terre? Un circuit séparé est-il nécessaire pour chaque bureau debout?
Non, ça ne va pas. Le SmartDesk Autonomous consomme très peu d'énergie et ne consomme que 0,06 watts en mode veille.
Combien mesure le cordon électrique ? En d'autres termes, quelle distance peut avoir ce bureau par rapport à une prise?
Environ 51 pouces. (environ 130cm)
Quelle est la hauteur du bureau?
Le cadre de l'édition Business s'étend jusqu'à environ 132cm.
Le cadre de l'édition Home s'étend jusqu'à environ 122cm.
Quelle est l'épaisseur du dessus de table du SmartDesk 2?
L'épaisseur du plateau est d'environ 3cm.
Quelle est la garantie sur le SmartDesk 2?
Les cadres l'édition Business bénéficient d'une garantie de 7 ans. Les cadres de l'édition Home bénéficient d'une garantie de 5 ans. Tous les plateaux sont couverts par une garantie d'un an. En cas de problème, nous réparerons rapidement le bureau, gratuitement, ou nous vous enverrons un nouveau bureau debout.
Avez-vous des plateaux de table qui ne sont pas en bois pour SmartDesk 2?
Notre seule option non-bois est le bureau debout avec table en bambou, fabriqué à partir de bambou véritable à 100% et tout aussi durable que nos plateaux de table en bois.
Le SmartDesk 2 XL d'environ 178cm x 36cm est-il moins stable que le format classique?
Non. La seule différence entre le XL et le plateau de bureau de 132cm est que le XL offre plus d'espace et est plus lourd.
Proposez-vous un ramassage local?
L'enlèvement sur site est disponible uniquement dans le sud de la Californie (notre entrepôt se trouve à Mentone, Californie). Veuillez nous contacter à l'avance à
[email protected]
pour planifier une prise en charge locale.
Le plateau en noyer est-il un plateau en bois massif?
Non, nos dessus de table en bois blanc, noir, noyer et chêne blanc sont en MDF de haute qualité avec placage de bois dur. Notre plateau en bambou est 100% en véritable bambou.
Quelle est la largeur de l'espace entre les pieds du bureau dans les éditions Business et Home Office?
La largeur du cadre de l'édition Business entre les pieds est comprise entre 102cm-185cm.
La largeur du cadre de l'édition Home entre les pieds est de 102cm-185cm.
Proposez-vous une livraison express ou dès le lendemain pour le SmartDesk?
Pour le moment, nous ne proposons pas d'expédition express ou améliorée.
Le SmartDesk 2 est-il livré en standard avec des trous de câbles pré-percés dans la partie supérieure du bureau?
Oui, nous offrons les oeillets sur nos plateaux.
Comment configurer les préréglages sur mon SmartDesk2?
Réglez d'abord le bureau à la hauteur souhaitée, puis appuyez sur la touche M jusqu'à ce que l'écran à DEL du clavier clignote. Ensuite, sélectionnez le nombre que vous souhaitez associer à cette hauteur. Vous êtes maintenant prêt à travailler plus intelligemment!
À quelle distance les pieds doivent-ils être les uns des autres? Y a-t-il une seule distance qui fonctionne ou puis-je les rapprocher?
Pour le cadre de l'édition Business, le placement des jambes peut être étendu en toute sécurité dans une plage de 102cm-185cm.
Pour le cadre édition Home, le placement des pieds peut être étendu en toute sécurité dans une plage allant de 102cm-185cm.
Quelle est la puissance du moteur sur le SmartDesk 2 lorsqu'il est en route et ralentit?
Nos moteurs sont les plus silencieux du marché. Grâce à une ingénierie de pointe en matière d'annulation du bruit, nos SmartDesks sont silencieux à seulement 45 dB pendant les déplacements.