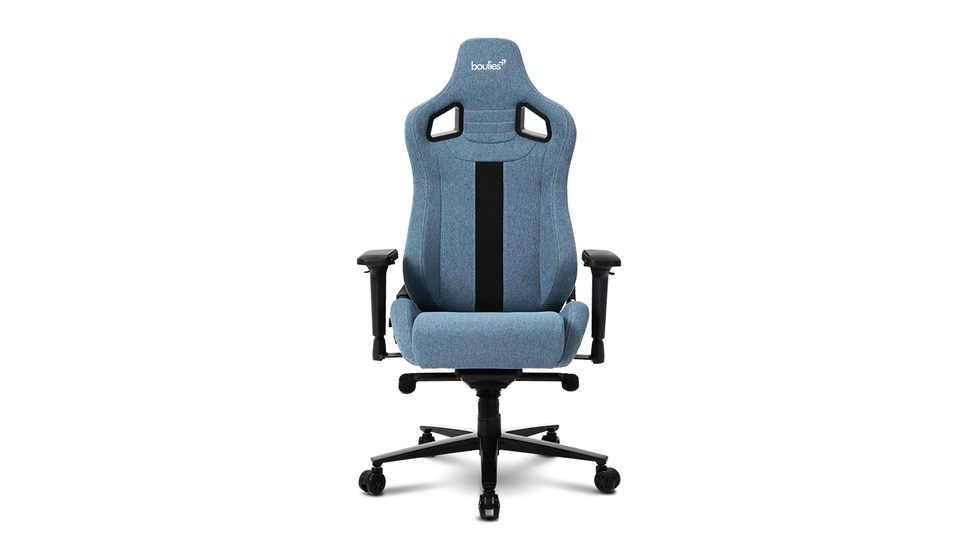 BOULIES Boulies Chair Elite Series
Sold and shipped by BOULIES. Visit our store
Ships by Oct 10
.
FREE 30-day returns.
Sign in

with your work email to unlock business pricing (

$280.64

)
Secure payment
Charge it to your company
$275.03
• Full-length reclinable ergonomic design backrest with memory foam lumbar support pillow • Adjustable 8 ways armrests • 15° rocking function, seat tilt position lock and adjustable height • Soft and thicker foam seat • Comfortably carries up to 300 lbs
• 2-year warranty
High-grade material, improved ergonomics and eccentric-elegant design, let ELITE series gaming chair stand out for gaming chairs and support you through work and play.
Deep dive into specs
Hundreds of high-tech games and gaming accessories are available on the market nowadays. And it's a truth that die-hard gamers sit in front of their gaming PCs for hours on end because they don't want their opponent to have any chance of winning. Nevertheless, sitting for lengthy periods of time might result in a number of health problems. So, how can you keep playing without sacrificing your health? That's the question. Using a gaming chair or an ergonomic computer chair is one of the greatest methods to avoid back pain when playing video games. For this purpose, we are here to guide you on Boulies Elite gaming chair series. Back and neck support is provided by a high backrest on most gaming seats. The comfortable reclining gaming chair's ergonomic design enables its customers to make a variety of changes to suit their needs. If you add a gaming chair to your workstation, your body will feel more active and less tired. Correct body posture not only improves your health, but it also improves your performance. However, here are the top 20 reclining ergonomic office chairs with footrest features on Autonomous for you.
Why Go For Reclining Ergonomic Gaming Chair:
The Boulies Elite gaming chairs seem to have a well-thought-out design. As a result, you should anticipate reduced weariness and pain when sitting. This is not the only benefit of this adjustable gaming chair. Legs and feet bear most of the weight when you sit in an awkward position. As a consequence, getting up from a regular chair causes a severe tingling discomfort, which may lead to damage to the ankle bones over time. However, employing gaming seats is a sure-fire approach to avoid this. When it comes to features, it doesn't just have one or two; This lumbar support pillow gaming chair has a whole collection of attributes that you would generally connect with a comfortable chair. This comfortable reclining gaming chair has a high backrest, which sets it apart from other types of gaming chairs not only in terms of style but also in terms of sophistication. As a result, the user's body receives enough support, which promotes normal blood flow. In general, medical science has a negative view of a sedentary lifestyle since it may lead to metabolic illnesses like diabetes if it is practiced for long periods of time. It's one of the drawbacks of utilizing standard office seats. This reclining ergonomic gaming chair has the extra benefit of having cushioned seats. As a result of this feature, customers are able to relax and enjoy their time spent sitting on these seats.
Boulies Elite Gaming Chair
Assisting you in your quest to achieve Elite status, ergonomics. ELITE series gaming chair stands out for its ergonomics and eccentric-elegant appearance. In order to distribute the weight of your body more evenly, its backrest has a unique design. Resilient upholstery that's both soft and breathable. Perforated PU Leather: Perforated leather was used in conjunction with microfiber suede to guarantee that this chair lived up to expectations. Special dyeing and finishing processes make W/R cloth more comfortable and breathable for its users. Adjustable Boulies Elite gaming chair's armrests may be adjusted in eight different ways to maintain your elbow and wrist in a natural position to reduce your chance of developing carpal tunnel syndrome. Effortless rocking and a lockable seat. Besides being able to recline to your full length, the Boulies Elite gaming chair also has a rocking motion that reduces stress on your back. The position may be locked, allowing you to sit in whatever position you like. Soft but supportive, perfect for all-day use. The broader and softer seat in this Boulies Elite gaming chair is ideal for both work and relaxation. Each chair's seat is made of 100% cold-cure foam, which distributes weight and relieves pressure evenly.
FAQs
Don't see the answer to your question?