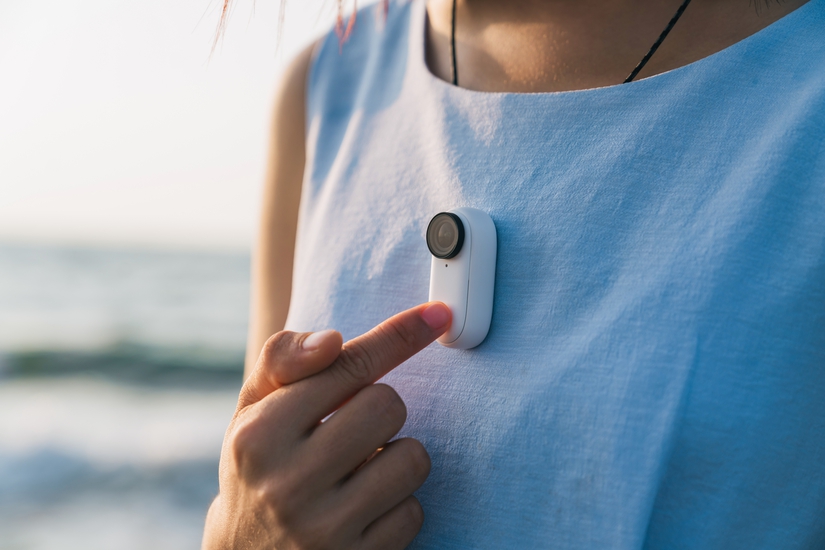 Insta360 Insta360 GO2 standard version
FREE shipping Apr 02 - Apr 04
Sold and shipped by Insta360. Visit our store
• Tiny and mighty • Impossible stabilization • Extreme mount-ability • Reay for any adventure • A pro video editor in your pocket
• 1-year warranty
Insta360 GO 2 is a thumb-sized action camera that offers power and performance without bulk or hassle. It captures the moments that other cameras miss and never gets in the way of the action. At less than an ounce, GO 2 really can go anywhere. Zero hesitation about whether to bring it as you walk out the door. With FlowState stabilization, extreme mount-ability and waterproof to 13 feet (4m)
Deep dive into specs
It is possible to record a complete 360-degree view using an Insta360 GO 2 Action Camera, consisting of a gadget with 180-degree front and rear-facing cameras. This tiny action camera allows you to capture everything visible from a certain position. Then you can edit the picture in post-production to choose whatever parts of the image you want your audience to see, or they can use this camera instead of other cameras to choose what they see. If you work remotely from home, you must visit this article by Autonomous to learn about these 20 amazing desk gadgets. It is possible to move the device around the 360-degree field of view on a smartphone or tablet to show the changing feature from the vantage point of the 360 1440p action camera on a desktop display, and it would need you to drag the view up or down, left or right. You may be familiar with Google's Street View application, which utilizes this kind of technology to allow users to pan, tilt, and pinch to zoom in and out of a scene. There are several real estate programs that let you spin about or glance up and down to get a sense of the layout of a property as if you were really there. However, here are 25 essential home office desk accessories for you on Autonomous.
Experiencing Insta360 Go 2 Action Camera
For a totally immersive experience, the material taken from this Insta360 GO 2 Action Camera can interface with such a VR headset. In a movie sequence, you can experience screaming down a mountain bike descent or inching your way up a mountain crest from the shooter's point of view. Whether an Insta360 Go 2 camera is the appropriate instrument for the tales you wish to convey relies very much on the nature of those stories. If they are about you and your experiences, then there's nothing to match with the immersive video footage you'll receive. Stills photography, on the other hand, aims to put a subject – rather than the photographer – in the spotlight and arrange the scene to suit a given frame perfectly – not to catch all that is visible. However, it is a mini action camera wifi.
Tips For Using Insta360 Go 2 Camera
Users with a computer mouse or a smartphone touchscreen may walk about inside the picture to get a better look at the surroundings and see it from various angles when you post these films and stills online. Campaigns to promote travel and tourism are increasingly using this approach, as it is the best waterproof action camera and the smallest waterproof action camera. It's a totally immersive experience that enables your family and friends to view your shot as if they were right there alongside you. Alternatively, you can raise it up a level by viewing these pictures using a VR headset.
Why Go for Insta360 Go 2 Action Camera
Small Size
This Insta360 GO 2 Action Camera is tiny and powerful, It's the size of your thumb, and it weighs almost 6 times less than other cameras, and has the size of a 1/2.3" sensor. Your social media feeds will be awe-inspiring with these razor-sharp 1440p photos.
Stable - Extreme mount-ability
FlowState stabilization is a cutting-edge technology that provides a simple proposition: Gimbal-quality stability without the gimbal. Insta360 Go 2 camera can be mounted almost anywhere, and its unique blend of image stabilization and high-end imagery ensures that your film will look great no matter where you place it.
Editing Automatically
The AI is taking over, as your edit with FlashCut 2.0. AI selects your best clips, puts them in a narrative, then edits them together and on the beat to the music. Please select from a variety of pre-made templates or leave it up to AI to come up with something completely unique. Not to worry, it hasn't found you yet.
FAQs
Don't see the answer to your question?