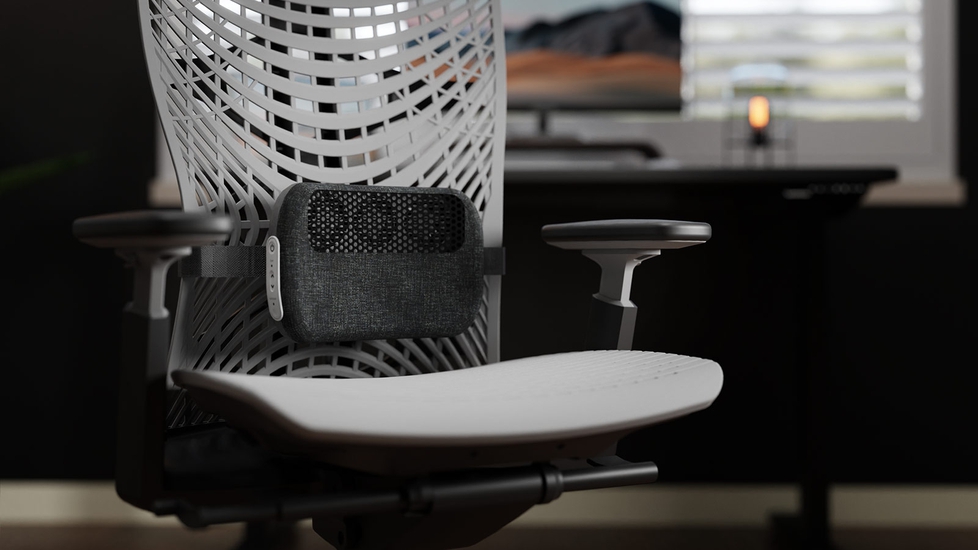 Autonomous ThermalComfort: Personal Climate Control
Bought by 2 Shopify employees
Ships by Jun 22. FREE 30-day returns.
Sold and shipped by Autonomous.
Autonomous ThermalComfort: Personal Climate Control at a glance.
ThermalComfort goes where you go, giving you 3 levels of massage and 6 levels of temperature control for your lumbar curve, so you feel relaxed and comfortable no matter where you sit.
• 6 levels of temperature control
• 3 levels of vibrating massage
• Lumbar curve support
• Breathable, washable fabric
• Up to 6-hour battery life
• 1-year warranty
Deep dive into specs
The Best Heated Lumbar Support For Office Workers: ThermalComfort
Lower back pain is quite common in office workers. Although ergonomic office chairs are excellent for that purpose, sometimes they are not enough, and you may have to aid yourself with an external accessory. In these cases, the best option is to use heated lumbar support. Not everyone is familiar with lumbar pillows for chairs, nor with heated options. However, cooling lumbar supports have been around for quite a while, providing comfort to thousands of users worldwide. This time, ThermalComfort by Autonomous is here to make your life easier, thanks to the multiple features it compiles in the same product. There are many ways you can take into account to avoid feeling lower back pain, and heated lumbar support is one of the best options you can choose.
Benefits of lumbar massage pillow for back pain
Besides being a heated lumbar support, ThermalComfort also acts as a massaging lumbar cushion. Therefore, no matter how uncomfortable you feel as you work you can be sure that this lumbar support will help you remain comfortable as you continue working on your responsibilities. Here are some of the benefits associated with lumbar massage pillows that you just can't miss: 1. Excellent for lower back pain (hence, the "lumbar" word). It is meant to keep your body fully comfortable while you're sitting at the desk. 2. Maintain the optimal posture as you continue working, which can be beneficial for you as your spine will remain straight at all times, alleviating your lower back pain. 3. Furthermore, it can be excellent for stress reduction, especially if we consider that stress is often listed as a major cause of death. 4. It is also helpful for people with arthritis, as it improves mobility. Furthermore, studies have confirmed that massages boost the immune system. As you can see, there are tons of benefits associated with heated lumbar supports and lumbar massage pillows. You can also learn where the lumbar support should be so you can use it correctly and obtain all the benefits associated with its use. You may also enjoy the health benefits obtained from the massage if you use it in the upper back area.
Who is heated lumbar support for?
Heated back pillows, such as the ThermalComfort by Autonomous, don't have a specific demographic. They can be used by any person if they want to be more comfortable while sitting on their chair. However, it is especially beneficial for people who deal with lower back pain often, have arthritis, or experience higher stress levels daily. We can say that these devices can be helpful to any person. Therefore, if you're not sure if this massaging lumbar cushion is for you, all you need to do is try it and experience all the benefits associated with it.
Autonomous ThermalComfort: Personal Climate Control - Best Heated Back Pillow Choice
The Autonomous ThermalComfort will become your best friend during those long work periods. You can heat it up to 122ºF or 50ºC (there are three levels of heating available), based on your preferences. If you'd like to keep your lower back area cool, you can also take advantage of the three levels of cooling it includes. Besides that, ThermalComfort has a vibrating massager incorporated. You can choose between three different intensity levels if you'd like to relax a bit. Thanks to its portable size, you can take it anywhere and enjoy the benefits it has. It is perfect for multiple occasions, be it a long bus ride or working at your home office. Additionally, the integrated battery works for six hours continuously. You can also program ThermalComfort to turn off every 15 minutes. You can detach the ear part of Autonomous heated lumbar support to provide maintenance and keep it clean at all times. Thanks to the nylon strap with Velcro, you will be able to attach it to pretty much any seat that you use throughout your day. ThermalComfort is designed to adapt to your back as it has a curvy design. All you have to do is attach it to your chair, program it, sit down, and just relax. It's an easy-to-use device that will become your greatest companion in no time!
FAQs
Don't see the answer to your question?
Can it be used while plugged?
Yes the unit can be used while plugged.
How long does it last on battery?
Battery life lasts up to 6 hours, though prolonged use of massage and heating features can limit battery life to 4 hours.
What colors are available?
Currently, this product is available in black.
Yes, the cover is made of cotton and can be easily removed and washed.
Can I use this product for pets and children?
We recommend keeping this product away from pets and children when not in use, as it contains sensitive electronic materials inside.
Which chairs are compatible with this product?
ThermalComfort can be used with most mesh back office chairs thanks to an adjustable strap up.
How long is the warranty for this product?
ThermalComfort comes with a 1 year warranty.