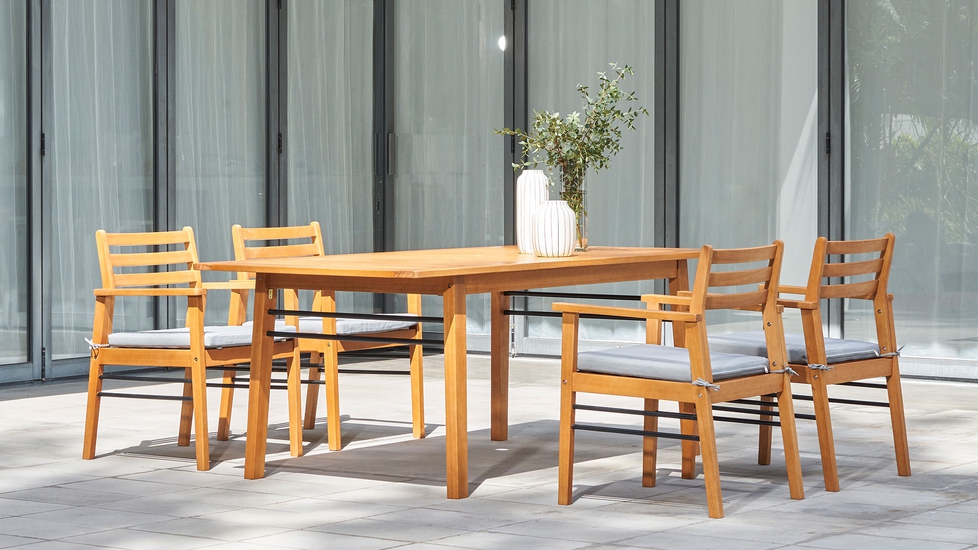 FREE shipping May 24 - May 26
.
FREE 30-day returns.
In stock
Secure payment
Charge it to your company
$1,087.17
Need help with a more complicated project?
Fill in
this form
or call us at
(+1) 888 384 7374
Wooden Work Set by Vifah at a glance.
Flexible, comfortable, stylish and durable. This outdoor wooden work set is highly adaptable to your work style and helps you stay productive and comfortable while enjoying the benefits of spending time outside. Breathe the fresh air and work in comfort in style.
• Eucalyptus hardwood frame
• Space-saving design
• Durable, waterproof and UV resistant
• Fast and easy to assemble
• Sand-splashed finish
• 1-year warranty
Deep dive into specs
Perfect Outdoor Wooden Table Set to Work Outdoors
Consider investing in the outdoor wooden table set by Vifah if you want an extra spot for your friends and family to sit outside on a nice day. A wooden-framed sofa and two wooden-framed chairs make up this wooden table set. While the Lounge Set is designed for speaking with loved ones or playing cards during a barbeque party, there is another reason to acquire it: it allows you to work from home. While you may not want to sit on the outdoor woodworking table when it is wet or raining outside, you can still use this wooden table set as a place to work from home – simply bring out a laptop, connect to your Wi-Fi outside, and begin working on an important project while gazing at the beautiful scenery. All of these wood outdoor dining sets are of the highest quality and built to resist whatever Mother Nature may throw at them. Don't let bad weather stop you from getting things done with outdoor working tables.
What does the outdoor working table Lounge Set include?
The wood patio dining table Lounge Set consists of an outdoor wooden table and chairs. Each piece of wooden furniture is produced from long-lasting eucalyptus wood, ensuring that you obtain high-quality furniture without damaging any trees. The outdoor working table set makes for wonderful outdoor furnishing throughout the year because all of these hardwood pieces can resist winter weather or high-humidity seasons.
The quality of the construction: the most crucial factors to consider
In other words, you want outdoor furniture that will not deteriorate after a few months of use. Fortunately, the outdoor woodworking table is composed of eucalyptus for optimal durability and weather resistance. Furthermore, wooden furniture gives your patio or garden a rustic appeal and an old-fashioned charm wherever it goes. Last but not least, when appropriately arranged in your home, wooden furniture may be quite elegant. Wooden patio furniture, for example, will almost certainly look better than the plastic or steel patio furniture that is commonly found in modern homes. That's because outdoor wooden tables and outdoor wooden dining tables are attractive objects that will make you feel at ease whenever you use them.
Why should you invest in wooden patio furniture?
While outdoor wooden tables and chairs are not as practical as plastic or steel folding furniture, they are more robust and less prone to break down. Furthermore, due to their lightweight form, wooden patio furniture may be readily relocated from one location to another. When it rains outside, you won't have any trouble bringing your wood outdoor dining table set inside! Utilizing this wooden table set on your wooden deck or backyard patio whenever you choose. Due to its wooden frame structure, the outdoor woodworking table set fits wonderfully on any wooden deck. It's also simple to put together in minutes without the use of any additional tools. Last but not least, wooden patio furniture is simple to install and requires no special tools. This is due to the fact that wooden table set includes wooden legs that can be readily joined to the wooden tabletop parts by hand. Outdoor wooden tables and chairs are easy to install and take less than fifteen minutes, making them ideal for home office with busy schedules!
1. Outdoor furniture made of wood can be used in any season. Wooden patio furniture provides a rustic beauty to your entire backyard, whether you use it during the summer or the winter.
2. Wood outdoor dining sets made of wood are more durable than other types of outdoor woodworking table.
3. Unlike plastic or steel folding tables, wooden table sets are attractive pieces that will give your yard or garden an antique feel.
4. Wood outdoor dining table is made from durable eucalyptus trees, ensuring quality every time you buy one!
Our outdoor bar, stools, benches, patio tables, and picnic tables make it easy to have a good time
Whether you're buying eucalyptus furniture for your home office or business, you'll need to know how to care for your outdoor wooden table. Wooden outdoor furniture, such lawn chairs, is weatherproof, fade-free, fashionable, washable, and dirt-repellent. Resin is an excellent material for modern garden furniture since it is low maintenance, lightweight, waterproof, and durable. We have all of the tables, office chairs, benches, and a wooden outdoor couch you'll need in any size and form to fit your outside environment. Not only can you get a terrace set with a table, but you can also get a table that is exclusively yours.
FAQs
Don't see the answer to your question?
Can I use any kind of paint or solutions to maintain colors of wood products?
We recommend using Golden Care protectors or Thompson Water Seal to maintain product color over long-term use. To enhance the product quality before using outdoors, you can apply a wood protector layer.
Do I have to assemble the product?
Yes. Everything you need is provided in the box. No additional tools required. The clever design makes our products easy and quick to assemble. Handy tip: Use an electric screwdriver to speed up the assembly process.
Do I have to pay shipping when returning it per your free 30 day trial? How does return shipping work?
We are happy to cover the cost of shipping if you request a return before the end of your 30 day trial period.
Do you offer express / next day shipping?
At this present time, we do not offer express or upgraded shipping.
We currently ship anywhere in the USA. International delivery is on the way, we'll be sure to keep you updated!