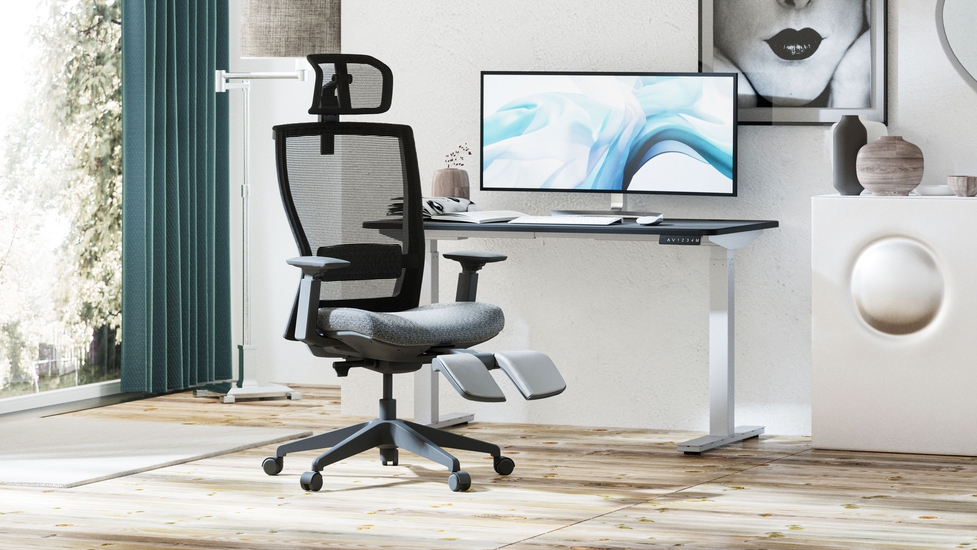 Autonomous ErgoChair Recline
- Reclining Ergonomic Chair with Footrest
453 reviews
Chair Color:

Not available

Not available
Buy now
Add to cart
FREE shipping Oct 01 - Oct 03. FREE 30-day returns.
Bought by 790+ Fb employees.
Sold and shipped by Autonomous
Autonomous ErgoChair Recline at a glance.
When it comes to getting work done, ErgoChair Recline means business—and when it's time to rest, simply lie back, relax, and put your feet up.
• Adjustable height, armrests, lumbar support, and recline
• Adjustable headrest and leg rest
• Comfy, supportive foam seat
• Reclinable mesh back with lumbar support
• Comfortably carries up to 250 lbs
• 1-year warranty
Deep dive into specs
Features
Specs
FAQs
reviews
4.6
ErgoChair Core – Best Gray Reclining Ergonomic Chair
High-Quality Material
The ErgoChair Core by Autonomous is a gray reclining office chair that's designed with the best materials that make this an effective and durable ergonomic device. It includes finely woven mesh that aids in supporting your back's natural contours while enhancing the airflow and breathability of the gray reclining office chair for a more comfortable experience when sitting for extended periods. Additionally, this gray reclining mesh chair also includes durable foam seating in its design. This is another material in the design of an office chair that provides an optimal level of resistance for effective comfortability. Not to mention, this durable foam feature aids in enhancing the overall ergonomic performance of the gray reclining mesh chair.
Reclining Ability - Adjustable Headrest - Ergonomic Footrest
This gray reclining mesh chair available from Autonomous grants you the ability to recline your seat in an instant. Due to this, you can sit comfortably and support the contours of your back as you discuss business matters on your phone or with a colleague that's seated next to you. In addition to this, you're able to relax during your working day and give your back a rest from sitting upright. The reclining feature included in the design of this gray reclining mesh chair is incredibly valuable, as you're able to put your feet up and support your back while resting your neck, shoulders, and lower back muscles. The gray office chair with headrest features from Autonomous provides exceptional comfortability that makes working for long periods easier, as you're able to tilt back with ease and into a zone of complete comfort. The biggest problem surrounding traditional office chairs is that there aren't enough features included in the design that provide effective support to the back, shoulders, and neck. This is commonly the reason that many office workers suffer from lower back pains. This is generally combated with an effective lumbar support system, which is included in the construction of the ErgoChair Core. However, this isn't the only feature that can help improve the overall ergonomics offered in the design of the gray reclining office chair. The inclusion of a gray office chair with a headrest helps to effectively support the neck and shoulders, promoting good blood circulation and reducing the risk of neck, shoulder, and back pain. Not to mention, the adjustable headrest also offers unmatched comfortability when placed in an upright or reclining position. This gray reclining mesh chair from Autonomous includes an auto-balance mechanism that's Italian-designed and moves you from an upright to a reclining position in an instant. Due to this, you're offered exceptional comfortability that remains unmatched when compared to convention office chairs. However, the ErgoChair Core goes one step further by enhancing the ergonomics once again by including a footrest, which allows you to fine-tune the chair's comfortability to your exact support preference for your back, feet, and legs.
Gray Reclining Office Chair for Your Home Office
Gray is an incredible color to use in the design of modern office furniture, especially office chairs. The main reason is it's made from white and black. Due to this, you're able to receive the benefits from both white and black. When using a gray reclining office chair, you're provided easier maintenance, which is similar to the color black. The reason for this is because stains and dust are easier to spot. Gray office equipment is also an easy color to pair with other furniture pieces, which can make for a simple yet professional office design. In addition to this, gray is a timeless color that isn't going to move out of fashion anytime soon, which can't be said for more vibrant and vivid colors. Gray also fits well into existing office designs and can offer a brilliant contrast to either white or black office furniture. This, you can have the best of both worlds as the features of black and white elements are available in gray furniture. Additionally, gray, like white, offers the idea of a light and calming space. The inclusion of gray in the office area is incredibly beneficial as it adds a certain charm and brightens an office environment. Therefore, if you are looking to calm down your office space, this gray reclining office chair may be the one for you!