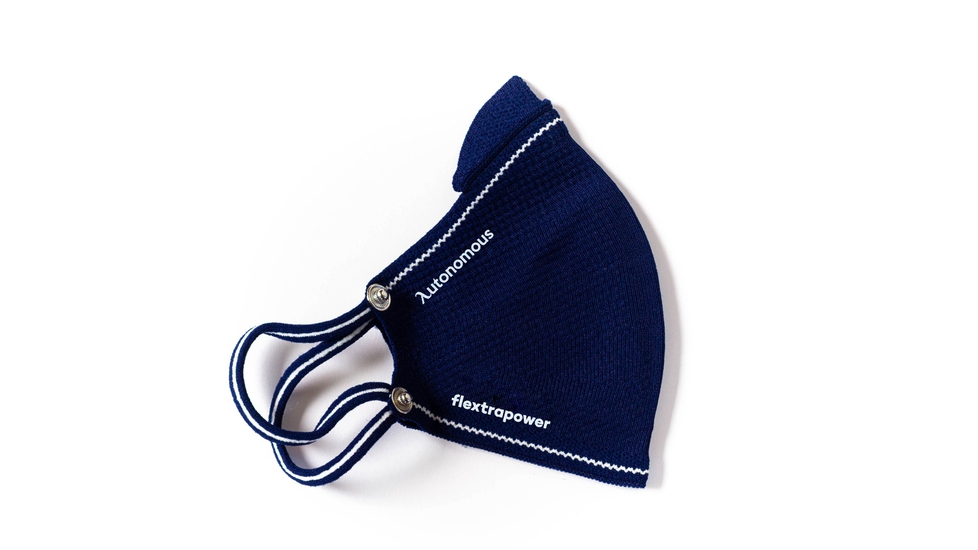 Autonomous Graphene Antiviral Mask
Buy now
Add to cart
FREE shipping May 28 - May 30
Bought by 18 Google employees
Sold and shipped by Autonomous.
Autonomous Graphene Antiviral Mask at a glance.
• Made from Graphene - a super material
• Helps remove 99.99% of virus particles
• 3 protective layers
• Super lightweight, breathable
Deep dive into specs
We believe that technology is the only way to save the present state of the world, & will help us all towards a better, brighter future. With a dedicated goal to protect you & your loved ones effectively & more affordably through this dark time of social health, we turned to the magic of technology. Upon discovering the unique hexagonal lattice of carbon atoms found in Graphene - a renowned supermaterial - we knew that we had found our ultimate protector in this fight! And so the Autonomous x Flextrapower (formerly known as Bonbouton) partnership was born. We quickly developed our first innovative solution. An indispensable shield for anyone, anywhere, anytime - The Graphene Antiviral Mask. A mask that effectively repels & kills existing virus particles found within the air we breathe. Innovative tech meets personal safety & comfort, in a product that is comfortable, reusable, washable, & long-lasting.
Never before has the world seen a material 100 times stronger than steel, yet thinner than paper. This isn't science fiction. The future is now!
Introducing Graphene -
the super material of the future
In scientific terms, Graphene is a single atom-thin hexagonal lattice of graphite. In other words, a mere one carbon atom thick! The first discovery of this two-dimensional material won the Nobel Prize in Physics in 2010. The nature of its composition makes Graphene super lightweight, totally transparent, extremely flexible, & incredibly strong. What makes Graphene even more remarkable is that it is also impermeable to most liquids. Almost sounds too good to be true right?
We fabricate Graphene to create the best antiviral mask
The Graphene insert helps remove 99.99% of virus particles found within the air, performing better than N95 & most existing masks. How can Graphene be that good? Let's take a microscopic look at how this breakthrough protective barrier works.
Virus repellent Phase 1 - At a micron scale:
When in close proximity to infected persons around us in our day-to-day lives, viral micro-droplets may be inhaled through your mouth & nose. As Graphene is impermeable to most liquids it acts as an effective hydrophobic shield, actively repelling 90% of airborne droplets.
Virus repellent Phase 2 - At a nano scale:
On the off chance that viral particles do travel through the first barrier, they will then meet the Graphene lattice at a nano scale. Made up of a network of hexagonal carbon atoms, each atom's edge is as sharp as a knife. Sharp enough to actively cut & kill off the virus. Thanks to its high surface energy, any viral particles that may be left on its surface are actively driven towards the edge of the Graphene sheet & killed off.
There is no denying Graphene's superior practicality.
Super lightweight
The Graphene filter sheet is so incredibly thin & featherlight. Even 50,000 of the Graphene nanosheets - each with the ability to actively kill viral particles by cutting them one by one - would only have a combined weight of about 1 gram!
Super breathable
The Graphene nanosheet is a hexagonal lattice composed of hollow hexagonal carbon atoms. Its composition allows air to freely travel through. Only 1 millimeter thick, the Graphene sheet doesn't block your airflow like other masks on the market, making it much easier to breathe.
Super durable
You can fold, unfold, bend, & wash the Graphene sheet without destroying its nanostructure or ability to kill the virus. The dynamic flexibility of Graphene makes for a mask that is outstandingly durable, conveniently reusable, & so easy to care for.
Designed for long wear and comfort throughout daily activity
3 protective layers with ultimate comfort
The mask consists of 3 resistant layers. The exterior shell made of polymer coated fabric ensures ultimate performance & durability. Our patented Graphene sheet filter protects against virus particles & pollutants. And 100% soft cotton lining provides ultimate comfort against the skin.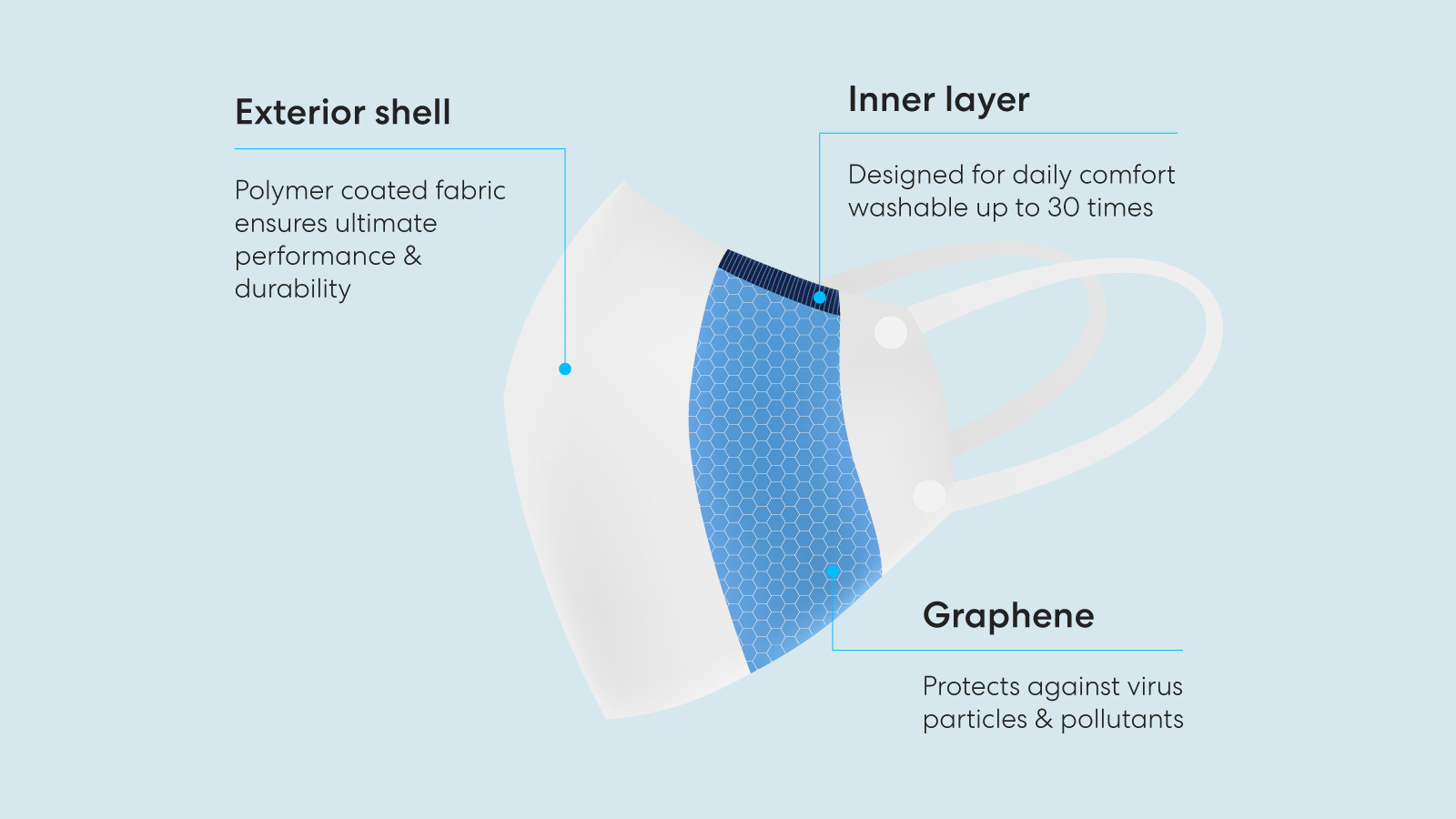 Attention to detail
We've added some extra features to further ensure your personal comfort & guaranteed protection. Tear proof elastic ear loops provide added comfort & a snug fit with minimal pressure. An innovative nose flap has also been added for an improved ergonomic fit & enhanced protection.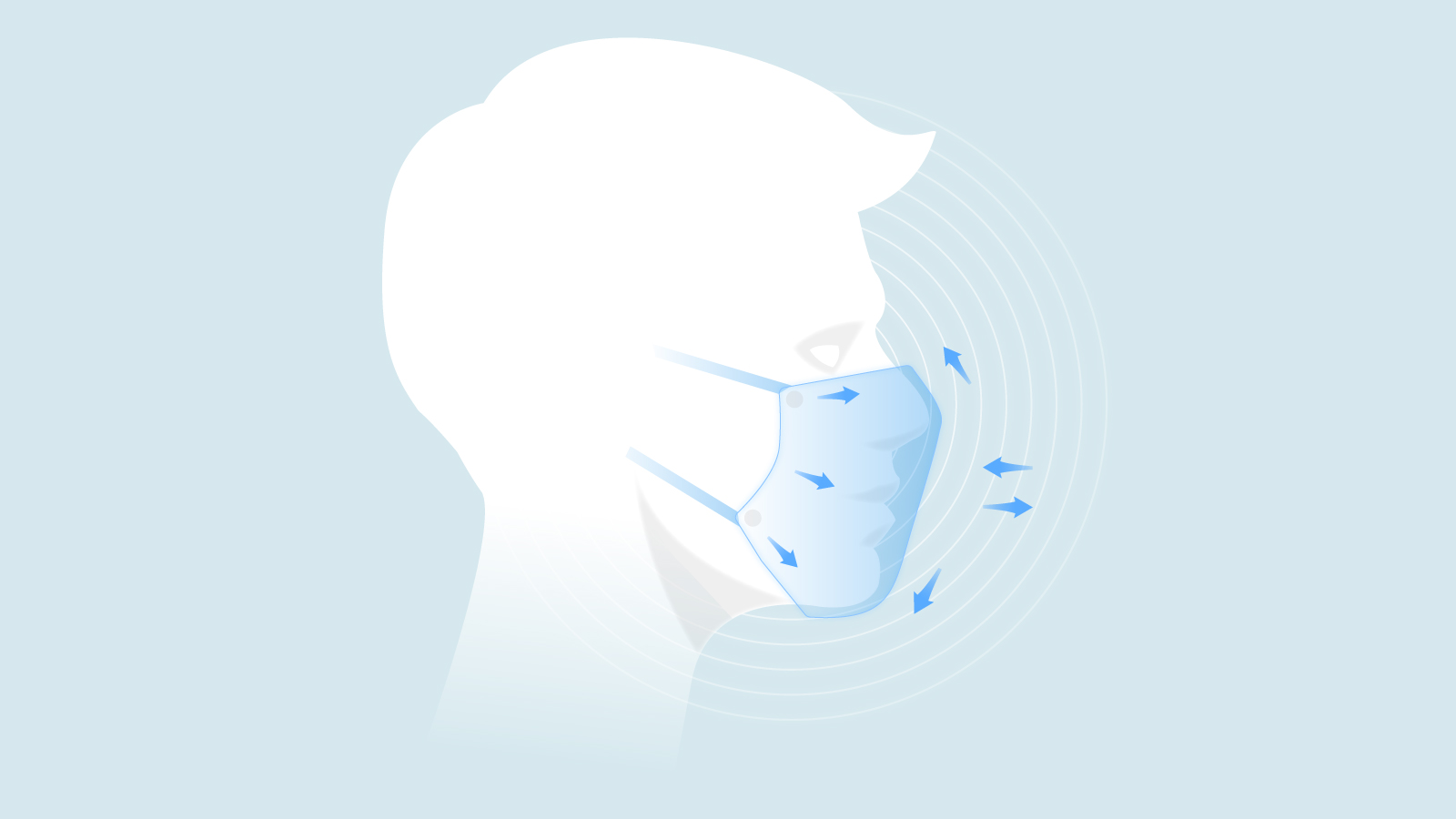 Reusable & easy to wash
With completely reusable components, the antiviral mask may be washed up to 30 times. To maintain the longevity & protective performance of your mask, simply remove the Graphene filter & wash with plain water only. The rest of the mask may be washed with water & simple soap or detergent.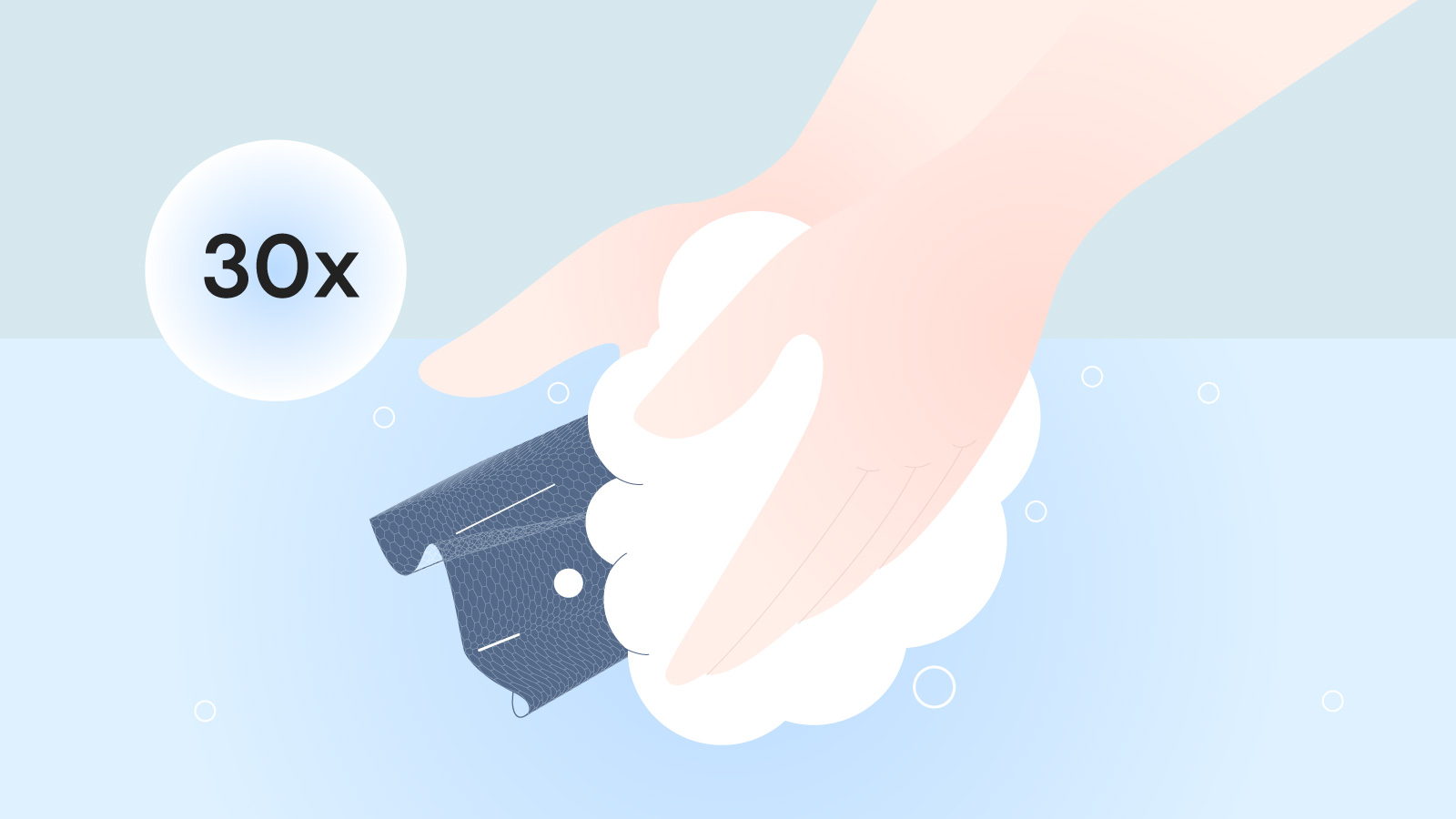 Customers who use and love the mask
We received our mask yesterday and they exceed our expectations! The quality is amazing and the design makes them comfortable to wear. It would be great to have a reminder about how to order more graphene filters
Lori
We're thrilled to have the masks at last, and really like them. One exception, my daughter (who is an adult, but has a petite face) finds that it doesn't feel snug on her, a problem she has had with other masks as well. My son declared that this would be his mask from now on. My husband has been particularly insistent that we wear N95 masks whenever we go anywhere indoors (i.e., to shop). Now I won't have to wear those anymore (which I'm very happy about, as the N95's are particularly uncomfortable) because the Bonbouton masks are so effective.
Sharon
Thank you so much for the masks. The packaging was incredibly informative and reminded us of the reasons why we chose Bonbouton. The only feedback we have at this time is that the part of the mask that sits on the nose was a little more secure in that the flaps sometimes cause it to slide down. Perhaps, the ear straps could be tighter to prevent this?
Tinia
I really like the material and the look of the mask. And obviously I am also happy and motivated by the idea that could protect me from COVID. Two pieces of feedback: 1, The nose flaps: are they supposed to be worn in or out of the mask? I don't see them referenced in the packaging - that might be helpful to include. 2. The ear loops feel like they are tight on my ears - it's already causing a little aching sensation, so I'm imagining that could be a problem. Is there any way to adjust the ear loops, to make them longer?
James
Graphene Antiviral Mask – Keep Yourself And Your Surroundings Safe
The COVID-19 pandemic is still going strong. However, now we know how to defend ourselves against it, and Graphene Antiviral Masks have just become part of the solution. These innovative masks are one of the newest additions to the market, and they come with diverse features that can help you be more protected compared to the options available in the market. The fabric face masks have been designed to be reusable and easy to wash. Hence, you will not produce waste while using it. Additionally, it has been built on a special material that can eliminate 99.99% of viruses, having a better performance than most of the masks available in the current scenario. As we're all slowly heading to the office, we need to adopt certain office safety tips. Antiviral face masks are a must while going back to the office, and here we present you with one of the best masks available in the market.
Benefits Of Antiviral Mask
The Graphene Antiviral Mask has been designed to protect you against 99.99% of the viruses. The hydrophobic shield will repel 90% of airborne droplets. That is not all. However – there is more to this mask than what you'd expect. The network of hexagonal carbon atoms that compose this antiviral face mask is as sharp as possible. As a result, it can kill off the virus as soon as they try to penetrate through its surface. However, there are more features on this mask that make it an excellent change regarding the other options available in the market. It has been designed to keep you protected and comfortable throughout the day.
Lightweight and comfortable: One of the biggest problems with fabric face masks is that they're uncomfortable and end up causing ear pain, or perhaps if you use glasses, they end up messing with your vision. However, this mask has been designed to kill the viruses and keep you as comfortable as possible while you're using it. This mask has a total weight of one gram. Unfortunately, most masks are too heavy, which causes your head to make extra effort to carry them. However, you can be sure that the Graphene Antiviral Mask will help you be as comfortable as possible while you're working, walking, or doing any other activity.
Breathable, durable and reusable: We all know that not all masks allow you to breathe appropriately. However, this mask is made of Graphene nanosheets, which allows the air to travel in and out easily. In addition, it has one millimeter of thickness, making it uncomplicated for you to breathe regardless of the activity you're engaging in at the moment. Again, the Graphene sheet has been designed to be as durable as possible. The Graphene nanosheet is quite resistant to wear and tear, allowing you to wash it multiple times without it losing its quality or breaking in the process. You won't need any other facemasks for a long time.
Why should you choose a 100-cotton face mask?
100 cotton face masks are better than other options for diverse reasons. They're more resistant and can be washed multiple times without losing their properties. You can wear them comfortably without problems, allowing you to be as comfortable as possible throughout the day. Thanks to the inclusion of the graphene nanosheet, you'll be completely protected against virus particles and pollutants. There are different reasons why using the Graphene Antiviral Mask can be beneficial for you. While we still have a long way to go, we now have diverse ways of protecting ourselves against the different threats to our health. Wearing a facemask can help you keep your body in good shape, even in enclosed spaces.
Autonomous + Flextrapower
Autonomous and Flextrapower have collaborated to create this mask. It is one of the must-have office accessories if your organization plans to go back to the premises soon or if it has already happened. It is available in five different colors, allowing you to wear different options based on your preferred color or perhaps your outfit. Thanks to the Graphene Antiviral Mask, you will be able to protect yourself and your loved ones from potential threats to your health. It will work as a shield against the virus particles in the air, allowing you to enjoy different social occasions without worries.
FAQs
Don't see the answer to your question?