Features
Reviews
Specs
FAQs
T&C
GymPod
Features
Reviews
Specifications
FAQs
T&C
GymPod
$-1
Free shipping anywhere in CA
Estimated shipping by Apr 20, 2022
Workouts, your way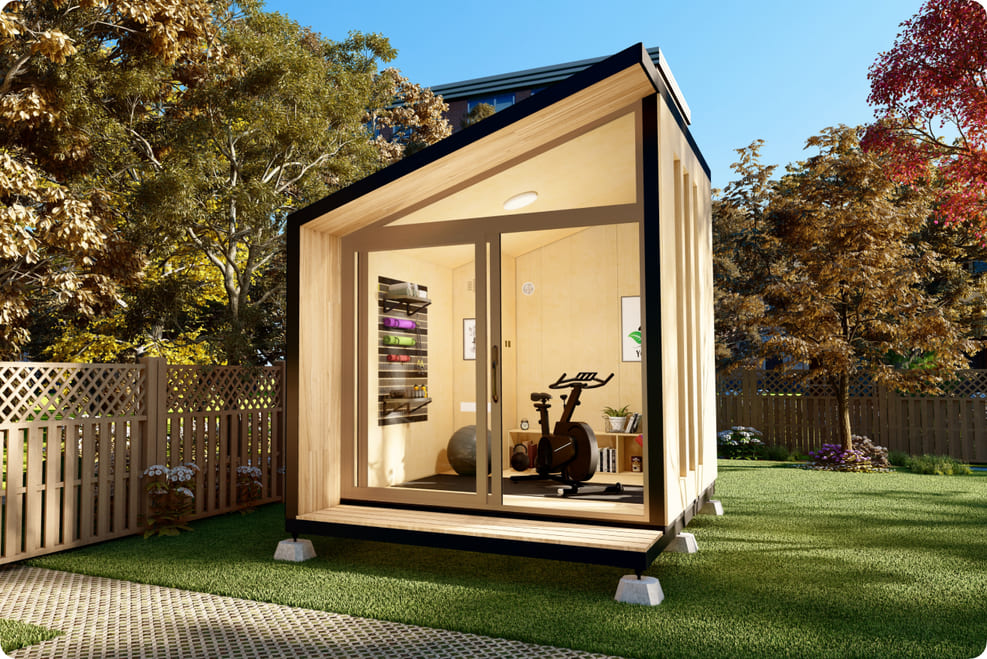 Focus your fitness
GymPod is your private, dedicated exercise space. Stay focused on your workouts for better results and no distractions.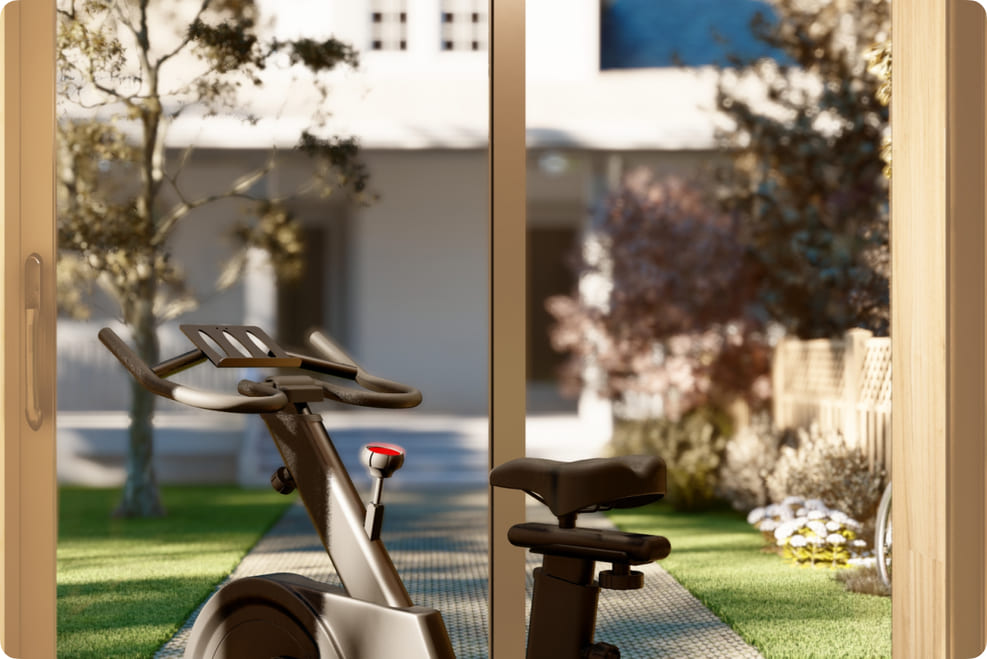 Enjoy the scenery
GymPod's glass panels let you take in the scenery and exercise with the beautiful natural surroundings of your backyard.
Climate controlled
GymPod includes inputs for central heating and cooling so you can exercise in any season, no matter the weather.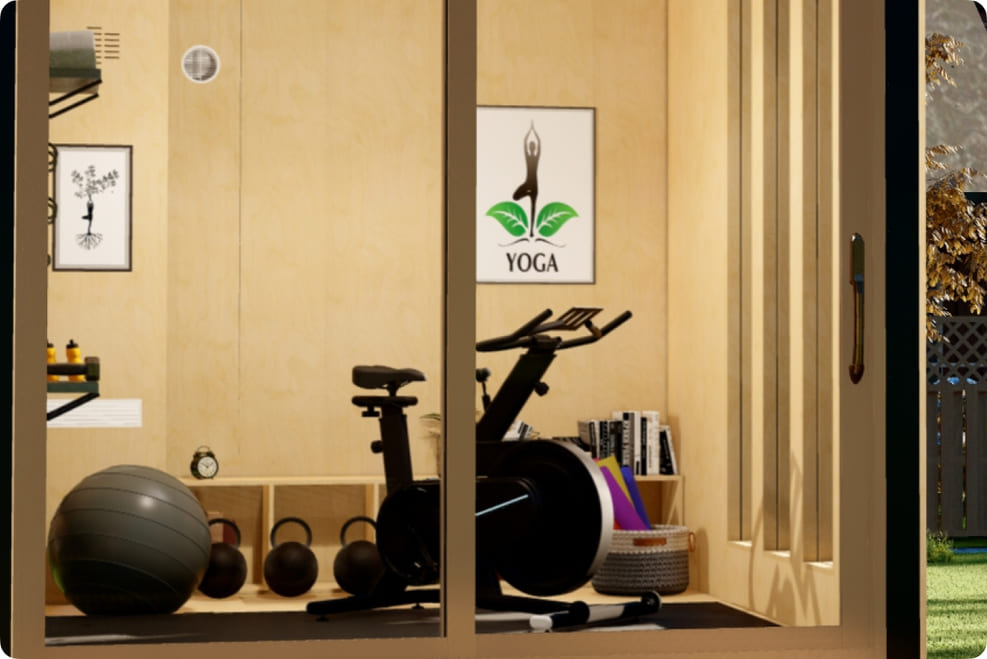 Your exercise studio
Flexible and spacious, GymPod fits more than just the included bike. It's big enough for your other home gym gear too.
Indoor Cycle by Ovicx
With precise controls from 0-100% resistance, this indoor cycle can adapt to different riding positions with varying levels of intensity and incline, without skipping gears.
Energize Your Q200 Workout with the OVICX App
Live Streaming
Exercise Sessions
World-Class
Coaches
A Variety of
Classes
Motivational
Community
Customizable comfort
12x seat height adjustments, 7x front rear seat positions and 8x handlebar heights help you choose the most comfortable position for any type of workout.
Professional cycling
Front drive heavyweight flywheel with high inertia, surrounded by an adjustable magnetic field, and slip-proof pedals allow for a smooth but effective and challenging workout.
Design & Materials
The Autonomous Pod walls are built with a layered combination of plywood, a sturdy wooden frame, insulation foam, bitumen and a composite wood coating. It's exceptionally durable and able to withstand changing weather patterns year-round. With inputs for centralized heating and cooling, you'll feel comfortable whether you're using it on a snowy winter day, or in the heat of the summer. The elevated platform helps safeguard Pod from heat, insects, water, and mold.
Set up
Done in a day
Hiring contractors and obtaining construction permits to make renovations or additions to your home is a costly and arduous process that can take months or years to complete. Autonomous Pod comes with clear assembly instructions and a headache-free construction process that can be completed in just a few hours.
Set it up anywhere
Pod works on any terrain, no concrete surface needed. Its elevated feet can be adjusted to precisely the right custom heights so the pod stays flat and stable, even on slopes and rough ground. Load it up with whatever furnishings you like; Pod can is built to evenly distribute up to 4 tons of weight.
Manufacturing
The flexibility, strength and durability of the Autonomous Pod can be traced back to where it all starts, in the manufacturing process which we carefully control from start to finish. Every step of the prefabricated build is precisely controlled and tested to exceed factory standards – every piece of lumber, every joint, and every seal. That's a level of quality and attention to detail you won't get with traditional structures built onsite.
FAQs
Is this too heavy for second floor?
This is very heavy, but two strong people could lift it up a flight of stairs.
How to experience your app's 30-day free trial?
To start a 30 day free trial, download the app from the app store, create an account and choose the free trial option for your subscription. You can manage and cancel your subscription through your device.
I want to create an account on the app site!
To create an account you'll need to enter a valid email address, and click the link in the confirmation email. If you do not receive that email, please check your spam, junk or promotional email folders.
How can I adjust my spinning bike?
I have just got 1 in my home but still have no idea of how it works.
Is there a warranty period for Autonomous Pod?
The Autonomous Pod itself comes with 3-year warranty for manufacturer defects. If something doesn't perform as expected, we'll replace it. For the fully equipped option, the warranty is guaranteed for add-on furniture products. You can find all reference through this link
https://www.autonomous.ai/help-center/policy/warranty-policy
How much space does Autonomous Pod require?
The foundation is 11'8 by 8'4. For a comfortable fit, we recommend an area around double of that – 23'5 by 16'9.
What kind of surface is suitable to build on?
Suitable common surfaces include brick, concrete, gravel, grass, etc. The foundation is uniquely engineered to bear the weight of the Autonomous Pod and an additional 1 metric ton without the need for ground fixtures.
Can I set up Autonomous Pod on a slope?
While flat ground is always best for ease of assembly, one of the beauties of the Autonomous Pod foundation is its stability even if the ground is not completely level. We do recommend that any slope does not exceed 5°, or approximately 4.5 inches.
Can I move it to another location once it's set up?
Autonomous Pod can be easily disassembled and put up again at its new location.
How do I power up Autonomous Pod?
It has a simple port for power connection, so all you need to do is connect the outdoor wire to an existing power source from your home.
Can I install a heating and cooling unit?
Yes – but you don't have to, because Autonomous Pod also comes with a portable air conditioner that can be tucked neatly away into its own streamlined cupboard.
What makes Autonomous Pod sound-insulating?
Autonomous Pod is sturdily constructed from a number of durable materials. The insulating foam layer doesn't just work to block out sound, but is also heat and fire-resistant. All glass is tempered, and 8mm thick, which also goes a long way towards preserving the peace and quiet of your oasis.
What is the minimum wattage?
100W for all electric devices.
What's the airflow situation?
In addition to its air conditioning unit, Autonomous Pod also has an exhaust fan and an air duct to keep air fresh and circulating.
Do you offer assembly services?
While there is currently no on-site assembly service for Autonomous Pod, our team is on hand to offer remote assistance via video or phone.
Is Autonomous Pod strong enough to support additional fixtures?
Its walls will easily support basic fixtures like frames and shelves, but please be aware that power lines are contained within the walls.
I'm not a builder. Will I be able to assemble Autonomous Pod?
Autonomous Pod was specifically engineered to be DIY friendly. Very minimal expertise is required, but if you're a complete novice or feeling somewhat unsure, it can be helpful to have a spare pair of hands to help. Feel free to give us a call anytime, too.
Is there a free trial for Autonomous Pod?
As user assembly and setup may differ widely across different environments and scenarios, we cannot offer a trial period for the Pod itself. However, a 30-day trial does apply to other Autonomous products in the fully equipped WorkPod, such as SmartDesk Pro, ErgoChair Pro+, etc. If you don't love it, we'll take it off your hands and issue a refund accordingly.
Autonomous Pod is designed to a specific height and square footage (98 sq. ft.), so that permits are not usually required for the majority of states and localities. However, as regulations do change, we always recommend checking with your local authorities or homeowners association.
Do you supply building plans?
We are happy to provide building plans and other details if you need them for your own paperwork. Please help to find in here, If you have any questions feel free contact us at
[email protected]
for more information.
Terms & Conditions
The following Terms & Conditions apply to all GymPod orders placed via the Autonomous website, or via correspondence with Autonomous customer support. By purchasing a GymPod, you agree to these Terms & Conditions.
Trial & return policy
There is no trial or return policy for the GymPod itself.
A 30-day trial applies to the Ovicx Bike included in the fully equipped Pod. A full refund will be issued based on the current price of any bike returned within 30 days.
Please note that the return policy applies only to the contiguous USA. More information on the Dropship product TOU here:
autonomous.ai/help-center/policy/trial-return-exchange-policy
Order cancellation
Order cancellations made after the container arrived at our warehouse and Pod is ready to ship will incur a late cancellation fee, equivalent to 30% of the amount paid for the GymPod.
Assembly
Assembly is not included with the GymPod. The Pod team is available at [email protected] to provide informal advice if needed, but the assembly process itself is the user's sole responsibility. More assembly information can be found in the building plan
Warranty
The GymPod itself comes with a 3-year warranty and a 1-year warranty for the Ovicx Bike for manufacturer defects.
Issues that arise due to any part of the assembly process are not covered by the 3-year warranty.
Promo codes
Discount or referral codes are applicable to any GymPod order.
What customers say about GymPod