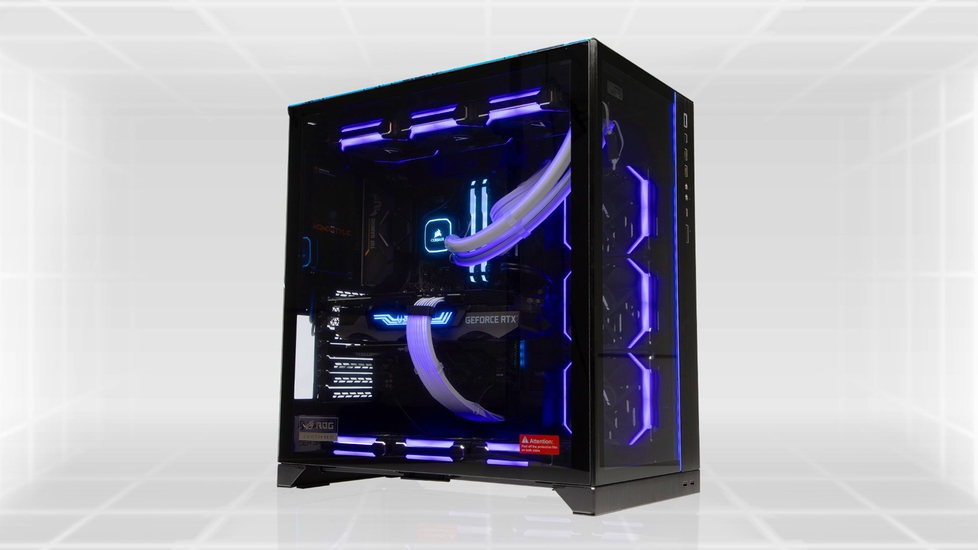 Rookie Gaming PC by Autonomous x Artesian Builds
$3,000
Your Price
Unlock business pricing with your work email
Ships by Aug 11
|
Free shipping
Charge it to your company
Need help with a more complicated project?
Fill in
this form
or call us at
(+1) 888 384 7374
Rookie Gaming PC by Autonomous x Artesian Builds at a glance.
This powerful custom built PC from Artesian in collaboration with Autonomous is decked out and ready for your favorite AAA titles.
• Space-optimized, sturdy construction
• Tempered glass side and front panels
• Intel i5
• 16GB RAM, 1tb main drive
• GTX 1660Ti GPU
• 8 adjustable RGB fans
• Wifi equipped
• Note: Some internal component manufacturers are subject to change with notice in advance.
• 5-year warranty
Deep dive into specs
Artesian Builds customized gaming PC – Level up your gaming
The Artesian Builds customized gaming PC is the perfect option for those looking forward to starting in the gaming scene. It is categorized as a "Rookie" gaming PC, but the truth is that it is capable of most modern AAA titles without problems. Hence, it is the right choice for someone that's just starting in the gaming scene. Everything you need to run your favorite games smoothly is included on this computer. It is a budget-friendly option for those that want to take their gaming seriously but don't have enough time or the expertise to get a custom gaming PC built by themselves.
Why should you get a custom gaming PC?
Most newbies in the gaming world don't know if buying a pre-built PC or an Artesian Builds customized gaming PC is better. Although it's challenging to choose the right gaming furniture, there are many reasons why getting a custom gaming PC build is the better option in this case. It has a lower cost. This Artisan Builds PC has a more affordable price compared to most high-end computers available in the market. You will likely get an "average" computer for the same price if you choose to go for a pre-built option. Once you get it, all you need is gaming desk accessories. Building a custom gaming PC implies choosing the components yourself and building them based on your preferences. Therefore, you will only spend what you need as you'll already know what you want for your device. Of course, the price of certain components will vary based on different factors, such as the brand or the potency. It has what you need. The best gaming PC build is the one that matches your preferences. Technology is advancing continually, and with that, new components are introduced to the market. This way, the Artesian gaming PC has everything you need to have enjoyable gaming sessions, all of it for an affordable price. It is modifiable. As mentioned, some components will become obsolete in the long term. While replacing some parts in a pre-built PC with a custom PC can be quite challenging, you can change the components as you find it convenient without problems. This way, you can keep your Artisan Builds PC up to date so you can continue playing your favorite titles.
Rookie Gaming PC by Autonomous x Artesian Builds
This custom-built PC comes ready to run your favorite video games smoothly. Here we describe the powerful components that make this computer one of the best custom gaming PC builds you will ever find. The Intel i5-10600K processor will make sure that your PC runs all software smoothly without giving you headaches. It has 16GB RAM DDR4. You will be able to run multiple programs at the same time without interruptions. The integrated graphics card is an NVIDIA GTX 1660Ti. It is a recent addition to the GTX family, and it allows you to run pretty much any title you can think of at the highest graphic settings without problems. It has 1TB storage available. It is enough for you to store your favorite games, although you can expand it if you think it isn't enough. The motherboard is an ASUS TUF Gaming Z590. It has WiFi enabled! This Artesian Builds customized gaming PC in collaboration with Autonomous looks beautiful and works even better. It is the perfect device if you're looking forward to starting in the gaming world and would like a cost-effective option that continues working perfectly throughout the years. Everything you need to make your gaming sessions comfortable is included on this PC. All that's left to do is get your favorite titles and start gaming as you've never done!
About Artesian Builds
Artesian Builds is a company dedicated to the creation of the best gaming pc builds, allowing users worldwide to get exactly what they want for their gaming setup. The company has become quite popular on Twitch as they live stream how they build each custom PC. You can choose not to let the construction of your PC be broadcasted as well. This company has been around for a few years, and since its foundation, it has completed over 5000 custom gaming PC builds. It is the right company to go to if you want the perfect computer to play AAA titles or to become an E-sports professional. This Artesian Builds customized gaming PC is the perfect starting point for any gamer. It has everything you need to run your favorite titles!
FAQs
Don't see the answer to your question?
Will my PC be built with all chips mentioned?
Our PC almost comes with all chips mentioned in the list. However, please note that due to supply constraints, some internal components may be replaced with similar ones but made by different manufacturers. Customers will be notified of any changes before orders are processed.