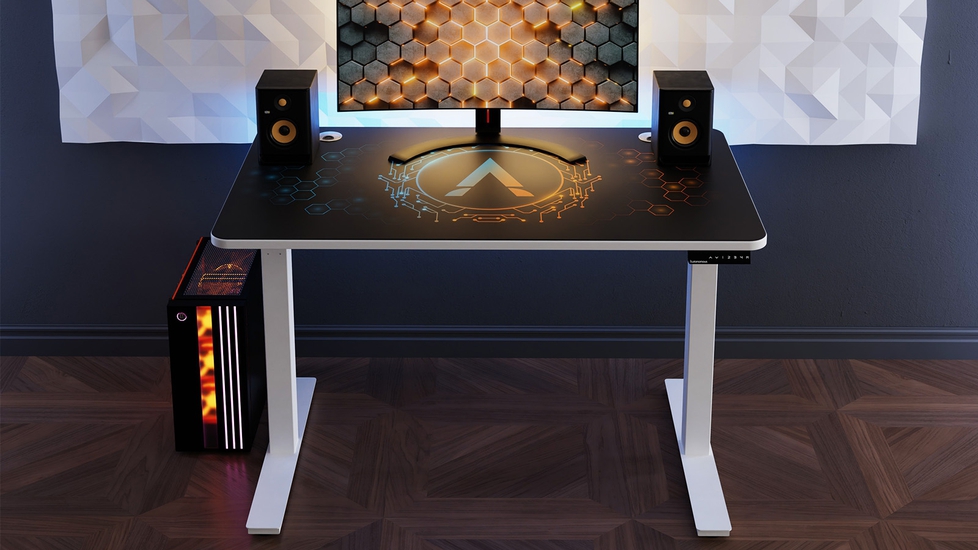 SmartDesk by Autonomous x Artesian Builds
$1,019
Sign in to unlock business pricing >
Ships by Jun 28
|
Free shipping
|
Free 30-day returns
Charge it to your company
Superior value. Up to 32% OFF
SmartDesk by Autonomous x Artesian Builds at a glance.
Play like an absolute boss with this sleek black gaming desk. The bespoke UV printed SmartDesk will level up any gaming setup.
• Height-adjustable (Core: 29.4" to 48" & Pro: 26.2" to 52")
• 4 programmable settings
• Lifting capacity (Core: 265lbs & Pro: 310 lbs)
• Solid steel frame & electric dual motor
• Scratch-resistant top
• Ultraviolet (UV) printing technique
• 5-year warranty
Deep dive into specs
Standing desks are becoming a popular choice of gamers as it helps them improve their potential. These amazing gaming standing desks are ideal for every situation and help you enjoy gaming to the next level. Now gaming is not restricted to sitting in one position for a long time. You can also freely stand and adjust the desk as per your needs to experience the best. Buying a computer gaming desk will not disappoint you for sure. It has many extended perks and features that you will thoroughly admire while gaming. So, if you want to level up and improve your gaming potential, you must invest in this valuable product. It will add to your fun and help you enjoy your game better. Standing desk for gaming is gaining immense popularity today and have so much to offer for the benefit of a user. Further, investing in a pc gaming desk adds a lot of value to gaming and performance.
Gaming Standing Desk: Promising Durability and Maximum Comfort
Better Focus & Energy Boost for Longer Gaming: There are several ways of improving your focus while gaming. Some of these are consuming energy drinks, listening to songs, and sipping on coffee. However, the most natural and finest way is using a gaming standing desk to help you focus better and improve your overall play by eliminating distraction and discomfort. Using a black gaming desk can help you concentrate well and perform at your best potential. An ideal standing desk can also help raise your energy and gives a little power boost to perform well. Interesting and quirky game desk designs can help you feel better and improve your playtime. So, create your aesthetic gaming setup and level up your play. It is proven that standing desks encourage more playtime to make you feel energized and comfortable to enjoy your gaming session a little longer. Because of the flexibility and comfort these desks offer to users, if you easily feel tired after a game, you need to upgrade your desk.
Look Great with Multipurpose: They are customizable and have a minimalistic design that suits all interiors. These desks are available in various colors, patterns, and types to suit your needs and other gaming furniture well to enlighten your setup. A gaming standing desk is not restricted to gaming use. You can also opt for standing office desks for maximum comfort. They are ergonomic desks that ensure better neck and back health and prevent chronic pain.
SmartDesk by Autonomous
We have the best gaming standing desks for all gaming setups to help you perform well and show your best potential. Our SmartDesk Core is an essential desk that improves productivity and helps you enjoy your gaming thoroughly. The product has an exceptional height range to match all your needs. For example, you can adjust the height up to 48" to use it comfortably while standing. Further, it is also a convenient desk for people that want a desk compatible with both standing and sitting. SmartDesk has unique gaming desk designs that offer maximum ease for each user. It is undoubtedly the best adjustable standing gaming desk you can get in the market. The strength of this SmartDesk is surely exceptional. It has a hard-core build and solid steel frame that helps it hold maximum weight and is also certified to be durable.
Custom Design Table Top by Artesian
Artesian also offers a custom-designed tabletop to make your gaming experience even better. These custom-designed tables have the perks that make them a preferable choice.
Durable: The print of these custom tables is very sustainable and does not lose its shine or glossiness over time. Thus, you can entirely rely on the company for quality and assure yourself to get fine outcomes.
Ultraviolet Printing: Printing on these custom tables is completed using the ultraviolet printing technique. As a result, the tabletop has a unique and high-quality print that embeds and does not fade away.
Scratch-resistant: You also do not need to worry about scratches and other factors. The gaming standing desk is scratch-resistant and cannot be damaged easily.
Great appearance: The glossy print gives an appearance of depth and a terrific feel for gaming.
Eco-friendly: The designs and tabletop are not toxic to nature. Also, it is environmentally friendly and assures maximum safety in every way.
About Artesian Builds
Artesian Builds is a company that focuses on tailoring the needs of its clients. They have impressive computer building experience and specialize in the same category. The company promises performance and only the finest quality for their clients. Further, Artesian Builds also offers certain customization options to fit your needs well. This company is a renowned firm that builds for designers, professionals, gamers, and amateurs. If you know what you need, they will build it for you. A standing gaming desk is a reliable partner for each gamer today. The product offers immense comfort and better health. Thus, you must consider one for your gaming setup. Invest in this gaming standing desk and enjoy the long-term benefits of exclusive gaming.
FAQs
Don't see the answer to your question?
Can I use PayPal to pay for this gaming standing desk?
Due to transaction limits, we only accept PayPal payments from the 1st to the 15th of every month. PayPal's account policy permits us to accept a limited volume of payments per month, & with current sales volume, we normally reach our limit by the 15th.
What are the differences between the SmartDesk Core and SmartDesk Pro?
Pro frame (without top): Height range of 25" - 51" / 7-year warranty.
Core frame (without top): Height range of 28.5" - 47" / 5-year warranty.
All tabletops are covered by a 1-year warranty.
Does this gaming standing desk use a regular 120 volt outlet?
Yes. The standing desk is compatible with standard 110 volt - 240 volt outlets. Both currents are automatically converted by the desk. US orders are installed with the standard two-prong plug. For international orders, we convert the plug to the type used by the destination country.
This gaming standing desk is available only in the US. We are looking into making this product available worldwide, so stay tuned for updates.
How long does shipping take?
You will receive your special Smart Desk no later than 2 business days after Autonomous team confirms your order. Thank you for your patience.
Can you give me more information about your 30-Day Trial policy?
If you don't like your desk, we'll take it back. It's that simple & easy. You have until 30 days after delivery to build and use your desk. If you change your mind, you can then request to return the desk for a full refund (we even cover shipping!).
Does the 30-Day Trial apply to international orders?
This policy applies to all desks delivered inside the continental U.S. & returned in their original packaging. International orders do not qualify for this program. Please note that the returned standing desk needs to be in its original packaging. If not, we reserve the right to refuse your return request.
How easy is it to assemble the Autonomous SmartDesk Core? Which tools do I need?
Assembly is not difficult. We include all the assembly tools needed in every package! Most customers finish setting up their new desks in just 15 to 30 minutes.
Can you give me more information about your UV printing technique?
UV printing is a special form of printing that dries ink instantly as it is printed, which allows the final product to look sharp & defined with less blemishes & blurring. Not only durable & color-accurate, but friendly for the planet too, thanks to its eco-friendly materials. Scratch & fade resistant, UV printing lasts for years without becoming washed out.
If we put a cup of hot tea/coffee/water on the tabletop, will it affect the color of the print?
Rest assured, your hot beverage won't harm your new desk. UV printing is durable & can withstand ordinary wear & tear, including hot beverages. Still, we recommend minimizing use of sharp objects on the desk.
Are you using eco-friendly ink?
Our desks are printed using an eco-friendly UV printing process which, in addition to being vibrant, color-accurate, & durable, also uses non-toxic ink.