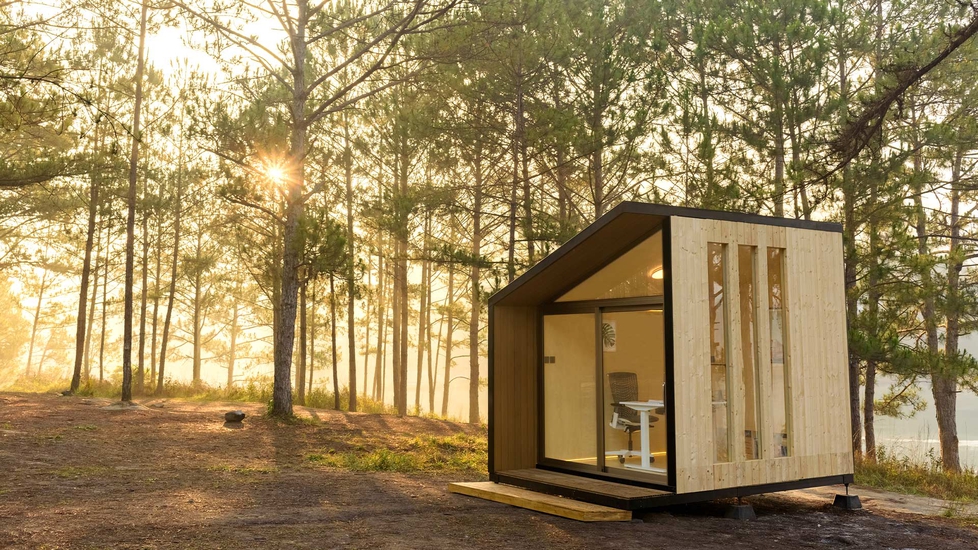 LIMITED
FAST SHIPPING
1 YEAR WARRANTY
Flash Sale Deal
Sold and shipped by Autonomous
Expédition estimée par Dec 05, 2022
|
Ships only to California.
In stock
Secure payment
WorkPod at a glance.
The all-in-one home office for those zero-commute days. Equipped with everything you need, and so simple to set up it's ready the day it arrives.
• Includes SmartDesk Connect, ErgoChair Pro+, dual monitor arm, cable tray, steel cabinet, anti-fatigue mat
• Pre-wired and easy to assemble in a few hours
• Adjustable foundation for any terrain
• Sound-insulated, well-ventilated, weatherproof
• 98 sq. ft. (no permit required in most localities)
• 1-year warranty
Deep dive into specs
FAQs
Don't see the answer to your question?
I purchased the Pod/Work Pod old version, how about the warranty condition?
The old Pods/Workds Pod purchased before July 2022 will still remain the 3-year warranty, the accompanying furniture included in WorkPod (Smart desk Pro, Ergo chair Pro+, Cable tray, Filing Cabinet, Dual Monitor Arm, Anti-fatigue Mat) will be covered for warranty according to theirs own warranty period. Please visit
https://www.autonomous.ai/help-center/policy/warranty-policy
for more references.
Is there a warranty period for WorkPod?
The WorkPod itself comes with 1-year warranty for manufacturer defects. If something doesn't perform as expected, we'll replace it. For the fully equipped option, the warranty is guaranteed for add-on furniture products. You can find all reference through this link
https://www.autonomous.ai/help-center/policy/warranty-policy
How much space does WorkPod require?
The foundation is 11'8 by 8'4. For a comfortable fit, we recommend an area around double of that – 23'5 by 16'9.
What kind of surface is suitable to build on?
Suitable common surfaces include brick, concrete, gravel, grass, etc. The foundation is uniquely engineered to bear the weight of the WorkPod and an additional 1 metric ton without the need for ground fixtures.
Can I set up WorkPod on a slope?
While flat ground is always best for ease of assembly, one of the beauties of the WorkPod foundation is its stability even if the ground is not completely level. We do recommend that any slope does not exceed 5°, or approximately 4.5 inches.
Can I move it to another location once it's set up?
WorkPod can be easily disassembled and put up again at its new location.
How do I power up WorkPod?
It has a simple port for power connection, so all you need to do is connect the outdoor wire to an existing power source from your home.
Can I install a heating and cooling unit?
Yes, Pod includes inputs for you to install your own heating and air conditioning units as needed. Pod also has an exhaust fan and an air duct to keep air fresh and circulating.
What makes WorkPod sound-insulating?
WorkPod is sturdily constructed from a number of durable materials. The insulating foam layer doesn't just work to block out sound, but is also heat and fire-resistant. All glass is tempered, and 8mm thick, which also goes a long way towards preserving the peace and quiet of your oasis.
What is the minimum wattage?
100W for all electric devices.
Is WorkPod strong enough to support additional fixtures?
Its walls will easily support basic fixtures like frames and shelves, but please be aware that power lines are contained within the walls.
Do you offer assembly services?
We currently have a contractor network available in California and can assist with assembly service anywhere in California. Soon to be available in other regions.
I'm not a builder. Will I be able to assemble WorkPod?
WorkPod was specifically engineered to be DIY friendly. Very minimal expertise is required, but if you're a complete novice or feeling somewhat unsure, it can be helpful to have a spare pair of hands to help. Feel free to give us a call anytime, too. For optimal results, we recommend hiring professional help to assemble your Pod.
Is there a free trial for WorkPod?
As user assembly and setup may differ widely across different environments and scenarios, we cannot offer a trial period for the Pod itself. However, a 30-day trial does apply to other Autonomous products in the fully equipped WorkPod, such as SmartDesk Pro, ErgoChair Pro+, etc. If you don't love it, we'll take it off your hands and issue a refund accordingly.
WorkPod is designed to a specific height and square footage (98 sq. ft.), so that permits are not usually required for the majority of states and localities. However, as regulations do change, we always recommend checking with your local authorities or homeowners association.
Do you supply building plans?
We are happy to provide building plans and other details if you need them for your own paperwork. Please help to find in
here
, If you have any questions feel free contact us at
[email protected]
for more information.