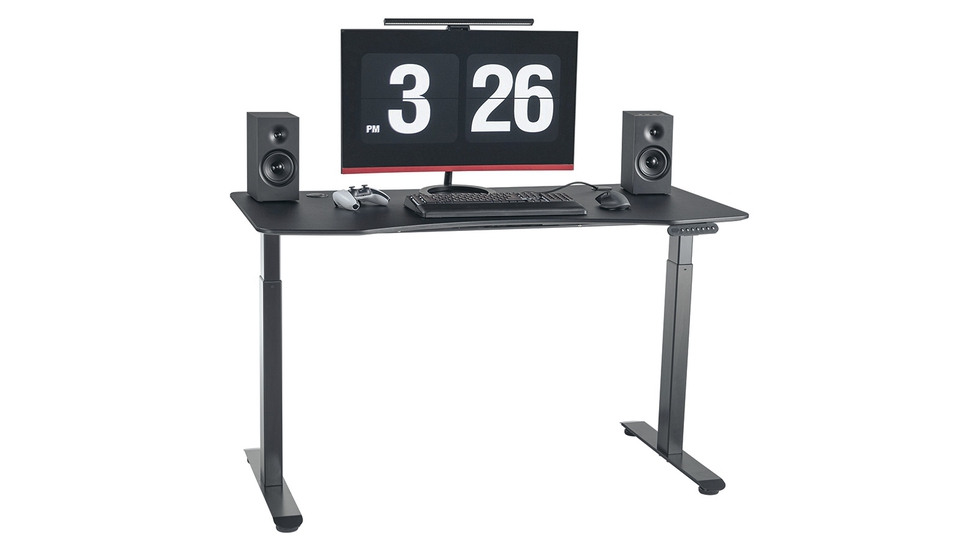 FinerCrafts Standing Desk: Curved Top
Bought by 1 Microsoft employee
FREE shipping Mar 27 - Mar 29. FREE 30-day returns.
Sold and shipped by FinerCrafts. Visit our store
• Lifts 350 lbs with ease • Solid steel frame • Electric dual motor • 2-stage frame • Height-adjustable between 28" to 49" • 4 programmable keypad settings • 2 desktop options with pre-drilled holes: 55" L x 28" W or 60" L x 24" W
• 10-year warranty
Premium electric standing desk equipped with a powerful dual motor frame and one-piece premium ergonomic desktop. Configure your own desk with your preferred desktop size & color + frame color.
Deep dive into specs
We learn from the desk ergonomics manual that getting the most out of a standing desk requires more than just purchasing one. As much as we wonder whether standing at a desk burns calories and for how long, we must also understand how to correctly utilize a desk. A home office standing desk can play a vital role in your office. To accomplish this goal, you may use a smart desk like a FinerCrafts Max Pro Series contour standing desk. It is possible to modify the height of this curved sit-stand desk in order to improve posture, comfort, and efficiency for users. It is possible to adjust the height of the chair to suit the user's needs. You may use a remote control to modify this ergonomic curved desk's height, change the settings, enter its memory settings, and manage other capabilities such as Bluetooth connection, Wi-Fi, and wireless charging from a safe distance with modern workstations like standing desk connect. Many contemporary workstations also remind you to alternate standing and sitting, drink water, and keep track of how many calories you burn each day. All of these capabilities are easy to use with a remote, but it is equally vital to pay heed to the remote that best suits your demands. However, a standing office desk is also a good option if you are looking for a simple standing desk.
Benefits Of Having A Smart Desk
There are several advantages to using a smart standing desk, like a FinerCrafts Max Pro Series contour standing desk. First and foremost, it broadens the applicability of a standing desk. Using a standing desk incorrectly might inflict more damage than expected since many individuals are still acclimating to the optimum working position. By just entering your height into this curved standing desk, you'll be shown the optimal working posture. You won't have to be concerned if someone else uses the desk since your preferred desk height will be stored in the computer's memory. Because you can regulate the height of your remote-controlled standing desk, you can save a lot of time. Adjusting the remaining few inches with the motors manually might take much longer than expected. In addition to wasting time, this may also irritate. Remote control standing desks, therefore, enhance productivity. Autonomous offers tips for your standing desk posture.
Inhibits Obesity and Weight Gain
You acquire weight by eating more calories than your body can use. When you burn more calories than you ingest, you may also lose weight. You may lower your obesity and weight gain chances if you work while standing rather than sitting with ergonomic curved desk.
Blood Sugar Levels Could Be Lowered
Another advantage of FinerCrafts Max Pro Series contour standing desk is that it might help lower blood sugar levels. Your blood sugar levels might rise significantly after consuming a meal. Your health might suffer as a result of excessive use.
Reduce Heart Disease Risks
The risk of heart disease may be considerably increased by sitting for long periods regularly. But an hour of standing and working may be enough to counteract the detrimental effects of a day spent sitting.
Enhances Blood Flow
Using a standing desk may enhance your circulation, which can lead to additional health advantages. Standing instead of sitting at your curved standing desk allows for greater blood flow. Circulation to the lower extremities is much enhanced while you work upright.
FinerCrafts Max Pro Series Contour Standing Desk
With a robust twin motor frame and a one-piece ergonomic tabletop, this FinerCrafts Max Pro Series contour standing desk sets the bar high for electric standing desks. You may choose from a variety of colors to create a desk that is unique to you. Ergonomic support with a curved sit-stand desk: The T-style big heavy frame and durable laminate tabletop of our standing desks allow them to be strong and silent at the same time. The ergonomic curvature of the edge gives users the impression that they're in the pilot's seat of a spacecraft, and this is no accident. Intuitive Management: An anti-collision detection system and a 4-level height setting make the desk more convenient for regular usage. In a matter of seconds, go from seated to the standing position: Having a 27" to 48" height variation makes the workstation suited for persons of different heights. Easy to Assemble: Only spend 30 minutes building a sturdy desk that will last a lifetime.
FAQs
Don't see the answer to your question?