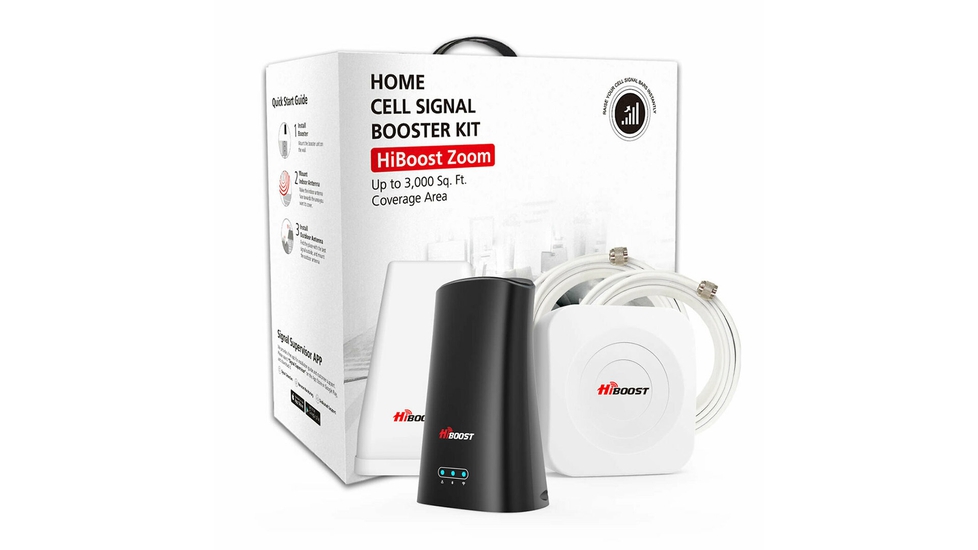 Working from home?
Get special pricing
Cellular Signal Booster by HiBoost
$224
$299
Amplify weak voice and data signals across all cellular devices on all US carriers, including AT&T, T-Mobile, Sprint, Verizon, and more.
Ships within 2 business days
|
Free shipping
Charge it to your company
We can forward this order to an office contact and request payment on your behalf.
Save up to 10%.
Cellular Signal Booster by HiBoost at a glance.
• HiBoost A local signal monitor
• Boosts voice and data signals
• Coverage up to 2,000 sq. ft
• All phones & carriers
• Gloss finish
• Supports multiple users/devices
• Max. output UL 18 dBm, DL 10 dBm
• 5G compatible
• FCC, IC certified
• 3-year warranty
Deep dive into specs
FAQs
Don't see the answer to your question?
Does this just boost cell signal or internet signal or both?
Hiboost signal booster is used to amplify cellular signals only. It does not amplify internet signals like wifi or bluetooth.
How long does it take to install a cell phone booster?
Every cell phone signal booster installation has its own unique set of circumstances and therefore time for installing a signal amplifier system varies greatly. However, on average, it takes between 1 to 2 hours.
Can I install this product myself?
Our cell phone signal boosters do not require professional installation. They are easy to set up. Of course, it is perfectly fine to hire a local handyman, installer, or any professional that deals with running cable.
I have an existing TV antenna on the roof of my home. Can I connect the cable to that antenna?
No. You should not connect the booster cable to any TV antenna for two reasons.
1. TV antennas deal with completely different frequencies to cellular frequencies. Booster frequencies cannot be supported via any TV antenna.
2. Our standard kit has been certified and approved by the FCC. Any unauthorized antennas aren't applicable.
Will this work outside the US?
No. This product is designed and licensed by the FCC and IC for North American carriers only.
Is your signal booster compatible with all carriers ?
Yes, this is a FCC Licensed Class B. It covers all carriers across North America.
Do you need WiFi for this to work?
You do not need Wi-Fi for this to work. The LCD display on the front of the unit is all you need to properly adjust and set up the booster.
Do you have to connect this to your internet modem?
No. Do not connect your booster directly to any internet modem. The booster independently amplifies cell phone signals and brings the signal inside for better data, voice quality and speed within the home.
I have a wireless access point on the ceiling, is there a certain distance the booster needs to be from the access point ?
No, they will not affect each other. But if you would like to connect your booster via Wi-Fi network, the booster should be installed within range. The closer to the access point the better.