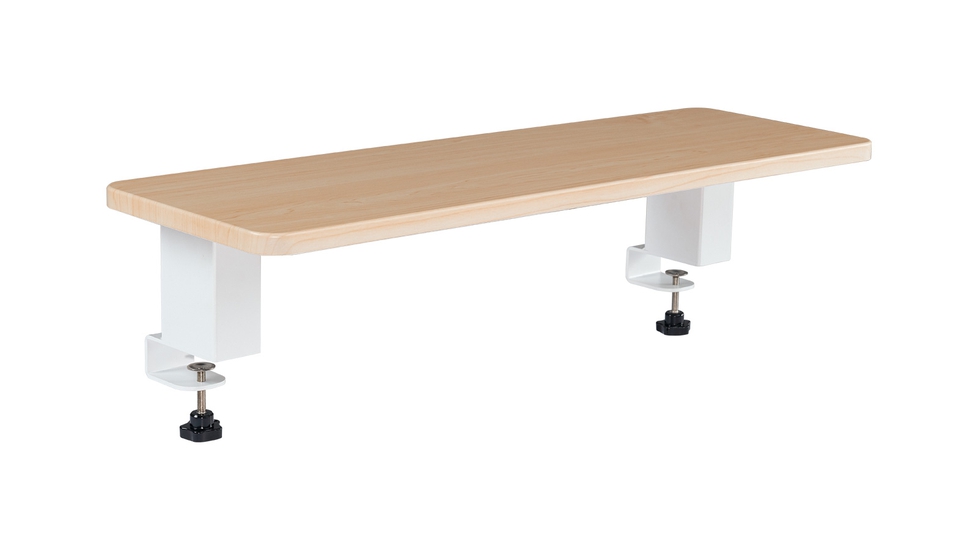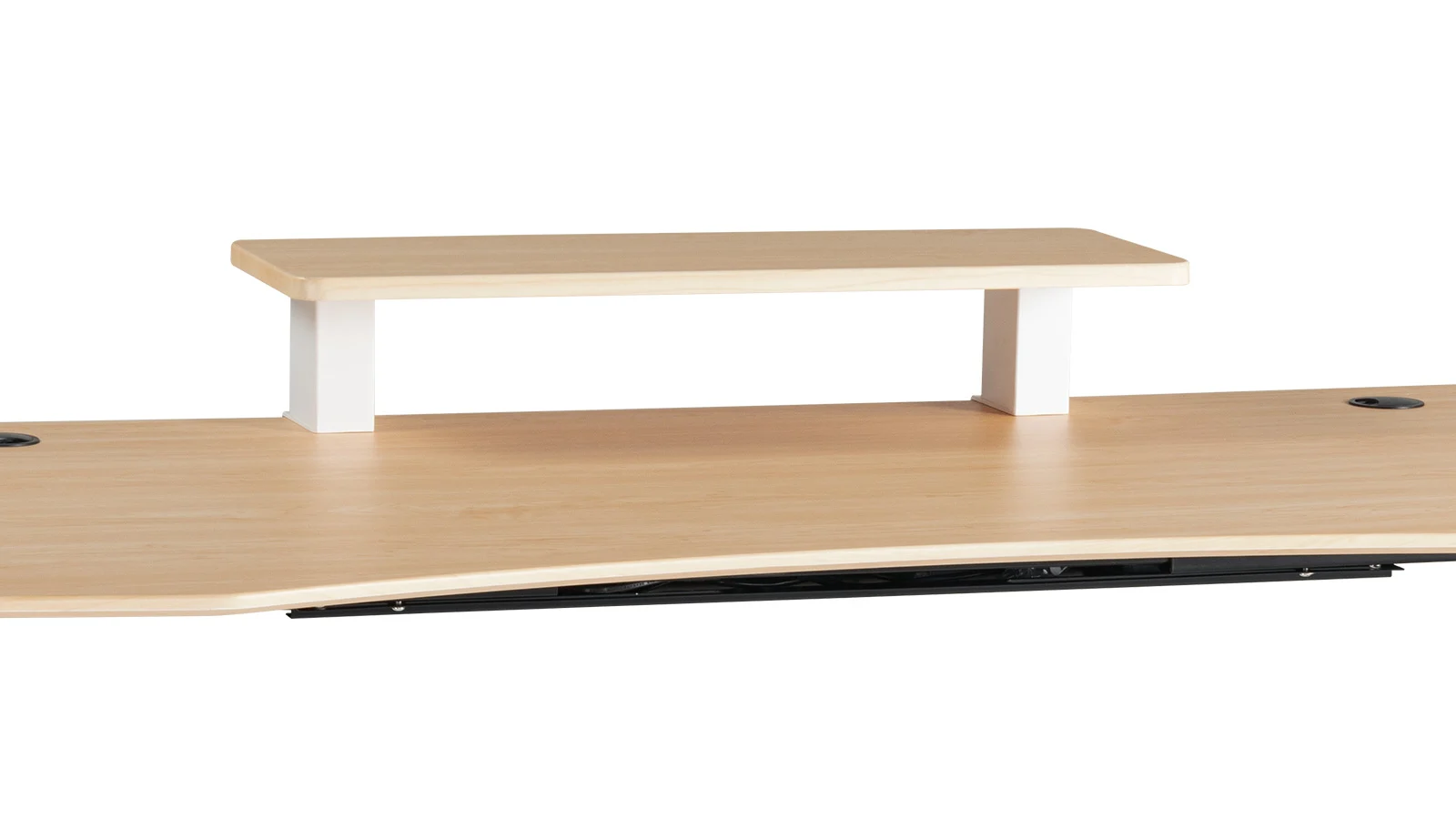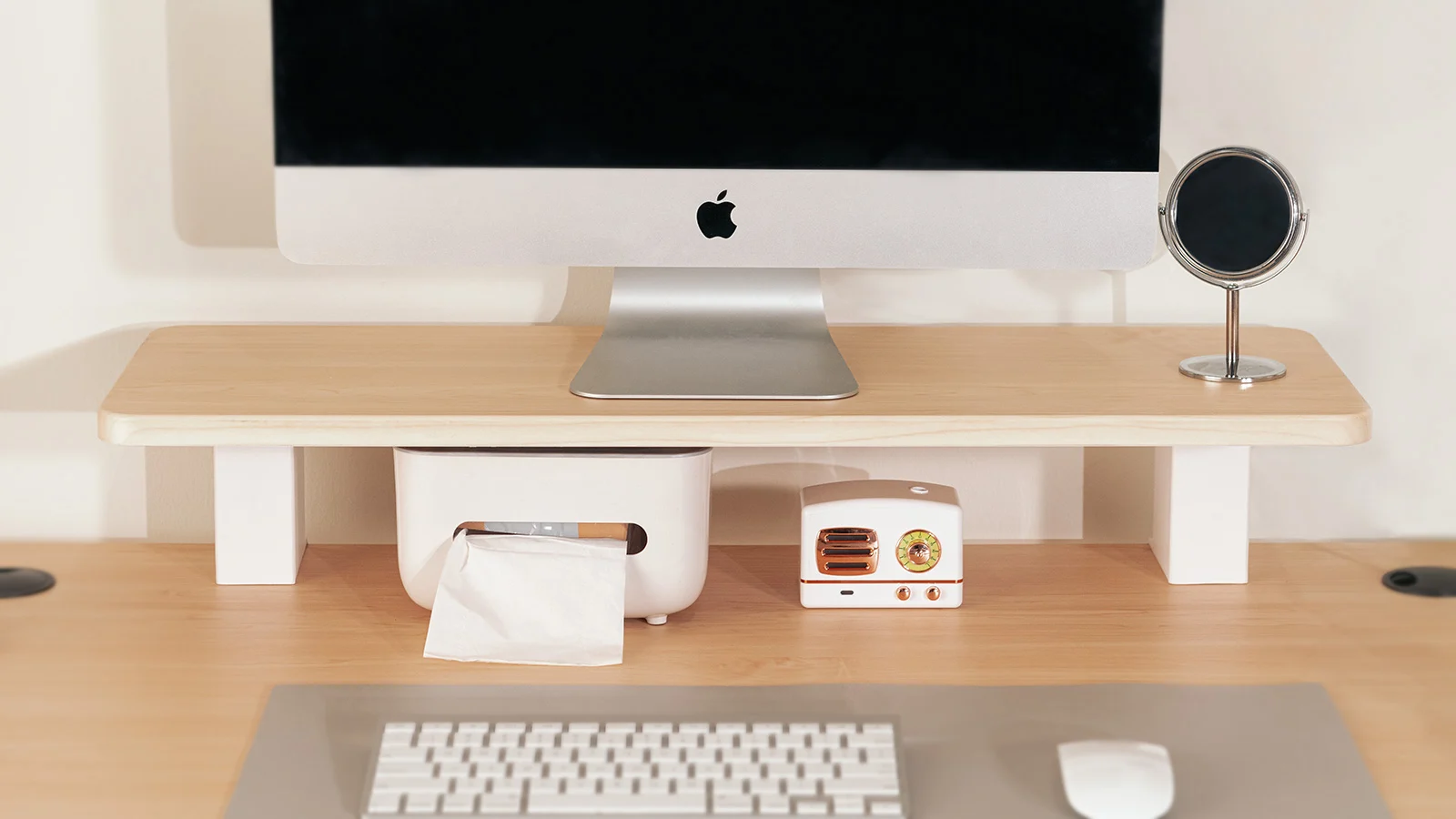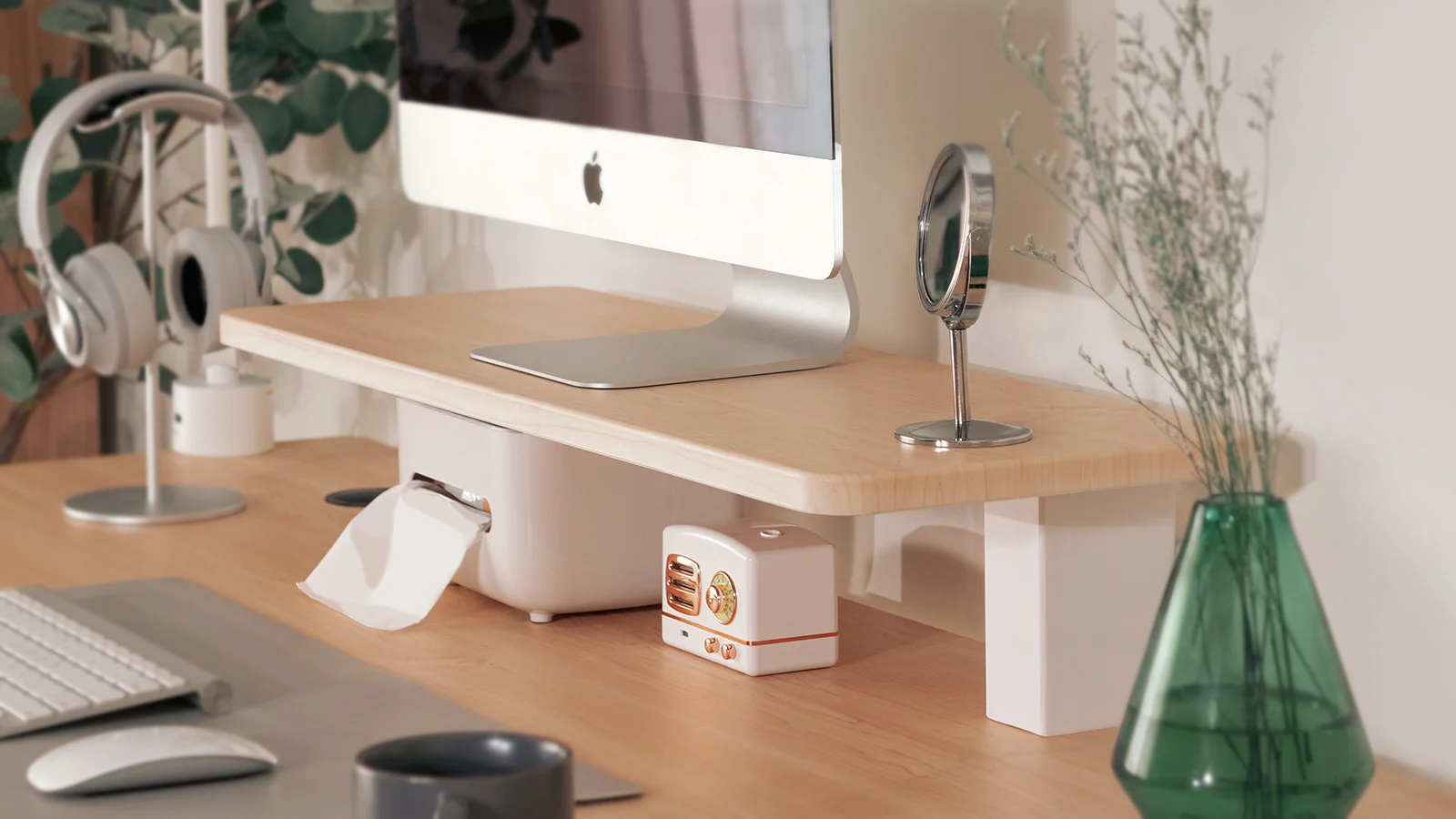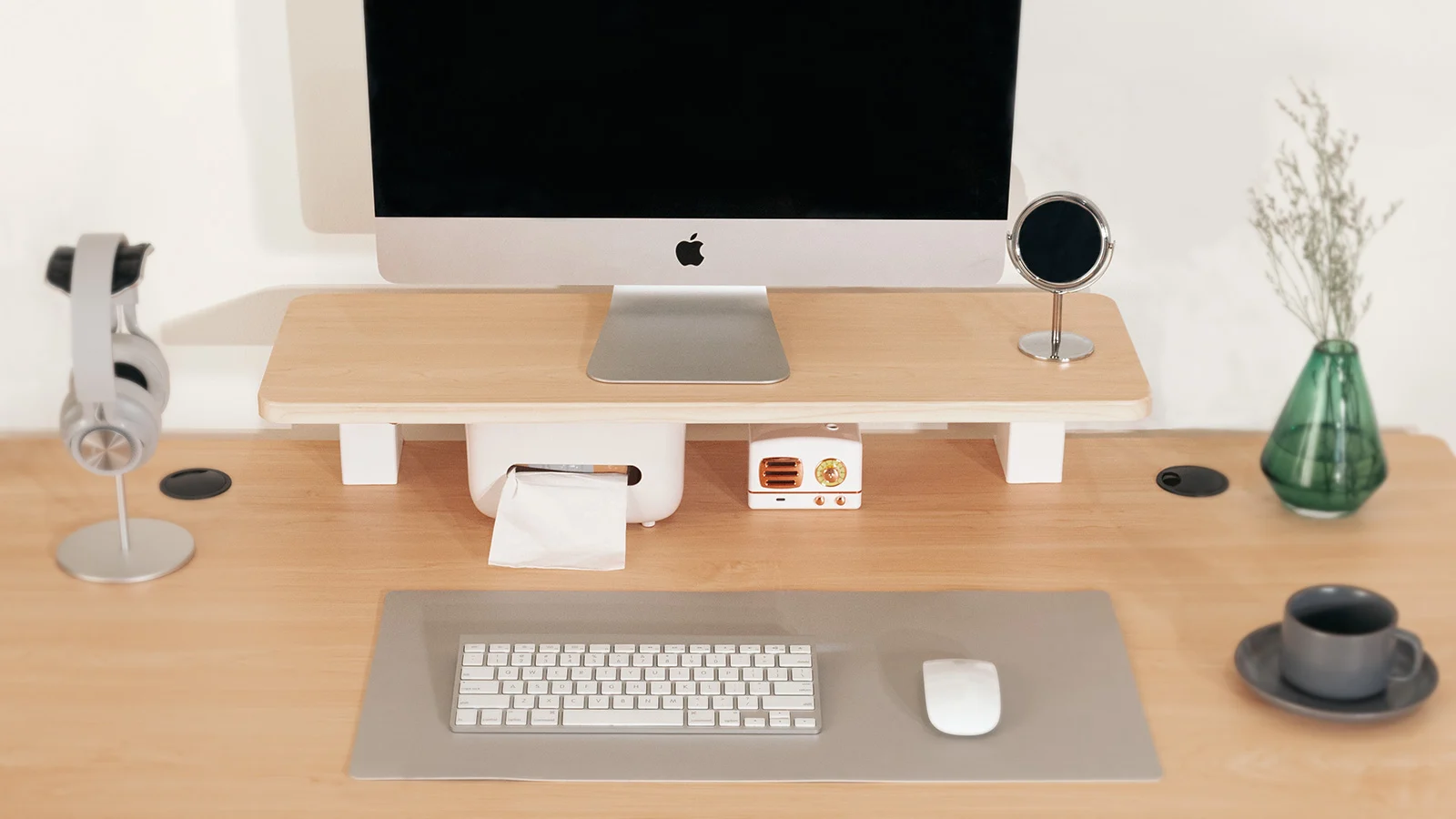 FREE shipping Mar 23 - Mar 27. FREE 30-day returns.
Sold and shipped by FinerCrafts. Visit our store
• Allows for a better posture • Frees up more valuable desk space • Perfect match to the Desk • Super simple assembly
• 10-year warranty
A desk shelf that matches your Max Series Standing Desk and provides you with more desk space while raising your monitor to a more spine-friendly height.
Deep dive into specs
Having a monitor that's at an uncomfortable height or distance from you might lead to neck and shoulder problems. A wood desk shelf like a FinerCrafts Desk Shelf, as opposed to the standard stand that comes for most monitors, allows you to move your screen precisely where you want it for optimal comfort and ergonomics. Freeing up space on your workstation might also make your workstation seem cleaner, which makes it one of the must-have office accessories. The FinerCrafts Desk Shelf is a clear winner for this use. An ergonomic monitor arm might help you get the most out of it if you use a computer monitor. It's the most apparent and most popular reason to acquire a desk monitor riser stand: You're weary of straining both neck and eyes to view your display in its fixed position. With a monitor arm, you may modify your monitor's height, depth, and, in most instances, angle to your heart's content. If you're unsure, you should keep your monitor about an arm's length away, with the head of the display slightly inclined away from you. However, here are essential home office desk accessories by Autonomous.
Why Go For A Monitor Riser Or Desk Shelf
Your neck should be free, and your eyes should not be forced to go up or down to view the screen. You'll be less likely to get headaches, eye strain, shoulder discomfort, and bad posture as a result of this. You may also instantly go from landscape into portrait mode or stack two screens one on top of the other in portrait or landscape mode, or use one of each, in addition to the typical monitor riser changes like height, depth, and angle. As a result, wood desk shelf may be used to tailor your working environment. When you have a desk monitor riser stand, you can move your screen out of the way and make some more space on your desk for other items, including photos of your loved ones and your coffee cup. A wood table top shelf can play a similar role in your workspace. If your desk is height-adjustable, you'll want to be able to change the viewing angle of your monitor so that you may work while standing or sitting comfortably. Adjusting your display's height, depth, or angle is a cinch with a monitor arm's simple fingertip adjustment.
Health Benefits Of Monitor Riser Stand
Enhances the ergonomics of the workplace
In terms of your general health, well-being, and comfort, FinerCrafts Desk Shelf is a need. You may change the monitor's height and tilt in order to find the most comfortable and ergonomically healthy posture for you. Several ergonomic advantages may be realized by adjusting the height and angle of a desk monitor riser stand, as previously discussed. Having a nice monitor stand or riser, on the other hand, opens up a world of possibilities.
A Space-Saver
A desk-mounted widescreen monitor stand removes your display from the desk and frees up valuable workspace. FinerCrafts Desk Shelf allows you to maximize the amount of desk space you have available, making the most of what you have.
Key Features Of FinerCrafts Desk Shelf
The most important aspects of the application are that it is an ideal complement for your desk, it's easy to assemble, and improves your posture as you work. A ten-year warranty is provided. With this walnut desk shelf that complements your standing desk, you'll have additional workspace while lifting your display to a more spine-friendly height. Proper Body Positioning - In order to maintain a healthy posture, the wood desk shelf lifts your monitor to the ideal height. To Make Your Workspace More Usable - You'll be able to work or store more things if you elevate the monitor. Exactly the Right Fit for the Desk - The shelf and frame are the perfect complements to the desk in terms of color and texture.
FAQs
Don't see the answer to your question?