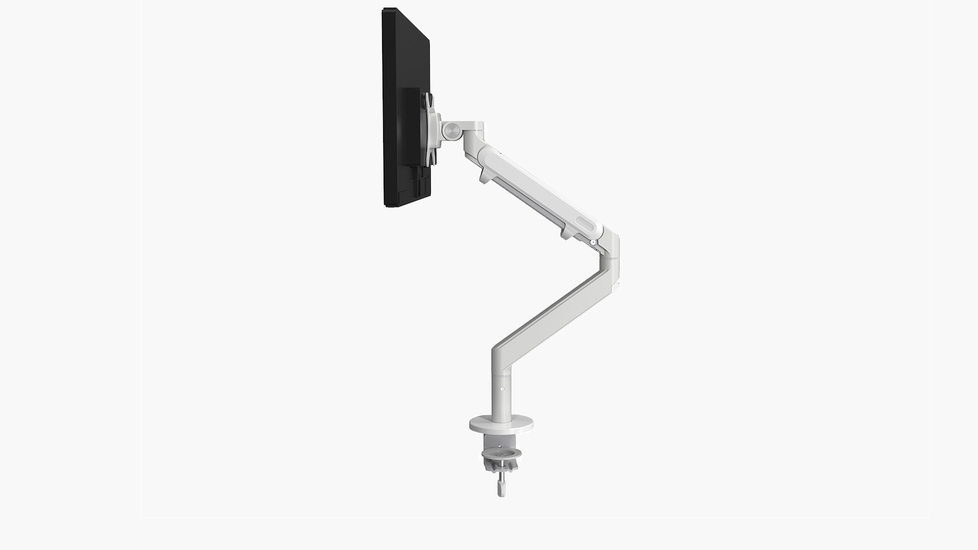 Working from home?
Get special pricing
Single Monitor Arm by Autonomous x Wistopht
$79
$99
Give your desk setup the instant facelift it deserves and work from home feeling like an absolute boss. With the Wistopht single monitor arm, experience the immediate benefits of working intotal ergonomic comfort and add a sleek modern touch to any existing workspace.
Ships within 2 business days
|
Free shipping
& 30-day returns
Charge it to your company
We can forward this order to an office contact and request payment on your behalf.
Save up to 10%.
• Fits 14" - 32" VESA mount monitors
• 360° screen rotation
• 90° screen swivel
• +90° to -50° screen tilt
• Weight capacity up to 19.8 lbs
• ABS + aluminium steel
• Easy assembly
• 1-year warranty
Deep dive into specs
FAQs
Don't see the answer to your question?
Should I change over to a monitor arm when I already have a wall-mounted LCD?
An LCD wall mount is stationary & fixed in one place. An adjustable monitor arm desk mount makes it easy to position your screen display to best support your most comfortable, ergonomic working posture.
What range of motion does the monitor arm provide?
Our monitor arms allow you to rotate your screen display 360 degrees, tilt your screen up 90 degrees & down 50 degrees, & swivel left to right 90 degrees. With an elevation range of ~10" - 20" even if you like to move between seated & standing work throughout the day, introducing a single monitor arm or dual monitor arm will allow your workstation to move easily with you.
Are these monitor arms suitable for children?
Absolutely. Find a table that's compatible with your child's height. We recommend a height adjustable standing desk that can grow with your child. Introducing a monitor arm to your child's current desk setup can help prevent digital eye strain or computer vision syndrome - quite common among children & adults whose jobs require lots of screentime.
My monitor doesn't stay up, the arm keeps bending at the hinges. How do I fix this?
Use the Allen key provided to tighten the tension of your monitor arm. The tighter the tension, the more weight the monitor arm can support. Wistopht monitor arms can support up to 19.8 lbs.
How easy is it to set up these monitor arms?
Total setup in a nutshell: Attach your monitor arm securely to the table. Attach the VESA mount connector to your monitor. Connect your monitor to the arm via the VESA mount connector. Adjust the tension of the monitor arm joints (with the Allen keys provided) to best support the weight of your monitor. You're now ready to freely move your monitor to your desired position.
What kind of desk is suitable for use with these monitor arms?
Suitable for most types of tables & benches, our monitor arms are the perfect companion to standing, adjustable-height, & active desks. Why not consider our
SmartDesk
range? All SmartDesks are suitable in height & have 2.4 inch holes to allow for better fixation of your monitor arm. They also come in a huge range of shapes, sizes, colors & finishes.
Are gas spring lift monitor arms better than regular monitor arms?
Without a doubt. The gas spring lift mechanism makes it easier to adjust your screen displays as you move, allowing for one-touch height adjustment & seamless transitions. Repositioning your screen displays is smoother, easier & virtually effortless.