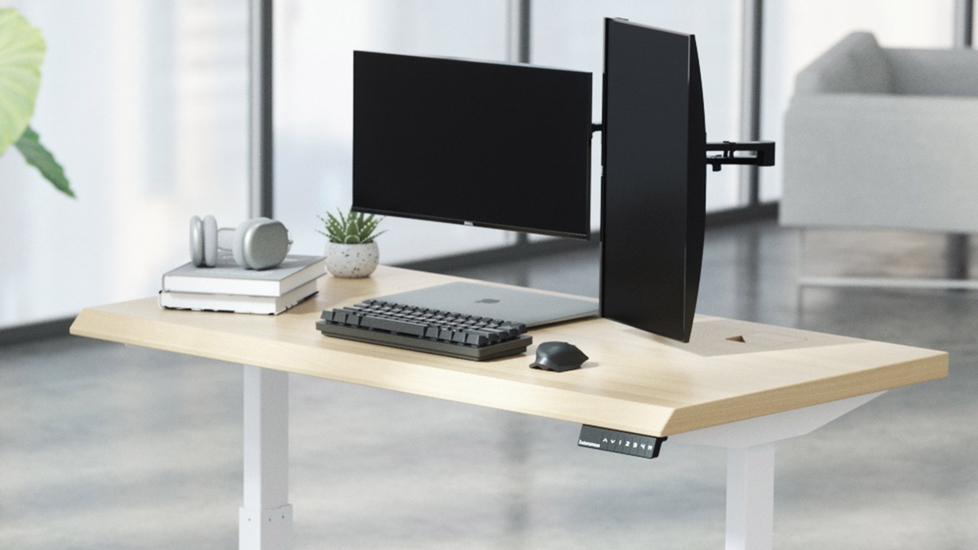 Autonomous SmartDesk Surface: Chunky Oak
- Autonomous Oak desk top
Bulk orderSave up to 

7.5%
Buy now
Add to cart
Shipping Oct 01 - Oct 03.
Sold and shipped by Autonomous
Autonomous SmartDesk Surface: Chunky Oak at a glance.
Upgrade the look and feel of your workspace with this 1.6" thick table top in a gorgeous blonde oak finish.
• 1.6" thick warp-proof MDF.
• 45° tapered edge for comfort.
• Premium oak veneer.
• Compatible with Core/Pro frame.
• Available in larger size - 70" x 30" XL
• 5-year warranty
Deep dive into specs
There are many intriguing factors to consider when selecting a sturdy wooden tabletop, from the kind of wood to use to the finish that should be applied. It depends on the overall style you want to create in the room, but with so many options, it may be hard to know where to start. When searching for the perfect wooden table top alone, it might be overwhelming to see all of the options available in terms of size, shape, and material. There are several important factors to think about while shopping for a table, including the size you need, the aesthetic you're going for in the house, and the table's intended use.
What is Oak Wood?
Oak is a popular choice for computer desks since it is strong and durable. It has remarkable sturdiness and toughness. Compared to other woods, oak is very sturdy and long-lasting. As long as you keep your office table top in good condition, it should last you forever. Standing desks are becoming more popular, and an oak table top for desks is not only sturdy but also aesthetically pleasing, since it can support the weight of many monitors.
Reasons to Choose Oak Wood For Work Desk Top
Depending on the style you're going for, you may choose from a wide variety of solid woods for your oak desk top. Because of its durability and resistance to wear, as well as its classic, understated beauty that is impossible to imitate, a white oak desk top comes highly recommended. Oak trees need a long time of growth, which means the wood will normally cost much more, making it a more expensive option and definitely an investment.
Things To Look For When Buying an Oak Desk Top
Many people picture a round or square top when they think of a table. You have a lot of form options, from ovals and semicircles to more irregular ones. We've compiled everything that you should know before getting a wooden dining table or a wood top to provide you with some aid. Crafting an oak tree into a sturdy table top for an ergonomic office desk is no easy task. They'll improve your work environment and look good doing it. Buying a natural white oak table top for your workplace will set you back a significant amount of money. This is due to the increased expense of processing and the fact that natural wood is created using only natural ingredients. The natural white oak table top is a rare find compared to other construction materials. Oak is produced in a method that really benefits the environment, thus its creation doesn't need a lot of energy. Because oak trees sequester carbon dioxide and release oxygen, this wood is more sustainable than many others.
Taking Care Of An Oak Desk
The proper method for cleaning an oak office desk top. The wax will harden into a protective coating over the oak office desk top, so regular cleaning may be done with a wet cloth or hardwood floor cleaner. Clean, soft, and slightly moist cloths should be used to blot spills that may leave a stain if left unattended.
Features Of The Chunky Oak Desk
Robust Construction - Excellent Quality - Spacious
Built for those who appreciate the natural opulence of thick, weighty oak without breaking the bank. There are two sizes to choose from, so you can find the perfect match for your home. The thick, comfortable tabletop measures in at 1.6 inches. The 45-degree taper ensures your forearms are always supported, no matter how long you're at work or in a game. Beautiful flush grommets made from matching oak veneer are set into the tabletop in the shape of rounded square holes for tidiness and ease of wire management.
Superior Oak Plaid - Compatible With SmartDesk Tech
The excellent oak veneer that coats the heavy-duty MDF makes it warp-proof. This finish's classic, the natural appearance will never go out of style and is a breeze to maintain. The solid oak top is compatible with any SmartDesk base. SmartDesk Frames are made of steel and can move up to 350 pounds.