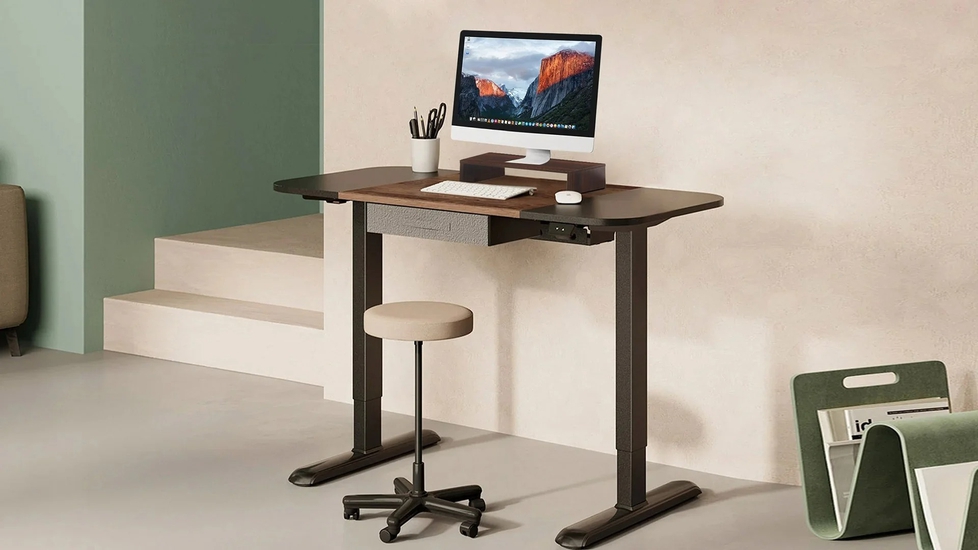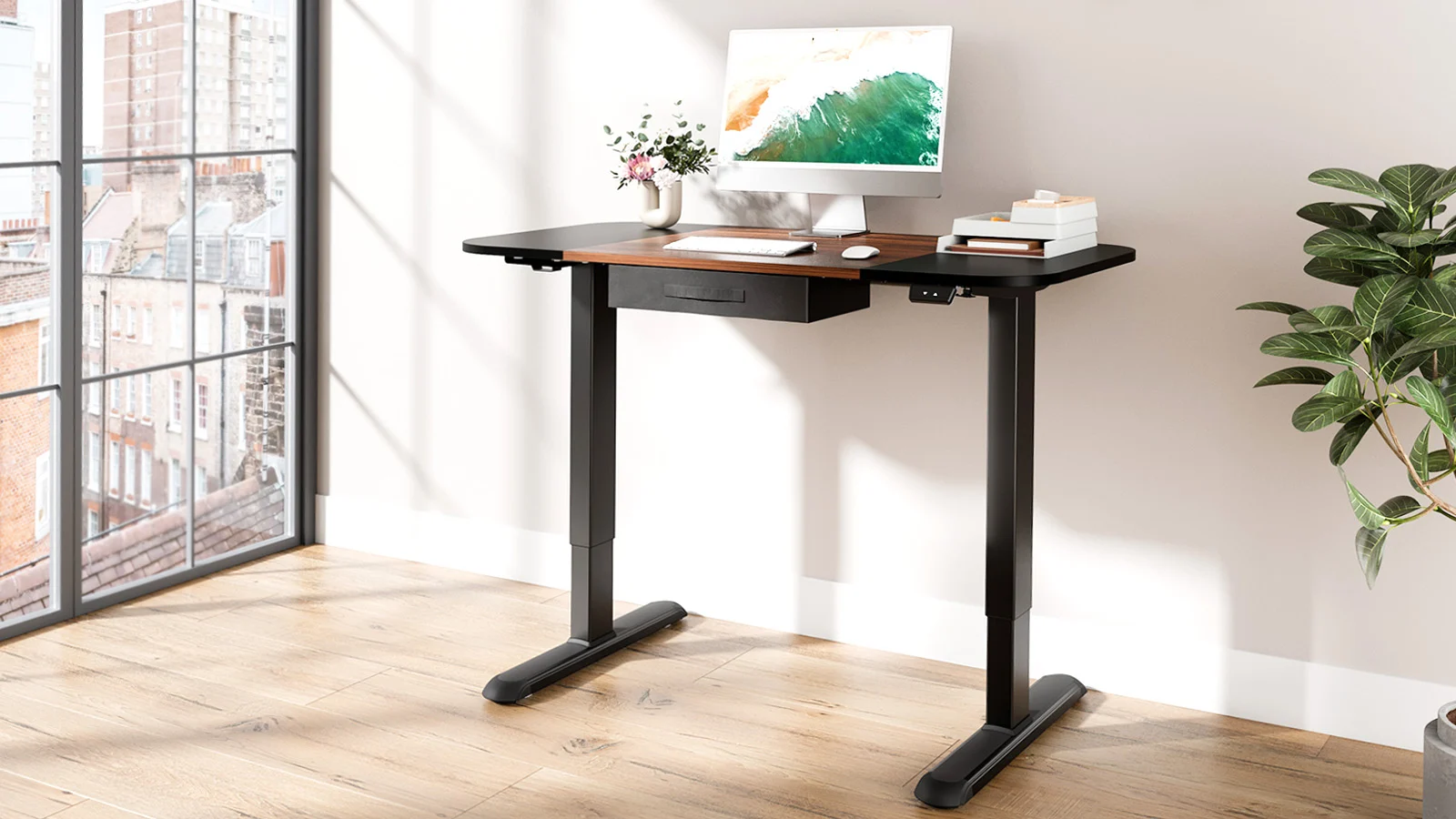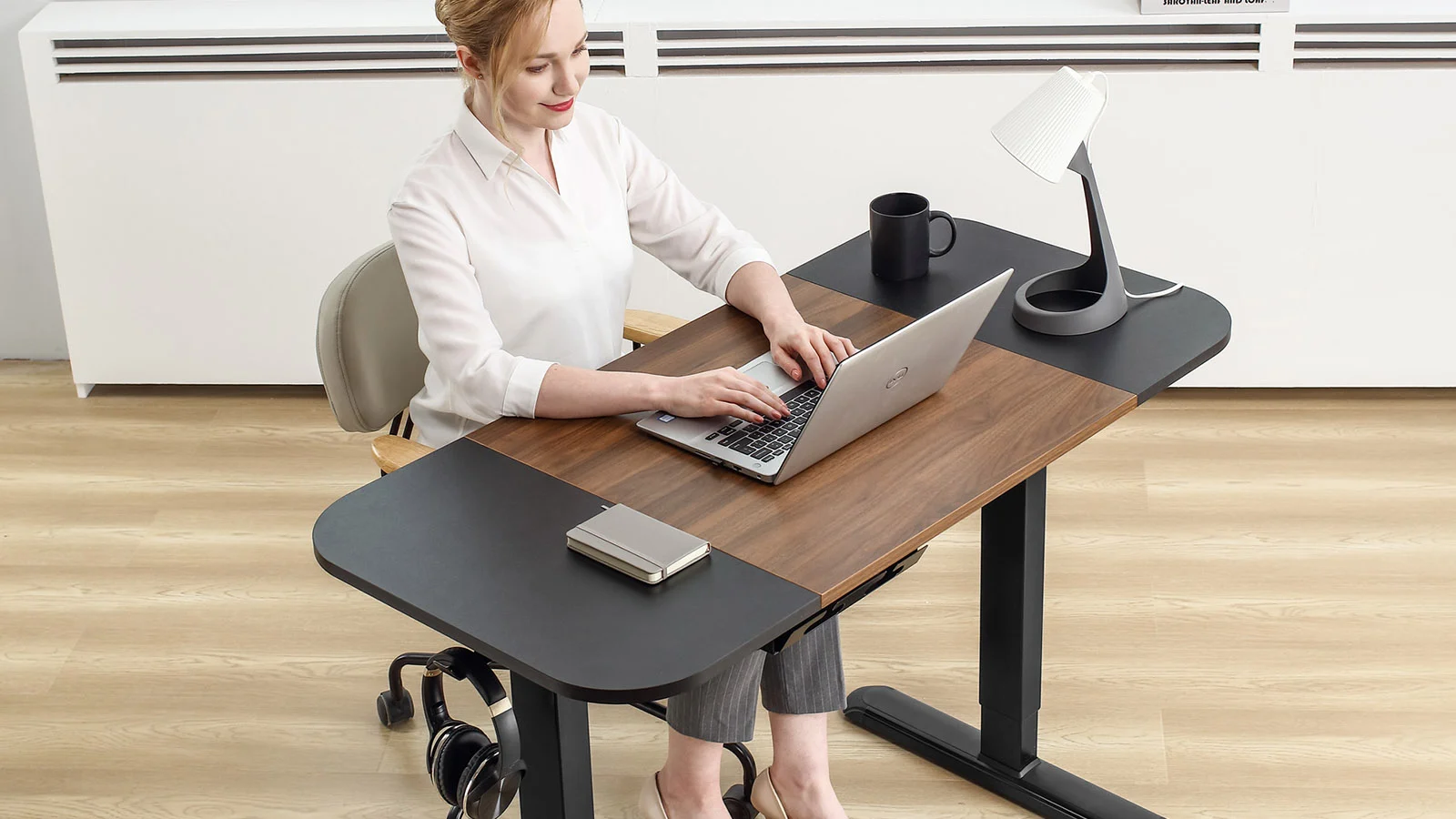 Fenge Ultralong CompactDesk: Drawer and Bag Hook
Bought by 100+ Deloitte US employees
FREE shipping Mar 29 - Mar 31. FREE 30-day returns.
Sold and shipped by FENGE. Visit our store
Free Monitor Stand
• Color: Black+Brown • Material: Aluminum, Iron, Particle Board • Number of Buttons: Up and Down (2 buttons) • Dimensions: 47" x 23.6" x 29"-48" • Height Adjustable Between 29.5''-48'' • NOTEs: If you would like to return FENGE compact desk, both the desk & free monitor stand must be returned together.
• 2-year warranty
This adjustable standing desk has an ergonomic concept. Relieve the work pressure of office workers through a scientific office method of sitting and standing alternately. When working and studying at home, promote blood circulation and avoid the harm of low back pain and nerve compression caused by prolonged sitting.
Deep dive into specs
Standing desks, also known as height-adjustable workstations, compact standing desk options, or stand-up desks, are desks that allow you to draw, document, and work while standing or sitting on a high stool. There are several varieties, allowing you to choose the one that best suits your workplace and budget. The mental and physical health benefits of a standing desk are among the many advantages that this workstation has over traditional office desks. Everyone knows that a physically active lifestyle is vital to one's health since it reduces the chance of developing chronic illnesses. Those who sit for lengthy durations at a desk job, however, often engage in sedentary behavior that is hazardous to their health. This habit is related to several health hazards, including heart disease and diabetes, according to numerous research. Alternatives to a traditional compact standing desk, such as an electric standing desk with drawers, have grown increasingly widespread in many organizations and home offices for these and other reasons. In comparison to working while seated at a desk-bound job, the ergonomic health advantages of a standing desk are many. If you have ever had back discomfort at work or are concerned about your health, you might consider purchasing a compact standing desk.
Benefits of Compact Standing Desk
Are standing desks beneficial to health? Due to the healthy lifestyle it promotes, lengthy hours of sedentary work pose a threat to people's health. As an employee, you may have no option but to sit while at work, and you may also choose to sit at home in the evening.
Decreases Weight Gain
When you invest in a standing desk to combat your sedentary lifestyle, you significantly lessen the hazards connected with it, such as fat, excess weight, cardiovascular disease, and diabetes. The mental health benefits of a standing desk are also substantial since they significantly increase job satisfaction. Reduces the risk of gaining weight and becoming obese. Almost everyone is aware that you gain weight when you consume more calories than you burn. In contrast, you may also lose weight if you eat fewer calories than you expend. By burning a few additional calories per hour when standing rather than sitting, you may minimize your risk of weight gain and obesity.
Low Sugar Levels and Betters Circulation
Another health advantage of a small standing desk with storage is a reduction in blood glucose levels. Whenever you eat, your blood sugar might rise significantly. The more it occurs, the more detrimental it may be to your health. Those with insulin resistance and diabetes are at an even greater risk. Using a small stand-up desk with storage enhances your circulation, which may lead to other physical health advantages. If you choose to stand at your desk, your blood flow is enhanced compared to when you sit. When working in an upright posture, circulation to the extremities is greatly enhanced. On the contrary, sitting might slow it down or inhibit development. It may lead to a variety of health issues, including blood clots, varicose veins, and swollen ankles. If you want to fully appreciate the health advantages of a small stand-up desk, remember to rise, stretch, and do a brief jog in place every hour.
Features Of FENGE Standing Desk
Adjustable Height Electric Desk and Details Witness
There is strong scientific evidence that sitting correctly has a positive effect on one's mental and physical health. FENGE electric standing desk comes to the rescue. It is important to FENGE that their customers get high-quality electric standing desk options with drawers, cutting-edge, and good customer service.
Hook for a Bag or Headset with Canvas Drawer
Headphones or a bag may be hung on the FENGE standing desk's side hook. There is less clutter and mess on the table. The extra canvas drawer on the FENGE standing desk may hold daily notebooks, pencils, erasers, and other small office items, making the desktop cleaner and more organized, and introducing a new workplace experience!
Adjustable Height Computer Table with Monitor Stand
Old and young people of different heights may benefit from this desk, which has a standard desk height range from 30 inches to 48 inches. Strong enough to lift your monitor by 3.9 inches. The 7.1 inches groove is suitable for smartphones and tablets. It's small enough to fit in a small place and yet be functional.
FAQs
Don't see the answer to your question?