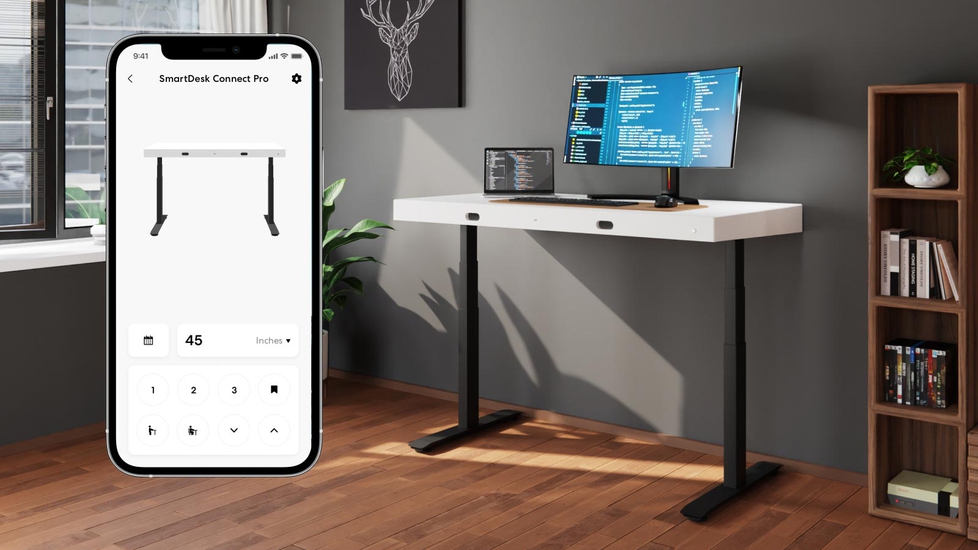 Autonomous SmartDesk Connect Pro
Sold and shipped by Autonomous
FREE shipping Jan 28 - Jan 30
Sign in

with your work email to unlock business pricing (

$1,055.04

)
In stock
Secure payment
Need help with a more complicated project?
Fill in
this form
or call us at
(+1) 888 384 7374
Autonomous SmartDesk Connect Pro at a glance.
The SmartDesk for power users and pros. Featuring upgraded sensors that react to the environment, integrated drawers for added storage, and a convenient app with simple and intuitive fine-tuned controls.
• Convenient app for fine-tuned controls
• Smart sensors for improved performance
• Built-in drawers for added storage
• Anti-collision feature
• Schedule sitting and standing sessions
• Height-adjustable from 23.6" to 49.2"
• Upgraded electric dual motor
• Quieter at just 40 dB
• Improved load capacity of 310 lbs
• Solid steel frame
• 7-year warranty
Deep dive into specs
There is more to standing desks than merely the current fad. Some individuals are adamantly opposed to the benefits of the SmartDesk Connect Pro at work. On the other hand, multiple research and reviews have shown their numerous advantages and complexity. Remember that sitting for long periods of time is not good for your health. If standing all day isn't good for you, why not try a combination of both? While standing, it's much easier to engage in an active lifestyle! We are here to help you in choosing the right standing desk base frame with a full guide by Autonomous. A standing desk is nothing more than a regular workstation with added ergonomic features. An ergonomic desk is something that a user may customize to their preferences, which is what the term "ergonomics" means in general. Desks with height-adjustable mechanisms may be raised or lowered and locked in place. To put it another way, a standing desk with drawers is designed with the user's upright posture in mind, we recommend a SmartDesk Connect Pro for all your smart desk needs. The following features may be found in SmartDesk Connect Pro: The ability to adjust the height - Roomy working area - A solid grounding - A pleasing visual appeal. The only difference is that a normal table doesn't even have a height adjustment. Whether or not you choose to purchase a standing desk connect may be influenced by other essential criteria, such as its app compatibility.
Key Features Of Autonomous SmartDesk Connect Pro
If you're not sure how to utilize a standing desk with storage in your business, an overview of the product might help. If you work from home or in a traditional workplace, you'll always be more productive. Smartdesk connect may help you be more productive and should be purchased as soon as possible if this is the case. If the potential health advantages of using a standing desk pique your interest, consider investing in one of the top models available. This SmartDesk Connect Pro is the most sophisticated SmartDesk ever. A simple software that remembers your settings lets you connect and operate your home automation system. Easy-to-use software for fine-tuning control options- A feature that prevents collisions - Arrange for periods of standing and seated work - Adjustable from 23.6 to 49.2 inches in height - Improved twin electric motors - It's quieter at 40 dB - Increased weight capability by 310 pounds - Stainless steel frame.
Benefits Of Using Autonomous Standing Desk
Sitting and standing while working at your home office is one of the key advantages of having a standing desk with drawers. As a result, we are able to avoid the negative consequences of sitting for an extended period of time, including back pain and distress throughout the body. Consider these additional advantages of a home office adjustable desk before making a purchase decision. It reduces the likelihood of gaining weight. The benefits of regular exercise are undeniable, but standing while working might be just as good. It may be able to assist you in lowering your blood glucose levels. Standing for 2 h after lunch may lower your blood sugar by 43 percent, according to research. An adjustable standing desk with storage may help you feel better and work more effectively by adjusting the height and angle of your work surface. Consequently, you may be able to increase your productivity in the long run. A number of studies have shown that standing may prolong your life expectancy. Diseases such as type 2 diabetes and heart disease are strongly linked to prolonged periods of inactivity.
Connection to SmartDesk Autonomously
The SmartDesk Connect Pro is among the greatest alternatives you have if you're searching for a solid remote control desk. Your conventional electric height-adjustable workstations, with a few additional features that make it more suitable and easy for the office, regardless of the duties you often do throughout your working day. Make your workday simpler and less stressful by using this workstation.
FAQs
Don't see the answer to your question?
Can I use PayPal to pay for this desk?
Due to transaction limits, we can only accept PayPal payments from the 1st to the 15th of every month. PayPal's account policy permits us to accept a limited volume of payments per month, and with current sales volume, we normally reach our limit by the 15th.
This SmartDesk is available in the US only. We are considering worldwide availability so stay tuned for updates.
How long does shipping take?
Once your order is processed (less than 1 business day), shipping takes 3-5 business days for continental US addresses and 12-15 days for international orders.
Can you give me more information about your 30-Day Trial policy?
If you don't like your desk, we'll take it back. It's that simple and easy. You have until 30 days after delivery to build and use your desk. If you change your mind, you can then request to return the desk for a full refund (we even cover shipping!), no questions asked. This policy applies to all desks delivered inside continental U.S. and returned in their original packaging only. International orders do not qualify for this program. Please note that the returned standing desk needs to be in its original packaging. If not, we reserve the right to refuse your request.