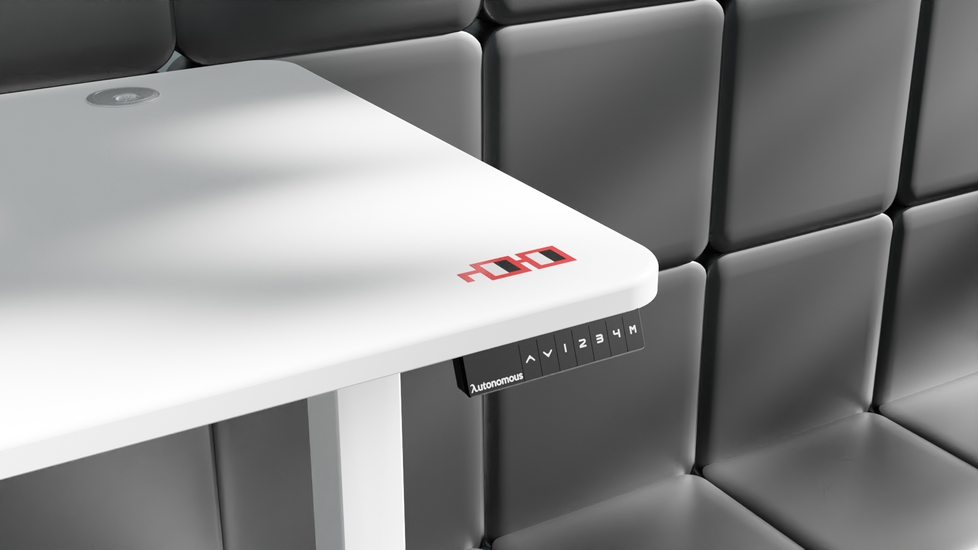 Autonomous Nouns SmartDesk
Ships by Mar 03
Sold and shipped by Autonomous.
Autonomous Nouns SmartDesk at a glance.
Autonomous partners with Nouns to bring you the first ever NFT SmartDesk. Includes a Core Frame in white and a Classic Top customized with Nouns. Or choose your own NFT.
• UV-printed desktop customized with Nouns
• Classic Top with pre-drilled holes: 53"L x 29"W
• Keypad with 4 programmable height settings
• Lifts up to 265 lbs
• Height range: 29.4" to 48"
• 5-year warranty
Deep dive into specs
FAQs
Don't see the answer to your question?
How loud is the motor on the SmartDesk Core as it raises and lowers?
Our motors are the most silent on the market. Featuring advanced noise cancellation engineering, our SmartDesks are whisper-quiet at only 50dB during movement.
Does this desk use a regular 120 volt outlet?
Yes. Our standing desk is compatible with standard 110 volts - 240 volts outlets. Both currents are automatically converted by the desk. US orders are installed with the standard two-prong plug. For international orders, we convert the plug to the type used by the destination country.
Does the outlet for the standing desk need to be grounded? Is a separate circuit necessary for each desk?
No, it doesn't. The Autonomous SmartDesk is very energy efficient and draws only 0.06 watts while on standby.
How long is the cord /plug wire? In other words, how far can this desk be from an outlet?
I see that there is a "black box" to be installed on the underside (aside from the control panel), with power and data connection. Is this like a power strip and data plug-in?
Yes, this is the control box. It must be attached under the standing desk to use the Smart Keypad. It is connected with the Smart Keypad to control the height of the desk, and with the power source to tell the electric motor(s) when to move up and down.
How do I configure the presets on my SmartDesk?
First set the desk to your desired height, then press the M button until the LED screen on the keypad flashes. Next, select the number you want to associate with that height. Now you are ready to work smarter!
We do! We have shipped to more than 60 countries so far, and we're still counting! Please select your country for localized checkout and appropriate pricing, duties, and taxation processing.