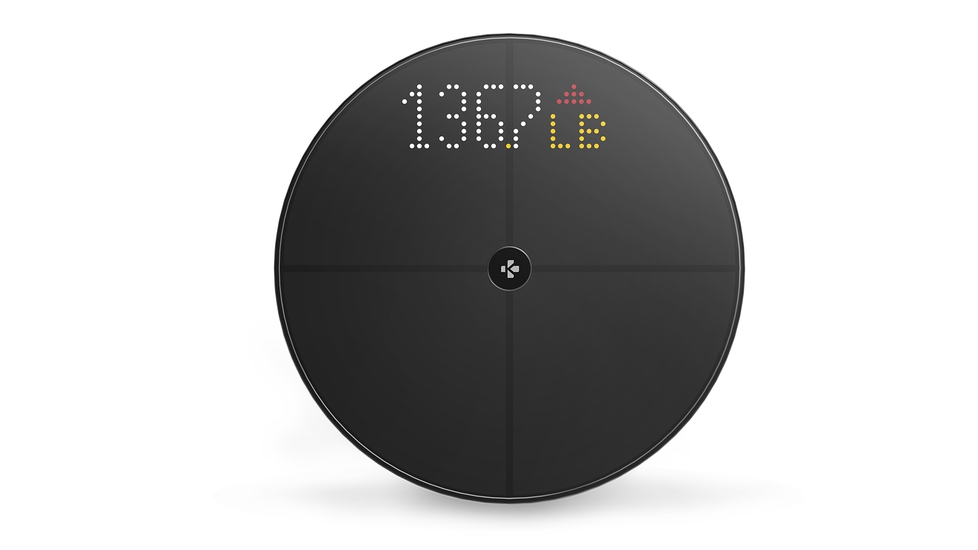 MyKronoz Body Scale: App Control
$94
Kostenloser & flexibler Versand
Kaufe jetzt
In den Warenkorb legen
Kostenloser Versand Jun 10 - Jun 12. Kostenlose Rückgabe am 30 Tag.
Bought by 2 Meazure Learning employees
Verkauft und versandt von Group BOW.
MyKronoz Body Scale: App Control auf einen Blick.
Body Composition Scale by MyKronoz is a powerful fitness tracking device with multi-user support and fine-tuned app controls. Recipient of a 2021 Red Dot Design Award.
• Large LED color display
• Accurate body composition analysis
• Heart rate monitor
• Wi-Fi synchronization
• Multi-user friendly
• Up to 12 months of battery life
• 1-year warranty
Tief in die Spezifikationen eintauchen
More than just a scale.
BEYOND A SCALE
Accurate health metrics
Easily track your BMI, muscle mass, body fat, hydration levels, and bone mass beside body weight. The scale also comes with a heart rate sensor that measures your cardiac frequency in less than 30 seconds.
BEAUTIFUL DESIGN
Elegant glass aesthetic
Honored with a 2021 Red Dot Design Award, MyScale stands out with its round silhouette, large LED color display, and its durable tempered glass top in 4 gorgeous colors.
FOR YOUR FAMILY
Multi-user support
Designed for the whole family, this scale can be used by 8 different people and in complete confidentiality thanks to automatic user recognition.
INTEGRATED APP
Back up your data
Compatible with Android and iOS, the scale synchronizes automatically to your secure account in the MyKronoz app to help you track your fitness goals and stay motivated.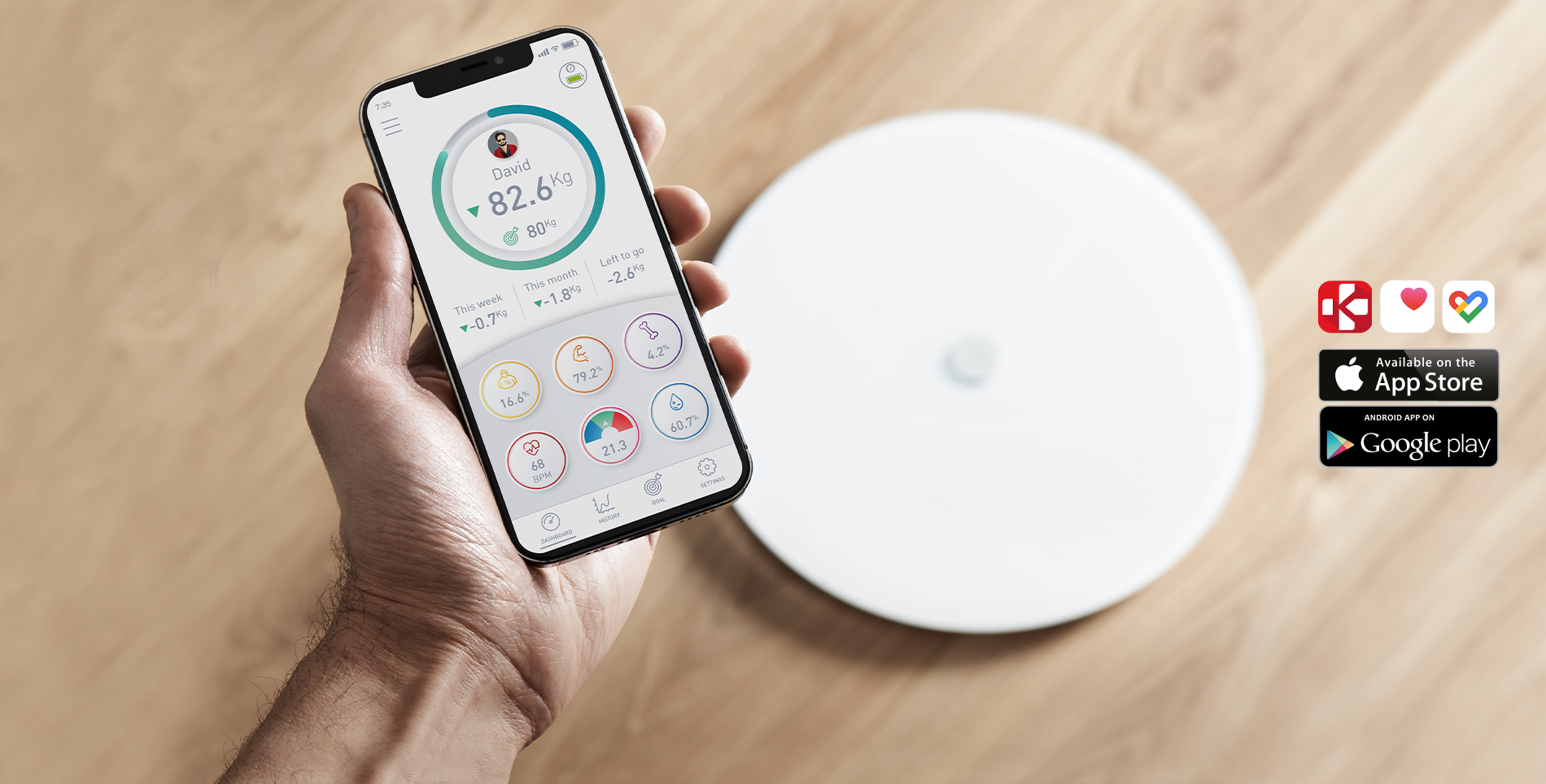 RECHARGEABLE BATTERY
Long-lasting power
Equipped with a rechargeable battery, our scale offers up to 1 year of battery life and can be easily charged using its supplied USB-C cable.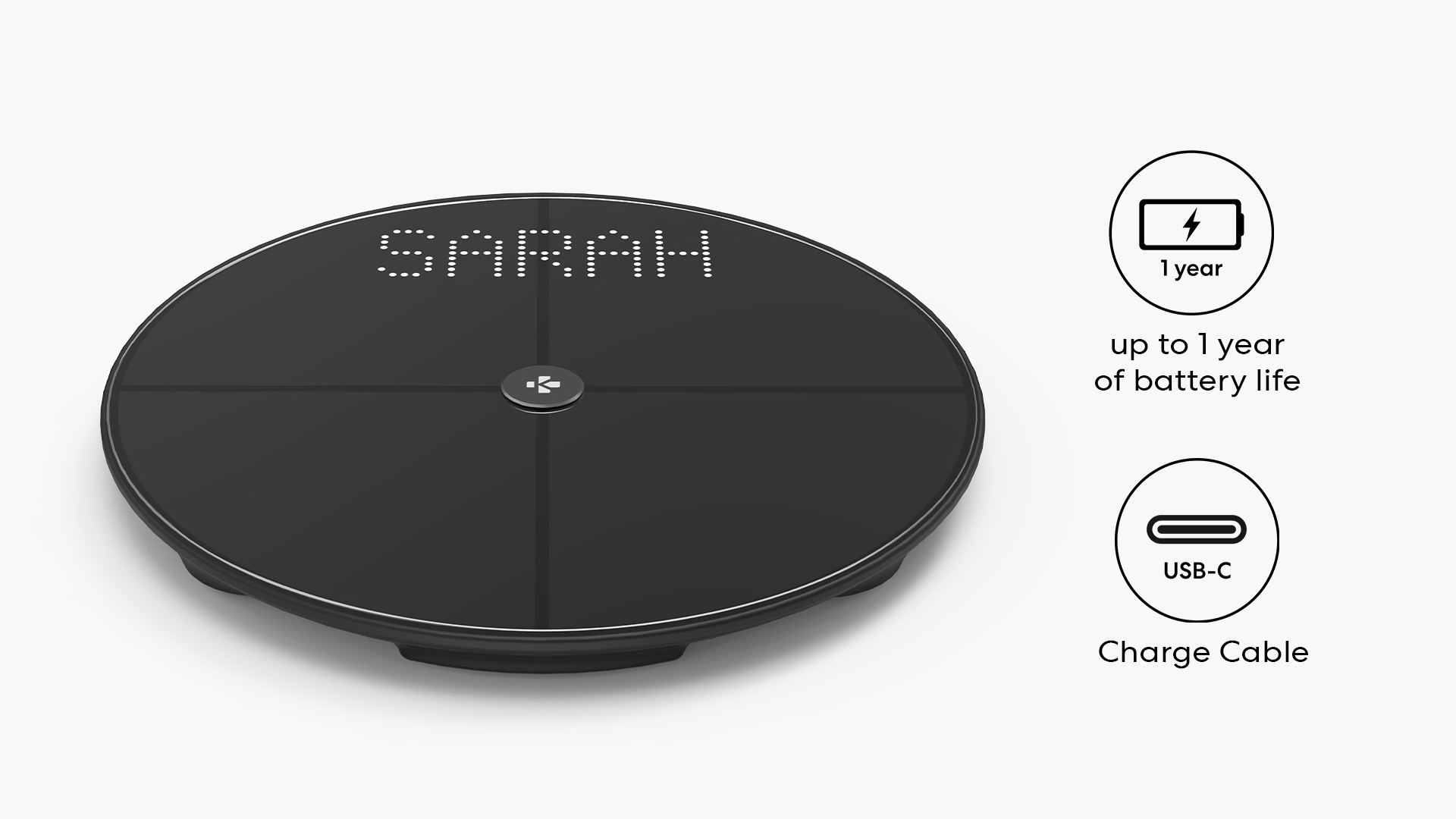 MyKronoz MyScale Wi-Fi Scale – Get Accurate Body Measurements
The MyKronoz MyScale Wi-Fi Scale has a polished, attractive design that has caught the eye of many people. Besides looking good, this scale is also pretty accurate. Smart scales have been going trendy for quite a while thanks to the many measurements they display. This device MyKronoz is actually one of the most accurate and appropriate items for your home gym equipment. This Wi-FI body scale by MyKronoz has won a Red Dot Design Award winner in 2021. Therefore, it can be the perfect tool for you to measure your progress and keep track of your body as you continue working on yourself.
MyKronoz MyScale Wi-Fi Scale – What will you get?
This Wi-Fi body scale is the first approach to this market by MyKronoz, a company that mostly sells smartwatches and earbuds. Smart scales come with different benefits besides common ones. It displays more information than just your weight, and you can also link them with your favorite fitness apps or accessories for more convenience. Now, the MyKronoz MyScale measures the following information about your body: Overall weight - Body fat - Muscle mass - Bone mass - Body water percentage - Heart rate - BMI. Yes, that's a pretty long list of information, but all of it is essential if you're into the fitness lifestyle. What's best is that you can connect this Wi-Fi smart scale with Google Fit and Apple Health.
Reasons why wireless scale is convenient for any gym lover
So, considering all these features, this device seems like a good addition to your desk exercise equipment. However, you should know that there's more to this device than what meets the eye. Here you have some of the features that you'll enjoy by adding this Wi-Fi smart scale to your list of gym complements.
1. MyKronoz MyScale Wi-Fi scale's compatible with Google Fit and Apple Health. Once you get the MyKronoz MyScale, the first thing to do is to download the respective app for the device you use. You'll need iOS 9.0 or beyond for Apple users, while Android users need at least Android 6.0. The app gives you detailed information about what you need to do to set up the scale and get it to work. It's possible to create eight different profiles. It can also be used occasionally by people who aren't necessarily registered on the app without affecting your own measurements.
2. MyKronoz MyScale Wi-Fi scale displays accurate and multiple body measurements. This Wi-Fi smart scale allows you to see all the information you need regarding the recent changes in your body, which range from overall weight to heart rate. Thanks to its intuitive UI, the app makes it quite simple to get all the information you need. It is also a good option if you don't like recharging your devices that often. According to the manufacturer's specifications, each charge lasts for a year, more or less, due to the 3,000 mAh battery. You'll utilize a USB-C cable to charge it.
An Accurate Wi-Fi Weight Scale for All Gym Lovers
Wi-Fi scales are everywhere within the market these days. However, not all of them are equipped with the same technology or are capable of displaying such accurate measurements regarding the state of your body. Therefore, the MyKronoz MyScale Wi-Fi scale continues to be one of the best options you can choose for this purpose. It is compact and you can bring it anywhere with you if you're constantly moving from a place to another. As long as you keep it connected to a Wi-Fi connection, it will do wonders for you and will continue to be useful throughout the years. Smart scales for body composition are the best addition to any gym lover's equipment. If you want to start in the healthy lifestyle, then this will become an essential part of your complements. It is the perfect solution if you'd like to get accurate measurements. The health and fitness world is continually changing. There are tons of technological advances that will make your life easier, and the MyKronoz MyScale Wi-Fi is the perfect example of convenience, as provides you with all the information you need regarding the state of your body.
Häufig gestellte Fragen
Sie sehen die Antwort auf Ihre Frage nicht?
Where should the scale be placed?
Place your scale on a hard and flat surface for more accuracy.
How to set up my scale with no existing account?
1. Place your scale on a hard and flat surface.
2. Download the MyKronoz app from the App store or Google Play store
3. Open the MyKronoz app
4. Create an account with your email OR sign up through a third party app
5. Create your user account
6. Select: I'm the first person to set up this scale
or I'm joining a scale that's already set up
7. Tap or step onto the scale to turn on the screen
How do I set up the scale for multiple users?
1. Tap on Generate a QR code button
2. Invite new members to download the MyKronoz app
NOTE: Only the person (administrator account) who set up the scale for the first time can invite new users at any time.
Our scale is safe for use by people aged 10 years or older.
Pregnant women & people using a pacemaker or any other medical device should not use it.
How to get accurate data?
• Measure yourself at the same time every day (ideally in the morning), on an empty stomach and without clothes on
• Body composition calculation may only be made when barefoot
• Ensure accurate data are saved in your personal profile (gender, age & height).
• Stand up straight and still during the measurement.
• Only the long-term trend is important. Short-term changes in weight within a few days are normally caused by loss of fluids; however, hydration plays an important role in terms of well-being.
Use a soft damp cloth to clean your scale. Never use detergents, antiseptic wipes or highly concentrated glass cleaner to clean.