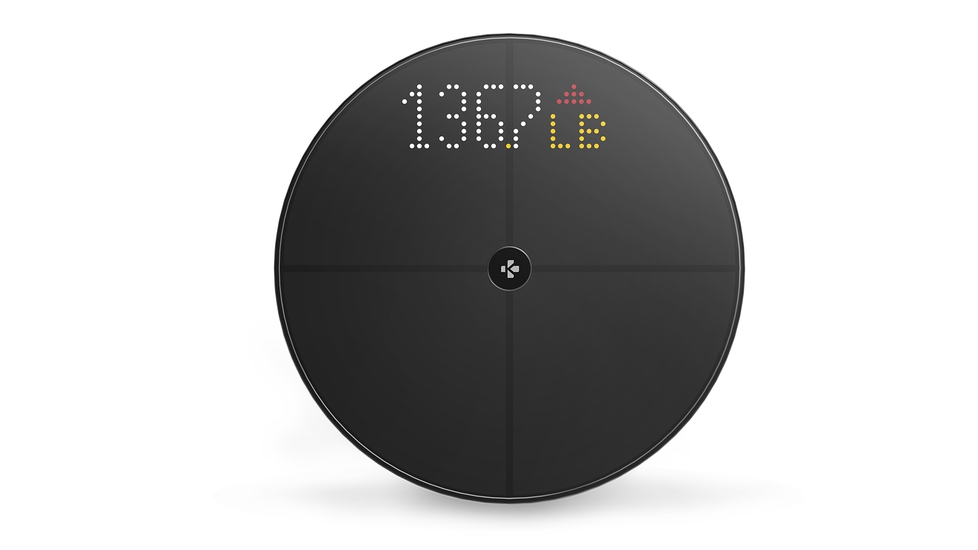 Travailler à domicile?
Sonderpreise erhalten
Body Composition Scale by MyKronoz
$99
Body Composition Scale by MyKronoz is a powerful fitness tracking device with multi-user support and fine-tuned app controls. Recipient of a 2021 Red Dot Design Award.
Versand innerhalb von 2 Werktagen
|
Kostenloser Versand
& 30-Tag kehrt zurück.
Laden Sie es Ihrem Unternehmen in Rechnung
Wir können diese Bestellung an einen Bürokontakt weiterleiten und die Zahlung in Ihrem Namen anfordern.
Sparen Sie bis zu 10%.
Body Composition Scale by MyKronoz auf einen Blick.
• Large LED color display
• Accurate body composition analysis
• Heart rate monitor
• Wi-Fi synchronization
• Multi-user friendly
• Up to 12 months of battery life
• 1-year warranty
Tief in die Spezifikationen eintauchen
Häufig gestellte Fragen
Sie sehen die Antwort auf Ihre Frage nicht?
Where should the scale be placed?
Place your scale on a hard and flat surface for more accuracy.
How to set up my scale with no existing account?
1. Place your scale on a hard and flat surface.
2. Download the MyKronoz app from the App store or Google Play store
3. Open the MyKronoz app
4. Create an account with your email OR sign up through a third party app
5. Create your user account
6. Select: I'm the first person to set up this scale
or I'm joining a scale that's already set up
7. Tap or step onto the scale to turn on the screen
How do I set up the scale for multiple users?
1. Tap on Generate a QR code button
2. Invite new members to download the MyKronoz app
NOTE: Only the person (administrator account) who set up the scale for the first time can invite new users at any time.
Our scale is safe for use by people aged 10 years or older.
Pregnant women & people using a pacemaker or any other medical device should not use it.
How to get accurate data?
• Measure yourself at the same time every day (ideally in the morning), on an empty stomach and without clothes on
• Body composition calculation may only be made when barefoot
• Ensure accurate data are saved in your personal profile (gender, age & height).
• Stand up straight and still during the measurement.
• Only the long-term trend is important. Short-term changes in weight within a few days are normally caused by loss of fluids; however, hydration plays an important role in terms of well-being.
Use a soft damp cloth to clean your scale. Never use detergents, antiseptic wipes or highly concentrated glass cleaner to clean.