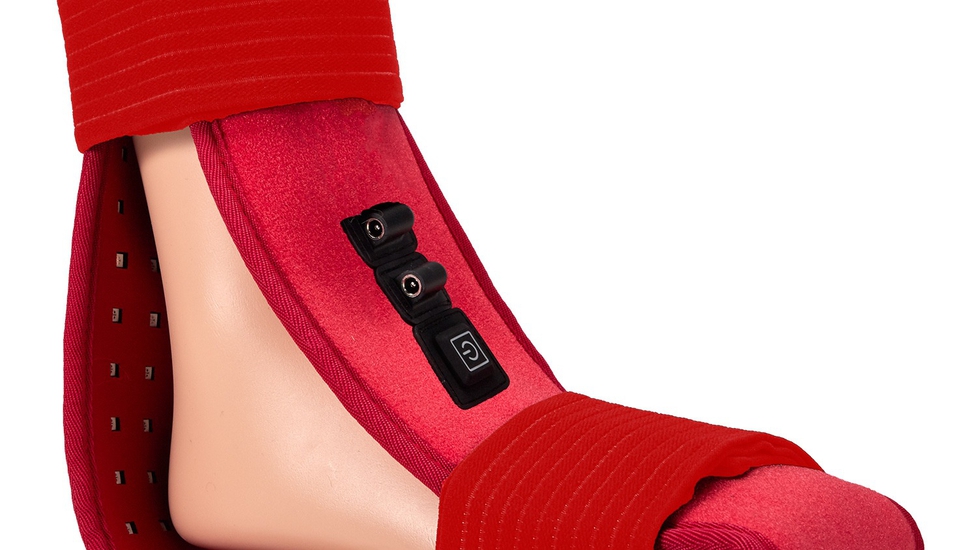 PMT NerveBeam LED Light Therapy Wrap: Red & Infrared Light Therapy
$329
Kostenloser & flexibler Versand
Kaufe jetzt
In den Warenkorb legen
Kostenloser Versand Jun 06 - Jun 08. Kostenlose Rückgabe am 30 Tag.
Verkauft und versandt von PMT.
Adjustable straps to use anywhere on the body 525 Individual LED diodes Reaches temperatures over 100 degrees Fahrenheit Relieve pain Kit includes: LED wrap Adjustable Straps Power Supply Link Cables Users guide
The Nerve Beam LED wrap is a high-powered LED red light and infrared therapy device that delivers low-level but intense light energy into the body. LED therapy uses a broad spectrum of red light and infrared therapy to elevate tissue temperature, temporarily relieve minor muscle and joint pain, and temporarily increase local blood circulation. Red light (660nm) - visible and most effective on the surface of the skin. Red light is within the "long end" of the visible spectrum with wavelengths of 630nm-700nm. Red light LED diodes treat topically and have an analgesic effect, and create an anti-inflammatory response. Infrared light (830nm and 850nm)- invisible and is effective for use on the surface but also in penetrating the skin by about 1.5inches into the body. Infrared LED diodes deliver heat into the tissue to deliver temporary pain relief, and promote relaxation of muscle tissue, and relieve stiffness. Benefits: Elevate tissue temperature Temporarily improve blood circulation Relieve stiffness Promote muscle relaxation Relieve Pain
Tief in die Spezifikationen eintauchen
Häufig gestellte Fragen
Sie sehen die Antwort auf Ihre Frage nicht?