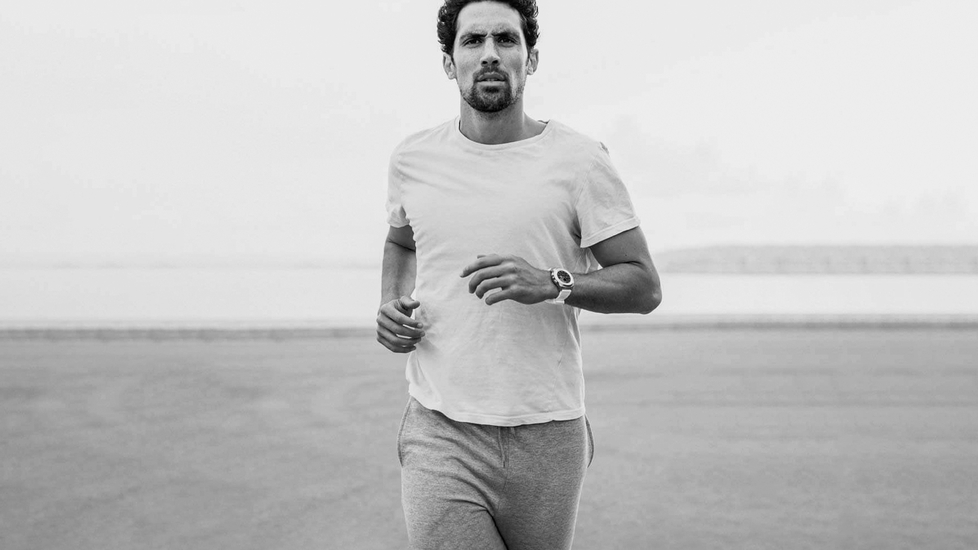 MyKronoz ZeTime Hybrid Smartwatch
$46
Kostenloser & flexibler Versand
Notify me when this item is available
Enter your email below. We'll let you know when it's back in stock.
Bought by 2 thoughtbot employees
Verkauft und versandt von Group BOW.
MyKronoz ZeTime Hybrid Smartwatch auf einen Blick.
The world's first hybrid smartwatch combines mechanical hands with a round color touchscreen and all of the features you want in a smartwatch.
• Mechanical hands
• High-resolution TFT color touchscreen display
• 5 ATM water-resistant
• 3-axis accelerometer
• Activity tracker
• Calorie tracker
• Sleep monitoring
• SmartApp compatible with Android/iOS
• 1-year warranty
Tief in die Spezifikationen eintauchen
Classic design meets high tech performance.
With mechanical hands and a color touchscreen, ZeTime blends Swiss heritage design with the most advanced features of a smartwatch.
UNDENIABLE QUALITY
That Swiss feel.
The sleek ZeTime hybrid smartwatch is crafted from a solid stainless steel watch case with high grade sapphire glass.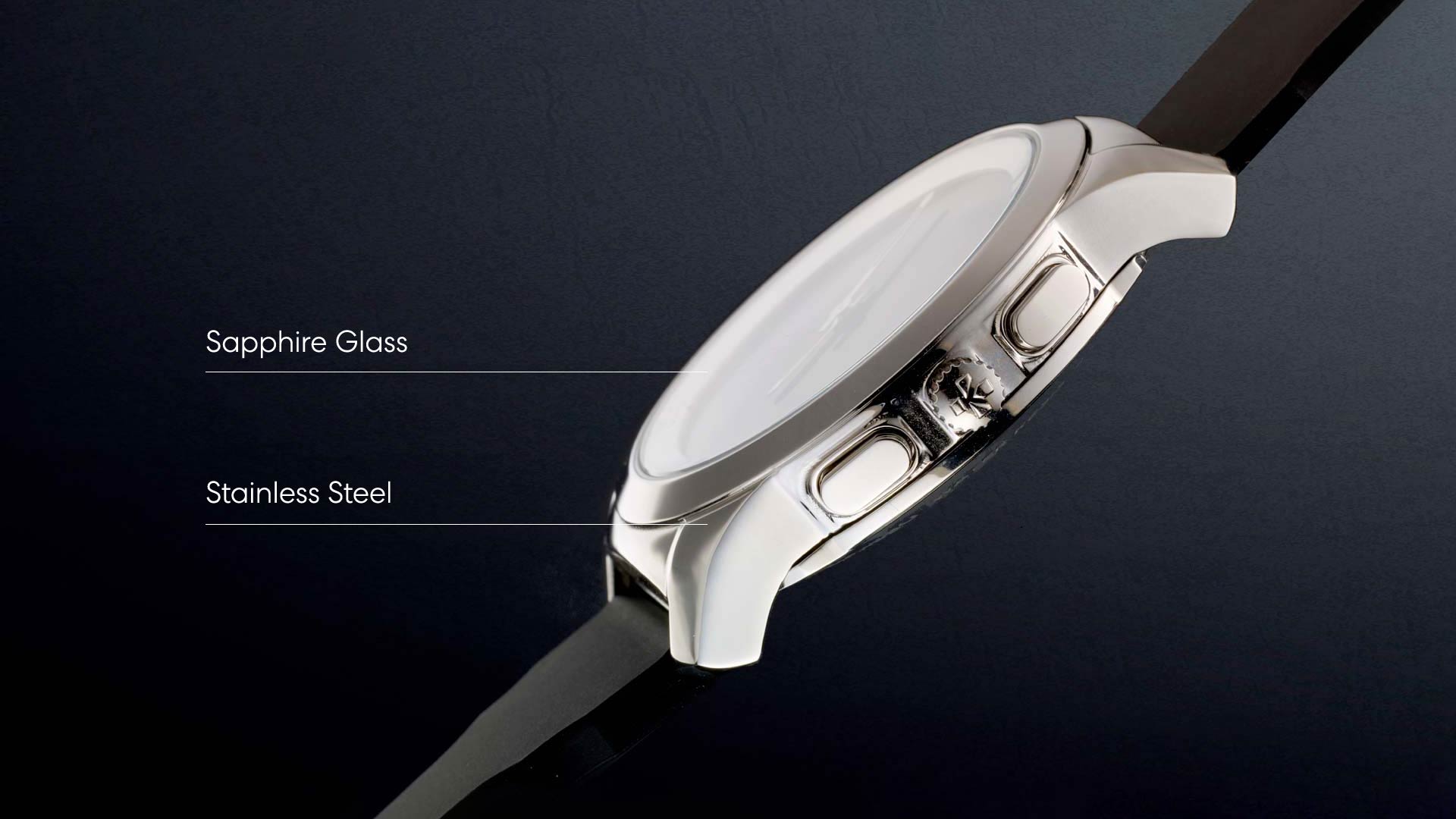 SMARTER NOTIFICATIONS
Hands that never get in the way.
When you receive a notification, the CPU analyzes the information on-screen and cleverly moves the hands to horizontal so you can read your text clearly.
TRACK DAILY ACTIVITY
A watch that cares about your health.
ZeTime tracks your daily activity, sleep pattern, and heart rate. When you've been inactive for too long, the hybrid smartwatch encourages you to get up and move.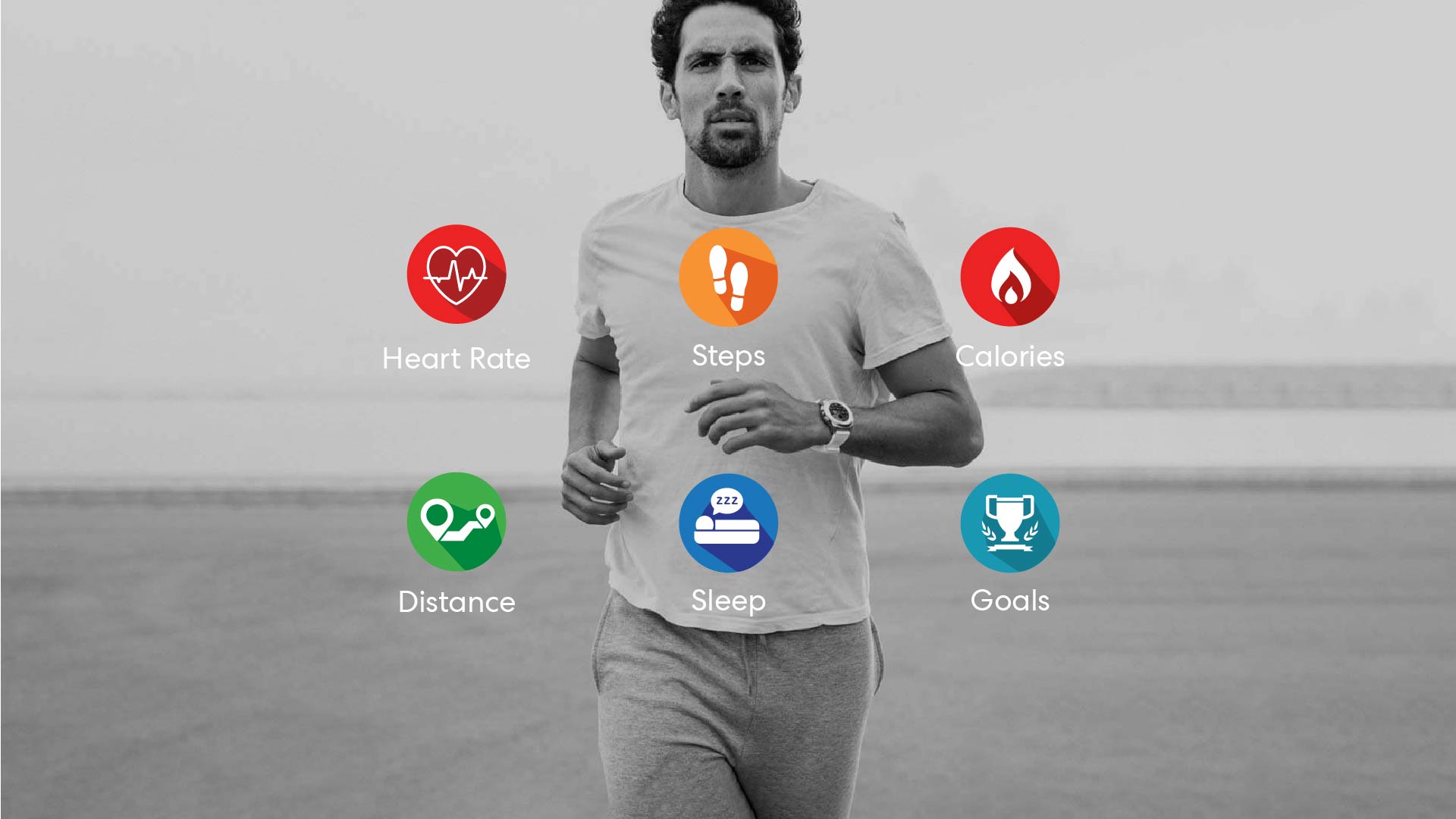 STAY CONNECTED
So much more than just a watch.
Take pictures, play, pause, and skip tracks directly from your wrist. And never lose your phone again with a lifesaving "find my phone" feature.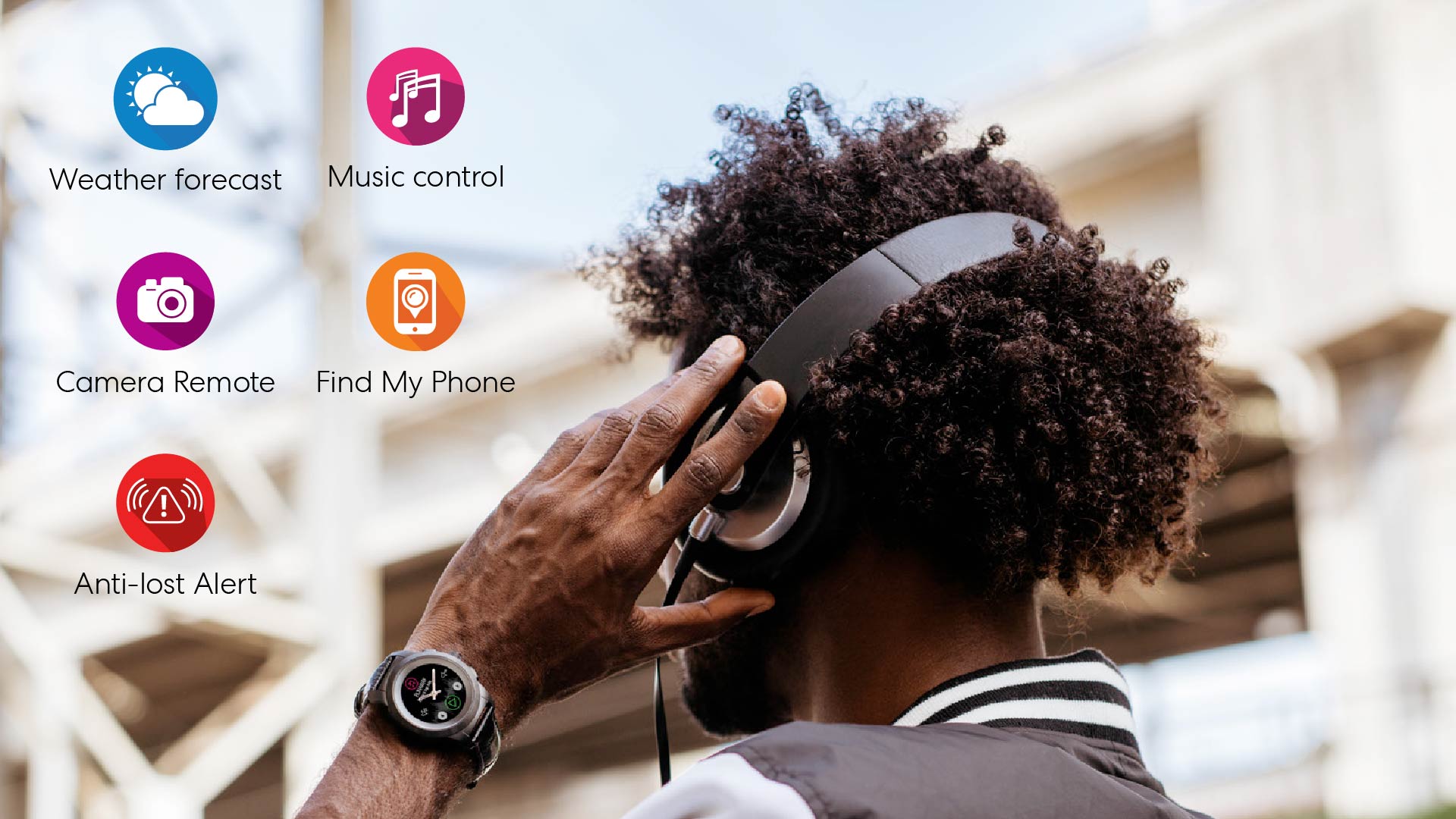 INTEGRATED APP
Back up your data
Set up your smartwatch and sync data directly from your smartphone. For a more comprehensive view on your health, you can also sync your MyKronoz Myscale.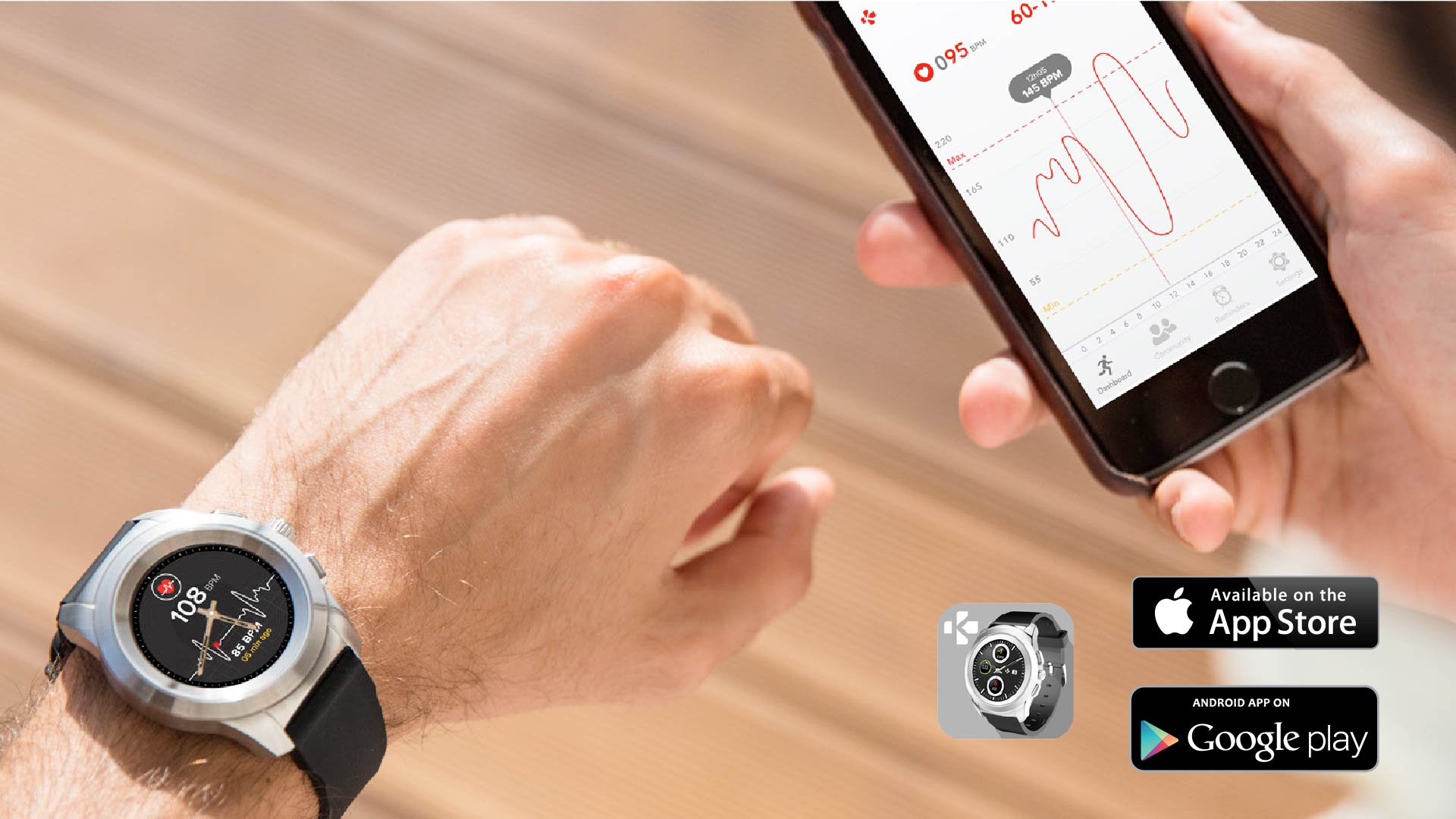 More features. More convenience.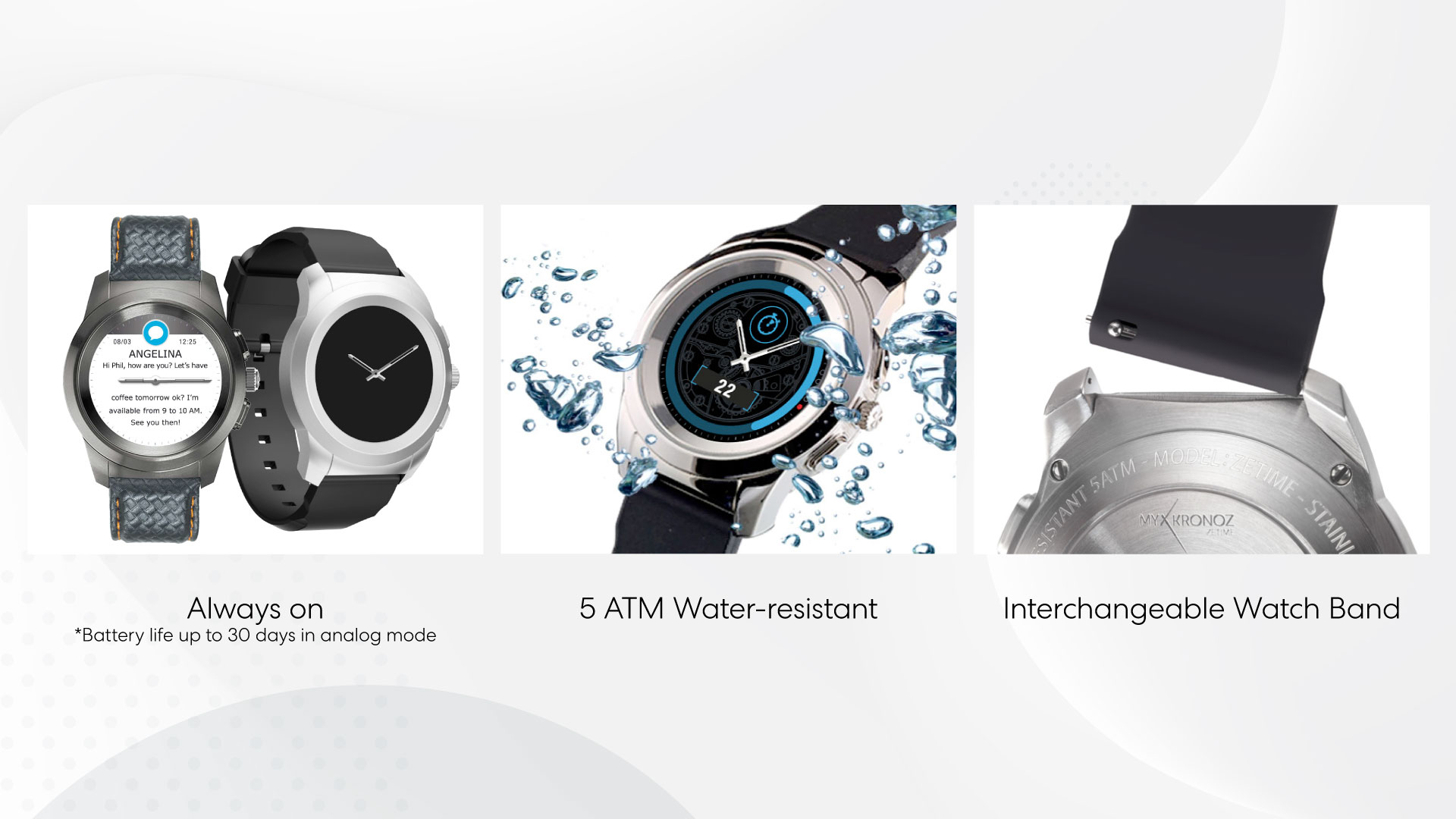 MyKronoz ZeTime Hybrid Smartwatch - High tech with a classic design
Technology is advancing each day, and one of the main focuses is to make our lives easier. Most manufacturers are looking forward to creating accessories that become the perfect accessory for you in your daily life. That's where the MyKronoz ZeTime Hybrid Smartwatch comes into play. For instance, a smartwatch has similar features to what you usually would find on your phone. It's like carrying a small computer on your wrist, and they're compatible with your smartphone. You can use them for multiple purposes, such as checking your email or social media profiles. Nowadays, you can also opt for a smart fitness watch, which is meant to help you with your fitness goals. The MyKronoz ZeTime Hybrid Smartwatch serves all of these purposes and more.
What is a hybrid smartwatch & what does it do?
Hybrid smartwatches have a classic design but are far from being classic. They actually have high technology incorporated, allowing you access to a smartphone's basic features and other functions, like a step or sleep tracker. It is possible to find diverse hybrid smartwatches in the modern-day, including the ZeTime Smartwatch. While these devices don't have such prominent display options as other models, they often offer more battery life and a more stylish finish in exchange. Thus, if you'd like to keep up with today's trends while looking as elegant as possible, the ZeTime Watch is one of the best options you can choose.
Mykronoz ZeTime Hybrid Smartwatch - Features
The MyKronoz Zetime original compiles several features that make it highly convenient for the modern man. Here we describe some of its most remarkable aspects and how you can take advantage of them. Extended life battery. In analog mode, the ZeTime watch can last up to 30 days. It will continue to show you the time even if the screen is turned off. On the other hand, the smartwatch-related features provide the watch with an autonomy of three days, based on the usage frequency. Keep track of your health. If you're looking forward to complying with your fitness goals, the health tracking features included on this smartwatch with a silicone strap will allow you to keep up with your current health state and your advancements. You will be able to access the following features: Heart rate tracker - Sleep tracker - Distance tracker and step tracker (separately) - Calories tracker. Additionally, you'll be able to keep up with your goals at any time with a single touch. You will receive all the information obtained with the watch on your smartphone. It's extremely easy to set it up – all you need to do is install the ZeTime free mobile app you can find on the Play Store or App Store.
Be informed of what's happening: You'll be able to synchronize the Mykronoz ZeTime Hybrid Smartwatch with your smartphone. Thus, you will be able to keep up with all your notifications, scheduled events and other reminders even if you don't have your phone near you. Additionally, you will be able to watch the Caller IDs from your wrist every time you receive a call. Access your favorite tunes from the integrated music app, and take pictures at any moment with the ZeTime Watch's integrated camera. If you plan on going on a walk, make sure to check the weather forecast! Total customization: You can customize your smartwatch as you please. Generate a custom watch face or choose one from the library. Find your phone: Once you synchronize the smartwatch with your phone, you will be able to use the "Find My Phone" app at any time within a few moments. Water-resistant: The MyKronoz ZeTime Hybrid Smartwatch is a 5 ATM water-resistant device, allowing you to continue using it in all environments.
About MyKronoz
MyKronoz is a company dedicated to the production of different wearable devices, including smartwatches. After a few years of having a single focus, the company has expanded their catalog and now have TWS earphones, activity trackers, and even scales. All of the devices developed by MyKronoz are compatible with Android and iOS. MyKronoz is currently present in over 40 countries. The company is looking forward to expanding the business even more in the upcoming years.
Häufig gestellte Fragen
Sie sehen die Antwort auf Ihre Frage nicht?
How do I charge the ZeTime Hybrid Smartwatch?
We recommend you to initially charge your ZeTime for 90 minutes before first use.
Charging procedure:
1. Position the back of your ZeTime on the charging dock.
2. Plug the USB cable into the charger.
3. Plug the larger end of the USB cable into a USB power source.
4. A battery icon will pop-up to indicate charging is in progress and turn to solid green when it's fully charged.
5. Unplug the cable after ZeTime is charged.
Watch how to charge your ZeTime.
How do I set up my ZeTime?
After turning ON your ZeTime for the first time you'll be prompted to download the ZeTime Mobile App on your smartphone in order to proceed with initial setup.
Setup procedure:
1. Ensure that Bluetooth is enabled on your smartphone.
2. Download the Zetime Mobile App from the App Store or Google Play store.
3. Open ZeTime Mobile App on your smartphone. Sign-up if you're a new member or Log-in with your existing account. After entering your personal information follow the on-screen instructions.
4. Make sure ZeTime is nearby and select it in the list of devices.
5. A pairing request will appear on your smartphone. Press "pair" to accept.
6. Then, you will receive a pairing request on your ZeTime display. Tap on the screen to accept the pairing
7. When ZeTime is successfully paired, you will be notified on both devices.
Watch how to set up your ZeTime.
What can I track with my ZeTime?
Thanks to its 3-axis accelerometer, the ZeTime tracks:
Your daily activity (walking and running)
Distance traveled
Number of calories burned (Active calories / Active calories + Resting calories)
Your sleeping patterns (Duration & Sleep cycles)
Your heart rate
NOTE: ZeTime doesn't track other activities such as swimming, cycling, etc.
What is ZeTime Smart Movement?
ZeTime Smart Movement is MyKronoz patented technology which allows the mechanical watch hands to be controlled by the watch processor through the App. This means the watch hands can position themselves so as not to disturb your reading experience.
Is the ZeTime waterproof?
ZeTime features 50-meter water resistance (5 ATM). Therefore, you can use your device when swimming, showering or dishwashing. However, please note that ZeTime should not be exposed to water at high pressure, such as ocean waves or waterfalls and can not be used for snorkeling or diving.
Tips:
Clean your device with fresh water after swimming.
Avoid long exposure to salt water. This may damage the wristband and body, or the HR sensor.
Avoid exposure to any liquid chemical products such as cosmetics, solvents or perfumes.
Do not press the button of your device when it is under water.
When the pedometer resets, what happens to all my previous data?
Your ZeTime resets automatically to 0 at midnight. Your daily data will be stored in your ZeTime for up to 10 days without syncing.
If you perform a manual reset, data stored in your ZeTime will not be erased. However, if you perform a Hard Reset via the Mobile App or through the equipment (Settings menu > Reset), all data stored in your ZeTime will be deleted.
Can I track my daily activity after turning off my device?
ZeTime allows you to track your daily activity even if your ZeTime is off.
To enable this function, open the ZeTime App > Settings tab > Power Off mode > Hands running + Activity tracking
How do I clean my ZeTime?
To clean your ZeTime properly, use a cloth and warm water to clean the sapphire glass watch face and stainless steel watch casing. Make sure to also clean the charging contacts on your smartwatch and charger. Use hypoallergenic soap to clean your silicone band and dry it with a soft cloth.
My step count doesn't seem accurate or doesn't appear on the ZeTime App, what should I do?
Your step/distance count does not seem accurate:
Make sure you have entered your correct height when signing up.
Make sure you're wearing your ZeTime on your non-dominant wrist and not too loose. NOTE: The device may interpret some repetitive motions, such as washing dishes, folding laundry or clapping your hands, as steps. Also, be advised that since ZeTime is fitted by an accelerometer, if your arm doesn't move, the activity tracker won't count any steps. The daily step count is reset every night at midnight.
Your daily step count does not appear on the ZeTime App:
Make sure that your ZeTime is connected with your smartphone through the Mobile App.
Go to the Dashboard Tab and slide down to sync your data. If the problem persists, close the running App and turn off/on the Bluetooth connection. Then repeat the steps above.
The Activity data on your ZeTime and ZeTime App don't match:
Refresh the ZeTime Mobile app
Sync your data manually by sliding your finger down on the Dashboard page
NOTE: If you have several MyKronoz devices, please note that all your daily data (steps, distance, weight, etc) will be synced and saved on a single user account.