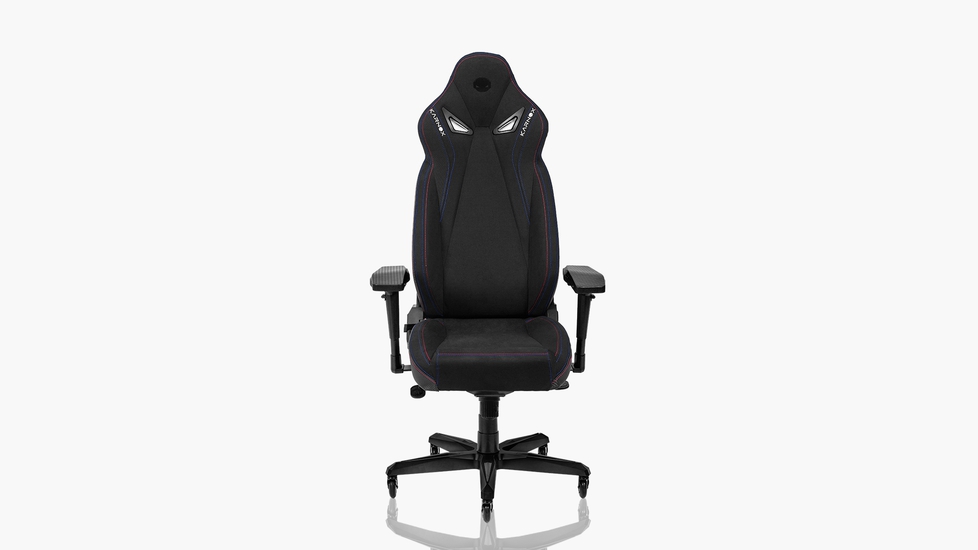 Karnox Gaming Chair Assassin Ghost Edition
1 Review
Visit our store
Kostenloser & flexibler Versand
Jetzt kaufen
In den Warenkorb legen
Kostenloser Versand Dec 06 - Dec 08 KOSTENLOSE 30-tägige Rückgabe.
Verkauft und versandt von Karnox
Karnox Gaming Chair Assassin Ghost Edition auf einen Blick.
• Karnox Suede Fabric
• Carbon Fiber leather
• Exclusive color
• Luxurious sports seat
• Adjustable height, 4D armrest, and seat tilt
• 90-155° reclining backrest
• High Density Mould Shaping Foam
• 4 Class gas piston
Tief in die Spezifikationen eintauchen
Merkmale
FAQs
Spezifikationen
Bewertungen
5.0
You're probably on the fence about purchasing a Karnox gaming chair ASSASSIN - GHOST EDITION if you've found your way here. Video gaming equipment, such as a gaming desk and chair set, is often prominently displayed in neutral hues like black or white. It may seem like a straightforward enough selection. While it may seem like a little annoyance to purchase yourself a nice and comfortable recliner gaming chair and enjoy some quality gaming time, it's really quite the opposite. To be clear: this assumes you are not one of the unfortunate souls that is always on the verge of bursting a blood vessel due to a mistake they committed in-game. This article will learn about the Karnox gaming chair ASSASSIN - GHOST EDITION and its many features. As far as gaming chairs go, it's probably a good idea to familiarize yourself with how to sit in one before anything else. However, here are some options and guides on gaming chairs for a heavy person by Autonomous. In spite of having the greatest features available in a black fabric gaming chair, you'd be amazed at how little good it does you if you spend the whole time slumped over. Autonomous also has a guide on the 5 benefits of a gaming ergonomic chair for you.
Why Go For Karnox Comfortable Recliner Gaming Chair
The Karnox gaming chair ASSASSIN - GHOST EDITION has a unique tilt mechanism that allows it to adjust to the user's seating preferences. The seat and backrest are upholstered in luxurious PU leather and cushioned with high-density molded foam. This comfortable recliner gaming chair's slick design is why it's so popular with gamers across the globe. A lumbar and head cushion is supplied for your convenience if you are seeking for additional comfort. With a class 4 gas piston, height adjustment is done pneumatically and flawlessly. The armrest is movable, so you may use it to prop yourself up or push it out of the way altogether. This best gaming chair recliner comes with the same 10-year guarantee as all other Karnox products. An added benefit of purchasing a gaming chair from Karnox is that it comes with free shipping and good customer support. The detachable head and lumbar pillows are a nice bonus for those who don't like to use them all the time, in addition to the mold-shaping fabric. This 4D armrest gaming chair comes with a seat height adjustment, lumbar support, as well as a 90-degree to a 155-degree reclining backrest are all included in this carbon fiber gaming chair features list. For the seat and back, the frame, and all other components, you have two-year warranties, a lifetime guarantee, and a 10-year warranty.
Karnox Gaming Chair ASSASSIN - GHOST EDITION:
Emerges from the gloomy shadows
For the Karnox gaming chair ASSASSIN - GHOST EDITION, black carbon fiber fabric with suede stitching is used; the joint with red stitching is very stylish. The addition of the embroidered softens the otherwise plain appearance of this chair. In order to properly depict the ferocity and intensity of the ASSASSIN series, the red color of the surface might be used.
Intuitively soothing
A blend of carbon fiber fabric and luxury suede fabric is used to cover the Karnox gaming chair ASSASSIN - GHOST EDITION's uppers, delivering a soft and opulent appearance and feel while also allowing for optimal ventilation.
High quality and long-lasting
Low-key yet opulent: red and blue suede lines. The back's carbon fiber leather reflects the most accurate impression of motion.
Five-star smoothness on the wheel
PU caster wheels with a 3.0' diameter and a 5-star wheelbase provide the chair with greater gliding motion and improved base support and stability. The aluminum castors used in the ASSASSIN series allow the chair to move more easily on a variety of surfaces.
At a glance, everything is put together.
Using the Allen Key supplied, your Karnox gaming chair ASSASSIN - GHOST EDITION can be put together in no time flat. Nothing could be simpler.