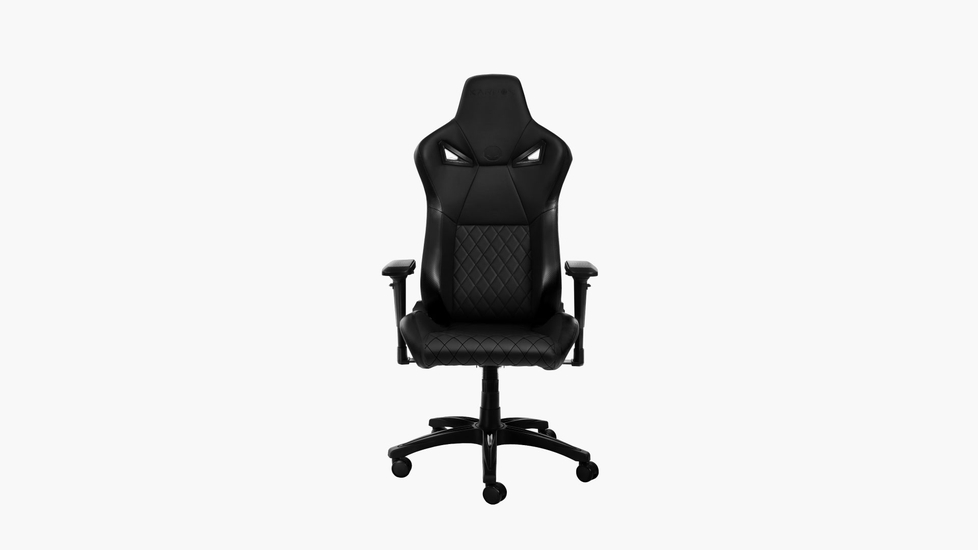 Karnox Leather Gaming Chair
19 Bewertungen
Visit our store
Kostenloser & flexibler Versand
Color:

Not available

Not available
Jetzt kaufen
In den Warenkorb legen
Kostenloser Versand Dec 04 - Dec 06 KOSTENLOSE 30-tägige Rückgabe.
Gekauft von 1+ Sylvesterllc Mitarbeiter.
Verkauft und versandt von Karnox
Karnox Leather Gaming Chair auf einen Blick.
With tilt mechanism which enables the chair to effortlessly adapt to user's sitting preferences, Rich PU leather wrapped around high density contoured foam PU leather Gaming Chair by Karnox marries sharp looks with peak performance.
• Head and lumbar pillow included
• Adjustable height and seat tilt
• 4D armrest
• 90°-155° reclining backrest
• High density mould shaping foam
• Class 4 gas piston
Tief in die Spezifikationen eintauchen
Merkmale
FAQs
Spezifikationen
Bewertungen
5.0
Karnox LEGEND TR PU Leather Gaming Chair: The Ultimate Gaming Seat Experience
The Karnox LEGEND TR PU Leather Gaming Chair is a premium gaming chair option that has all the features you need to feel comfortable during your gaming sessions. This all-black gaming chair is the leather equivalent to the fabric gaming chair by the same brand. Like its counterpart, this black leather gaming chair has some of the best features you can find in an ergonomic chair, plus everything you like about regular gaming chairs. These elements, combined with the affordable price, make this chair perfect for any gamer out there looking forward to improving their gaming setup and taking their game to the next level.
Benefits of a PU Leather Gaming Chair
Polyurethane leather or PU leather is an excellent alternative to regular leather. It is also known as "bicast" or "split leather." At first, this leather type was intended for the shoe industry, it evolved over time, and now it is possible to adapt it to furniture pieces. The Karnox Legend TR PU Leather Gaming Chair is a perfect example of this. It is known as "split" leather due to the combination of a polyurethane coating and vinyl leather. Thus, it does contain "real" leather, but it has been "split" to build a thinner layer of it. All of this may sound a bit complicated, but it is more beneficial for the end-user than you think. PU leather is more affordable as it is easier to produce. No worries if you don't know how to clean a leather chair. PU leather is quite easy to clean and maintain throughout the year. The finish has better color. It looks darker than regular leather. While regular leather needs constant maintenance to keep it good-looking and functional, PU leather is easier to maintain. Unlike traditional leather, PU will not absorb water under any circumstance. Thus, your gaming chair is safe from certain liquids. It is a better option for sustainability. Plus, it is completely vegan.
Why choose a black leather gaming chair?
Gaming chair furniture has evolved throughout the years. Hence, now we have access to multiple options that combine affordability, sustainability and comfort. The Karnox Legend TR PU Leather Gaming Chair is the perfect all-black gaming chair for any gaming setup or office for these and more reasons. It includes head and lumbar pillows that will contribute to your comfort as you continue with your usual activities. Thanks to the 4D armrests and reclining features, you will be able to find the optimal position based on your unique body proportions. The thick padding will keep you comfortable regardless of how many hours you spend sitting. Of course, moving around for a while will help you feel more comfortable! If you always wanted a blue and black gaming chair, now you can find it at an excellent price. Furthermore, as a 4D armrest gaming chair, you can be sure that you'll be able to personalize it more than you would be able to in regular gaming or office chairs.
Benefits of 4D Armrests
4D armrests are a recent addition to the market. In the past, armrests were fixed, and you weren't able to change your arms' position as you went on with your routine. However, thanks to this technology now you can modify the following features: Height - Position (forward/backward and left/right) - Rotation. These elements are easy to adjust and adapt to. Thus, it is highly convenient for people that tend to change positions frequently and would like a more "dynamic" design for their ergonomic chairs. You should also know that a 4D armrest gaming chair will contribute to your posture more than you think. Experts recommend adjusting your armrests to align your shoulders correctly. This will help you avoid slouching and will help you maintain your shoulders in a comfortable position to avoid pain. Many gamers worldwide use the Karnox LEGEND TR PU Leather Gaming Chair to improve their performance. Plus, it is durable, comfortable and sustainable.
About Karnox
First established as a car seat manufacturer in 2009, Karnox has become one of the leading gaming chair brands since they added these furniture pieces to their catalog in 2014. Most of their designs follow the same car seat pattern that most gaming chairs have. Besides gamers, their clients also include office workers and businesses. The Karnox Legend TR PU Leather Gaming Chair has become one of their best sellers in all of its variations.