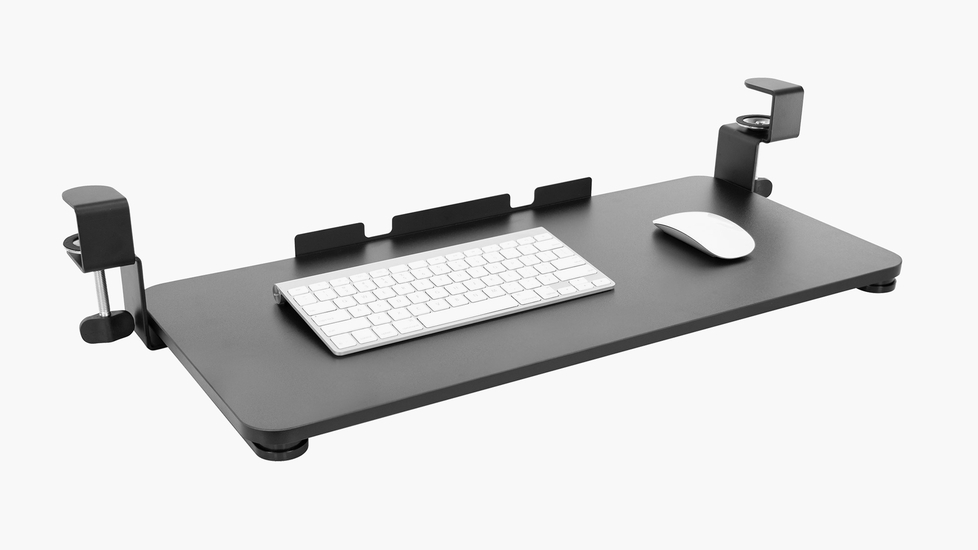 Mount-It! Under Desk Keyboard Tray: Clamp-On
102 Bewertungen
Visit our store
Kostenloser & flexibler Versand
GroßbestellungSparen Sie bis zu 

10%
Jetzt kaufen
In den Warenkorb legen
Kostenloser Versand Dec 07 - Dec 11 KOSTENLOSE 30-tägige Rückgabe.
Verkauft und versandt von Mount-It!

Price Match Guarantee
• MI-7147 is compatible with most keyboards on the market • Free up desk space by mounting your keyboard under your desk • Easily position the mount by simply pulling or pushing the plate • Adopt a neutral working posture to increase ergonomics Dimensions: 26.4" L x 11.8" D
• 10-year warranty
The MI-7147 clamp-on keyboard tray saves space by mounting your keyboard underneath your desk.
Tief in die Spezifikationen eintauchen
Merkmale
FAQs
Spezifikationen
Bewertungen
4.6
An additional keyboard tray may be necessary for certain users. They use it as a supplementary attachment to address the keyboard's height and the tray's tilt. You may have observed similar troubles if you've positioned your keyboard immediately in front of your PC display at the same height. Typing becomes more difficult and taxing if you don't have an ergonomic clamp-on adjustable keyboard and mouse tray. It's a large clamp-on keyboard tray that can be adjusted to maintain your mouse and keyboard in the best possible position for typing. It is easy to move your arms about in an ergonomic workplace with the help of such devices. This best clamp-on keyboard tray allows you to keep your arms closer together, which improves your posture while working. The use of a clamp-on keyboard tray under the desk is a wonderful approach to maximize ergonomic advantages and increase worker comfort. A keyboard tray may enhance the overall ergonomics and usability of a workstation when used in combination with a fixed height desk or a sit-stand desk with a restricted range of adjustment. For nearly every application, Workrite provides a wide range of keyboard tray systems and also separate keyboard platforms with keyboard arms. However, here are the 12 best work from home accessories for you on Autonomous.
Why Go For Mount-It Clamp-On Adjustable Keyboard And Mouse Tray
"Keyboard trays are an excellent ergonomic solution, even if they aren't very stylish". As a long-standing workplace staple, keyboard trays are not going away any time soon. They're not very stylish, but they're an excellent ergonomic solution for ensuring that users' arms, forearms, and hands are correctly aligned when typing. They are always working to make ergonomics "cool" so that everyone can work more comfortably and more productively. Even if you don't think keyboard trays are great, it's crucial to understand how and why they've been there for so long. A clamp-on keyboard and mouse tray is indeed a desk platform that may be installed underneath your desktop. In addition to sliding completely beneath the desk while not in use, most keyboard trays also have wheels. Most mechanical designs are similar to the one shown in the figure. Both standing desks as well as sitting workstations like a SmartDesk Core benefit from a clamp-on adjustable keyboard tray. The addition of a keyboard tray may greatly improve the ergonomics of your work and home office.
Working Of Mouny-It Clamp-On Adjustable Keyboard And Mouse Tray
Using a clamp-on adjustable keyboard and mouse tray, you may remove your keyboard from your desktop and modify its height, tilt, and position in relation to your body. Thanks to this modification, your desk, and displays will be raised, but your typing position and posture will remain the same. It is possible to alleviate upper back, neck, and wrist discomfort caused by bad typing posture with the usage of a keyboard tray. By lowering and bringing your mouse and keyboard closer to your body, Mount-It clamp-on adjustable keyboard and mouse tray helps you maintain a balanced working position. Push or pull the plate to modify the location of the mount. You don't have to drill into a desk to use this mount. Desks with a thickness of up to 1.5" will be accommodated. Your wrists are appropriately positioned if you don't place the keyboard directly on the desk. Reduces these shortcomings and guarantees that wrists are at 15 or 30 degrees while you're standing by using an ergonomic keyboard tray beneath the desk. Add a keyboard tray if you're experiencing pain in your wrists or shoulders due to repeated strain or carpal tunnel syndrome. Some of the greatest ones have been gathered for your consideration.
Bottom Line
An adjustable keyboard tray allows you to place the keyboard exactly where it needs to be so that it is more comfortable for you. Your arms, wrists, and hands may hurt if your keyboard is too high or low. A common problem when using a desk with a set height. It doesn't matter what your height is if you have a clamp-on adjustable keyboard and mouse tray on your desk. It is possible to utilize a regular fixed-height desk with an adjustable keyboard arm for persons of varying heights by simply sliding the keyboard tray up or down.