Autonomous ErgoChair Pro
- Ergonomic Office Chair
$499
Kostenloser & flexibler Versand
Kaufe jetzt
In den Warenkorb legen
Kostenloser Versand Jun 04 - Jun 06. Kostenlose Rückgabe am 30 Tag.
Bought by 2,700+ Google employees
Verkauft und versandt von Autonomous.
Autonomous ErgoChair Pro auf einen Blick.
Vollständig einstellbar, absolut förderlich und super atmungsaktiv. Dieses Modell bietet alles.
• Höhe, Armlehne und Sitzneigung sind einstellbar
• Sanftes Zurücklehnen mit 5 einstellbaren Positionen
• Flexible Lendenwirbelstütze für jede Sitzposition
• Voll unterstützend bis zu 136 kg
• Gewebter Netzrücken für optimale Luftzirkulation
• 100 % umweltfreundliche Materialien
• 2-year warranty
Tief in die Spezifikationen eintauchen

ERGOCHAIR PRO
Für jeden Teil von Ihnen.
Jedes Element, das Sie sehen und fühlen, ist darauf ausgelegt die Mobilität zu erhöhen und Schmerzen zu beseitigen. Denn alles beginnt mit Ihrem Wohlbefinden.
STABILISIERENDE RÜCKENLEHNE
Korrigiert Ihre Körperhaltung.
Mit einstellbarer Vorspannung und 22° Neigung. Einstellbar in 5 verschiedenen Positionen, die Ihre Wirbelsäule stabil halten und Ihren Lendenwirbelbereich stützen. Außerdem ist der Stuhl mit ultra atmungsaktivem Netzgewebe ummantelt, das für sanften Widerstand sorgt und so die Körperhaltung verbessert.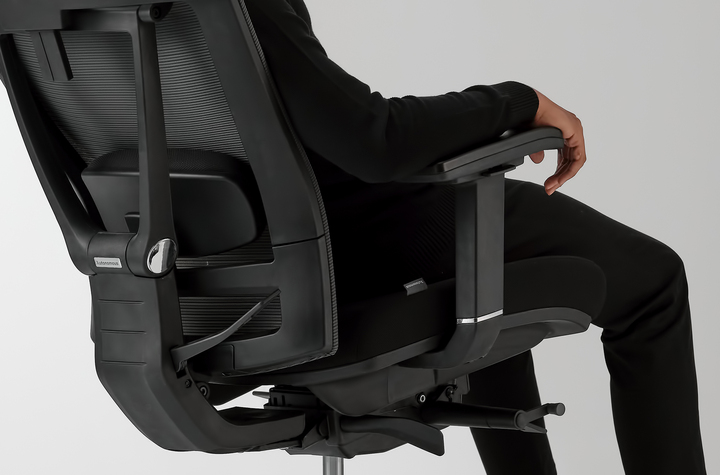 GLEICHMÄßIGES ZURÜCKLEHNEN
Bekämpft Müdigkeit.
Rückenlehne und Sitz bewegen sich in einem ergonomischen Verhältnis von 2:1, sodass Sie sich zurücklehnen und dehnen können, ohne Ihre Beine, Oberschenkel und den unteren Rücken zu belasten. Beenden Sie Ihren Tag mit so viel Energie, wie Sie ihn begonnen haben.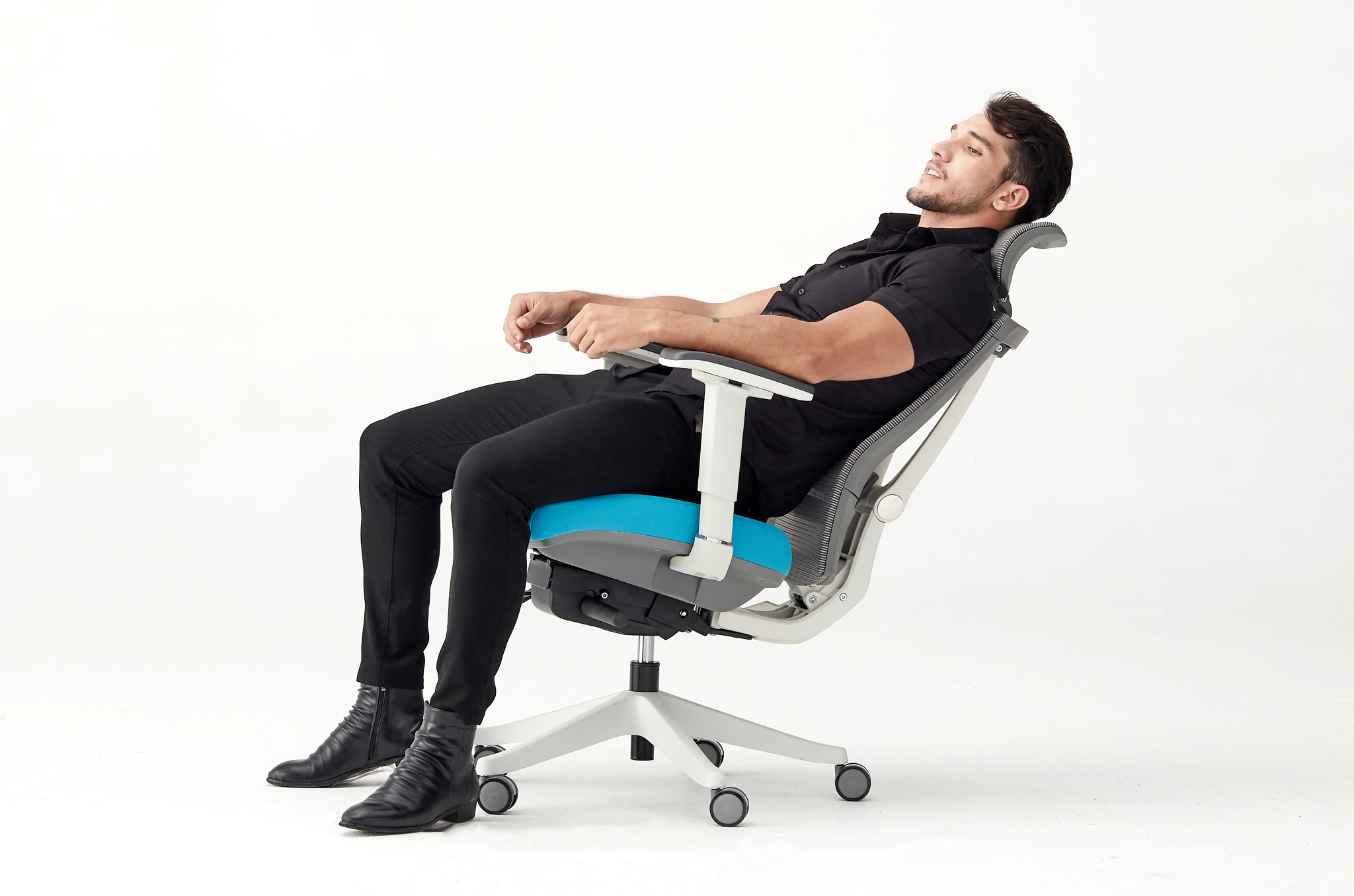 REAKTIVE LENDENSTÜTZE
Befreit von Rückenschmerzen.
Das flexible Lendenkissen schützt die natürliche Krümmung Ihrer Wirbelsäule und lindert sowohl Schmerzen als auch Steifheit. Anstatt die Krümmung nach innen zu bestimmen, passt es sich der einzigartigen Form Ihres Körpers an und bietet maßgeschneiderte Stützung.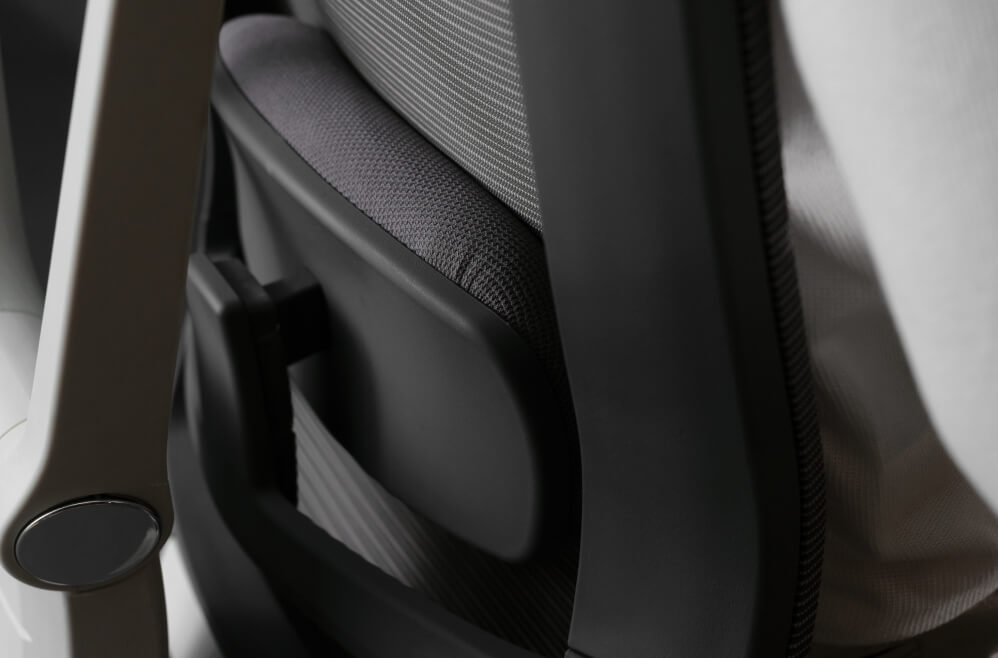 VERSTELLBARE KOPFSTÜTZE
Verhindert das entstehen eines Buckels.
Sowohl die Höhe als auch der Neigungswinkel sind einstellbar, sodass Sie Ihren Nacken nicht mehr belasten müssen. Entdecken Sie die 45° Flexibilität, um die ideale Stütze zu finden - egal ob Sie am Schreibtisch schreiben, auf einen Monitor schauen oder sich zum Entspannen zurücklehnen.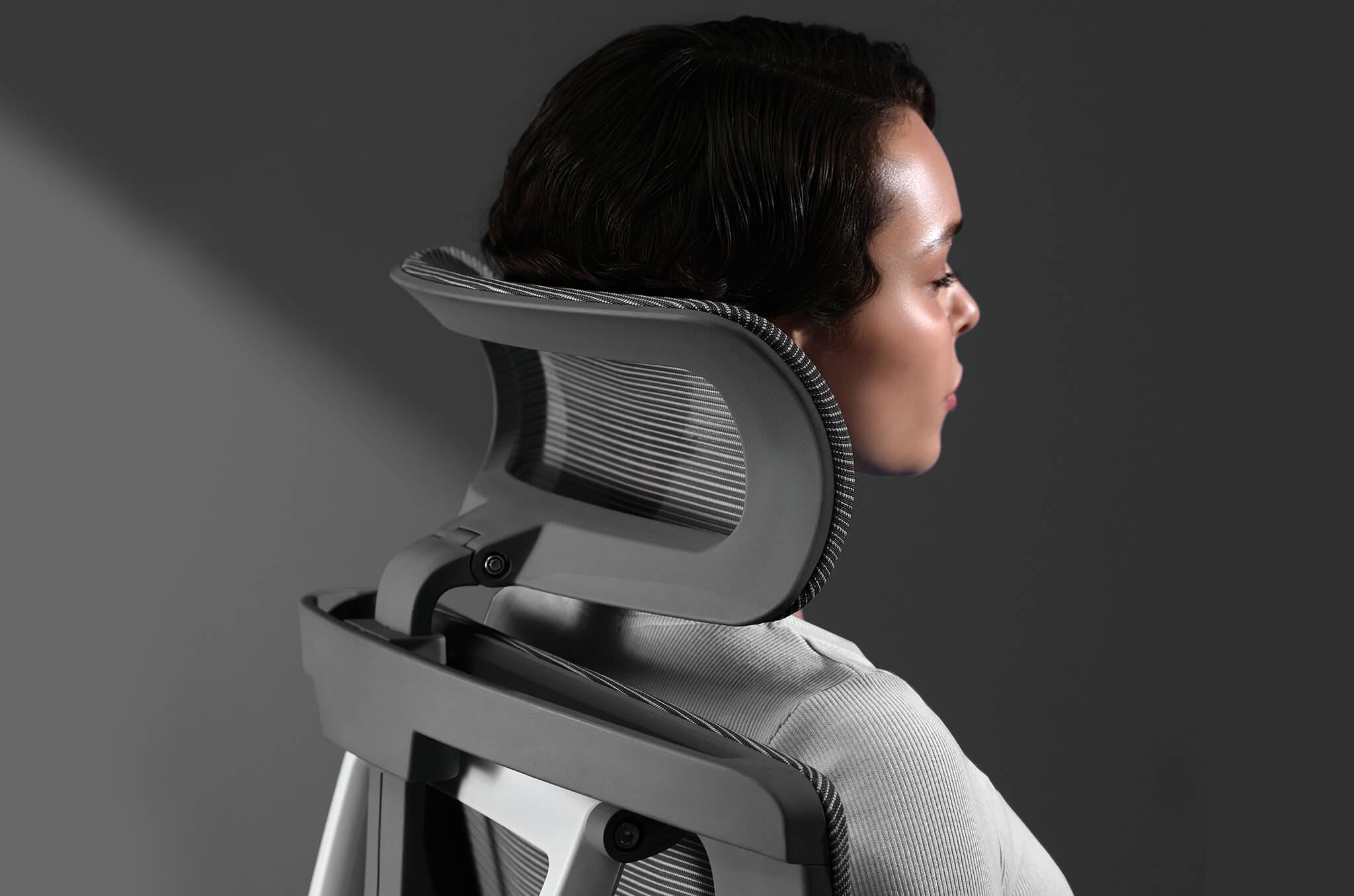 WASSERFALL SITZSCHALE
Verbessert die Durchblutung.
Komfortabel geformt mit abgerundeten Kanten für eine dynamische Druckverteilung von bis zu 136 kg. Unverzichtbar, um eingeengte Blutgefässe freizulegen und die Lendenwirbelbereich zu entlasten.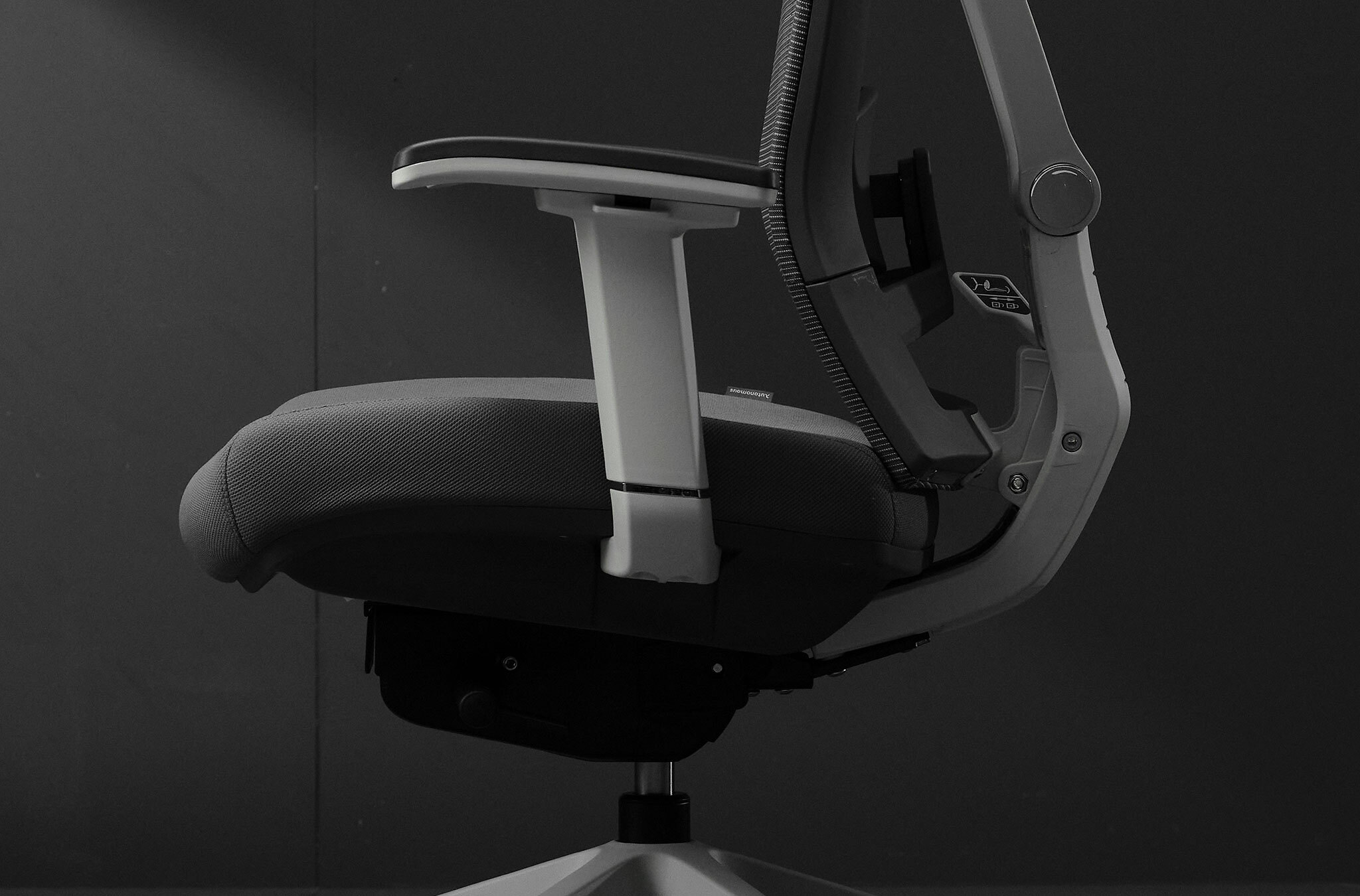 EINSTELLBARE SITZNEIGUNG
Stärkt Ihren Körperkern.
Mit einer einstellbaren Neigung von 10° können Sie Ihr Becken richtig ausrichten und eine gleichmäßige Beanspruchung der Rücken-, Seiten- und Rumpfmuskulatur sicherstellen. Außerdem wird Ihr Becken in einer neutralen Position gehalten, um zukünftigen Haltungsproblemen vorzubeugen.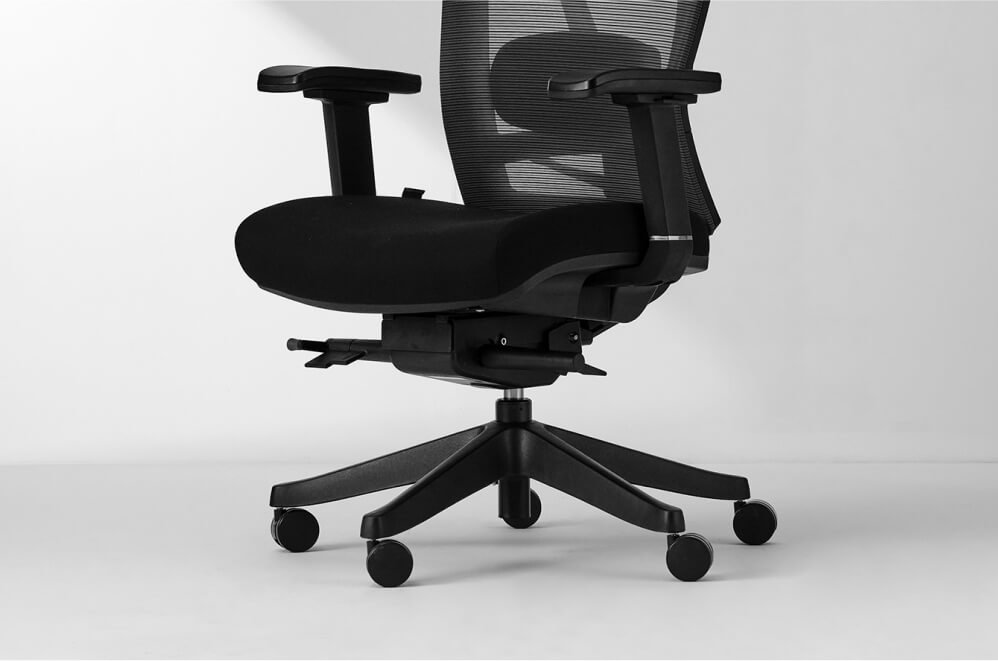 STRUKTURELLE INTEGRITÄT
Für Ihren Seelenfrieden.
Rigoros getestet für eine breite Spanne von Gewichten und Größen. BIFMA-zertifiziert auf Langlebigkeit und Sicherheit, so dass der Stuhl Sie mit Sicherheit eine Weile begleiten wird.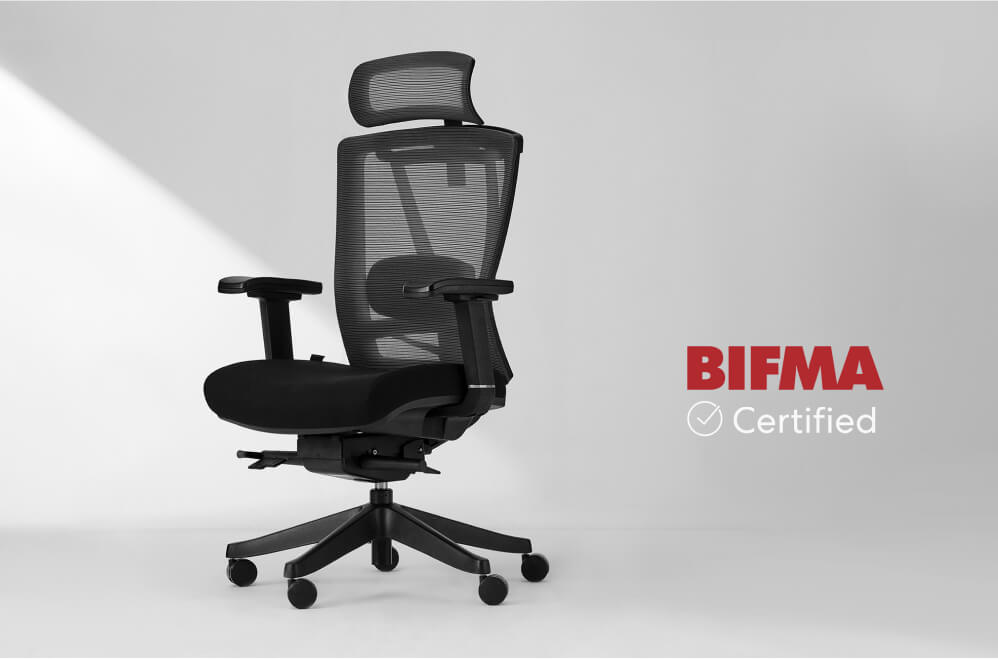 All Black ErgoChair Pro – The Best Black Ergonomic Office Chair for Your Office
Everyone wants a stylish office chair for home office, but ergonomics plays a big role, too. With Autonomous, you don't have to suffer one for the other because it offers many styles and colors. The ErgocChair Pro is a great choice, and it's the best black ergonomic office chair for various reasons. It's important to know why you need an all-black office chair and why the ErgoChair Pro is an excellent option. With so many all-black office chair options out there, it can be tough to know which one to get. However, the ErgoChair Pro is a black executive office chair that can meet all of your needs, provide optimal support, and looks great in any home office setting. You can't go wrong with it, and you can find it available from Autonomous. Boosting productivity could be as easy as painting the walls, but having a black ergonomic chair can tie everything together. Let's learn about this amazing black office chair for sale to find out why you should buy the ErgoChair Pro from Autonomous.
High-quality Material
Finding a black office chair for sale is easy, but you must ensure it's made with high-quality materials. The ErgoChair Pro has updated foam seats that are soft and very supportive. They keep their shape with time, so you don't have to deal with the imprint of your behind, making it comfortable throughout the years. The seat is covered in a breathable fabric to ensure that you stay comfortable and fresh throughout the workday. There's also a mesh fabric, which is breathable and durable. It promotes airflow, and the materials are made from recycled and environmentally-friendly things. Since it's so stable and solid, it can support a body weight of up to 300 pounds.
Headrest - Back and Lumbar Support - Tilting Abilities
You're going to enjoy the headrest on this black ergonomic office chair. It's actually tilt- and height-adjustable. Lift/lower it to fit the natural curve of the back of your head. Then, move it forward and backward so that your head is in line with your spine. Consider moving it up and down until it's in the right location for the back of your neck, too. Typically, the black executive office chair goes for looks instead of support. However, the ErgoChair Pro features a flexible lumbar system, so you get what you need from it. There's a patented system that helps you choose what pressure you need to maintain and fix your posture throughout the day. It's simple to use, too. Utilize the handle at the back to make any changes. The support cushion is there to help tall, short, and medium-height people because it offers a 6-centimeter range. Consider adjusting it a few times when you first get the all-black office chair to determine where the spine naturally curves. Sometimes, you just don't want to sit up straight. You may be thinking or on the phone, but you don't want to stand up. The ErgoChair Pro offers excellent tilting abilities with a 20-degree range of motion. This black ergonomic office chair is easy to adjust, too. Flip the handle to unlock its backrest feature. Lean forward and backward until you're in the right position. Next, flip that handle down to lock everything into place. You can sit up straight with great posture and still recline.
Why Choose the All Black Office Chair Color?
Most people want an all-black office chair for various reasons. Let's check out the most common ones. Black ergonomic office chair is Delightful and Charming. Black is actually a charming color, especially when you pair it with bold colors throughout the rest of the office. The sleekness of the chair is so inviting that you're going to be delighted to sit down and start your workday. Black executive office chair shows Professionalism. A black ergonomic chair is more professional than other colors. Black indicates that you're ready to work, and you don't need bold and brassy shades to show off. You're there for the task at hand, which is great if you have clients in your home office. It also shows well in virtual meetings. Easily Matches Décor with black office chair for sale. The black ergonomic office chair from Autonomous easily matches any décor options. Therefore, you can pair it with a wooden desk, and it's still going to look great with bold pops of color to impress and relax the eyes.
Häufig gestellte Fragen
Sie sehen die Antwort auf Ihre Frage nicht?
Kommen diese Stühle zusammengebaut?
Unsere Stühle werden unmontiert geliefert. Sie müssten es zusammenbauen, es sind jedoch nur einfache Schritte erforderlich, und wir fügen dem Paket auch das gesamte benötigte Tool hinzu.
Wie viel wiegt der Stuhl?
Der Ergochair kann bis zu 350 Pfund tragen.
Was sind die Sitzabmessungen?
Die Sitzlänge und Sitzbreite beträgt ca. 20 Zoll.
Können die Armlehnen abnehmbar sein?
Ja, die Armlehnen werden nicht vormontiert geliefert, sodass Sie die Möglichkeit haben, sie zu installieren oder nicht.
Woraus besteht der Stuhl?
Der Stuhl ist aus hochwertigem, atmungsaktivem, aus Korea importiertem Polyestergewebe gefertigt, mit einem geformten Schaumstoff-Innenraum und einem haltbaren Nylon-Kunststoffrahmen.
Was sind die Abmessungen und das Gewicht der Box?
Die Box ist 29 "L x 27" B x 19 "H und wiegt 67 Pfund.
Der Stuhl wiegt 48,5 Pfund.
Was sind die Abmessungen des Stuhls?
Die ErgoChair 2-Abmessungen betragen 29 "L x 29" B x 46-50 "H.
Deckt der Preis Steuern ab?
Nein, der angegebene Preis enthält keine Steuern.
Kann der Stuhl in der Liegeposition arretiert werden?
Was deckt die Garantie ab?
Die Garantie deckt alle Herstellungsfehler ab.
Die Stühle stehen tief am Boden.Wie hoch ist dieser Stuhl für uns große Leute?
Der Sitz des Stuhls befindet sich 18-20 Zoll über dem Boden.
Muss ich bei Rücksendung den Versand für Ihre kostenlose 30-Tage-Testversion bezahlen?Wie funktioniert der Rückversand?
Wir übernehmen gerne die Versandkosten, wenn Sie vor Ablauf Ihrer 30-tägigen Testphase eine Rücksendung beantragen.