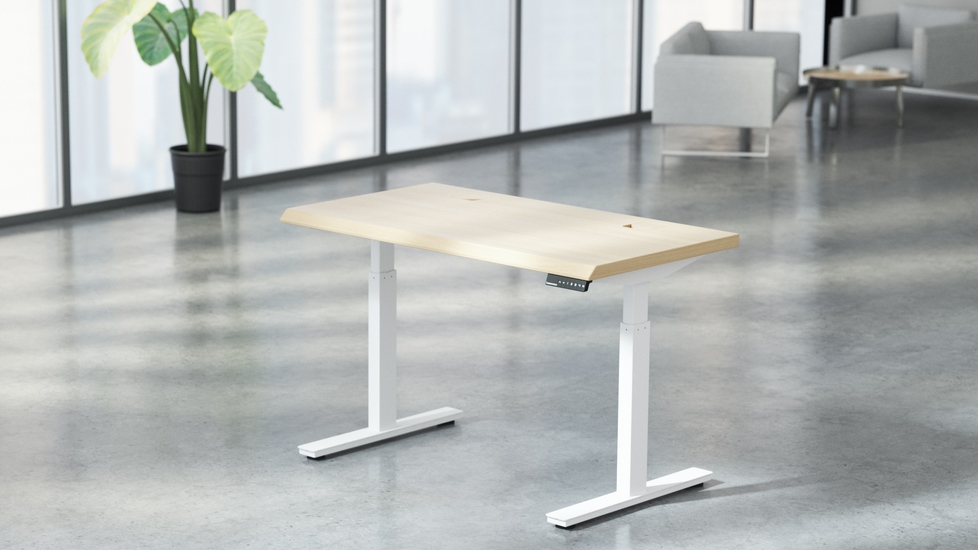 Autonomous SmartDesk Chunky Oak
Bought by 7 Lithic employees
FREE shipping Mar 31 - Apr 03. FREE 30-day returns.
Verkauft und versandt von Autonomous.
Shop 5+ items, get FREE GIFTS!
Limit of 1 gift/unit ordered.
Autonomous SmartDesk Chunky Oak auf einen Blick.
Upgrade the look and feel of your workspace with this 1.6" thick table top in a gorgeous blonde oak finish.
• Warp-proof MDF wood.
• Premium oak veneer.
• Compatible with Core/Pro frame.
• Available in 2 sizes
• Desk top thickness of 1.6"
• 45° tapered edge
• 5-year warranty
Tief in die Spezifikationen eintauchen
An Oak standing desk is a fantastic tool for alleviating the problems that come with sitting behind a desk for far too long. The many advantages of utilizing a standing desk, like a SmartDesk Pro, have proved it quite popular. When standing desks initially came out over the market, the sorts of materials utilized for the desktops, as well as the colors, sizes, and forms available, were quite limited. On the other hand, customers have a broad range of options because of a large number of standing desks accessible. An Oak standing desk is one of the many materials available for standing workstations.
What Is An Oak Standing Desk?
A standing desk with an oak desktop is known as a solid oak sit stand desk. Oak refers to wood that has been processed directly from trees. Because it was cut from a tree, this form of wood differs from engineered wood. Engineered wood is made out of wood fibers that have been adhered together with adhesives. Oak is solid and hard with a natural deep grain that has a texture you could see and feel. Oak is incredibly practical and utilitarian since it is resistant to knocks and dents. A robust oak dining table is suitable for daily usage, particularly for families with small children, which is why an oak standing desk is also known as the "best wood standing desk."
Why Go For An Oak Standing Desk
Research shows that standing workstations improve cognitive function and raise energy levels. With an ergonomic standing desk, you'll see instant changes in your routine and better health. A standing desk has various psychological benefits in addition to its physical ones. It is common knowledge that a light wood standing desk has several advantages. From a psychological standpoint, let's look at the benefits of standing workstations, like a SmartDesk Core.
Autonomous SmartDesk Chunky Oak
A standing desk is basically a regular workstation with added ergonomic features. In general, ergonomics relates to adaptability, therefore an ergonomic desk is one that can be customized to a person's preferences. These customizable features usually include the ability to modify the height of a desk and then lock it in position. Aside from it, a standing desk is designed to keep the user standing while using it.
1. Standing Desks help to lose weight and lower blood sugar
Weight loss may be aided by standing, according to certain research. For this reason alone, it should come as no surprise that working at Autonomous oak standing desk might aid in weight loss. Standing desks, on the other hand, can be used for a wide range of activities. Standing at your workstation and doing push-ups seems like a good idea. Squats? Jumping jacks are an option. When it comes to working out, oak sit stand desks come in handy for a multitude of reasons. This will answer your question, "do you burn calories with a standing desk?" Another advantage of standing desks is their capacity to assist people to control their blood glucose levels. Decreased blood sugar levels are linked to a lower risk of illness, making a person healthier. Particularly considering sitting has the opposite effect!
2. Reduce back pain and boost office productivity
Surprisingly, standing workstations can also help those with back discomfort. Some seats aren't designed to fit the shape of a person's body, yet healthy people can stand. One of the most well-known benefits of Autonomous oak standing desks is their capacity to increase productivity. If one of the advantages of a stand-up desk is increased productivity, you might wonder, "How does that work?" If you consider the health benefits listed above, you'll note that the better a person's health is, the more competent they are at whatever they set their minds to. Logic dictates that if a person is less stressed, they should be able to function efficiently!
Häufig gestellte Fragen
Sie sehen die Antwort auf Ihre Frage nicht?
Can I use PayPal to pay for this desk?
Due to transaction limits, we can only accept PayPal payments from the 1st to the 15th of every month. PayPal's account policy permits us to accept a limited volume of payments per month, and with current sales volume, we normally reach our limit by the 15th.
This SmartDesk is available in the US only. We are considering worldwide availability so stay tuned for updates.
How long does shipping take?
Once your order is processed (less than 1 business day), shipping takes 3-5 business days for continental US addresses and 12-15 days for international orders.
Can you give me more information about your 30-Day Trial policy?
If you don't like your desk, we'll take it back. It's that simple and easy. You have until 30 days after delivery to build and use your desk. If you change your mind, you can then request to return the desk for a full refund (we even cover shipping!), no questions asked. This policy applies to all desks delivered inside continental U.S. and returned in their original packaging only. International orders do not qualify for this program. Please note that the returned standing desk needs to be in its original packaging. If not, we reserve the right to refuse your request.