Autonomous ErgoChair Recline
- Reclining Ergonomic Chair with Footrest
Buy now
Add to cart
FREE shipping Jun 08 - Jun 12. FREE 15-day returns.
Bought by 700+ Facebook employees
Sold and shipped by Autonomous.
Autonomous ErgoChair Recline at a glance.
When it comes to getting work done, ErgoChair Recline means business—and when it's time to rest, simply lie back, relax, and put your feet up.
• Adjustable height, armrests, lumbar support, and recline
• Adjustable headrest and leg rest
• Comfy, supportive foam seat
• Reclinable mesh back with lumbar support
• Comfortably carries up to 250 lbs
• 2-year warranty
Deep dive into specs
HEADREST & LEGREST
Ultimate loungeability.
ErgoChair Recline features true top-to-toe comfort built in.

• Adjustable headrest
Great for spine health and key for relaxation. Made of the same responsive mesh as the backrest.

• Extendable leg rest
For when you really want to stretch out. Simply kick it back when not in use. Made of soft vegan leather.
WEIGHT-ACTIVATED MECHANISM
18° of effortless recline.
Not all reclines are created equal. This chair responds to your body weight and keeps your spine stable every step of the way. So you can move freely – and safely – without putting strain on your shoulders, neck, arms, and back.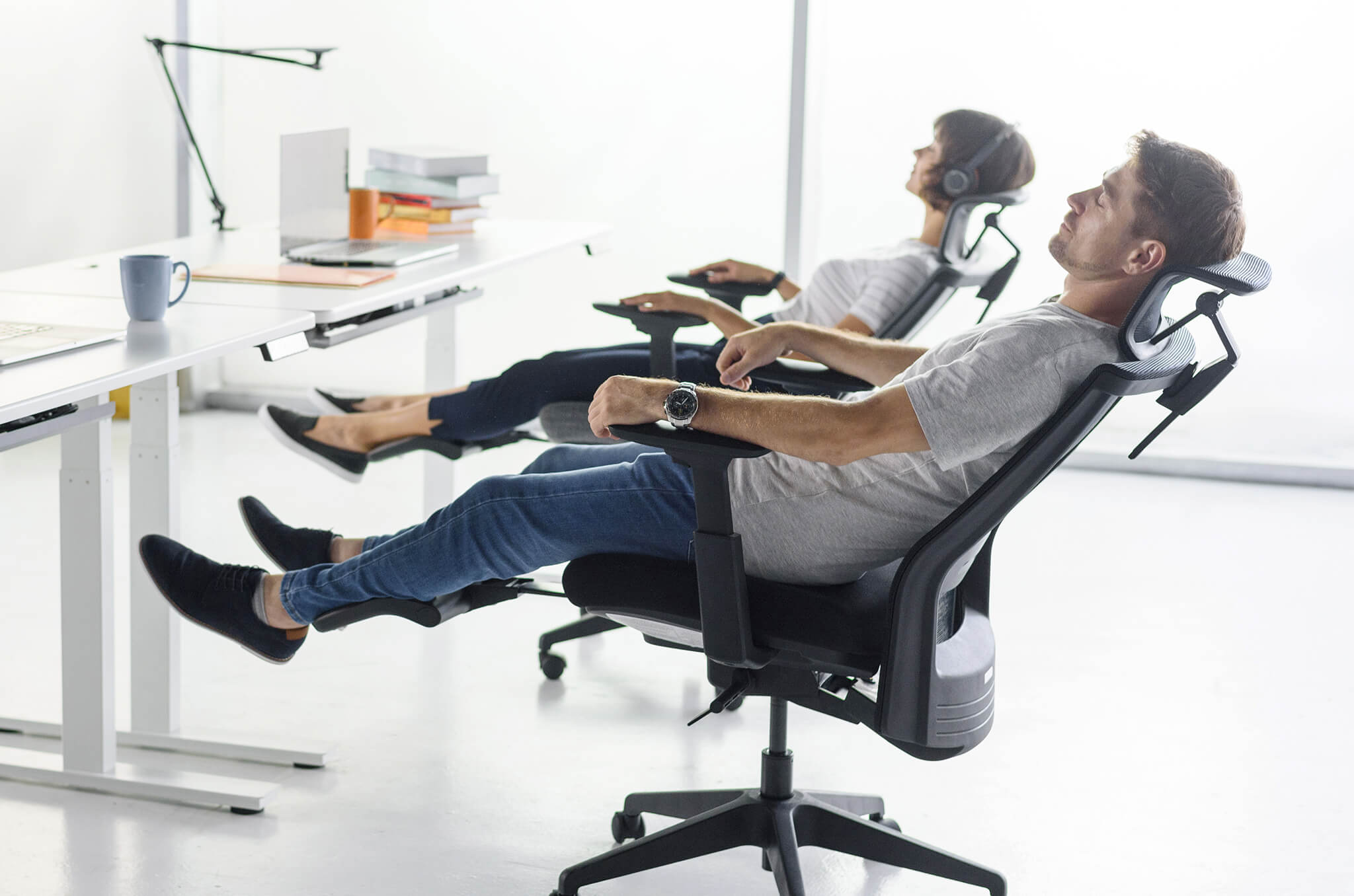 ADJUSTS TO YOU
When comfort is easy.
Our most user-friendly and customizable chair. Just 2 intuitive levers help you tailor support for any posture. Stay minimal, or add a headrest and leg rest for full-scale comfort. Your body needs to move, and this chair makes it easy to.
HEIGHT-ADJUSTABLE PAD
Adjustable lumbar support.
Subtly arched to support the natural curvature of your spine. Easily adjustable because everyone is different. Have great posture whether you're sat upright in focus mode, or leaning back to take a power nap.
RESPONSIVE FABRIC
Breathable mesh back.
For keeping your cool. Designed for max airflow, woven for strength, and BIFMA tested for durability. With a little stretch to inspire movement, it also contours to your body to ensure both pressure and weight are distributed evenly.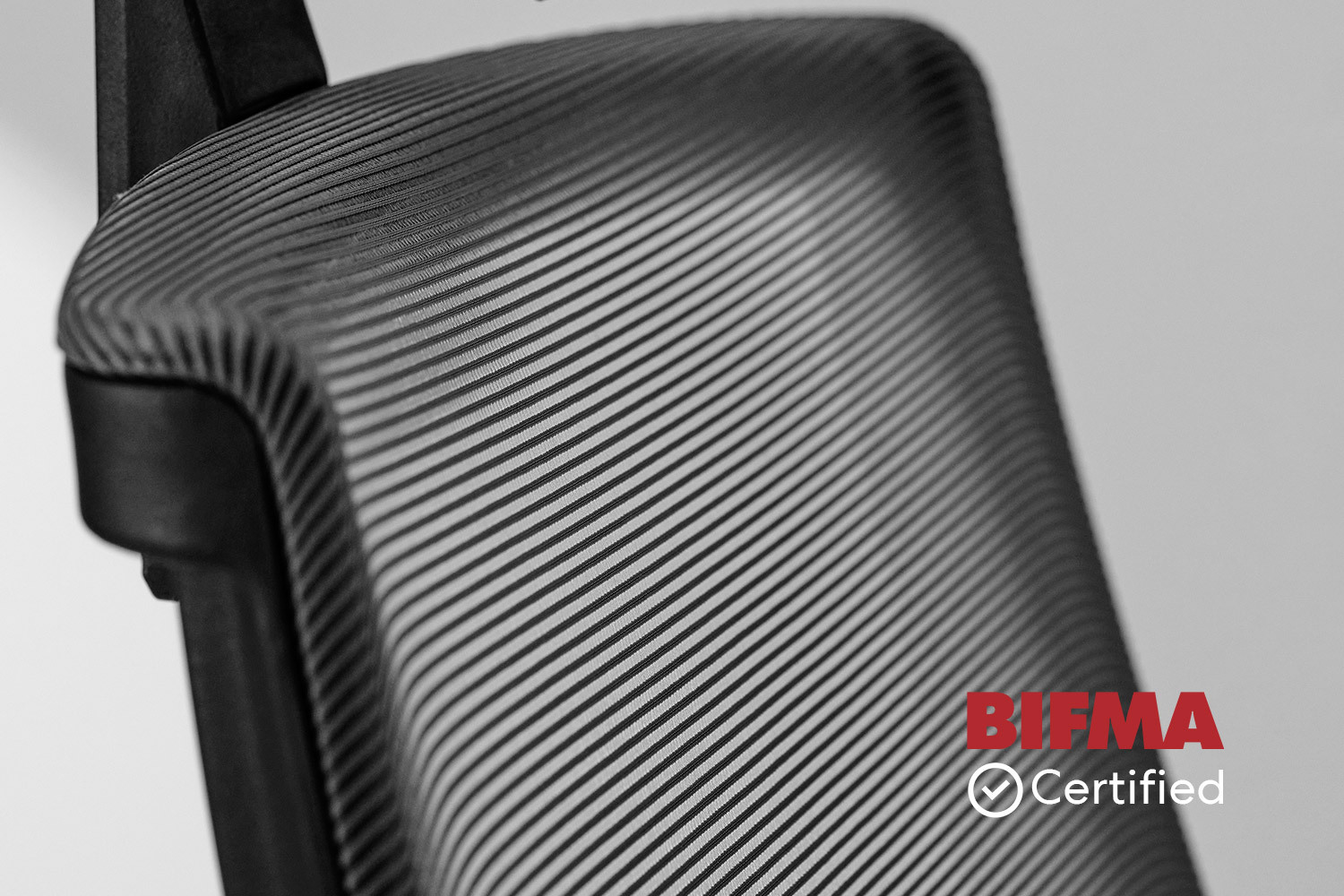 Why Should You Invest in a Reclining Ergonomic Chair?
Many people are now starting to realize that reclined sitting is the best posture. If you're thinking of getting a reclining ergonomic chair for the computer, it's important to choose the right one. However, sometimes, it's hard to think of reasons to invest in a reclining office chair with footrest.
Adjustable Armrests
Reclining desk chair can come with an adjustable armrest for relaxation and spine health. They're fully adjustable, too. This means you can lower and raise them to meet your needs. With that, this reclining ergonomic office chair has adjustable armrests that slide forward and back. You can easily adjust them to sit comfortably in your reclining ergonomic chair! With the office chair with headrest, you can pretty much lie back, think, relax, or even take a power nap.
Back Tilt Angle and Seat Height
The back tilt angle of your office chair with headrest lets you recline back in the chair. It's at a set limit (18 degrees), and there are three positions. Typically, people rock in them, which can be dangerous. However, the ErgoChair Recline offers locking mechanisms. That way, you can stay at the right angle in your reclining desk chair. Your office chair with footrest must also have an adjustable seat height. Every office worker is different. If you all rotate workstations or have a hybrid work environment, it means everyone can work at any available station. This also means that the chairs must be fully adjustable. The reclining office chair with footrest use from Autonomous has a seat height of 18 to 21 inches. That measurement is from the floor to the top of the seat, giving everyone plenty of room to be comfortable.
Modern Appearance
Many offices are going for that modern appearance and style, with slim lines, a small profile, and a streamlined look. The ErgoChair Recline has all of that, and more! You can choose cool gray or all black for the color. Every computer chair with leg rest needs to use durable materials. The ErgoChair Recline uses polyester fabric with a molded foam interior for optimal comfort. From there, the frame is made of nylon plastic, which is strong and sturdy without adding chemicals. You can have an extremely comfortable reclining ergonomic office chair with all the trimmings to be comfortable and stylish while working.
How Autonomous ErgoChair Recline - Reclining Ergonomic Chair Help You
If you're thinking about getting a heavy-duty reclining office chair, now is definitely the time to do it! Here are just some of the many benefits of using a reclining ergonomic chair.
1. Back Relief: Though you can stand (if you have a standing desk) and continue working, there's something about sitting that humans enjoy so much. After sitting for long hours, your back might become strained. A reclining office chair can help with that.
2. Improve Posture: With a reclining desk chair, you don't have to slouch, and the chair moves with you.
3. Reduced Hip Pressure: Traditional chairs have hard surfaces and can put more pressure on the hips. Though the ErgoChair Recline is cushioned, reclining can prevent pressure points in the hips and buttocks.
ErgoChair Recline – Best Black Reclining Ergonomic Chair
High-Quality Material
This black reclining office chair is designed with a finely woven mesh material, which supports the contours of your back and adds to the breathability of the chair for a more comfortable sitting experience. In addition to the incorporation of mesh into the overall design of the black reclining office chair, it's also equipped with durable foam seating. This foam seat offers an optimal level of resistance for effective comfortability focused on improving the overall ergonomics provided in the design of the black reclining mesh chair. Not to mention, the structure of the black reclining office chair only includes the most robust and durable materials, such as industrial steel with anti-rust properties. Due to this, you know that this ErgoChair Recline is going to stand the test of time, which is exactly what you want from a high-quality and ergonomic office chair.
Reclining Ability - Adjustable Headrest - Ergonomic Footrest
The black reclining office chair from Autonomous provides you with the ability to recline in an instant. Now, you're able to sit comfortably as you talk on a long phone call or have a chat with a colleague sitting next to you. Not to mention, you can't think comfortably while upright, which is why the reclining feature with a footrest equipped with this black reclining mesh chair allows you to put your feet up and think about your next step in your workday. Getting comfortable has never been so easy, thanks to this black office chair with headrest features, as you're able to recline with ease, tilt back slowly, and into a zone where you're completely comfortable. One of the biggest problems with office chairs is that not enough support is given to your back. This can result in lower back problems. However, a simple addition of a lumbar support system isn't going to cure these problems completely. Sitting for too long without the right support can lower back, shoulder, and neck problems. That's why the black reclining office chair - ErgoChair Recline is equipped with a headrest. This black office chair with headrest provides your neck with the support it needs during your time in front of your desk. It's also adjustable, which allows you to customize it to your exact preferences to ensure you are as comfortable as possible. In addition to this unmatched comfortability, you're provided with effective ergonomics that aid in reducing neck and shoulder pain that results from an unsupported neck. The ErgoChair Recline by Autonomous is equipped with an Italian-designed auto-balance mechanism that switches you from an upright position to a reclining position instantly. The ergonomic footrest ensures that you remain comfortable while you're in this upright or reclining position. However, this ergonomic footrest feature is also included to help you find your optimal sitting position, as you can fine-tune the adjustability to offer the best support for your legs, feet, and back. The overall design of this office chair is lightweight and made to be simple. Gone are the days of clunky, bulky, and costly office chairs. When purchasing the black reclining mesh chair, you're provided with an elegant silhouette housing classic and simple lines, which offer a highly-adjustable ergonomic seating solution.
Black Reclining Office Chair for Your Home Office
Black has always been one of the go-to colors to include in the design of chairs and other office furniture. The main reason for its popularity is that it doesn't offer a pretentious look to your office space, and it holds the ability to take away some of the light in an office area. In addition to this, black is a color that comes highly recommended for maintenance purposes. This is largely because stains or dust aren't as visible on furniture designed with other colors. Not to mention, black is an easy color to pair with. A black reclining office chair works well with other black pieces of furniture. However, it also offers a contrast to white desks and other white office furniture. Finally, black is also known to be a truly timeless color for any furniture, especially including the color in office equipment. Black isn't likely to become outdated in furniture design as time goes on, which can't be said for more vivid colors.
FAQs
Don't see the answer to your question?
How easy is the ErgoChair Recline to recline?
It takes you only a few seconds to get the ErgoChair Recline reclined. Change the angle of the headrest and activate the footrest by pushing or pulling with a gentle force. You then can get relaxed.
I see there is lumbar support in the ErgoChair Recline? Is this lumbar support adjustable or fixed?
We build ErgoChair Recline to an ergonomic chair for computer work, therefore, the lumbar support is extremely important. ErgoChair Recline lumbar support is easily adjustable. You move the lumbar support up and down to embrace your back the best.
Is the ErgoChair Recline's headrest adjustable?
Sure! The ErgoChair Recline's headrest is totally adjustable. You can change the height and angle of the headrest easily to fit your head position or make it become a reclining desk chair while opening the footrest.
What body height range does the ErgoChair Recline support?
Our computer ergonomic chair - ErgoChair Recline, supports the body height range from 4'9 to up to 6'4 thanks to the height adjustable feature.