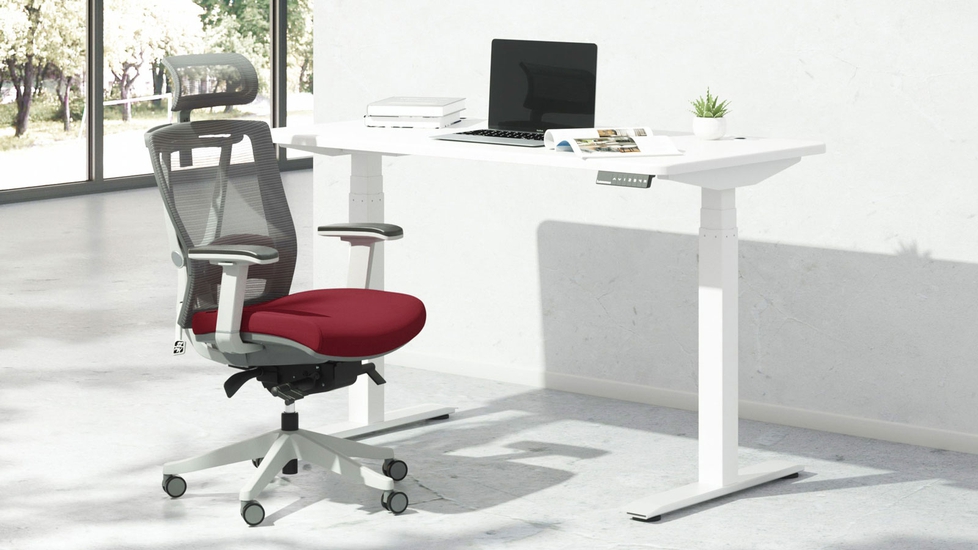 Autonomous ErgoChair Pro
- Ergonomic Office Chair
Vendu et expédié par Autonomous
Livraison gratuite Jan 30 - Feb 01

.

Retours gratuits de 30 jours
En stock
Secure payment
Quantité
Prix unitaire ($)
| Quantité | Prix unitaire ($) |
| --- | --- |
Vous avez un projet plus compliqué ?
Remplir
ce formulaire
ou appelez-nous au
(+1) 888 384 7374
Autonomous ErgoChair Pro en un coup d'œil.
Entièrement réglable, d'un soutien total, et super respirant. Ce modèle a tout pour plaire.
• Hauteur, accoudoir, appui-tête, dossier et inclinaison du siège réglables
• Inclinaison douce avec 5 positions verrouillables
• Soutien lombaire flexible pour toutes les positions assises
• Soutien total jusqu'à 136kg
• Dossier en maille tissée pour une circulation d'air optimale
• Matériaux 100% écologiques
• 2-year warranty
Plongez-vous dans les spécifications
ErgoChair Pro – The Best Red Ergonomic Office Chair for Your Office
Autonomous has the ideal red office chair for sale; the ErgoChair Pro. This durable and long-lasting product is considered to be one of the best on the market. This is the case due to the customizable options. You can completely adjust your chair so that you can gain the maximum benefit from it. Style, health, and wellness have never been easier to achieve!
High-quality Material
The luxurious Korean mesh back and different color options of the seat provide both style and comfort. The materials used are breathable. This is important because it affects productivity. A thicker material causes you to sweat, which can negatively impact your productivity. The mesh backing of this red ergonomic office chair is responsive to your body and allows your body to stay cool; thus, enabling maximum comfort.
Headrest - Back and Lumbar Support - Tilting Function
This unique component is extremely useful. Move the headrest up and down or change the angle of it to suit your needs. The headrest offers complete support and comfort for your neck. Most people complain about a sore back after a day at the office. The red ergonomic office chair ErgoChair Pro provides complete support for your back, which helps to maintain the correct posture. The multiple adjustability features ensure that back pain is not something you have to worry about again. The tilting mechanism provides complete support for your entire body. The 360-degree rotation function makes sure of this. This flexibility is a key component of an effective ergonomic chair.
Why Choose the Red Ergonomic Chair Color
Ergonomic office chairs have increased in popularity recently. With so many different styles and colors, how do you know which one to choose? Office chairs should be completely adjustable so that you can experience the physical and mental advantages. Color is also something to consider. A red ergonomic chair, for example, is perfect for those who need a little more motivation in the office. Essentially, there are various factors you should consider when choosing your office chair. Red is a very attractive color. It is associated with various things, such as love and urgency. A red working environment could stimulate so many things in you that are going to contribute positively to your daily office routine. You should choose a red executive office chair because a red ergonomic office chair is a Symbol of Passion- Inspiring to Others. Red affects our emotions to great extents. It brings out a fire in you. This can help you become more driven and focused. Use this color to make you more passionate about your work so that you can become more successful and inspire others to do the same. Red Increases Your Heart Rate and Blood Flow. This stimulating color is known for its ability to boost productivity. It is bold and powerful; therefore, it creates a sense of urgency, which results in an increased heart rate and blood flow. This is the case because your brain becomes alert when it sees the red. It Increases the Energy that Flows to Your Muscles as Your Brain Urges You to Act. Red makes you more alert. It is associated with a sense of urgency. Your brain tells you that you need to act quickly when you see red. This pumps oxygen to the rest of your body and gives you the ability to work more efficiently and effectively. Red ergonomic office chair Encourages Competition. When it comes to success, red can be a contributing factor. This color represents power, and our need to survive. It motivates you to push to be the best. If you feel that you are not taking action and need to get yourself noticed at work, implementing the color red could be exactly what you need.
RED-y, Set, Go!
A red ergonomic office chair is going to complete your office. The health benefits of an ergonomic chair combined with the positive aspects of red are going to make for a productive work environment. The red ergonomic chair ErgoChair Pro has integrated these two features to bring you an incredible piece of office furniture. It is time to start thriving in your workplace.
FAQ
Vous ne voyez pas la réponse à votre question ?
Ces chaises sont-elles assemblées quand elles sont delivrées?
Nos chaises sont livrées non assemblées. Vous aurez besoin de les assembler, et ce en juste quelques étapes simples et nous incluons également tous les outils dont vous auriez besoin dans le colis.
Quelle est la capacité maximale de poids que peut supporter la chaise?
La chaise Kinn peut supporter jusqu'à 350 lb. (159kg)
Quelles sont les dimensions du siège?
La longueur et la largeur du siège sont d'environ 20 pouces. (51cm)
Les accoudoirs peuvent-ils être amovibles?
Oui, les accoudoirs ne sont pas assemblés, vous avez donc la possibilité de l'installer ou non. 
De quoi est faite la chaise?
La chaise est fabriquée avec un tissu en polyester respirant de première qualité importé de Corée, avec un intérieur en mousse moulé et un cadre en plastique nylon durable. 
Quels sont les dimensions et le poids de la boîte d'envoi?
La boîte mesure  (74cm) de long, (69cm) de large et (48cm) de hauteur et pèse 30kg.
Quel est le poids de la chaise?
Quelles sont les dimensions de la chaise?
Les dimensions de la Chaise Ergo 2 sont  (74cm) de Longueur x  (74cm) de Largeur x (117-127cm) de Hauteur.
Le prix couvre-t-il les taxes?
Non, le prix indiqué ne comprend aucune taxe. 
La chaise peut-elle être verrouillée en position inclinée?
La garantie couvre tous les défauts de fabrication.
Les chaises ont l'air au ras du sol. Pour nous, les grands, à quelle hauteur va cette chaise?
Le siège de la chaise est à une distance de 46 à 51cm du sol.
Dois-je payer les frais de port pour le renvoyer, pour l'essai gratuit de 30 jours? Comment fonctionne le renvoi?
Nous sommes heureux de couvrir les frais d'expédition si vous demandez un retour avant la fin de votre période d'essai de 30 jours.